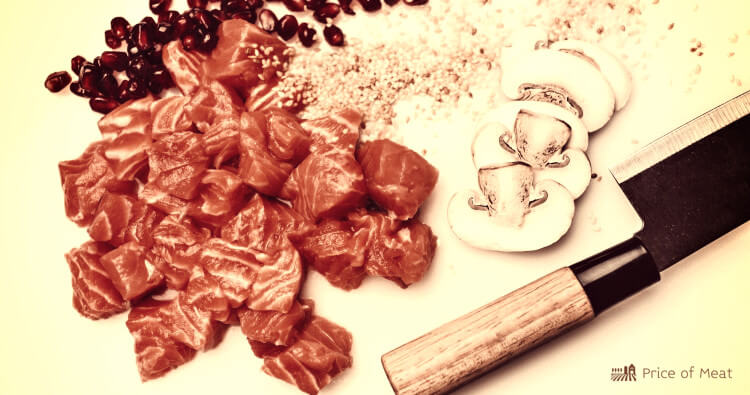 The knives available to a Japanese chef are enviable not only for their incredible craftsmanship, but for their specific utility in the kitchen. For every job, there is a knife that's designed to handle the task in the most efficient and effective way possible. So when it comes to finding the right Japanese meat cleaver for your home kitchen, you'll need to get a little bit more specific about what exactly you intend to use the cleaver for.
Shizuo Tsuji's seminal tome on Japanese cuisine, titled Japanese Cooking: A Simple Art (published by Kodansha International Ltd. in 1980) has been indispensable in providing the context found in this guide. In it, you'll learn both the traditional role of a deba-bocho cleaver in the Japanese kitchen, as well as how some chefs use a larger, heavier knife style borrowed from Chinese cuisine to do the job. And of course, we'll cover what you should be looking for when it comes to buying a Japanese meat cleaver, as well as the best online outlets to purchase one from.
What Is A Japanese Meat Cleaver?
Following Tsuji's classification in his chapter on knives, the deba-bocho or Japanese cleaver can come in a variety of sizes. Saying that it is "basically a fish knife", he goes on to describe its use in cutting chicken and meat as well. Most importantly, he clarifies which sizes of Japanese cleavers are appropriate for chopping through bone:
The medium and large sizes with blades from 7 to 12 inches long are for average or heavy work."
Tsuji then goes on to add that "this knife seems thick and heavy to most Westerners at first, but in fact it is very versatile and can do delicate work."
It just so happens that this is where there may be confusion about what exactly constitutes a Japanese meat cleaver. Simply put, there is no hard and fast distinction in a traditional Japanese kitchen between a chef's knife, and a cleaver; it's only a matter of size, weight, and how the knife is used.
Furthermore, the deba-bocho cleaver does not much resemble the common image of a meat cleaver; its tapered blade and pointed end will remind most American cooks of a French chef's knife, not of a cleaver used for separating bones and meat. It's worth noting, however, that the deba-bocho differs from a Japanese chef's knife or gyuto knife in its handle design and the thickness of the steel used to make it.
To clear this up, we'll have to look at a second type of cleaver sometimes grouped with Japanese knives: The chuka-bocho, or Chinese cleaver, covered in the next section.
Types of Japanese Meat Cleavers
Essentially, then, you'll need to make a choice between two types of Japanese meat cleavers:
A long and heavy version of the deba-bocho, or traditional Japanese cleaver.
The large, heavy, and rectangular chuka-bocho, borrowed from the Chinese chef's knife arsenal.
Of the two, the traditional Japanese cleaver will be lighter and more versatile, allowing the home cook to precisely debone chickens and other small fowl. For pure chopping power, however, the Chinese cleaver may be a better choice; its exceptionally heavy blade will do most of the work of cutting through bones for you, preventing strain on the wrists and allowing for more efficient butchering.
Considerations for Choosing A Japanese Meat Cleaver
First of all, then, you'll need to decide: Are you looking for a traditional Japanese cleaver (the deba-bocho), or a heftier Chinese cleaver (the chuka-bocho)? If you're looking primarily to cut fish and chicken, the Japanese cleaver is likely the better choice. For butchering beef and pork, the Chinese cleaver's added weight makes it much easier to use.
And indeed, the price difference between the two knives may play a big factor in your decision. While even an entry-level deba-bocho may cost $100 or more, serviceable chuka-bocho may be found at your local Asian grocery store for around $20. Though the level of craftsmanship of the former is undeniable, it will always be true that the cleaver is the knife that takes the most damage in your kitchen. So unless you're planning on cutting whole fish, the Chinese cleaver is a more user-friendly and economical option.
If your heart is set on owning an authentic Japanese cleaver, you'll first need to consider what size – both blade thickness and blade length you'll need. From personal experience, a 7- to 8-inch blade is most appropriate for the widest variety of jobs; any larger and the weight can be cumbersome, while any smaller may have difficulty in cutting through chicken bones and thick meat, much less spare ribs.. And while a complete discussion of what specifications to look for is outside the scope of this introductory guide, suffice it to say that buying from a reputable supplier is the best way to ensure that your knife will be top quality. You'll also need to consider metal type (basic stainless steel, high carbon stainless steel, etc).
Where to Buy a Japanese Meat Cleaver
Thanks to the popularity of cooking competitions like Iron Chef, it's easier now than ever before to buy a high-quality Japanese knife online. By avoiding big-box online retailers and sticking with providers of specialty Japanese products, you'll be much more likely to get the best quality knife at the most reasonable price.
Two online purveyors of Japanese knives stand out above the rest: Korin and MTC Kitchen.
The more recently founded of the two companies, Korin has been crafting and selling fine Japanese knives, kitchenwares, and barware since 1982. If you're totally new to the world of Japanese knives, their highly informative educational materials will get you up to speed on the specifics of all their wares.
Founded in 1926, MTC Kitchen provides the full range of supplies necessary to run a Japanese kitchen. From knives to cookware, plates and bowls to rice cookers, they do a fine job of making real Japanese equipment available to American consumers. Check out their page on deba knives to browse through a full selection of Japanese meat cleavers.
Bestseller No. 1
KYOKU Samurai Series - 7" Cleaver Knife - Full Tang - Japanese High Carbon Steel Kitchen Knives - Pakkawood Handle with Mosaic Pin - with Sheath & Case
SUPERIOR STEEL - Manufactured with an ultra-sharp, cobalt-added, and cryogenically treated steel cutting core, this 7 in. Japanese cleaver boasts unrivaled performance and incredible edge retention.
ERGONOMIC & WELL-BALANCED - The ergonomically designed blade helps alleviate fatigue and finger pains from long periods of slicing or chopping, perfectly blending performance and comfort.
DURABLE HANDLE - The meticulously constructed, triple-riveted Pakkawood handle has gone through special treatment, making it extremely impervious to heat, cold, and moisture; accented with a mosaic pin.
EXTREME SHARPNESS - The ruthlessly sharp edge is handcrafted by seasoned artisans to a mirror polish at 13-15° per sided using the traditional 3-step Honbazuke method; cryogenically treated for incredible hardness, flexibility, and corrosion resistance.
LIFETIME WARRANTY - Our knives come with a lifetime warranty, and we offer free exchange or return if the item is defective.
Bestseller No. 2
Damascus Cleaver Knife, 7" Forged Damascus Meat Cleaver Knife, Japanese VG10 67 Layered High Carbon Stainless Steel, Ergonomic G10 Full Tang Handle & Triple Rivet, Vegetable Butcher Knife - Gift Box
MAKE YOUR COOKING LIFE EASIER: Precision-forged blades with an ultra-premium Japanese VG10 cutting core at 60±1 Rockwell hardness for unrivaled performance and incredible edge retention. Precisely tapered blade minimizes surface resistance for buttery smooth cut through.
67 LAYERED FORGED STAINLESS STEEL: 67-layers of high-carbon stainless steel cladding provide exceptional strength, durability, and stain resistance. Featuring exquisite Feather blade pattern, for striking, stand out beauty.
12-15 DEGREES RAZOR SHARP EDGE: Ruthlessly sharp scalpel-like edge is hand finished to a mirror polish within a staggering 12-15° degree angle using the traditional 3-step Honbazuke method. Nitrogen cooled for enhanced hardness, flexibility, and corrosion resistance.
DURABLE & STRONG G10 HANDLE: Meticulously constructed ultra-premium G-10 Garolite handle. Highly impervious to heat, cold, and moisture with military-grade strength and life-long durability. Bolster provides a perfectly engineered balance and gently encourages a comfortable and proper pinch grip.
LIFETIME GUARANTEE & ELEGANT PACKAGING: 100% SATISFACTION OR MONEY BACK GUARANTEE, try it risk free, we know you'll love it! The box is designed to be ideal for easily wrapping as a gift.
Bestseller No. 3
Chinese Meat Cleaver Butcher Knife 7 inch: Best Quality Heavy Duty Professional Japanese AUS-10 67-Layer Damascus Steel Ultra Sharp Blade Vegetable Chopper w/G-10 Ergonomic handle by Regalia Knives
✅ Looking for the Best Quality cleaver on Amazon? Look no Further: Made from the finest materials known to mankind, this masterpiece of the professional kitchen is forged with an authentic Japanese AUS-10 "Super-Steel" cutting core to ensure flexibility and maximum edge retention without dulling or chipping. 66 layers of high carbon stainless Damascus steel cladding add beauty as well as resilience against both rusting and corrosion.
✅ Geometrically Perfect and Scary Sharp: The angles of this blade represent the pinnacle of design and the accumulation of millennia of cleaver making evolution. Finished to a mirror polish of within an astounding 8-12 degree angle per side using the traditional 3-step Honbazuke method, this blade is viciously sharp. After endless study of cleaver functionality, we've chosen the ideal size, shape, angles, and weight to give you a cleaver that does the heavy lifting for you.
✅ Performance, Comfort, & Beauty: Military grade ergonomic G-10 handle is immune to cold, heat, and moisture. Rounded handle and tapered pinch-grip bolster encourage natural handling which enables effortless and comfortable chopping. Handle butt swell gives additional girth to prevent handle from slipping when wet or slick.
✅ Ironclad 100% Lifetime Guarantee and Free Sharpening for life: Regalia makes knives that stand the test of time and so does our commitment to you. Our no questions asked replacement or money back guarantee protects you for life from any possible defect. Our Regalia free sharpening policy allows you to send in your knife at any time for a free tune up. Try it now, 100% risk free.
Bestseller No. 4
BLADESMITH Chinese Cleaver, LongQuan Knife Series, Hand Forged Meat Cleaver,High Carbon Steel Cleaver Knife with Ergonomic Handle for Home Kitchen and Restaurant
💎Selected Good Steel: The blade of cleaver knife is made of 7Cr17MOV steel with 58+ hardness. The blades are not only sharp but also very wear-resistant. However, compared to stainless steel, the rust resistance is a little weaker, so you need to wipe as soon as possible after use, away from water and gas.
⚒️ Unique Design: This meat cutting knife incorporates the art of Chinese brass engraving with flowers and green leaves patterns that are symbols of blessing. The surface of the knife is hand-forged with a texture that is aesthetically pleasing while also preventing food from sticking to the blade.The curved blade makes it easier to move the arm up and down, thus relieving fatigue.
🔪This knife is produced in Longquan, China, which is a unique artwork of folklore. The Longquan forging process has a history of more than 2,600 years and is a national intangible cultural heritage. The blade is sharp and you can use it to cut vegetables, fruits and meat, but not to cut frozen meat.
✋Ergonomic Handle: The handle of this chinese chef knife is made of pearwood, and the handle has an overall comfortable grip and a recessed stripe on the surface so that it is slip and oil resistant. The rivets at the end of the handle serve to reinforce the handle.
📃Guarantee: We provide 100% satisfaction or money back guarantee service, which helps you bear the risk of trial. We guarantee to provide high-quality products with gift boxes, which is the best choice for your Christmas and New Year gift.
Bestseller No. 5
TUO Cleaver Knife 6.5 inch - Chopper Butcher Knife Meat Cleaver, Chinese Cleaver for Bone Meat, Japanese cleaver AUS-8 Stainless Steel with G10 Handle - Falcon S Series with Gift Box
🍖Heavy-duty Cleaver: 6.5 inch chopper knife designed for large pieces of food and is perfect for bone cutting, chopping, and of course, vegetable fruit cleaving. Heavy-duty but solid and flexible giving you extreme cutting power. The wide blade can also use it as a food transfer.
🍋Razor-sharp Edge: This cleaver forged from Japanese AUS-8 Steel is more tough and can maintain the hardness even in the toughest cuts. Manually sharpen the edge at 8-12 degrees per side for maximum sharpness and edge retention, ensuring chopping easily.
🍗Practical Texture: Aside from its high-end appearance, it's also practical in that the 3D pattern reduces the contact surface between food and blade, prevents food from sticking on the blade and provides maximized the slicing efficiency.
🍍Ergonomic G10 Handle: Full tang handle with riveted allow the cleaver knife to provide excellent balance and precision with every cut. G10 material is more non-slip and corrosion resistant, easy to clean, and can maintain confidence in a busy kitchen.
🎁Best Gift Choice: Each meat cleaver knife will come with an exquisite gift box, it can be as a unique gift to your family or friends for Birthday, Wedding, Thanksgiving, Christmas. TUO provides premium customer service, a warranty aims at manufacturing defects is included.