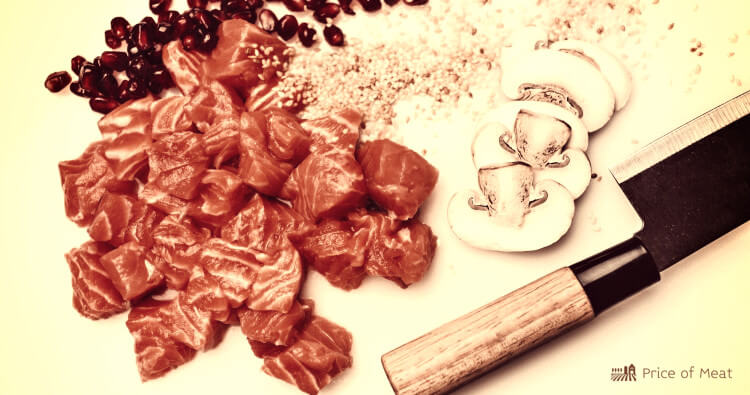 The knives available to a Japanese chef are enviable not only for their incredible craftsmanship, but for their specific utility in the kitchen. For every job, there is a knife that's designed to handle the task in the most efficient and effective way possible. So when it comes to finding the right Japanese meat cleaver for your home kitchen, you'll need to get a little bit more specific about what exactly you intend to use the cleaver for.
Shizuo Tsuji's seminal tome on Japanese cuisine, titled Japanese Cooking: A Simple Art (published by Kodansha International Ltd. in 1980) has been indispensable in providing the context found in this guide. In it, you'll learn both the traditional role of a deba-bocho cleaver in the Japanese kitchen, as well as how some chefs use a larger, heavier knife style borrowed from Chinese cuisine to do the job. And of course, we'll cover what you should be looking for when it comes to buying a Japanese meat cleaver, as well as the best online outlets to purchase one from.
What Is A Japanese Meat Cleaver?
Following Tsuji's classification in his chapter on knives, the deba-bocho or Japanese cleaver can come in a variety of sizes. Saying that it is "basically a fish knife", he goes on to describe its use in cutting chicken and meat as well. Most importantly, he clarifies which sizes of Japanese cleavers are appropriate for chopping through bone:
The medium and large sizes with blades from 7 to 12 inches long are for average or heavy work."
Tsuji then goes on to add that "this knife seems thick and heavy to most Westerners at first, but in fact it is very versatile and can do delicate work."
It just so happens that this is where there may be confusion about what exactly constitutes a Japanese meat cleaver. Simply put, there is no hard and fast distinction in a traditional Japanese kitchen between a chef's knife, and a cleaver; it's only a matter of size, weight, and how the knife is used.
Furthermore, the deba-bocho cleaver does not much resemble the common image of a meat cleaver; its tapered blade and pointed end will remind most American cooks of a French chef's knife, not of a cleaver used for separating bones and meat. It's worth noting, however, that the deba-bocho differs from a Japanese chef's knife or gyuto knife in its handle design and the thickness of the steel used to make it.
To clear this up, we'll have to look at a second type of cleaver sometimes grouped with Japanese knives: The chuka-bocho, or Chinese cleaver, covered in the next section.
Types of Japanese Meat Cleavers
Essentially, then, you'll need to make a choice between two types of Japanese meat cleavers:
A long and heavy version of the deba-bocho, or traditional Japanese cleaver.
The large, heavy, and rectangular chuka-bocho, borrowed from the Chinese chef's knife arsenal.
Of the two, the traditional Japanese cleaver will be lighter and more versatile, allowing the home cook to precisely debone chickens and other small fowl. For pure chopping power, however, the Chinese cleaver may be a better choice; its exceptionally heavy blade will do most of the work of cutting through bones for you, preventing strain on the wrists and allowing for more efficient butchering.
Considerations for Choosing A Japanese Meat Cleaver
First of all, then, you'll need to decide: Are you looking for a traditional Japanese cleaver (the deba-bocho), or a heftier Chinese cleaver (the chuka-bocho)? If you're looking primarily to cut fish and chicken, the Japanese cleaver is likely the better choice. For butchering beef and pork, the Chinese cleaver's added weight makes it much easier to use.
And indeed, the price difference between the two knives may play a big factor in your decision. While even an entry-level deba-bocho may cost $100 or more, serviceable chuka-bocho may be found at your local Asian grocery store for around $20. Though the level of craftsmanship of the former is undeniable, it will always be true that the cleaver is the knife that takes the most damage in your kitchen. So unless you're planning on cutting whole fish, the Chinese cleaver is a more user-friendly and economical option.
If your heart is set on owning an authentic Japanese cleaver, you'll first need to consider what size – both blade thickness and blade length you'll need. From personal experience, a 7- to 8-inch blade is most appropriate for the widest variety of jobs; any larger and the weight can be cumbersome, while any smaller may have difficulty in cutting through chicken bones and thick meat, much less spare ribs.. And while a complete discussion of what specifications to look for is outside the scope of this introductory guide, suffice it to say that buying from a reputable supplier is the best way to ensure that your knife will be top quality. You'll also need to consider metal type (basic stainless steel, high carbon stainless steel, etc).
Where to Buy a Japanese Meat Cleaver
Thanks to the popularity of cooking competitions like Iron Chef, it's easier now than ever before to buy a high-quality Japanese knife online. By avoiding big-box online retailers and sticking with providers of specialty Japanese products, you'll be much more likely to get the best quality knife at the most reasonable price.
Two online purveyors of Japanese knives stand out above the rest: Korin and MTC Kitchen.
The more recently founded of the two companies, Korin has been crafting and selling fine Japanese knives, kitchenwares, and barware since 1982. If you're totally new to the world of Japanese knives, their highly informative educational materials will get you up to speed on the specifics of all their wares.
Founded in 1926, MTC Kitchen provides the full range of supplies necessary to run a Japanese kitchen. From knives to cookware, plates and bowls to rice cookers, they do a fine job of making real Japanese equipment available to American consumers. Check out their page on deba knives to browse through a full selection of Japanese meat cleavers.