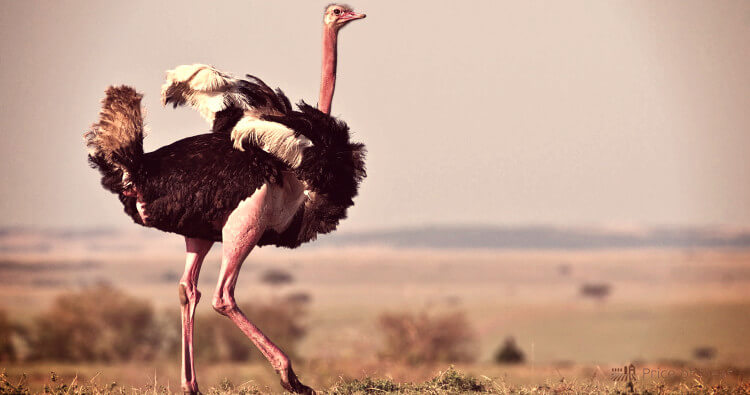 As the largest and heaviest of all living birds, ostriches are truly one of nature's greatest oddities. And as you'll soon learn, even their meat is a source of wonder for curious eaters.
Fully grown, ostriches can stand anywhere from 6 to nearly 9 feet tall, and weigh almost 300 pounds. Rather than flying to escape predators, these massive avians use their powerful legs to sprint over 40 miles per hour — or, if worse comes to worst, kick their attackers with incredible force. (source) Amazingly, this hasn't stopped some intrepid souls from mounting up and racing ostriches at the New Orleans fairgrounds.
All of this high-speed movement means that ostriches develop lots of lean muscle, similar to chickens. But to imagine that ostrich meat tastes just like an oversized chicken would do it a great injustice. So today, we'll be clearing up any confusion about ostrich meat by introducing you to what it tastes like, where you can buy cuts of ostrich meat online, and how to cook it to delicious perfection.
What Does Ostrich Meat Taste Like?
The secret in ostrich meat's versatility in the kitchen comes from its combination of lean muscle and red meat. Unlike other birds that are raised for their meat (chickens, ducks, sparrows, etc.), ostriches belong to a category of birds known as ratites. In this group that includes emus and cassowaries, all of the birds have dark meat, with a texture and taste akin to lean beef.
Tom Mendelsohn, of the UK-based publication The Independent, has this to say of the taste of ostrich meat:
It's quite gamey and has a pronounced tang, and is much stronger than a chicken or beef."

(source)
He goes on to warn the would-be diner that because of the lower fat content, the meat is prone to overcooking and becoming quite chewy. Like many other lean meats, ostrich can benefit from a variety of cooking methods designed to keep it tender and flavorful, a few of which we'll cover in the next section.
Aside from the steak-like taste and texture, it's worth noting that ostrich meat has a range of health and environmental advantages over beef. For the diet-conscious consumer, ostrich meat is much lower in cholesterol than beef, while also being richer in iron. And for the aspiring environmentalist, farming ostriches requires less water and releases less methane into the atmosphere. Here is ostrich farmer Alex McCoy's estimation of the importance of ostrich meat in dealing with climate change:
By incorporating ostrich into your diet, you're doing way more to fight the cause of global warming than driving your car less, flying less, or taking shorter showers. That's small potatoes compared to the meat you put on your plate."

(source)
How to Cook Ostrich Meat
Thanks to its status as "the other red meat", ostrich can easily be a stand-in for lean beef in nearly any application. From steaks to tenderloins to ground meat and burgers, if you can do it beef you can do it with ostrich meat, too!
Because of their low fat content and somewhat more astringent and gamey flavor though, ostrich benefits greatly from the added flavor and tenderizing qualities of a good marinade. So today, I'll be sharing two easy ostrich meat marinades with you: One that's best for steaks, and the other an Asian-inspired delight that works perfectly for ostrich roasts.
Easy Ostrich Steak Marinade
1/4 cup olive oil
1/4 cup apple cider vinegar
2 cloves garlic, roughly chopped
2 tsp salt
1 tsp cracked black pepper
This mix makes enough marinade for approximately two ostrich steaks, and the recipe is easy to double if you need more.
To prepare, simply mix every ingredient together in a resealable plastic bag, then add the ostrich steaks. Squeeze as much air out of the bag as possible before sealing, as this will help the marinade stay in contact with the steaks. Marinate at least overnight, and cook your steaks on the side of rare to medium-rare to retain maximum flavor and a softer texture.
Asian-Inspired Ostrich Roast Marinade
1 cup vegetable stock
1/4 cup sesame oil
1/4 cup soy sauce
2 cloves garlic, minced
2-inch piece of fresh ginger, sliced
2 tablespoons brown sugar
Ideal for preparation in a slow cooker, this recipe provides enough marinade for a 3-pound ostrich roast. All you'll need to do is whisk the brown sugar into the stock before combining all the other ingredients. Cover your roast with the marinade overnight in a sealed container, then add everything to the slow cooker the next day. Cook for 6 hours on high, and you'll have a wonderfully fragrant and amazingly tender ostrich roast for dinner!
Where to Buy Ostrich Meat
While raising ostriches for meat has never taken off in the United States in the same way that cattle farming has, there are a handful of dedicated farmers that make the meat available for purchase year-round.
American Ostrich Farms, out of Boise, Idaho, specializes in producing environmentally friendly ostrich meat using entirely sustainable agriculture methods. They offer the whole range of ostrich-based products, from fine filet cuts to ground ostrich and delicacies like racks of ostrich ribs or ostrich wings. You can even find ostrich soaps, or an ostrich leather wallet to give as a gift!
Though they have the largest selection of ostrich products, steaks and specialty items tend to go out of stack fast. You might want to sign up for their email updates if you're looking for a specific cut.
Alternatively, consider Blackwing Quality Meats, a provider of fine meats from well over a dozen varieties of animals. Their ostrich hot dogs are especially interesting, and their portioned filets or tenderloins. are perfect for cooking with the marinade recipes above.