28+ Curious Fast Food Restaurant Growth Statistics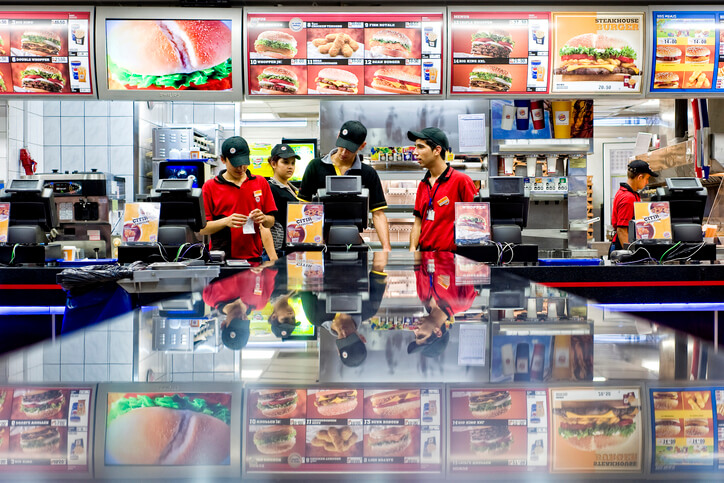 The fast food industry plays a crucial role in the economy by satisfying the need for convenient meals. It has seamlessly become part of our daily routines, providing affordable breakfast, lunch, and dinner options.
This article delves into the factors propelling the industry's projected growth in 2023 and beyond. We explore franchise openings, rebranding, and expansions to reveal the industry's resilience. Let's dive in and discover more!
Disclosure: As an Amazon Associate, this site earns from qualifying purchases. Thank you!
Top 10 Fast Food Growth Statistics
Let's look at the most prevalent fast-food restaurant growth statistics to understand the importance of this industry in the U.S. and worldwide.
Quick Sidenote – check out our shop for a curated selection of the best meats, cuts, sausages, and more. Open our shop in a new tab and explore!
The fast food industry market size is $360 billion.
The fast food industry made over $800 billion in 2021 alone.
The 2020 recession led to a significant increase in pick-up and delivery orders.
Portion sizes are much larger than in previous years.
Since 2000, fast food restaurants have increased by 20%.
Hamburger restaurants dominate the U.S. fast food segment, comprising 31%.
Walking to casual dining restaurants has declined by 70% since the beginning of 2020.
Starbucks has over 14,000 stores in the United States alone.
Alabama has the most fast-food restaurants per capita, with 6.3 restaurants per 10,000 residents.
There are more than 785,000 franchise owners in the United States.
Continue reading for all 28+ fast food restaurant industry statistics and trends.
28+ Fast Food Restaurant Growth Statistics
Fast-food restaurant growth statistics are essential for business owners, consumers, and the general public to understand the significant impact of this industry.
The market size is greater than $330 billion
The fast food industry market size exceeded $330 billion, reaching approximately $362.3 billion by the end of 2022. Over the past decade, the industry has consistently grown by 1%, resulting in a substantial increase of nearly $240 billion since 2000.
There are over 785k franchise owners in the U.S.
The number of franchise owners in the United States reached 785,316 in 2021, indicating the widespread presence of fast-food businesses nationwide. This figure has risen over the past three years, highlighting the attractiveness of running a fast-food franchise.
The 2020 recession dramatically increased prices
The 2020 recession led to a shift in consumer behavior, with increased reliance on fast food, takeout, and delivery services. The industry seized this opportunity and raised prices for a typical meal by 6% during the pandemic.
The Economic Research Service found that the average total spending on retail and food services increased in July 2020 and continued to increase above the average throughout the rest of the year.
The industry made nearly $800 billion in 2021
In 2021, the fast food industry's revenue reached nearly $798 billion, demonstrating its remarkable success in the United States, driven by the continuously growing demand for fast-food items.
Hamburger reign supreme
Hamburger restaurants dominate the U.S. fast food market with a 31% share, surpassing other categories. Chains like McDonald's and Burger King lead in profits and store count compared to other fast food brands.
Subway is the biggest franchise in the U.S.
Subway takes the top spot as the biggest franchise in the U.S., boasting over 24,000 locations nationwide, with California having the highest number of Subway stores.
McDonald's is not the most prominent franchise
McDonald's Not the Biggest Franchise Surprisingly, McDonald's ranks third in franchise size, with Subway claiming the top position and Starbucks coming in second.
Coffee fast food restaurants are extremely popular
Coffee and cafe restaurants, like Starbucks and Dunkin' Donuts, experienced a surge in popularity, with thousands of stores across the United States catering to the demand.
Alabama has the most fast-food restaurants per capita
Alabama leads in fast-food restaurants per capita, with 6.3 restaurants per 10,000 residents, while Vermont has the lowest density at 1.9 restaurants per 10,000 residents.
Pick-up and delivery orders have significantly increased
Since March 2020, pick-up and delivery orders have surged by almost 12%, with lunch orders rising by 18% and dinner orders increasing by 3%.
Walking to restaurants has declined
The pandemic has caused a significant decline in people walking to restaurants, with a nearly 70% reduction in walking to casual dining establishments since 2020.
Fast food is not healthy
Fast food is not healthy, as expected. Even if you pick something nutritious from the menu, the calorie count in a fast food meal is usually higher than what you may think or what the nutrition guide shows. For instance, many people underestimate their calorie intake at a fast food restaurant by at least 175 calories.
Portion sizes are getting bigger
It's not just your stomach getting bigger. Portion sizes and hamburger sizes have increased a lot in the last twenty years. Hamburgers are now 23% bigger, and snacks have grown by 60%.
The industry continues to grow
Over the past five years, the fast-food restaurant industry has experienced a steady growth rate of 2.5%. This trend indicates a significant reliance on the economy within this particular industry.
Consumer spending has increased
Between 2020 and 2021, the total consumer spending in the fast food restaurant industry in the United States witnessed a substantial increase of approximately 35 billion dollars. This surge in spending can be attributed to various factors, with the primary cause for the decline in 2020 being the Coronavirus pandemic.
McDonald's has the highest value
While McDonald's may not hold the highest number of franchise locations in the United States, this iconic fast-food chain with its recognizable 'Golden Arches' logo boasts the highest brand value globally.
McDonald's focus on quality, affordability, and convenience has helped cultivate a solid, recognizable brand image that transcends borders.
The fast food industry has grown around the world
The fast food industry has been experiencing continuous growth on a global scale. A noteworthy example is the significant increase in total revenue within the fast food sector in China over the past 15 years. During this period, the industry has witnessed a remarkable 13% growth in revenue.
The minimum wage influences the fast-food industry
The recent increase in the federal minimum wage has brought about changes in the fast food industry. However, it is essential to note that the price changes observed in food and items within fast-food restaurants are not directly related to the mandatory adjustments in federal wages.
There are now over 200,000 fast-food restaurants in the U.S.
The latest available data shows that the United States is home to a staggering number of fast-food restaurants, totaling 201,865 establishments. This diverse range of fast-food options encompasses a variety of culinary offerings, including cafes, pizza joints, and sandwich shops.
Over ⅓ of adults eat fast food every day
A substantial portion of adults in the United States, precisely 37%, indulge in fast food daily. This statistic translates to a staggering number, surpassing 84 million individuals within a mere 24-hour timeframe.
⅓ of children eat fast food daily
According to the CDC, over ⅓ of children aged two to 19 consume a significant portion of their diet from fast food, which can lead to health problems later on.
Fast food chains are offering healthier alternatives
Around 30% of fast food restaurants now offer healthier alternatives on their kids' menus, such as apple slices instead of french fries, reflecting a growing awareness of the need for nutritious choices.
Fast food meals average 11.3% of your daily calories
On average, fast food meals account for 11.3% of an individual's daily calorie intake in the United States. However, some meals can contribute even more to this percentage.
The fast food industry declined in 2020
Fast food sales initially declined in 2020 due to COVID-19 restrictions, which forced the closures of restaurants worldwide. However, the industry adapted through online ordering and delivery services, leading to a more productive Q3 and Q4.
Food delivery has increased around the world
Due to their convenience, food delivery services have seen a significant increase in popularity globally, even in developing nations. Countries like Qatar, the UAE, Singapore, Chile, and South Africa have experienced a growing trend in food delivery.
The industry continues to grow
Fast food's popularity in the United States is evident in the significant rise of quick-service restaurants. Since 2000, the number of these fast food establishments has increased by almost 20%.
North America has the largest market share
Fast food restaurants in North America generate the highest revenue, amounting to nearly 340 billion dollars. Meanwhile, the fast food market in the Asia Pacific has experienced substantial growth, primarily driven by the adoption of digital platforms like apps for convenient delivery and pick-up services.
Additionally, as urbanization continues to expand in various countries, the food pick-up and delivery trend is expected to increase further.
Wendy's partnered with an Indian food company
In a strategic move, Wendy's franchise joined forces with Rebel Foods in India to establish over 250 remote locations across the country. This partnership has facilitated the expansion of the Wendy's brand and introduced a wider range of fast food choices throughout India.
Wrap up
The fast food industry continues to experience solid and continuous growth, with no indications of slowing down. Although there was a temporary setback in the first half of 2020, the demand for convenient and quick food options available through pick-up or delivery services remains incredibly appealing to people all around the world.
Therefore, it becomes essential for consumers to comprehend the prevailing growth statistics of fast food restaurants, as it highlights the industry's substantial presence in both the U.S. and global economies. By understanding these trends, individuals can better grasp the significant impact and influence of fast food on the international markets.