32+ Fascinating Cooking Show Statistics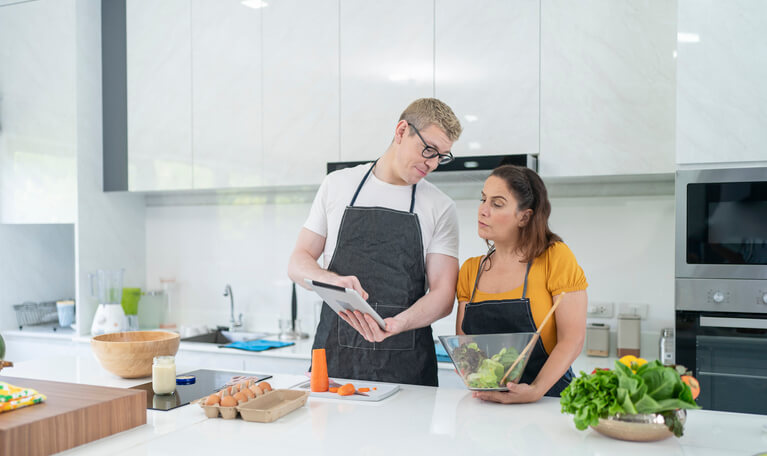 Whether you like your food spicy, non-spicy, colorful, or in your mouth, there is a cooking show tailored to your needs. Cooking shows have been on an upward trend, boasting of increased ratings and a cult following across multiple streaming platforms, social media platforms, and even video channels such as YouTube. With staggering numbers of loyal viewers comes some fascinating cooking show statistics.
According to research, the number of viewers of cooking shows in the United States is projected to be in the hundreds of millions, with a pole stating that eight out of ten Americans watch cooking shows in their free time. In addition to these jaw-dropping statistics, below are a few of the most fascinating cooking show statistics.
Disclosure: As an Amazon Associate, this site earns from qualifying purchases. Thank you!
Top 10 Statistics on Cooking Shows
In-depth Look at Cooking Show Statistics
The amount of data generated on the internet is quintillions, and a significant portion is centered around one of the basic needs. Food! Whether you intend to use this data for marketing purposes or are simply looking to broaden your knowledge with some delicious facts, here is an in-depth analysis of the top cooking show statistics:
Quick Sidenote – check out our shop for a curated selection of the best meats, cuts, sausages, and more. Open our shop in a new tab and explore!
Eight out of Ten Adults Watch Cooking Shows
According to a recent survey, eight out of ten adults watch cooking shows. This illustrates the popularity of the food industry across broadcasting platforms.
The Cooking Show Audience is Gender Biased
With 57 percent of women and only 29 percent of men watching cooking shows, it is clear that there is a significant gender disparity when it comes to the viewers of cooking shows.
More of the Older Generation Watches Cooking Shows
Among baby boomers, the total percentage of cooking show viewers is projected at 55 percent. The younger generation of millennials and Gen Zs contribute to around 19 percent of viewers.
Cooking Shows Inspire Purchases
Many viewers are more likely to make purchases of items or from brands advertised on cooking shows as opposed to other brands.
Celebrity-Hosted Cooking Shows are Enjoyed Less by Most Audiences
According to their IMDB ratings, celebrity shows are less enjoyable, with a rating of 6.8, than their non-celebrity counterparts, with an average rating of 8.1.
Women Dominate Cooking Shows as Hosts
The country's top ten most popular cooking shows are hosted by women, who make up about 70 percent of these shows. Gender stereotypes may influence this, as women are considered better cooks.
The Cooking Show Audience Consists Primarily of Learned Individuals
Seventy-one percent of all viewers that tune in to cooking shows have been to college and have a college diploma or higher, indicating cooking show fans are learned individuals.
Cooking Shows are a Staple Show for Many Americans
Fifty percent of Americans confess to watching a cooking show within the last 30 days, with 23 percent watching more frequently, highlighting the popularity of cooking shows in the country.
The Average Viewing Age for Cooking Shows is 56 Years
In line with the statistics that prove the viewing audience is larger among older individuals, the average viewer's age for a cooking show is 56 years.
The Engagement Rate of Viewers with Cooking Shows in the U.S. is Below One Percent
On YouTube, the engagement rate of viewers with the cooking show is 0.5 percent, with many viewers using messaging options.
There has been an Increase in Viewership for Cooking Shows Over the Years
Cooking shows are quickly gaining popularity, with the last five years seeing an 8 percent rise in the overall viewing hours for most cooking shows.
The Great British Baking Show is as Great as the Name Suggests
The Great British Baking Show is a popular cooking show in the U.K. that has enjoyed tremendous success both at home and on the international stage.
There Has Been a Surge in Home-Made Meals in Recent Years
Partially owing to the rise in the viewing of cooking shows, there has been a 4 percent rise in the number of home-cooked meals compared to previous years.
65% of Cooking Show Viewers are Likely to Try out the Recipes Themselves
Whether this is purely out of curiosity or a need to indulge their taste buds, 65 percent of viewers will likely try out recipes themselves.
39.5% of Food Network's Viewers Were Aged 18-29 in 2018
Food Network's audience skews towards younger demographics, with 39.5 percent of 18-29 respondents saying they watched the channel. That may reflect the network's efforts to market themselves towards Millenials and Gen Z with more digital programming.
Most Viewers Seem to Believe that Reality Cooking Shows Are Becoming Oversaturated
Thirty-three percent of viewers feel like there is an oversaturation of reality-based cooking shows, indicating the oversaturation of this niche.
The Average Length of a Cooking Show Episode is 30 Minutes
Most cooking shows available for viewing on broadcast, streaming, and social media platforms last between 20-30 minutes. Many viewers positively resonate with these shorter videos.
Close to 500 Cooking Shows are Broadcast Worldwide Every Day
Every day, over 500 cooking shows are broadcast to the public, reaching millions of viewers all over the globe, a true testament to the popularity of cooking shows.
MasterChef has Aired in 60 Countries and is Considered the Most Successful Cooking Show
"MasterChef" is a popular cooking show born in the United Kingdom in 1990 but has since garnered viewing in 60 different countries.
The Most Watched Cooking Show in the U.S. is Top Chef
With 2.5 million views for each episode, "Top Chef" is the most-viewed cooking show in the United States and has 20 seasons and hundreds of episodes.
Gordon Ramsey has Hosted and Appeared in Over 20 Cooking Shows
Gordon Ramsey is a British chef, restaurateur and writer with a successful chain of restaurants, and he has appeared in tens of cooking shows, including Hell's Kitchen and Kitchen Nightmares.
The Food Network Reaches Over 90 Million Households
The Food Network is a Canadian broadcasting platform with a global presence and is projected to reach a staggering 90 million households a day.
Viewers Enjoy Watching Young Chefs Express their Culinary Skills
With popular shows like "MasterChef Junior" and "Nailed It," there has been an increased demand for child-centered cooking shows, with viewers enjoying seeing these young culinary stars in action.
Streaming Platforms and Social Media Platforms Provide Alternatives to Traditional Broadcast
Other than traditional broadcasting platforms, streaming and social media platforms provide an alternative avenue for cooking shows. A good example is Netflix's "Chef's Table."
"Tasty" Has Over 50 million Subscribers on YouTube
"Tasty" is a cooking show primarily based on the video giant YouTube with over 50 million subscribers. Many of their recipes go viral on other social media platforms.
MasterChef Australia receives over 50,000 Applications Annually
A subsidiary of the famous "MasterChef" franchise, MasterChef Australia is equally renowned (if not more) and receives around 50,000 applications annually.
Plant-Based Cooking Shows have been on a Steady Rise in Recent Years
With the growth of popularity for vegans and vegetarians at the turn of the century, there has been an increase in the demand for plant-based cooking shows.
Cooking Shows Inspire Culinary Tourism
Most of the viewing audience for cooking shows will likely visit a new restaurant, location, or country to indulge their appetites. An example of a good traveling cooking show is Gordon Ramsay's Uncharted.
The Great British Bake-Off Has Won Several Prestigious Awards
The Great British Bake Off enjoys tremendous success in both the culinary and cinematic world, receiving awards such as the BAFTA television award.
Cooking Shows Contribute to the Surge in Sales of Cookbooks
Cooking shows have long been used to drive up book sales for cookbooks, with a good example being "French Cooking in Ten Minutes" by Edouard de Pomiane.
Hell's Kitchen Has a World Following Airing in Several Countries
Hell's Kitchen is a star-studded cooking show with a cult following in many countries, including the United States, the United Kingdom, and even Vietnam.
"Cake Wars" Is One of the Most Popular Baking Shows in the U.S.
Hosted by Jonathan Bennett, "Cake Wars" is a popular baking competition aired on multiple broadcasting networks, including Food Network, and has millions of viewers in the United States.
Wrapping Up
Food and numbers rarely get along, but the data around cooking shows are a goldmine for different stakeholders and enthusiasts in the food and beverage industry as they are treated to the opportunity to tailor their marketing strategies according to viewer data.