29+ New Chicken Consumption Statistics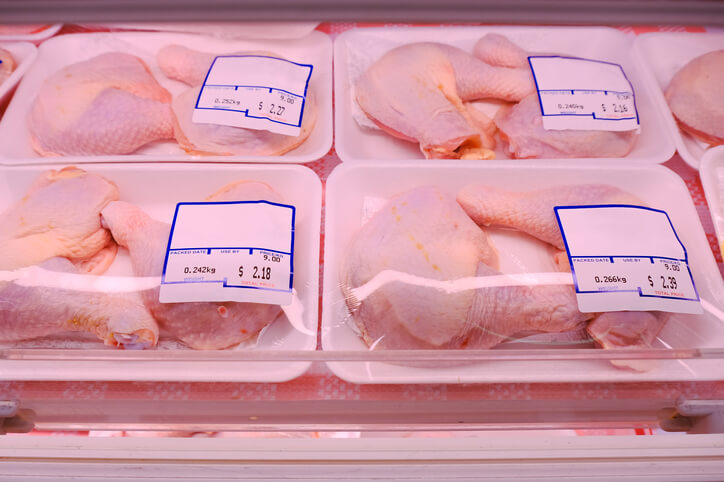 Chicken is a popular and affordable meat in the US due to its health benefits and fast food influence. However, the environmental impact of chicken production must be considered, and analyzing consumption data can help us find sustainable ways to increase production.
Disclosure: As an Amazon Associate, this site earns from qualifying purchases. Thank you!
1. Chicken Meat Production in 2023 Will Likely Reach 46.7 Billion Pounds
The United States Department of Agriculture estimates that chicken meat production in 2023 will reach 46.7 billion pounds. The increase in chicken meat production is attributable to the world recovering from the Covid-19 pandemic, which slowed down production in 2021 and 2022.
2. Per Capita Consumption of Chicken Meat Will Rise to 215 Pounds in 2023
The United States Department of Agriculture estimates that per capita consumption of chicken meat will reach 215 pounds this year. The increase in consumption is partly driven by the increase in the production of chicken meat.
Quick Sidenote – check out our shop for a curated selection of the best meats, cuts, sausages, and more. Open our shop in a new tab and explore!
3. Global Chicken Population in 2023 Stands at 34.4 Billion
The World Animal Foundation estimates that there are currently 34.4 billion chickens worldwide. Chicken populations continue to rise globally as their demand for meat increases. There are also more and more people who are keeping chickens as pets.
4. The Price for a Whole Chicken is $1.87 Per Pound in 2023
The Economic Research Service found that a whole chicken is retailing at $1.87 per pound in 2023. Retail prices for chicken meat have remained relatively constant as there have been no significant changes in demand.
5. The United States has the Largest Broiler Chicken Industry
The United States has the largest chicken industry in terms of broiler meat production. The National Chicken Council estimates that the country's chicken industry incurs expenditures of about $95 billion.
6. Over 240,000 People Work in the Chicken Industry
The United States Bureau of Labor Statistics estimates that approximately 240,255 work in the poultry processing industry. These are workers who get employed due to chicken consumption.
7. Iowa is the State with the Largest Number of Chickens in the United States
According to Statista, Iowa has approximately 54 million chickens. The State is a key player in the country's agricultural sector, and poultry farming is quite popular among the residents.
8. Per Capita Availability of Chicken for Consumption has Surpassed that of Beef
The United States Department of Agriculture estimates that the per capita availability of chicken has been higher than beef since 2010. In 2021, approximately 68 pounds of chicken was available for consumption, higher than 56.2 pounds of beef.
9. Georgia is the Largest Chicken Meat Consumer in the United States
The value of chicken production in Georgia is approximately $4 billion. The State has some of the largest chicken meat companies in the country, such as Perdue Farms and Tyson Foods.
10. China is the Largest Chicken Meat Consumer
Based on per capita data, China is the world's largest chicken meat consumer. According to Statista, China consumed approximately 15 million metric tons of chicken in 2021.
11. Chicken is the Most Consumed Livestock Meat Globally
The Economic Research Service estimates that global demand for chicken meat has reached 128 million metric tons in 2021. Chicken meat has become one of the most important import commodities among developed and developing countries.
12. Over 50 Billion Chickens Get Slaughtered for Food Each Year
The World Economic Forum estimates that the number of chickens slaughtered globally stands at 50 billion. This figure has increased over the years due to increased demand for chicken meat.
13. Projected Chicken Meat Production Will Reach 153.8 Metric Kilotons
Statista projects that the amount of chicken meat consumed globally will reach 153.8 metric kilotons by 2031. Chicken meat consumption will likely increase as white meat becomes more popular as a healthy alternative to red meat.
14. Projected Chicken Consumption to Represent 41% of All Consumed Meat
The Food and Agriculture Organization projects that the demand for chicken will continue increasing until it represents 41% of all consumed meat by 2030. The projected increase is attributable to the rising demand for chicken meat.
15. Sub-Saharan Africa is Likely Going to be the Largest Importer of Chicken
The biggest global importer of chicken is likely going to be Sub-Saharan Africa. The region's domestic chicken production has failed to keep up with demand which will continue to increase annually.
16. Price of Chicken Meat to Reach $2.4 per Kg
According to the World Bank, chicken meat prices are rising steadily and will likely reach $2.4 per kilogram in 2035. The price increase is likely to grow due to increasing demand and higher costs of production.
17. Chicken Consumption in the United States in 2022
According to the National Chicken Council, chicken consumption per capita in the U.S. stood at 100.6 pounds in 2022. Consumption of chicken in the country has been increasing since the 1960s.
18. The Southeast Region in the U.S Consumes the Highest Number of Chickens
The region responsible for consuming the largest number of chickens is the Southeast region which contains states such as Georgia, Alabama, and Tennessee. These states have some of the highest rates of chicken production in the country, according to the University of Kentucky.
19. Chicken Consumption Increased by 540% From the 20th Century to the 21st Century
The World Animal Foundation found that U.S. chicken consumption has increased by 540% from 1910 to the late 2010s. U.S. chicken consumption will likely increase to 101.6 pounds per capita by 2031.
20. The Number of Chickens Produced in the U.S was 513 Million in 2022
The population of chickens in the United States stood at 513 million in 2022, and many were grown for consumption. The high number of chickens is also due to the increase in the number of individuals keeping chickens as pets rather than for consumption.
21. The Annual Number of Chickens Consumed in the U.S is 8 Billion
The total number of chickens consumed by Americans is approximately 8 billion every year. Chicken meat consumption is outperforming red meat in American households.
22. Tyson Foods is the Largest Chicken Producer in the United States
Tyson Foods is responsible for producing approximately 4 billion pounds of chicken annually. The company generates revenues amounting to about $43 billion each year.
23. The United States is the World's Largest Chicken Producer
The U.S. produces approximately 21 million metric tons of chicken meat. The country's large chicken meat production is due to domestic and international demand.
24. The Size of the Chicken Meat Industry is Approximately $897 Billion
According to Statista, the global chicken consumption and production market amounted to $897 billion. The United States had the largest revenue from chicken meat consumption.
25. Global Chicken Production in 2023
Chicken meat production is expected to increase to approximately 103.4 million metric tons, according to Statista. Chicken broiler meat production totaled 101 million metric tons in 2022, and increased production is mainly driven by higher demand.
26. 80% of Chickens Get Produced by Rural Households
The Food and Agriculture Organization estimates that 80% of chickens get raised by rural households. These households are unable to meet the retail prices of chickens in the market.
27. Projected U.S Exports of Chicken Will Increase to 7.32 Billion Pounds
Statista estimates that projected exports for broiler meat in 2023 will amount to 7.32 billion pounds. The second largest exporter of chicken meat is Brazil.
28. Technologically Advanced Chicken Production Has Seen 72% Decrease in Farm Land Use
Chicken production in the modern age results in 72% reduced land use. Current chicken production requires less space and fewer inputs to produce.
29. Chicken Production Requires 75% Fewer Resources
Chicken production has benefitted from advanced technological innovation, which has reduced the resources needed to produce chickens by approximately 75%.
30. Replacing Beef With Chicken Consumption Reduces Greenhouses Emissions by 35.7%
Greenhouse gas emissions decreased by 35.7% by replacing beef with chicken. Chicken production has a smaller carbon footprint than beef and other red meats.
Wrap Up
Chicken consumption will likely increase in the coming years. Chicken is healthier than red meat and more eco-friendly. Additionally, the cost of chicken meat is more affordable, especially for low and middle-income households. As chicken consumption grows, companies will need to keep track of emerging statistics to better understand how to meet demand.