28+ Insightful Beef Production Statistics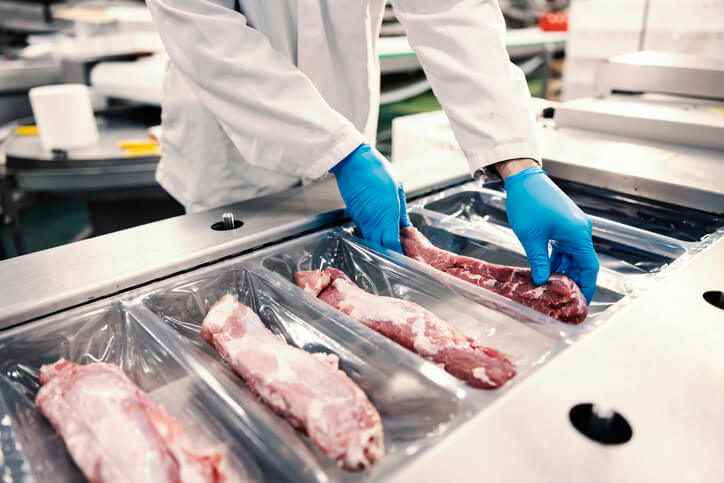 The beef industry is seeing varying demand, but beef production stats show a bright future for businesses that adapt to modern consumer preferences for transparency and high-quality products.
Disclosure: As an Amazon Associate, this site earns from qualifying purchases. Thank you!
Top 10 Beef Industry Statistics
These numbers reflect the most recent trends for the beef and cattle industry in the U.S:
The U.S. Is the Top Producer of Beef Products
In 2022, the U.S. produced a total of 12.6 million tons of beef and veal meat. This impressive number makes the U.S. the top country for beef production.
Quick Sidenote – check out our shop for a curated selection of the best meats, cuts, sausages, and more. Open our shop in a new tab and explore!
The U.S. Is the Second Exporter of Beef
The U.S. meat industry is the largest in the world, but it's the second largest exporter on a global scale. Brazil remains the country that exports the most beef products, which is telling of the size of the domestic market in the U.S.
The Total Inventory Is Decreasing Sightly
At the beginning of 2023, the total beef and veal inventory included 89.3 million animals. This number represents a 3% drop in inventory compared to 2022. This trend is consistent across heifers, steers, bulls, and calves.
The Milk Cow Inventory Is Growing
The dairy industry is having a strong year and the milk cow inventory is growing. The total number of animals reached 9.49 million in 2022.
A Recent Uptick in Animals Sent to Slaughter
In 2022, cattle farmers and ranchers sent 11% more animals to slaughter. This increase is a response to the growing demand for meat products, but it also represents an effort to manage costs as farmers and ranchers see the price of feed increase. Recent droughts are responsible for the higher costs the industry is facing.
The Cattle Cycle
The cattle cycle lasts 8 to 12 years on average. The cattle cycle refers to the natural fluctuation in inventory as farmers and ranchers adjust to demand and need time to raise calves to market.
External factors like climate and the rising price of feed are playing an increasing importance in regulating the cattle cycle. The last cycle started in 2009 and is ending as the inventory decreases.
Small Businesses in the Beef Industry
There are 882,692 U.S. businesses in the beef and cattle industry. A majority (96%) of these businesses are family operations. Cattle farms and ranches represent a majority of all businesses in the industry.
High Production and Profitability Per Animal
On average, ranchers and farmers can expect to obtain 815 lbs. of meat per animal. The U.S. is among the countries where cattle produce the most meat, but Japan and Indonesia remain more effective, with 992 lbs. of meat per animal.
Stagnating Growth
In 2022, the beef cattle production industry was worth $85.5 billion. It's the third largest agricultural sector in size, but it's currently experiencing stagnation, with growth of only 1% in 2022.
U.S. Beef Production Compared to the Rest of the World
The U.S. is responsible for 21% of the global beef production. A few countries like Brazil, China, and India stand out, but the U.S. beef production is close to what the rest of the world produces as a whole.
How Much Beef Do Americans Eat?
On average, Americans consume 57 lbs. of beef each year per person. It's well above the worldwide average of 31.7 lbs. of beef per person.
Which States Produce the Most Beef and Cattle?
Texas is the state with the largest cattle inventory. The Lone Star state accounts for 15% of the country's inventory, with 4.3 million animals. Nebraska has a similar inventory and Kansas isn't far behind with 11% of the production value.
Percentage of Sales for the Agricultural Industry
Beef represents 19% of all U.S. agriculture sales. The fact that the U.S. has the largest beef industry in the world illustrates the staggering size of the agricultural sector.
Profit Margins
Ranchers and farmers can expect to earn a profit margin of 24 to 33% per head of cattle. This profit margin translates to an average annual income of $55,000 for cattle ranchers. Salaries can vary across the beef industry, for instance, with slaughterers and meat packers earning $35,000 a year.
Cold Storage
In August 2022, the total amount of beef in cold storage increased by 24% compared to August 2021. The increase of meat in cold storage reflects the higher percentage of animals sent to slaughter in an attempt to reduce feeding costs.
A high inventory of meat in cold storage contributes to regulating prices in an environment where inflation affects consumers.
Cattle Breeds
The U.S. beef and cattle industry is incredibly diverse, with over 80 different breeds. While demand is up for specialty products like buffalo or Waygu beef, Black Angus cattle remains the most popular breed. Charolais, Hereford, Simmental, and Texas Longhorn are other common breeds.
The Beef Industry and Big Data
A study found that 30% of producers would consider adopting big data. However, around half of farmers and ranchers aren't ready to invest in tech.
Big data could help monitor cattle, manage herd size, and predict weather patterns.
Small Businesses and Calf Production
Farms and ranches with fewer than 500 animals account for 2% of all beef producers. However, these businesses are responsible for up to 17% of the calf production. Small operations play a crucial role in replenishing the inventory as the current cattle cycle comes to an end.
How Much Do Cattle Eat?
Cattle can eat 2% of their body weight each day, which roughly represents 24 lbs. of feed. Cows can eat up to 2.6% of their body weight after calving or during lactation.
How Much Land Does the Beef Industry Use?
With the largest beef industry in the world, it's no surprise that raising cattle accounts for the largest use of land in the U.S. The U.S. cattle inventory lives on an impressive 654 million acres.
The beef industry also uses 127.4 million acres to grow feed for these animals.
Beef Production and Emissions
Surprisingly, recent beef industry statistics reveal that beef production only accounts for 3% of all greenhouse gas emissions in the U.S.
However, this percentage doesn't account for the fact that the 654 million acres used to raise cattle could become forest land that lowers carbon levels.
Ground Beef
Ground beef remains the most popular beef product with around 50% of sales. Steaks and roasts respectively account for 19% each.
Ground beef is a favorite among consumers because it's the most economical way to buy red meat.
The Rise of Branded Beef
A survey found that 65% of consumers prefer branded beef. Among rising concerns regarding quality and fat content, branded beef is emerging as an option that fosters transparency. Consumers also turn to branded beef to purchase meat raised without hormones or antibiotics.
Fresh Meat Sales
Beef represents 53% of all fresh meat sales in the U.S. Chicken is next at 26%. This statistic shows that consumers prefer fresh to frozen beef.
Beef Industry Employment Numbers
The beef industry employs approximately 785,000 people. Unfortunately, beef industry employees have seen their revenues decrease slightly over the past few years, and employment has decreased by 0.1% in 2023.
How Much Does Beef Cost?
The current price of fresh beef is $7.23 per pound. Ground beef is a more affordable option at $4.78 a pound. These numbers show a slight decline in prices compared to last year.
Beef and the Fast-Food Industry
Did you know there are 50,000 burger restaurants in the U.S.? Americans eat an average of 14 billion burgers a year, and this hugely popular menu item accounts for 70% of all the beef consumed in restaurants.
Frozen Beef
The frozen meat market has been growing at a fast pace. Consumers are turning to frozen products to save money, find convenient options, and discover new products.
The frozen meat market could be worth $33.9 billion by 2028, which represents a potential opportunity for growth for the beef industry.
Wrap Up
These beef industry statistics show that this sector remains powerful, but the past few years have been slow as producers reach the end of the current cattle cycle. However, there are opportunities for growth for farmers and ranchers who focus on quality and transparency.