4+ Best Meat Thermometers For Every Home Chef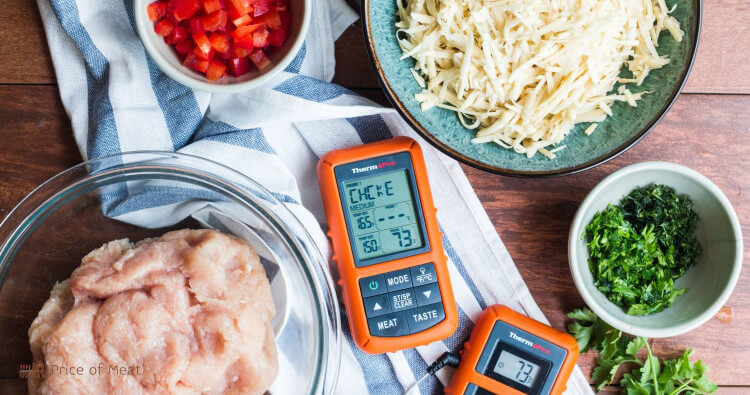 Have you ever marveled at a restaurant's ability to nail the temperature of dozens of steaks, seemingly as if by magic? That's not just because the chefs are experienced craftspeople — it's also because they have the right tools for the job.
And when it comes to getting every one of your meats perfectly cooked (or at least not undercooked meat), there's no better tool than the trusty meat thermometer.
I've been using these specially designed temp-taking tools for over a decade now, and swear by having one in every home kitchen.
They're one of the easiest ways to take your cooking game to another level — and I'm happy to share my experience to help you find the right one for your skill level, budget, and general needs.
Quick Sidenote – check out our shop for a curated selection of the best meats, cuts, sausages, and more. Open our shop in a new tab and explore!
Disclosure: As an Amazon Associate, this site earns from qualifying purchases. Thank you!
This ThermoPro Digital Meat Thermometer is the exact model of meat thermometer that I used while working in professional kitchens. It's affordable, compact, and gives nearly instant temperature readings — everything you want in a meat thermometer for your home kitchen.
And with an upper temperature rating of 300 Degrees Celsius, you can even use it to take the temperature of oil for deep frying.
The original fold-out design of the ThermoPro has been imitated dozens of times since its debut. And for good reason: It allows you to have a full-sized probe thermometer that can also fit into the front pocket of your apron.
A backlit display means that you can use the ThermoPro in any lighting conditions, making it perfect for backyard barbecue nights.
And with a 3-5 second readout, it's one of the quickest ways to get an accurate temp on anything you're cooking.
Powered by a single AAA battery (that's not included with the thermometer, by the way), this thermometer has a long battery life that's extend by its auto-off function.
If the readout hasn't changed in 10 minutes, the ThermoPro shuts itself off to save power.
Put that all together for under $20, and you have my favorite meat thermometer on the market today.
The only potential downside? The case isn't entirely waterproof — so be careful not to drop it into your pool while you're grilling.
Sale
ThermoPro TP03 Digital Meat Thermometer for Cooking Kitchen Food Candy Instant Read LCD Thermometer with Backlight and Magnet for Oil Deep Fry BBQ Grill Smoker Thermometer
Super-fast: Instant reading thermometer with backlight features 3.9 inches food grade stainless steel probe gets temp readout within 3-5 seconds with high precision sensor
Accurate readout: Cooking thermometer with temp range of -58 ~ 572 degree Fahrenheit (-50 ~ 300 degree Celsius); accurate to ±0.9 degree Fahrenheit; Perfect for indoor outdoor cooking, grilling, BBQ and so on
Easy to use: Kitchen thermometer with foldable probe design folds away easily and locks into base for portability; Magnetic back and hook allows for convenient storage
Smart design: Digital meat thermometer will auto shut off if readout stays on for 10 minutes; Powered by AAA battery; batteries included
Backlight display: Grilling thermometer features backlight LCD display to let you see clearly while cooking in the evening, indoors or outdoors
Kitchen minimalists and chefs on a tight budget will appreciate Rubbermaid's analog Food and Meat Thermometer. It's the most affordable of any meat thermometer I can recommend, and durable enough to last for decades.
And since it works without batteries, you'll never have to worry about not having it when you need it.
First though, a few limitations: Rubbermaid's thermometer only measures up to 220 degrees F.
This is perfectly fine for any meat you'll be cooking, but it won't allow you to take the temperature of oil for frying. For that, my first recommendation (above) is a better choice.
This thermometer isn't quite as compact, either, so you'll need to lay it down in-between uses rather than storing it in your pocket.
But when you consider that Rubbermaid's thermometer is available at half the price, won't ever need batteries, and is completely dishwasher safe, it might be the right fit for you.
If you're more interested in affordability and simplicity than compactness and instant readouts, it's an excellent choice for your kitchen.
Sale
Take a look at my previous two recommendations one more time. Then, imagine them smashed together into one efficient product: That's OXO's Good Grips Digital Thermometer.
Combining the best of both styles of thermometers, it's a convenient and easy to use solution for any of your grilling and roasting needs.
Probably the biggest benefit offered by OXO's Good Grips thermometer is how easy it is to handle. The probe is extra long, and the readout is extra large and backlit — making it easy for anyone to accurately temp their meat without getting to close to the fire.
If your eyesight is poor or your hands a bit sore, it's a much easier thermometer to use than my first two recommendations.
OXO's thermometer can test in a range from -40 C to 150 C, the widest range of temperatures for any tool in this review. It's great for everything from making ice cream, to coffee, to checking the temp of fryer oil for deep frying.
Thankfully, the lithium ion watch battery that you'll need to work with the OXO is included when you buy it. It will last for a very long time, but when you need to replace it, you'll probably need to special order it online.
Overall, for a small increase in price, the OXO Good Grips Thermometer is a great compromise between different styles.
It's at its best for inexperienced chefs, where its long probe and large readout make it easy to get things just right.
Sale
What are you most excited to use your meat thermometer for? If it's perfectly searing a juicy steak, any of the three options above will do the trick.
But if you're looking to barbecue — with its low and slow cooking for tender meat — you'll need a leave-in thermometer.
ThermoPro is once again my top recommendation, this time for their TP16S Leave-In Meat Thermometer. It can do all the jobs of the other probes in this review, but it excels at taking long-term temperature readings for roasted or barbecued meats (think grilling thermometer) — and even includes a function that will alert you when a meat has reached the internal temperature you're looking for.
The TP16S can accomplish this because of its flexible metal probe. The electronics of the thermometer stay outside of where you're cooking, effectively protecting the sensitive electronics from overheating.
As far as temperature ranges go, this ThermoPro is far and away the best available. Measuring a range from 14 to 572 degrees F, it can handle even the highest temperatures you'll be cooking meat at.
Backlit and with easy to use front-facing buttons, the TP16S is simple and intuitive to cook with.
It's a bit more expensive than the other thermometers featured here, but there's really no substitute if you plan on barbecuing low and slow.
Sale
ThermoPro TP16S Digital LCD Meat Thermometer for Cooking and Grilling, BBQ Food Thermometer with Backlight and Kitchen Timer, Grill Temperature Probe Thermometer for Smoker, Barbecue, Oven, Cookware
Monitor BBQ/Oven/Smoker temperature: This durable digital cooking thermometer is equipped with a 40" long cord, meat probe that has an accuracy of ±1.8°F between 14°F and 572°F, making it perfect for any cooking environment
Programmable temp with alerts: The meat thermometer digital allow you to choose between 6 types of presets and associated doneness levels, or set your own custom temperatures to fit your personal tastes
Large LCD display: Keep track of temperatures and the remaining time using this kitchen thermometer's large screen; this BBQ thermometer features a 99-hour and 59-minute countdown timer
One-Touch backlight & Auto-Off: This digital grill thermometer features an orange backlight that can be quickly activated in low-light conditions; 10-second Auto-Off conserves battery life
Multiple storage options: Easily store away this digital probe thermometer using its built-in magnet and stand; hanging mount lets you hang this oven thermometer from a hook
Buyer's Guide: How to Choose the Best Meat Thermometer
I can thoroughly recommend any of the above meat thermometers for use in a home kitchen. But if more than one seems to fit your needs, this section will help you narrow down your options and choose the perfect fit.
Size
Whether you're grilling a steak or roasting a pork loin, you'll want your meat thermometer close at hand. My favorite meat thermometers pay attention to this in their design — and are conveniently sized to fit in the front pocket of a chef's apron.
If you're not in a busy kitchen, though, you can get away with a much wider range of meat thermometer sizes and designs. Analog meat thermometers are relatively compact and inexpensive, even if they take more time to get a reading.
And the larger leave-in thermometers are great for day-long barbecuing projects, where you want to be able to take a temperature reading at a glance without opening your grill top.
Accuracy
The difference of a few degrees can be the difference between a medium steak and a medium-well one. Or, more dangerously, a rare steak and an undercooked one. Because of this, thermometer accuracy is an absolute must.
That's why my preferences in meat thermometers trend towards digital rather than analog. A digital thermometer is much easier to get a quick and accurate reading from — but keep in mind that it will require recalibration every once in a while.
This involves making a bowl packed with ice and water, and checking if the temperature reads as just above 32 degrees F. If it doesn't, you'll need to adjust your temperature readings accordingly.
Analog thermometers take significantly longer to give a reading, but don't require recalibration. This makes them better for roasts and other long-cooked meats, but less useful for steaks, where a difference of a minute can change the doneness of the meat for the worse.
Durability
When I'm looking to buy any kitchen tool, I think 10 years into the future. If a piece of equipment isn't likely to hold up that long, I move on and find another one that will.
That's why I recommend going with tried and true, name brand meat thermometers. It's tempting to score a deal with a random company online, but these thermometers almost always end up breaking within a few years.
My advice: Since a great meat thermometer rarely costs more than $20, put the small extra investment into getting one that will last as long as possible.
Price
If you're cooking meat on a regular basis, there's really no reason to be without a meat thermometer in your kitchen. They're available for under $20 in almost every case, and will allow you to perfectly cook meat for any recipe you want.
But if you're on a particularly tight budget, a good quality analog meat thermometer can be had for around $10. It'll take longer to give a reading, but this type of thermometer is durable and will last for years.
Frequently Asked Questions About Meat Thermometers
Before we wrap things up with my final recommendations, I'd like to take a moment to answer some common questions about meat thermometers. This should provide the final bits of insight that will get you well on your way to perfectly seared steaks, chops, chicken, and more.
How does a meat thermometer work?
Meat thermometers are different from the type of thermometer you'd take your body temperature with in one important way: They use a metal spike to pierce the meat, giving an accurate internal temperature rather than a surface temperature.
Analog meat thermometers use a mercury analog to measure heat, while digital ones use a metal core and electronic sensors. Both allow you to take accurate readings of a meat's internal temperature.
Is a meat thermometer the same as a food thermometer?
Yes! The terms "meat thermometer" and "food thermometer" are used interchangeably by many chefs and kitchen equipment brands.
It's worth noting, though, that a candy thermometer is not the same as a meat or food thermometer; it doesn't have a metal probe that allows for internal temperature readings.
Can you leave a meat thermometer in the meat while it's cooking?
Most meat thermometers are not designed to be left in the meat while cooking. For that, you'll need to get a specially designed meat thermometer that's meant for low and slow barbecuing.
In my recommendations above, the last thermometer is a leave-in style. It's great for roasting pork butts or brisket (notably brisket flat), but not as useful for quickly searing and grilling steaks.
What can I do if I don't have a meat thermometer?
If you don't have a thermometer handy but still want to cook a steak to a certain temp, you'll need to make a small cut into the side of the steak. Do this rather than cutting through the top, and you'll keep most of the juices intact.
My Recommendations
With all of that in mind, which one is the best meat thermometer for you? Is it the ThermoPro TP03 Digital Instant Read Meat Thermometer with its all-round excellent performance? The simple and durable Rubbermaid Food/Meat Instant Read Thermometer? The beginner-friendly OXO Good Grips Chef's Precision Digital Instant Read Thermometer? Or perhaps the barbecue-ready ThermoPro TP16S Digital Meat Thermometer?
Any way you go, you'll be well prepared for perfectly cooked and grilled meats. Good luck, and let me know if you have any questions!