The 10+ Best Home Deli Slicers to Make Meal Prep Easier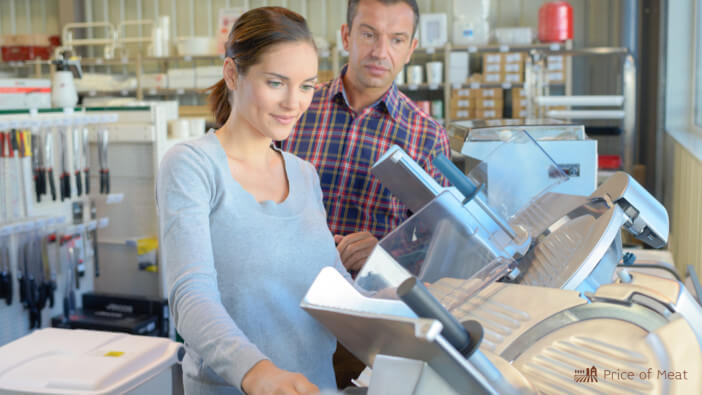 If you want to meal prep long-term, it's essential to broaden your horizons past grilled chicken and steamed vegetables. Many people end up falling into a "meal prep" rut because finding recipes that last without being boring can be difficult.
Enter the home deli slicer, which completely changes the meal-prepping game. This simple tool can handle everything from homemade sub sandwiches to perfectly sliced meat for a quick snack.
We've scoured the internet to find the best home deli slicers backed up by real customers. Read on to find our top 10 picks and all about using a home deli slicer for meal prepping. We'll also cover some frequently asked questions regarding home deli slicers.
Disclosure: As an Amazon Associate, this site earns from qualifying purchases. Thank you!
Quick Sidenote – check out our shop for a curated selection of the best meats, cuts, sausages, and more. Open our shop in a new tab and explore!
10 Best Home Deli Slicers
Below are our top 10 picks for home deli slicers. We've sorted each deli slicer into a distinct category and laid out the key features of each appliance to help make it easier to choose.
Our pick for the best overall home deli slicer is the Chef'sChoice Electric Meat Slicer. This product combines all the features that make the other slicers great choices, including a low price tag, aluminum/stainless steel materials, a safety lock, and versatility. The appliance also breaks down quickly when needed, which makes it safer to clean thoroughly.
The slicer has a ten-inch food tray that is slightly tilted. The tilt helps move food through quickly while slicing. The thickness range is excellent, and the slices come out very consistent. Compared to other slicers, the Chef'sChoice is relatively compact and slides out of the way on a counter easily.
Features We Love:
High-quality and durable materials
Consistent and quick slicing
Easy to break down and clean
The FOHERE Meat Slicer proves you can get an excellent, high-quality deli slicer on a budget. Factoring in the money the appliance can save you on pre-sliced deli meat, this deli slicer is an even bigger deal.
The product features an easy-turn knob that helps you quickly and easily pick the ideal thickness for whatever you're slicing. Since the slicer comes with two blades (one smooth and one serrated), you can easily cut a loaf of bread and deli meat in one session to create the perfect sandwich. The smooth blade is recommended for bread and the serrated blade for meat.
Features We Love:
Compact design takes up less space
Inexpensive kitchen appliance
Works well with meat and bread
The CUSIMAX Electric Deli Food Slicer is the perfect compact home deli slicer for any home chef. The appliance has a 200-watt electric motor that's not too loud while in use. The slicer comes with two stainless steel blades: serrated and non-serrated.
This electric slicer is easy to use, and you'll have a stack of sliced meat very quickly, thanks to the combined electric motor and drive belt, which helps move the food through the blade. The food tray has an extra guard that helps keep your counter clear of crumbs.
Features We Love:
Serrated and non-serrated stainless steel blades
Quick and easy slicing
Raised food tray helps keep your counter clean
If you know you'll be using your deli slicer daily; you may want to upgrade to a commercial-level slicer. This deli slicer is still rated for home use but includes some premium features that standard home deli slicers can't live up to.
The product is larger than most home deli slicers, with a 10-inch blade diameter. The blades are also longer-lasting thanks to a chromium coating on the steel blades. Two sharpening stones are built into the appliance to keep the edges sharp without effort.
Features We Love:
Professional quality for home use
Built-in sharpening stones
Large tray table and blade diameter
If you're not feeling the electric deli slicers, the Befen Manual Frozen Meat Slicer is our pick for the best manual slicer out there. The construction is solid, and you use it similarly to a paper cutter. The knife is adjustable, so you can get thick or thin cuts depending on your preference.
Unlike electric slicers, this appliance has no excess noise, and you don't need any electricity to use it. Once you get the hang of it, you'll be able to move quickly and cleanly. The slicer is advertised as the ideal tool for cutting hotpot meat, which is notoriously thin, so you can get excellent size variability on this slicer.
Features We Love:
A traditional design featuring a single manual lever
No noisy electric motor
Fewer parts to clean than an electric deli slicer
All of the picks on our list have decent safety features, but the MIDONE Meat Slicer wins out thanks to its childproof lock, suction-cup feet, and easy-remove blade. The slicer has a childproof lock on the power switch, which ensures no one accidentally switches on the appliance.
The suction-cup feet ensure the appliance stays in one place while using it, and the easy-remove blade helps reduce the danger of handling a deli slicer blade. Removing the blade is essential for cleaning the appliance, so removing it as efficiently as possible helps consumers avoid accidents.
Features We Love:
Childproof lock on the power switch for safety
Easy-remove blade for safe cleaning
Suction-cup feet for stability
When your kitchen is already full of appliances or lacking in space, it can be difficult to justify another bulky item to fill up counter space. The SuperHandy Collapsible Meat Slicer is the perfect option for people that need to balance the goals of fresh-sliced deli meat and saving space.
When not in use, the deli slicer is collapsible and folds into a small box that you can easily slip into a cabinet. To fold up quickly, the slicer is primarily made of plastic, so it may not be as durable as other options, but the blade is stainless steel.
Features We Love:
Collapsible to help save space in the kitchen
Works well with meat and bread
Decent range of thickness adjust-ability
The Techwood Electric Deli Food Slicer is the best option if you're looking for a slicer that can do more than just cut meat. This deli slicer can assemble an entire meal with bread, meat, veggies, and fruit with just one appliance.
This slicer has a fairly wide range of thickness, which makes it perfect for slicing extra-thin deli meat or slightly chunky veggie slices. Disassembling the appliance is relatively easy, which is important for cleaning, as you never want to cut raw meat followed by bread, fruit, cheese, or veggies.
Features We Love:
Works well with meat, bread, cheese, fruit, and veggies
Excellent range of thickness
Easy to clean
As one of the best-selling deli slicers among consumers, the Anescra Meat Slicer has many customer reviews to sift through. The reviews are overwhelmingly positive, and we agree with the majority opinion.
This product hits almost all of the great features we want in a deli slicer, as it's got serrated and smooth blade options, is made with durable materials, has excellent safety features, and has a powerful electric motor. The adjustable thickness quickly produces thin slices that look like they were cut by a professional.
Features We Love:
Powerful electric motor for quick and efficient slicing
Made with durable materials
Works well on meat, veggies, and cheese
If you're looking for a deli slicer that is as pretty as it is practical, the Berkel Home Line 200 Food Slicer is the best option. The slicer has an 8-inch chrome-plated steel blade, a red aluminum body, and a 115-volt electric motor.
The slicer's body and blade materials are incredibly durable, so you can expect this appliance to last for decades and decades without issue. The product also has an intuitive design that emphasizes safety, including separating the blade and food tray, a removable blade cover, and removable pieces that make cleaning easier.
Features We Love:
Beautiful retro design
Excellent safety features, including blade cover, food tray separation, and removable pieces
Easy-to-clean material and removable electric cord
What Is a Home Deli Slicer?
A home deli slicer (just like a good sausage stuffer) is a kitchen appliance that allows you to get deli-cut meat from the comfort of your kitchen. The appliance is a staple in sandwich shops and deli counters, but the home versions are smaller and easier to use.
Instead of using a knife to cut meat into thin slices, you can feed it through an electric slicer or place it under the lever of a manual slicer. The result is deli-style pieces of meat with a consistent thickness that are ideal for snack platters, charcuterie boards, sandwiches, and other meals.
What Should I Look for in a Deli Slicer?
The key things to consider when picking out your ideal deli slicer are whether you want electric or manual and that the slicer has high-quality materials, safety features, and degrees of versatility.
Electric vs. Manual
Most home deli slicers on the market nowadays are electric, likely because it's the easier-to-use option. The electric slicers are consistent, quick, and easier to use than their manual counterparts.
However, if you like the idea of becoming a master deli slicer, you may like the simplicity and learning curve that comes with a manual slicer.
High-quality Materials
Most home deli slicers use a combination of metal and plastic pieces. High-end slicers typically have more metal components, and lower-end slicers may be primarily made of plastic.
Stainless steel is the best material to look for in kitchen appliances because it's long-lasting, easy to clean, and durable.
Safety Features
Deli slicers have very sharp blades to achieve those ultra-thin slices. Because of this, the appliance must have safeguards in place to help protect the user. This usually comes in the form of blade guards, easy-release blades, and a safety shutoff.
Safety features are even more critical in electric deli slicers since the combination of a working motor, moving belt, and sharp blade can become dangerous quickly.
Versatility
Since you can use a deli slicer for nearly any type of meat, it's vital that you can adjust the thickness to suit your needs. For example, you might want paper-thin prosciutto slices but a slightly thicker setting for beefsteak.
An excellent deli slicer has settings that are easy to adjust without much effort. Many deli slicers also function as multi-food slicers to work with cheese or vegetables in addition to deli meat.
Frequently Asked Questions
Here are some frequently asked questions about home deli slicers.
Are deli slicers worth it?
If you're constantly picking up pre-sliced deli meat from the store, the time and money saved with a deli slicer absolutely make it worth it.
Pre-sliced deli meat is expensive and for people who are meal-prepping, saving time by not visiting the grocery store is a significant draw. The quality of fresh-cut meat is also superior to pre-sliced meat you can buy at the store.
What is a good brand of meat slicer?
Our list of top ten picks includes some of the best-reviewed deli slicers out there. Most deli slices offered by commonplace kitchen brands are commercial-grade appliances that are generally too big and cumbersome for a home chef.
Some brands with the most positive reviews for home deli slicers are Chef'sChoice, Berkel, Anescra, and BESWOOD.
Can you cut raw meat with a deli slicer?
Yes, you can use raw or cooked meat with a deli slicer, but the key is ensuring the meat is cold or semi-frozen. If the meat is at room temperature, it will fall apart inside the slicer. If using raw meat, make sure to clean the appliance thoroughly before using it on any cooked food to prevent cross-contamination.
Semi-frozen/cold meat is ideal because the structure holds up better when slicing.
How do you store sliced deli meat?
You can store deli-sliced meat in an airtight container for three to five days in the fridge or one to two months in the freezer. That is the recommended storage time according to the USDA for fresh-sliced deli and lunch meat.
If you want your sliced deli meat to last as long as possible for meal-prepping, store it in the fridge as soon as you finish cutting it. Freezing it immediately after slicing helps preserve the fresh flavor.