Is Ceramic Cookware Right for You? Pros and Cons Explained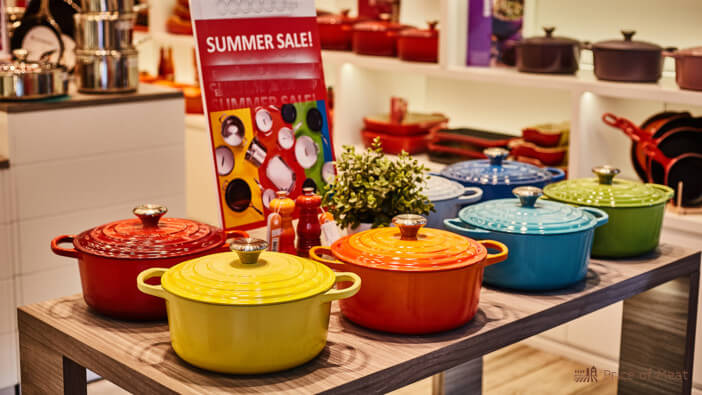 Yes, it's true that you only need pots that cook nicely and don't need a ridiculous amount of scrubbing after you've used them. But those ceramic ones are so pretty! They come in beautiful colors, and they're so trendy.
Ceramic cookware is splashed all over social media platforms. But before you rush out to buy a set, consider the pros and cons. Is ceramic cookware right for you?
Ceramic cookware is aesthetically pleasing, easy to clean, affordable, and healthier because of its nonstick coating. But it has a short lifespan, doesn't distribute heat evenly, and lacks proper safety studies. Listing the pros and cons will help you decide if ceramic cookware is right for you.
Today we are spoiled for choice when it comes to furnishing our homes, and we can easily disappear down a rabbit hole trying to decide on color schemes, themes, and types of cookware for our new kitchens.
Quick Sidenote – check out our shop for a curated selection of the best meats, cuts, sausages, and more. Open our shop in a new tab and explore!
Ceramic cookware has much to offer a new kitchen, but to prevent disappointment, you should do your homework before kitting out your new space.
Disclosure: As an Amazon Associate, this site earns from qualifying purchases. Thank you!
The Pros And Cons Of Ceramic Cookware
If you've been using the same set of pots and pans for donkeys' years, you may not be familiar with ceramic cookware. Although if you're on social media or spend time in home stores, you would have noted the brightly colored and pastel shades of pots and pans.
A literal translation of ceramic is "clay that has been fire hardened." There are two types of ceramic cookware; one with a ceramic coating and another that is 100% ceramic. Most of the popular ceramic cookware falls in the first category.
The Pros Of Ceramic Cookware
If you're on the fence about which type of cookware you want, these factors could sell you the ceramic cookware set.
Ceramic Cookware Is Nonstick
The pots are made from metal and coated with a sol-gel, a silicone oil, which is released every time you cook. This sol-gel gives your pots and pans a nonstick surface, eliminating the need to use a lot of fats and oils for cooking, if any. In comparison, other types of cookware like stainless steel and cast iron usually need hefty doses of these.
Ceramic Pans Are Easy To Clean
While the cooking is fun, the cleaning up… not so much! If you love experimenting in the kitchen, trying out new recipes, or making up your own, a kitchen full of dirty dishes may be a familiar sight.
But those pretty ceramic pots and pans make a good case for their purchase because they're so easy to clean. You only need a soft sponge, hot water, and mild dish soap.
Ceramic Cookware Is Good For Your Wallet
Let's clarify the above statement: when purchasing your nonstick ceramic cookware set, you will pay less than for other high-quality pots and pans. Pure ceramic cookware is a lot more expensive but is worth its weight in gold.
When using ceramic pans, you cook at lower temperatures than you would with cast iron or stainless steel, saving you power, even though your food cooks as quickly.
You will also save on the amount you usually spend on cooking fats and oils, as you typically require very little, especially when your pans are new.
Ceramic Cookware Is A Healthier Option
Ceramic cookware has no chemical additives that can seep into your food. It is non-reactive, so cooking with acidic ingredients won't change your food's taste or color as happens with some other nonstick cookware.
Ceramic pots and pans are also contain no toxins. One of the most popular types of nonstick cookware is the Teflon-coated variety. If you heat these pans beyond 500°F, they give off harmful fumes, making people sick with the Teflon flu and displaying symptoms such as a sore throat, fever, chills, and weakness.
Because of its nonstick surface, you will significantly reduce the amount of oil in your cooking when you purchase a ceramic cookware set. While some oils and fats in the diet are healthy and necessary, using them as a constant in your cooking is not. Now you can happily saute your food in only a little butter, coconut, or other healthy oils without the guilt, and it will still taste delicious.
Nonstick Ceramic Pots Are Lightweight
Some types of cookware, like cast iron and stainless steel, can be heavy to lug around the kitchen, especially once the food is inside. Nonstick ceramic pots and pans are light due to their aluminum bases and ceramic coatings. They are perfect for those whose muscles are still in the making and those whose muscles are on the way out.
Ceramic Cookware Is Aesthetically Pleasing
It's a fact. Those who love to cook also love to have beautiful things to cook in. Chefs, home cooks, and others who enjoy their kitchens also love to display their attractive utensils. Ceramic cookware comes in a wide array of colors, including brights and pastels. There's something suitable for every kitchen design.
The Cons Of Ceramic Cookware
While those pretty pans may be calling your name in the homeware store, it's always wise to do your homework first and also investigate ceramic cookware's cons.
Nonstick Ceramic Cookware Has A Shorter Lifespan
It's one of those situations where a benefit is also the cookware's downfall. The ceramic coating that gives the pan its nonstick surface doesn't last nearly as long as some other cookware types. Ceramic pans may last between one and three years, depending on the quality of the set.
Although ceramic cookware is resistant and durable, these pans can quickly lose their nonstick coatings if used incorrectly. Rough cleaning, high temperatures, and cooking sprays take their toll on the coating, and it also deteriorates with age. Once the coating deteriorates, pans become harder to clean, and bits may chip off into your food. Then it's time to bid your pans farewell.
Ceramic Cookware Needs More Safety Studies
Pure ceramic pots are 100% safe, but nonstick ceramic cookware, although deemed safer than Teflon because it does not contain the harmful chemical PFOA, has not been studied enough to state categorically that it's perfectly safe. The ceramic coating is a "self-sacrificing" surface, meaning the sol-gel is released during cooking. There is insufficient evidence regarding the safety of ingesting it.
Ceramic Cookware Has Less Efficient Heat Distribution
Ceramic kitchenware is nonstick due to the nanoparticle-sized silicone coating on the pan's surface. These particles are unevenly spaced, increasing the cooking surface area and making it rough but leaving some parts where the food does not actually touch the coating.
While this lessens the chance of food sticking to the pan, it also causes it to heat slowly and unevenly.
Ceramic Pans Are Not Dishwasher Safe
This is the bad news for those who love cooking but hate cleaning. Although this cookware is easy to clean, you must still wash it by hand. Dishwashing processes can cause the breakdown of the nonstick coating.
Ceramic Cookware Can Be Fragile
Ceramic cookware is susceptible to chipping and breaking. Most ceramic pots and pans are also not cladded, so they warp more easily, resulting in slow heating and bad heat retention.
You can also only use soft utensils in ceramic pans, as metal ones will advance the wear and tear on the nonstick coating.
Ceramic Cookware Is Not Truly Fat-Free
Even though companies often advertise the cookware as not needing oils or fats, using a small amount will help the coating last longer.
Ceramic Cookware Does Not Do Well With Cooking Sprays
Since you've realized you only need a bit of oil in a ceramic pan, you may think you can spray your pans lightly with cooking spray. The two do not go together, and the spray will leave a residue on the pan that is difficult to remove.
You Can't Cook At High Temperatures With Ceramic Cookware
Cooking at high temperatures will destroy your ceramic cookware's coating. It doesn't have a long lifespan even when cooking at lower temperatures, so this would accelerate your cookware's demise. You should keep the cooking temperatures low or medium-low. Unless your pots and pans are 100% ceramic, it is unlikely that they will be oven-safe. Check the underside to be sure.
The Pros And Cons Of 100% Ceramic Cookware
Pure ceramic cookware is almost entirely different from nonstick ceramic cookware. 100% ceramic pots are all-natural, made from clay and minerals hardened in a kiln. This type of cookware also has its pros and cons.
The Pros Of Pure Ceramic Cookware
It contains no chemicals or toxins. While it is true that the earth contains heavy metals like lead, cadmium, and arsenic, the exceptionally high temperatures in the kiln destroy these nasties.
Pure ceramic cookware retains its heat well.
It's very versatile as you can use it on the stovetop, in the oven, microwave, and even on the barbeque grill. It is also freezer-safe and dishwasher-safe.
It is non-reactive with food.
It is chip-resistant and scratch-proof.
Ceramic cookware is a breeze to clean.
It is nonstick.
Pure ceramic pots emit far-infrared (FIR) energy, simultaneously warming food evenly from the inside and outside.
The FIR allows food to retain its moisture, preserving flavors and nutrients.
You can cook at low temperatures, which saves power.
Pure ceramic cookware can last a lifetime.
The Cons Of Pure Ceramic Cookware
Nothing is perfect, so pure ceramic cookware also has its downsides.
It is more fragile than other types of cookware like cast iron or stainless steel.
It takes longer to heat up.
Pure ceramic cookware is heavy.
It is also expensive.
Caring For Your Ceramic Cookware
Ceramic-coated cookware has a short life expectancy, but the better you care for your pretty pans, the longer they will last, and there are plenty of ways to ensure they stay pristine for as long as possible.
Wash Your New Cookware Before Use
Unlike some cookware types, you don't need to season or oil your ceramic pots. But washing them in warm water and dish soap before using them for the first time is advisable. You want to rid them of any dust or dirt that may be stuck to them.
Use The Correct Utensils
Don't ever use metal or sharp utensils in your ceramic cookware. These could scratch the nonstick coating, allowing it to wear off sooner than necessary. Once the surface is scratched, the nonstick layer will start peeling off, and food will stick to the pan. Soft utensils made from silicone, wood, or plastic are best suited to ceramic cookware.
Cook At Low Temperatures
Cooking at high temperatures destroys the nonstick coating, so stick to low and medium-low temperatures.
Do Not Store Food In Ceramic Cookware
Leaving food in the pan is not a good idea because it can damage the ceramic coating. Put the leftovers away in another container and stand some water in the pan until you're ready to clean it.
Cool The Pans Before Washing
If you run cold water into hot pans, they are likely to warp. Allow your ceramic cookware to cool off before washing them.
Do Not Clean Ceramic Cookware With Abrasive Items
Sponges should be soft, and you should only use mild dish soap to clean your ceramic cookware. Avoid any abrasive products, as they will damage the nonstick surface. If food is stuck to the pan, sprinkle a few spoons of baking soda over the surface and add warm water. Allow it to stand a while before washing. The food should come off quickly. Baking soda also helps to remove stains.
Frequently Asked Questions
Is Ceramic Cookware The Safest For Your Health?
A: Rure ceramic cookware is the safest option for your health. It contains no chemicals or heavy metals, and nothing can leach into the food. Ceramic-coated cookware is also promoted as one of the safest cookware options. However, more studies still need to be done to confirm this.
Conclusion
It appears there are many more pros than cons when it comes to ceramic cookware. It is affordable, easily cleaned, looks good, and could be healthier. Pure ceramic is the ultimate choice, but it is much more expensive. The most significant con of ceramic cookware is its short lifespan. But, after considering these pros and cons, you will know if it's right for you. Happy cookware shopping!
Amazon Bestselling Ceramic Cookware
Sale
Bestseller No. 1
Ninja Extended Life Premium Ceramic Cookware 9 Piece Pots & Pans Set, Nonstick, PFAS Free, Ceramic Coated, Oven Safe to 550°F, All Stovetops & Induction Compatible, Grey, CW99009
CERAMICLOCK COATING: Dual-bonded coating preserves nonstick performance for years while traditional ceramic cookware can wear out quickly.
HEALTHY COOKING: Requires little to no oil or fat.
PEACE OF MIND: Made without harmful chemicals, PFAS, PFOA, lead, or cadmium.
PERFECT SEARING & EVEN COOKING: 4mm aluminum base evenly distributes heat for perfect results every time.
DURABLE EXTERIOR: Hard-anodized exterior is easy to clean and maintain.
Sale
Bestseller No. 2
SENSARTE Nonstick Ceramic Frying Pan Skillet, 8-Inch Omelet Pan, Healthy Non Toxic Chef Pan, Induction Compatible Egg Pan with Heat Resistant Handle, PFAS-Free, White
HEALTHY CERAMIC SKILLET - Made of natural ceramic, SGS approved. free of PFOA, PTFE, PFAS, lead and cadmium, safe and healthy. No toxic substances will be produced even overheated. No coating to come off into your food.
SUPER NONSTICK - The surface is smooth and super nonstick, eggs can just slide right off the pan without effort, which makes cooking easier and the food much more flavorable with less oil!
INDUCTION COMPATIBLE - The nonstick frying pan is made of heavy-duty cast aluminum with induction base to prevent from warping, wobbling, or degrading over time, heats fast and evenly. Suitable for all stovetops, including Induction cooktop.
HEAT RESISTANT HANDLE - The bakelite handle features woodgrain design, it is comfortable to grip and stays cool while cooking. The omelete pan is oven safe to 550°F (please remove the handle).
EASE OF CLEANING - No one loves to do extra dishes. Its slippery, nonstick surface and no rivets design make the egg pan easy to clean in seconds with a towel, soap and warm water. Recommend Hand Washing to extend the life of pans.
Sale
Bestseller No. 3
GreenLife Soft Grip Healthy Ceramic Nonstick 16 Piece Kitchen Cookware Pots and Frying Sauce Pans Set, PFAS-Free, Dishwasher Safe, Turquoise
SET INCLUDES: 4" mini frying pan, 7" and 9.5" frying pans, 1QT and 2QT saucepans with lids, 5QT stock pot with lid, 2.5QT sauté pan with lid, 7" stainless steel steamer, and 4 kitchen utensils
HEALTHY CERAMIC NONSTICK: Our healthy and easy-to-clean ceramic nonstick coating is derived from sand and delivers effortless release with quick cleanup
TOXIN-FREE: Our coating is free of PFAS, PFOA, lead, and cadmium so you can make every meal healthier
STAY-COOL HANDLES: Soft Grip Bakelite handles are designed to stay cool on the stovetop for maximum comfort
WOBBLE-FREE BASES: Each frypan is reinforced with a wobble-free base for extra strength and even heating
Bestseller No. 4
Vremi 8 Piece Ceramic Nonstick Cookware Set - Induction Stovetop Compatible DIshwasher Safe Non Stick Pots with Lids and Frying Pans - Dutch Oven Pot Fry Pan Sets for Serving - PTFE PFOA Free - Yellow
This 8 piece ceramic cookware set includes 2 dutch oven pots, 1 casserole pot with lids and 2 angled frying pan skillets for an omelette or crepe, and can go directly from stovetop to table as serverware
This pot and pan set is made of a durable and non-toxic die-cast aluminum body with a nonstick ceramic coated surface that heats quickly and evenly and releases food easily with no scraping
Features bakelite ergonomic wood tone handles for easy tossing and turning and lids that have small gap between lid and body for mess free steam release and cooking
Each piece has an induction-compatible spiral bottom to work on gas, electric or halogen stove top (Important: For induction, burner diameter should not exceed pan or pot diameter base. Not oven safe)
Premium pots and pans set comes in modern green, blue or yellow color with white accents to brighten your home or apartment kitchen. Clean the cookware set in the dishwasher or hand wash with soap and always keep the cookware dry after cleaning. Discoloration may occur on the bottom of the pans after long term use or repeat washing.