Good Ranchers vs Omaha Steaks – Online Meat Retailers Compared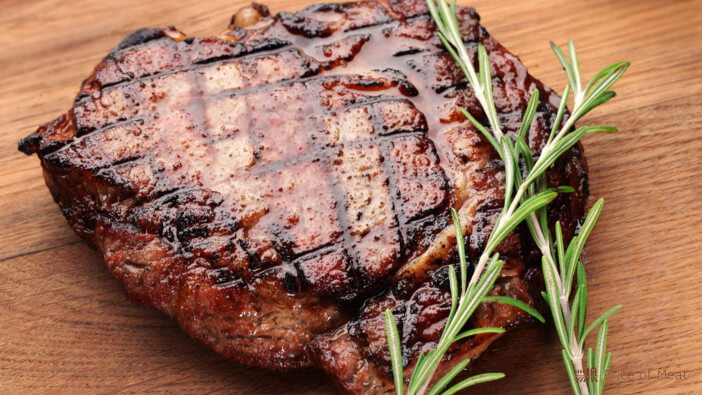 We are truly living in an era of convenience. We don't have to move from our chairs to shop for anything our little hearts desire. Do you feel like steak tonight? No problem!
A few clicks, and it's on its way. Perhaps that's a slight exaggeration, but the convenience of online steak shopping is a real thing. As prominent online retailers, how do Good Ranchers and Omaha Steaks compare?
The Good Ranchers vs. Omaha debate compares two online meat retailers with different focal points. Good Ranchers is known for supplying high-quality, locally-sourced meat at reasonable prices. Omaha Steaks offers a wide range of beef and other products, but they are more expensive.
Not everyone has access to high-quality meat. Let's face it, some local grocery stores or butchers just don't cut it! The online meat delivery service is a simple and convenient solution to this problem. You have access to the best cuts of meat from a plethora of online retailers, including Omaha Steaks and Good Ranchers. Which should you choose?
Quick Sidenote – check out our shop for a curated selection of the best meats, cuts, sausages, and more. Open our shop in a new tab and explore!
Disclosure: As an Amazon Associate, this site earns from qualifying purchases. Thank you!
Good Ranchers vs Omaha Steaks Online Retailers
These days, online stores are everywhere, and the competition is stiff. Their survival depends on several factors, like quality, the level of service, and pricing, to name a few.
If a store consistently lacks in any of these criteria, the medium they use to exist could destroy them: the internet. A few bad reviews could wipe them off the face of cyberspace.
Omaha Steaks is one of the longest-surviving meat companies in the United States, a family business now over a century old. J.J. Simon, a Latvian national, started the family business in 1917, known initially as Table Supply Meat Company. Omaha Steaks started delivering meat to customers in 1952. Today they deliver to the 48 lower states.
Ben and Corely Spell founded Good Ranchers in 2018 to supply American families with beef obtained from local farmers at affordable prices. The business began in the form of pop-up stores, but it saw phenomenal growth and is now a multimillion-dollar eCommerce business.
So, do a hundred years of experience beat a young company looking for the best local meat?
Good Ranchers Vs. Omaha Steaks: Quality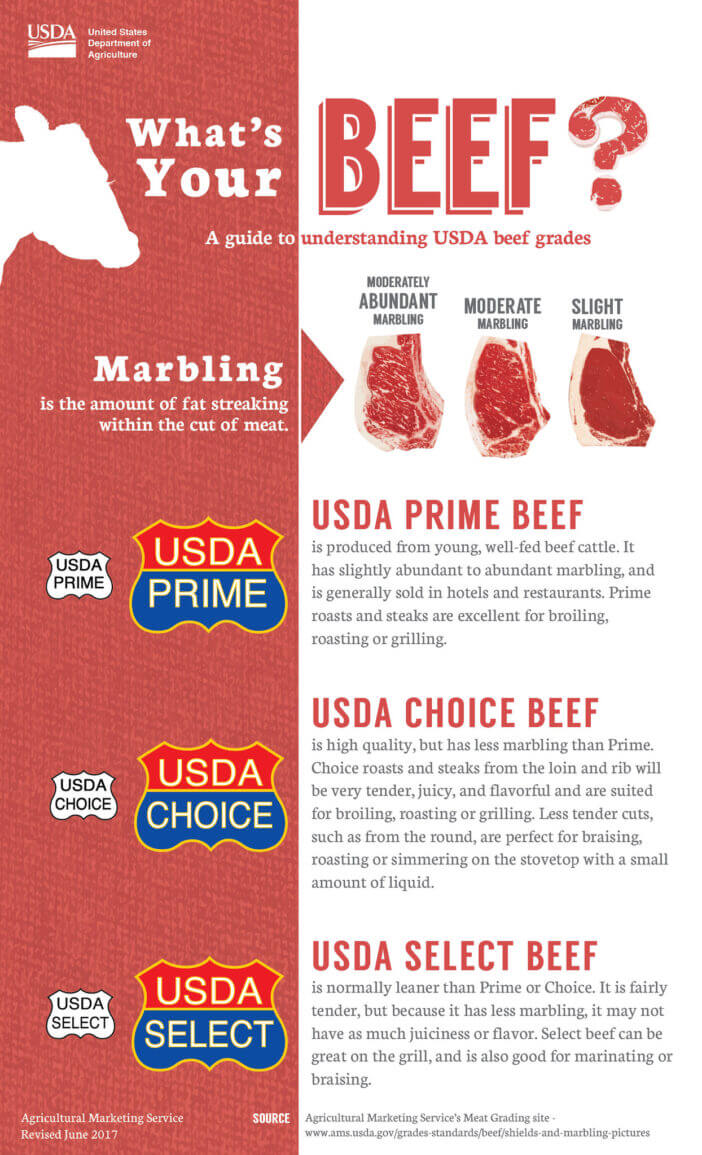 What the cattle eat significantly affects the meat's final taste and quality. Today there's an increased preference for grass-fed cattle instead of grain-fed beef.
Grass-fed beef has a higher nutritional value and less fat, but it also has a different texture from grain-fed beef. Grass-fed animals graze freely in the pastures for their entire lifespans. These certified pasture-fed animals are also not fed hormones or antibiotics.
Grain-fed cattle spend the last 4-5 months of their lives eating a corn and soy diet, simultaneously consuming growth hormones to bulk up their weight. Grain-fed beef contains more fat and is known to be more flavorful.
Good Ranchers Quality
Good Ranchers offer grass-fed, grain-finished steaks that fall under the USDA Grades Prime or Upper Choice. Each steak is cut and trimmed by hand and aged for 21 days for perfect tenderness and flavor. Good Ranchers ensure that cattle are treated humanely to produce the best quality meat.
Omaha Steaks Quality
Omaha Steaks offers both grass-fed and grain-fed beef to keep up with the trends, but the majority of their steaks come from grain-fed animals. The brand is not famous for its high-end cuts and does not offer organic meat, as many others do. Omaha Steaks also dry-ages its steaks to make them tender and tasty.
Omaha Steaks does not reveal its steak grades. Although the company states that the USDA inspects the meat, there is no clue as to the quality according to industry standards. This does not point to them using the best quality meat.
Good Ranchers Vs. Omaha Steaks: Pricing
There's nothing that speaks as loudly as the buck! With so many online stores around, you must make buying your products worth your customer's while.
Good Ranchers Pricing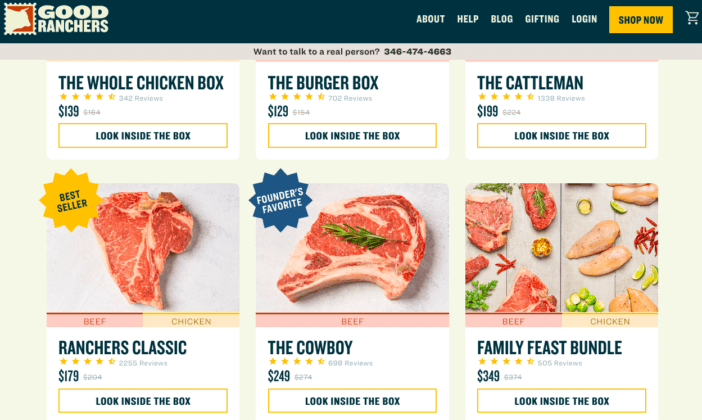 Good Ranchers focus on supporting American farmers while keeping the meat affordable and quality high. Over 80% of grass-fed beef on the US market comes from overseas, and although it is often cheaper, the quality is usually low. The company also sells good quality chicken and fish. Their prices are reasonable, especially if you order a curated meat box or in bulk.
Shipping is another cost that comes into the final price. Good Ranchers provide free shipping to their subscribers.
Omaha Steaks Pricing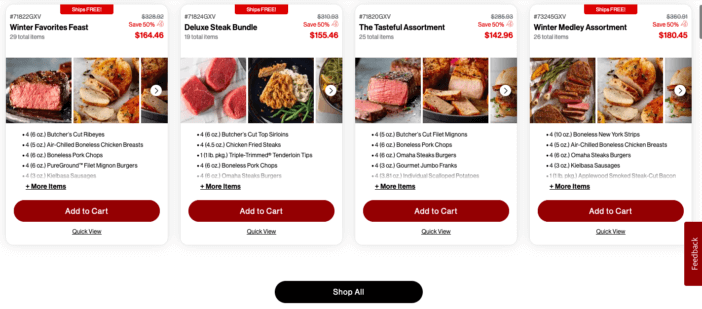 Omaha Steaks are expensive, but do you get value for money? Apart from steaks, Omaha Steaks also sells chicken, seafood, side dishes, desserts, wine, and a host of other items. So it's very convenient to order your meat and any other items that take your fancy. However, even the convenience doesn't make up for the high costs, particularly the beef.
If you're going to spend your hard-earned bucks on steak, it's best to make it count with a large order! Omaha Steaks only gives free shipping to orders above $148.99 or $79.99 if you have a gold membership. And only to the lower 48 states.
Good Ranchers Vs. Omaha Steaks: Customer Service
"The customer is always right" is a Sales 101 principle of old. While there are exceptions to the rule, customer satisfaction is the backbone of the business. There will always be situations that go pear-shaped in any business; the best solution is to apologize to the customer and fix it.
A good attitude goes a long way in keeping customers. However, when customers are consistently upset about the same issues, it speaks of a pattern of bad customer service. Businesses must avoid this at all costs because once the bad reviews are out there, fixing the problem is much more difficult.
Good Ranchers Customer Service
Good Ranchers began with part of its mission to supply American families with American beef at an affordable cost. The business has grown phenomenally, but when searching for reviews online, the main gripe was the inability to get responses from the customer services team when there was a problem.
Good Ranchers started doing business primarily through pop-up shops but have since changed to mainly selling online. Several negative reviews regarding the quality and quantity of the meat originated at the pop-up stores.
Omaha Steaks Customer Service
Omaha Steaks has many negative reviews on several different platforms, many to do with customer service. Where customers have contacted the company, a common theme amongst complaints is uncooperative consultants.
Another typical complaint is that Omaha Steaks don't honor its discounts or promotions and often refuses refunds even though the company is at fault.
Good Ranchers Vs. Omaha Steaks: Selection
Customers always want a wide selection to choose from, whether in a grocery store or online.
Good Ranchers Selection
Good Ranchers have a good range of beef cuts included in their boxes. Customers can select their favorite from eleven packages, eight of which include beef options. They can view the weight and contents in the box before ordering.
Omaha Steaks Selection
Omaha Steaks has a wide variety of beef cuts available for order, along with many other products. They also have their famous King cuts, ranging in size from 36oz to 72oz, for very hungry customers. Omaha Steaks allows the customer to order single meats or mixed packs. But the price hikes are quite steep when ordering single meats not part of a larger order.
Good Ranchers Vs. Omaha Steaks: Environmental Impact
Every individual, business, and large corporation needs to aim to reduce their carbon footprint and live in ways as beneficial to the environment as possible. How do these online retailers perform in this regard?
Good Ranchers' Environmental Impact
Good Ranchers collaborate with their partner farms to ensure they take special care of the cattle, giving them a good quality of life and humane treatment. They do their best to produce the USA's best beef through sustainable farming processes. They also don't feed their cattle hormones or antibiotics.
Good Ranchers also use environmentally friendly packaging. They pack the meat orders in biodegradable cardboard boxes.
Omaha Steaks' Environmental Impact
Omaha Steaks does not state whether the beef contains hormones or antibiotics, but usually, if products are free of such additives, they are labeled accordingly.
One of the recurring complaints against Omaha Steaks is its non-green packaging. The company ships all of its orders in polystyrene boxes, which is horrendous for the environment.
Good Ranchers Vs. Omaha Steaks: How It Works
Although both retailers operate online, their systems are slightly different.
Good Ranchers' System
Good Ranchers offers a selection of boxes with beef, chicken, and fish. Customers can purchase on a once-off basis or take a subscription. They can select their favorite boxes and decide how frequently they want to receive them. The company doesn't require long-term commitments for its subscriptions; the customer can quit at any stage.
Once subscribed, the price of the boxes chosen will stay the same until you cancel your subscription. A subscription also entitles customers to free shipping. Good Ranchers don't customize boxes, though.
Omaha Steaks' System
Omaha Steaks' system is more like an online grocery store. They don't offer subscriptions, but you can choose exactly what you want in your package. They also run promotions and discounts, and it's easy to assemble complete meals by ordering side dishes, desserts, wine, candy, and more with your meats.
Good Ranchers Vs. Omaha Steaks: Sourcing
It's always good to know where your food comes from, isn't it?
Where Do Good Ranchers Get Their Meat?
Good Ranchers are passionate about supporting independent American farmers. In fact, that's why they started the company. Over 80% of the grass-fed beef is imported from other countries, damaging the local meat industry.
Good Ranchers are determined to return the beef industry to the hands of Americans and partners only with 100% American ranches and farms using humane and sustainable farming practices. The company stands for high-quality meat affordable to all families.
Where Do Omaha Steaks Get Their Meat?
As the state with the second-highest ratio of cattle to people, Nebraska has its own steady beef supply to keep the company going. There are 3.29 cattle for every human in the state! But Omaha Steaks sources its beef from farms throughout the heartland region of the United States, not only Nebraska. It also does not import beef from outside the USA.
Good Ranchers Vs. Omaha Steaks: Philanthropy
How do these two online retailers support their communities?
Good Ranchers Philanthropy
Good Ranchers have a program called Give 10, which involves donating ten meals to food banks and local churches for needy Americans with every box purchased. They have already donated more than 500 000 meals this way, a fantastic achievement for such a young company.
Omaha Steaks Philanthropy
Omaha Steaks supports several national arts organizations and charities and provides education scholarships. It also collaborates with Mercy Chefs, Food Bank For the Heartland, and Feeding America.
Frequently Asked Questions
Which Steak Brand Is Best?
On the grounds of known beef grades, Good Ranchers is the best brand. The company's steaks are all Prime or Upper Choice grades, according to the USDA standards. Omaha Steaks don't reveal their steaks' grades.
What Are The Best Steaks For The Money?
Good Ranchers also take the prize for the best steaks for the money. It aims to keep the prices low, and when customers subscribe to their boxes, the prices stay the same for life. Shipping is also free with subscriptions.
Are Omaha Steaks Better Than Grocery Stores?
Most cities and towns have local grocery stores and butcheries that supply high-quality meat and will cut it to your specifications on request. The grocery stores will also be much cheaper. The advantage of Omaha Steaks lies in its convenience and the additional goods it supplies, not necessarily in steak quality.
Conclusion
Online meat retailers each have their strengths and weaknesses, which is also true in the Good Ranchers versus Omaha Steaks comparison.
While there is a certain loyalty to old American businesses like Omaha Steaks, customers will ultimately keep ordering from a company with consistently reasonable prices, quality, and service. Good Ranchers comes out on top this time.