Gas Grill vs Pellet Grill: Comparing the Pros and Cons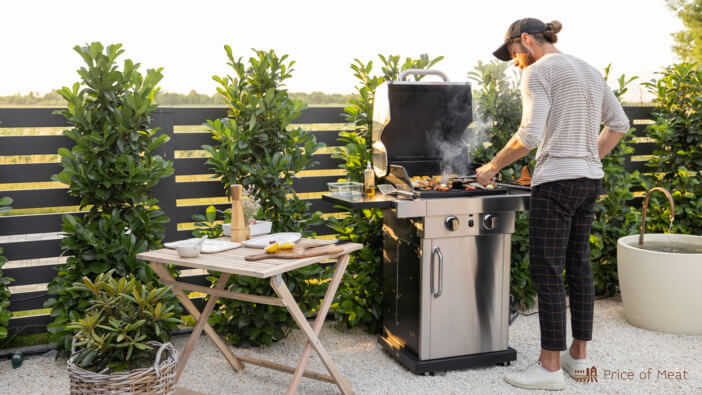 The dilemma for most up-and-coming home pitmasters is whether to choose the convenience of gas or the authentic smokey taste from a pellet grill. Purchasing a quality outdoor grill is not cheap and is an investment you will have to live with for several years. We have compiled a comprehensive list of pros and cons between gas and pellet grills so you can make the best decision.
Gas grills are popular and convenient. They start instantly and don't need much time to preheat. Pellet grills take longer to heat up, rely on electricity, and may not be as easy to operate as gas grills. They are also more expensive than gas grills but impart a smokey wood-fired taste to food.
Although both gas grills and pellet grills have plenty of unique pros, there are some aspects, like cleaning up after your weekend feasts, that you should also consider before buying.
The two grill types deliver entirely different vibes, so let's jump right in and compare the pros and cons so you know whether to choose a gas or pellet grill.
Quick Sidenote – check out our shop for a curated selection of the best meats, cuts, sausages, and more. Open our shop in a new tab and explore!
Disclosure: As an Amazon Associate, this site earns from qualifying purchases. Thank you!
Gas Grill vs Pellet Grill – What's The Difference?
Plenty has been written and said in the past comparing gas vs. charcoal grills. Those were traditionally the standard two types available, and you were either a hardcore fan of one or the other to get your steak seared to perfection.
In 1985, Joe Traeger changed all that when he created the first pellet grills. The convenience and unique smokey taste created by pellet grills added a new dimension to backyard grilling.
While most people are familiar with how a gas grill works, pellet grills, and pellet stoves are terms often confused or used interchangeably. A pellet grill and a pellet stove are entirely different in design and functionality. Before we get into the mouthwatering details of comparing gas and pellet grills, let's quickly recap each type.
The Background Of Gas Grills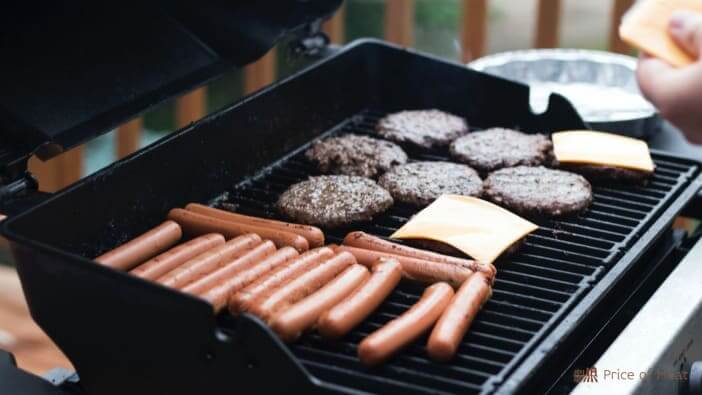 Gas grills are the most common backyard grills used in the United States. These convenient outdoor cooking machines, invented in the late 1930s, are fueled by natural gas or propane.
One of the handiest things about using gas grills is that they are almost instantly ready. The burners will ignite at the flick of a button, and the heat can be adjusted by increasing or decreasing the amount of gas being delivered.
How Long Have Pellet Grills Been Around?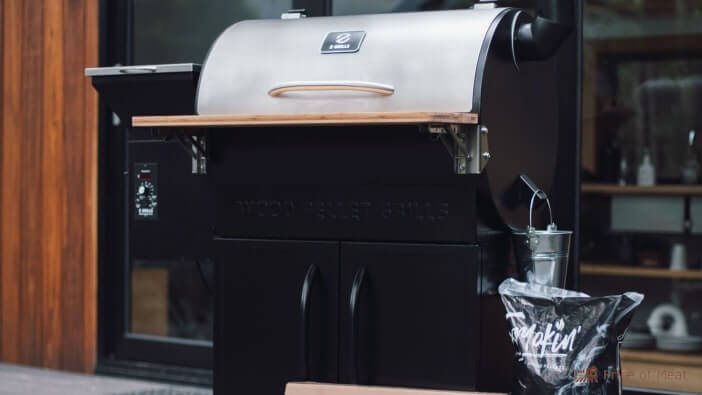 Pellet stoves have been in use since the 1970s, and they were especially popular as an affordable source of home heating. From those humble beginnings, the first pellet grill was patented in 1986.
There are some significant differences between pellet stoves and pellet grills. Although one developed from the other, everything from how the pellets are moved through the machine to the actual type of pellet used is different from the original heater version.
Some important things to know about pellet grills:
All pellet grills require electricity to run the motor. An auger moves the pellets from the hopper through the machine and drives the fan to create heat.
Only food-grade pellets are safe to use in pellet grills
You will use around 1.5 pounds of pellets per hour while using a pellet grill
The Pros And Cons Of Gas Grills Vs. Pellet Grills
There is no denying that a slow-cooked hickory-infused roast cooked in a pellet grill has a mouthwatering appeal all its own, but cooking regularly on a pellet grill may require more commitment than you've got!
10 Pros Of Gas Grills
Gas grills dominate the market, and there are gas models of every shape and size to choose from. The performance, convenience, and cost-effectiveness of using gas is reflected in their popularity.
Although other outside cooking options like charcoal, electric, pellet, or kamado style options are available, gas grills always stay in style. Let's find out why.
Gas grills are user-friendly and hassle-free – flick a switch, and your cooking surface will instantly come to life.
High heat and simple temperature control – The burners in a gas grill can be adjusted at the turn of a switch to either rev up the heat or keep things simmering under the hood of your grill.
Instantly ready – You can decide to BBQ spontaneously and have a gas grill ready to start flipping steaks in minutes.
Plenty of choices available – Because gas grills are the most popular outdoor cooking type, there is a greater choice between brands. Units can even be fully customized to fit into your setting.
Fast cooling – At the flick of a switch, your gas grill will be off, and it won't take long before it is completely cool.
Gas grills are affordable – Plenty of competition among manufacturers means plenty of feature-packed affordable options are available.
Gas is inexpensive, no waste fuel. You only need to use gas while your food is cooking, and it can be turned off instantly when you are finished.
Ultra-convenient – A gas grill can be connected to your gas line at home.
Clean-up is easy – Empty a drip pan and wipe the racks when they have cooled down.
Small, portable gas grills are available.
What Are The Cons of Gas Grills?
With all the positives that make outdoor cooking on a gas grill so convenient, it is difficult to imagine that there could be any reasons not to choose gas. As you can see from our list below, there are quite a few reasons why gas isn't everyone's first choice when it comes to home grilling.
You can't smoke food on a gas grill – well, you can try, but gas grills are not designed for slow, low-temperature cooking.
Gas grills don't perform well overall when cooking at low temperatures.
It doesn't give a smokey quality to food.
Portable gas grills usually need a propane tank which can be expensive.
It is easy to burn food. Gas grills tend to be hot and fast. Food needs to be carefully watched and flipped to avoid burning.
Safety concerns – To safely operate a gas grill, there must be a lot of space around the unit. According to the National Fire Protection Association, gas grills are responsible for almost 9000 housefires per year, not including structural or outside fires. Leaks and breaks in the gas delivery system are the most common cause.
Lack of smokey taste – A gas grill does not provide the same smokey flavor as a grill that burns charcoal or pellets. Gas is flavorless, so it is only the heat doing the cooking.
Gas grills may lack versatility – Although top-end gas grills have loads of features, a gas grill is ultimately still just a gas grill. Smoking food, or using less heat-heavy techniques like baking, can be tricky.
The Pros Of Pellet Grills
Pellet grills are a no-mess, no-fuss alternative to cooking over charcoal while retaining the natural wood-cooked taste. They offer more versatility than gas grills, and once you get the hang of the settings, food cooked in a pellet grill carries a unique flavor.
Pellet grills offer a more natural, all-wood BBQ feel.
Great to prepare food when low temperatures are required.
Creates a relaxed, slow-cooked vibe – perfect for lazy afternoons and evenings
Delivers an authentic grilling smell while the food is cooking
Pellets are mess-free. Unlike charcoal, wood pellets are clean and easy to decant into the hopper. They burn down to a fine ash.
It is easy to adjust the temperature inside the grill. Since the mechanism responsible for the heat runs off electricity, adjustments can be made by turning a dial. The internal fans and the speed of the auger are highly responsive, so adjusting the cooking temperature on a pellet grill is possible.
You can buy specifically flavored wood pellets to add subtle nuances to the taste of your food. Hickory and apple are popular choices, but new variations are constantly becoming available, which can add exciting taste twists to your menu.
You don't have to babysit your food while it is cooking to save it from burning. Pellet grills can be set to cook slowly and evenly.
Easy to clean. Ash needs to be emptied periodically, and the grates wiped down.
Cons Of Pellet Grills
There is no doubt that pellet grills offer an authentic BBQ taste that is hard to beat, but what are the downsides of choosing one?
They need an electrical source to run.
One of the most limiting factors about pellet grills is that they are great in fine weather, but since they are driven by electricity, they are not suited to use in wet weather conditions.
It can take longer to learn to use.
Not great for impatient cooks or anyone who enjoys steak prepared on a sizzling grill.
They are expensive – especially compared to gas grills.
You need to keep adding pellets. Although most pellet grills have large hoppers, they do need to be refilled quite often.
It may not smoke as well as you hope. If you need an extra smokey taste, there are ways to create a smokier effect inside a pellet grill, but the result will differ from a dedicated smoker.
Heat is not instant. Although pellet grills can be ready in around 15 minutes, a short wait is required for the unit to heat up, so it takes longer than a gas grill.
Comparison Of Gas Grills Vs. Pellet Grills
Most grillers sit squarely in one camp or another. Some prefer the convenience and simplicity of gas, while others don't mind the extra effort and preparation required by pellet grills. There is a lot to love about the rich taste and authentic BBQ aroma distinctive from woodburning grills.
Now that we have covered the pros and cons of these two popular grill types, let's look at how they stack up against each other.
| | |
| --- | --- |
| Gas Grills | Pellet Grills |
| Gas is cheaper than wood pellets | Pellets deliver a distinctive taste |
| Easy to use immediately | It may take some time to master pellet grilling |
| Immediate cooking | It takes at least 15 minutes to heat up |
| Grills are cheaper | Pellet grills are more expensive than gas grills |
| A good option for grilling meat | More versatility of cooking, especially at low temperatures |
| It can be connected to a household gas supply or run with a propane gas bottle | Requires electricity to operate |
| More portable | Less portable since units are often quite bulky and require an electrical outlet. |
| Gas does not affect the taste of the food. | Imparts a smokey taste to food – you can select wood flavors |
| Gas grills are not created for smoking meat | Well suited for smoking food |
| Very fast – quick clean-up | Start to finish takes longer – clean-up is easy |
| Perfect for fast, hot cooking | Not as good if you like searing meat |
| Once a gas line is connected, it does not require any additional supplies to operate. | You need to keep the hopper supplied with pellets. |
| Easy to burn food. More suited to hands-on grillers | Less likely to burn food. Best suited to slow, relaxed cooking style. |
Frequently Asked Questions
Is Pellet Grill Better Than Gas?
Pellet grills deliver a smoky taste that can't be replicated on a gas grill. You can even get specifically flavored wood pellets. However, gas grills are more convenient and less expensive than pellet grills.
What Are The Cons Of Pellet Grills?
All pellet grills rely on electricity, so they aren't as portable as some other outside cooking units that use charcoal or gas. Being reliant on electricity also means they aren't ideal to use in wet weather.
Other cons include that pellet grills can take time to get used to and take longer to get hot compared to gas. Because the heat is more evenly distributed, it may not be able to sear steaks quite as efficiently.
Is It Worth Buying A Pellet Grill?
A pellet grill is worth buying, especially if you need versatility from your outdoor appliance. While it lacks the intense heat and speed of a dedicated gas grill, it does an admirable job of grilling and provides flavor and depth to slow-cooked dishes or even smoked cuts.
Can You Just Grill On A Pellet Grill?
One of the biggest selling points of pellet grills is their versatility. They stand head and shoulders over gas grills when it comes to handling a range of food. Pellet grills can do everything from baking to grilling and everything in between, including smoking meat.
Conclusion
Gas is a solid option if you need a fast, all-weather, convenient grill if you BBQ frequently. Pellet grills offer a wider variety of cooking styles and a richer taste, but they are a bit more work to operate. Since they require electricity to run the motor, they are also not ideal to use in wet weather.
Bestselling Gas Grills on Amazon
Bestseller No. 1
MASTER COOK 3 Burner BBQ Propane Gas Grill, Stainless Steel 30,000 BTU Patio Garden Barbecue Grill with Two Foldable Shelves
❤ STAINLESS STEEL BURNERS: This propane gas grill has 3 Stainless Steel burners, can put out 30,000 BTU-per-hour with integrated piezoelectric ignition system, quick start up with the push &turn of a control knob
❤ FEATURES: The whole Stainless steel control panel with chromium plating control knob makes this propane gas grill more study and delicate, a stainless steel handle and a built-in stainless steel thermometer on the cover lid, two foldable tables and two heavy duty wheel casters for storage and moving
❤ PORCELAIN-ENAMEL WIRE COOKING GRATES: The cooking area of our propane gas grill is 471.8 include 339 square inches for cooking and 132.8 square inches for warming
❤ ASSEMBLED DIMENSIONS: 46.46 L x 20.87 W x 41.14 H inch, and 29.5 inch Length when folding both of the side table of the propane gas grill
❤ MULTIFUNCTION AND PRACTICAL: This propane gas grill is perfect compliments any outdoor space like backyard, garden, courtyard, terrace and balcony of most family, alternative all season for outdoor cooking
Bestseller No. 2
Bestseller No. 3
4 Burner Portable Grill, Dual Fuel Combination Charcoal/Gas Outdoor BBQ Cooking with Side Burner, Lid, Wheels, Shelves, 48,000 BTU (Black)
Dual fuel combination charcoal and gas grill allows for versatile outdoor cooking with the convenience of a side burner for additional cooking options.
Enjoy a spacious and organized cooking experience with the grill's lid, shelves, and wheels, making it easy to move and store.
With a powerful 48,000 BTU output, this portable grill delivers impressive heating capability for excellent grilling results every time.
The grill's generous size of 72.8"L*22.8"W*43.3"H provides ample cooking space, making it perfect for entertaining large gatherings and parties.
This smoker grill combo is the ultimate outdoor cooking solution, offering the benefits of grilling and smoking for a variety of culinary creations.
Bestselling Pellet Grills on Amazon
Sale
Bestseller No. 1
Cuisinart CPG-465 Portable Wood Pellet Grill & Smoker with Digital Controller, 465 sq. inch Cooking Space, 8-in-1 Cooking Capabilities - Smoke, BBQ, Grill, Roast, Braise, Sear, Bake, & Char-Grill
8-in-1 COOKING CAPABILITIES: 465 sq.in. of cooking space expands your cooking capabilities; Smoke, BBQ, Grill, Roast, Braise, Sear, Bake, and Char-Grill.​
PORTABLE DESIGN: All-Terrain Wheels and Lift Handle makes it easy to move when not in use. 13 lb Hopper Capacity, 13 inches of prep space with bottle opener​.
ADVANCED WOOD FIRE TECHNOLOGY: With a wide temperature range from 180°F to 500°F, the digital control automatically adds pellets as needed to regulate the temperature.
DIGITAL CONTROLLER: Electronic auto-start ignition, digital auto temperature control and real-time LED temperature display.
Bestseller No. 2
Bestseller No. 3