Giant crayfish and lobsters may look similar with their tough exoskeletons and clawed appendages, but these underwater creatures are quite different.
From habitat preferences to physical characteristics, these crustaceans have evolved unique adaptations to thrive in their respective environments.
Join us as we delve into the similarities and differences between these two underwater giants in a battle of the crustacean kings.
What Is a Giant Crayfish?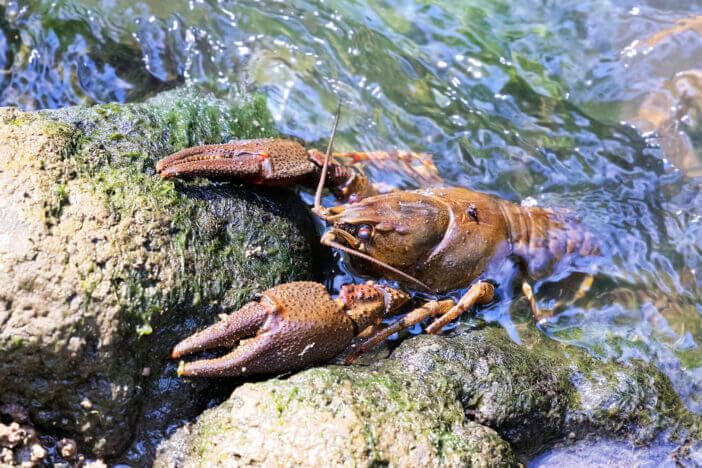 Giant crayfish, also called freshwater lobsters, are a crustacean species belonging to the family Parastacidae. These impressive creatures are native to freshwater ecosystems, such as rivers, streams, and lakes, in Australia and New Zealand.
Giant crayfish can grow to an enormous size (especially compared to others in their species), with some individuals reaching lengths of up to 31 inches and weighing over nine pounds. In contrast, white river crayfish (found in the southern United States) are typically about three inches long.
Giant crayfish are omnivorous, meaning they feed on various plant and animal matter, including aquatic insects, small fish, and vegetation. These creatures are called "bottom-feeders" and frequently feed on animals and plants that have sunk to the river floor.
Despite their impressive size and strength, giant crayfish are not immune to threats. Their populations are vulnerable to habitat loss, pollution, and overfishing. Some species of giant crayfish are considered endangered or critically endangered due to these factors.
Giant crayfish have cultural significance for Indigenous communities in Australia and New Zealand, who have used them as a food source and in traditional ceremonies for generations.
What Is a Lobster?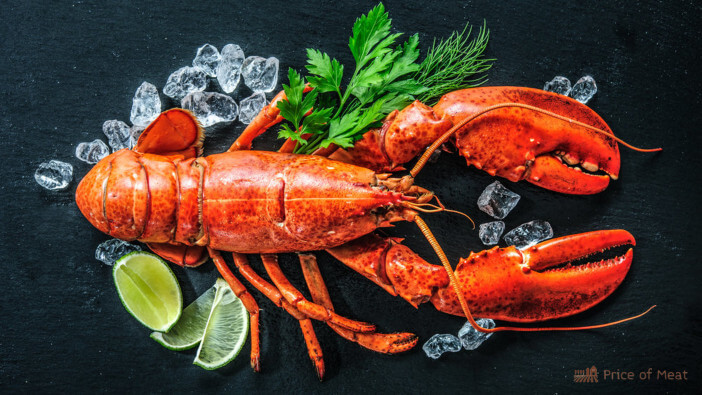 Lobsters are a type of crustacean found in oceans around the world. They belong to Nephropidae and are closely related to crabs, shrimp, and crayfish.
Lobsters are known for their distinctive appearance, which includes a tough exoskeleton, long antennae, and large claws. They can range in size from small species that are only a few inches long to larger species that can grow up to 3 feet long.
Lobsters are scavengers and feed on prey, including fish, mollusks, and crustaceans. They are also known to eat seaweed and other plant material.
Lobsters are essential to both commercial and recreational fisheries. They are considered a delicacy in many parts of the world and are often caught and sold for a high price. However, overfishing and habitat destruction have led to declines in lobster populations in some areas, increasing the price of these crustaceans.
Lobster is viewed as a high-end dish in many parts of the world, with a reputation for its rich and succulent meat, often enjoyed boiled, grilled, or steamed.
Differences Between Giant Crayfish and Lobster
Giant crayfish and lobster may look shockingly similar, but there are many differences between these two tasty sea-dwellers. The key differences between giant crayfish and lobster are size, habitat, lifespan, and appearance.
Size
Lobsters can grow up to 60 centimeters (24 inches) long and weigh up to 6.4 kilograms (14 pounds), while giant crayfish can reach lengths of up to 80 centimeters (31 inches) but weigh less than lobsters, with some species weighing over 4 kilograms (9 pounds).
Habitat
Giant crayfish are freshwater crustaceans in Australian and New Zealand rivers, streams, and lakes. Lobsters, on the other hand, are saltwater crustaceans and can be found in oceans worldwide.
Lobsters are also commonly found in rocky crevices and near coral reefs, while giant crayfish prefer deeper pools and riffles in freshwater streams.
Cost
Due to their rarity and high demand, giant crayfish and lobsters can be expensive, with varying prices based on location, season, and availability.
Generally, lobsters tend to be more expensive than giant crayfish, with some species commanding very high prices in specific markets. In addition, giant crayfish are only found in Australia and New Zealand, while lobsters are found worldwide.
Lifespan
One of the biggest differences between crayfish and lobsters is their vastly different lifespans. In general, lobsters have a longer lifespan than most species of crayfish. Some species of lobsters can live up to 100 years, while others have a shorter lifespan of around 20 years.
On the other hand, most species of giant crayfish have a lifespan of around 5-8 years, although some can live up to 20 years in the wild.
Appearance
To any passerby, a basic giant crayfish and lobster are nearly identical. However, lobsters are a more varied species, so many look unique and completely separate from giant crayfish.
For example, giant crayfish have neutral dark coloring like blue, green, and brown, but many species of lobster come in bright red, blue, or yellow-green.
Frequently Asked Questions
Here are some frequently asked questions about the differences between giant crayfish and lobster.
Do giant crayfish taste like lobster?
Giant crayfish taste relatively similar to lobster, though giant crayfish have a slightly sweeter and milder flavor than lobster, with a tender texture. However, the taste can vary depending on the species, preparation, and seasoning.
The texture of crayfish and lobster is incredibly similar.
Is a lobster the same as a crayfish?
Lobsters and crayfish are both crustaceans and have a similar appearance, but they belong to different families and are not the same species.
Lobsters are typically found in saltwater, while crayfish are freshwater creatures. They also differ in size, taste, and texture.
Are giant crayfish edible?
Yes, giant crayfish are edible and are considered a delicacy in some parts of the world, particularly in Australia and New Zealand, where they are native. However, they are not as commonly consumed as other crustaceans like lobster or shrimp.
It is important to note that some species of giant crayfish are protected or endangered, so harvesting or consuming them is illegal.
Are crayfish mini lobsters?
While crayfish and lobsters share some similarities in appearance and belong to the same large family of crustaceans, they are not the same species. Crayfish are smaller than lobsters and are typically found in freshwater habitats, while lobsters are larger and live in saltwater environments.
Additionally, the two have several physical and behavioral differences, such as their claws' shape and hunting behavior.