Turkey is a staple of holiday meals in the United States. Many companies nationwide distribute this poultry, but two notable brands dominate the market: Butterball and Jennie-O. Chances are, you've enjoyed at least one of these products with a side of mashed potatoes and cranberry sauce.
You might wonder which is best if you plan to buy a turkey for your next special meal. However, there are many factors to consider in the Butterball vs. Jennie-O Turkey debate.
We've compared these two iconic brands to help you decide which turkey is the superior option. Keep reading to discover which turkey deserves a place on your dinner table!
Butterball vs. Jennie-O Turkeys: The Tastes Compared
Butterball and Jennie-O turkeys don't taste the same. Which one is better, however, is a hot debate among many.
One notable feature about Butterball turkeys is that they contain up to 8% brine, which makes the meat super juicy and flavorful. However, some people feel that the brine makes these turkeys too salty.
While Jennie-O offers pre-brined turkeys, most of their products do not contain brine. Regardless, the pre-brined turkeys from Jennie-O still don't match the taste of Butterball turkeys. So while Jennie-O turkeys are still a great product, they are not quite as juicy or flavorful as Butterball.
Overall, Butterball has a reputation for juicier, more flavorful turkey than Jennie-O, which is why we consider it the superior option!
Other Factors To Consider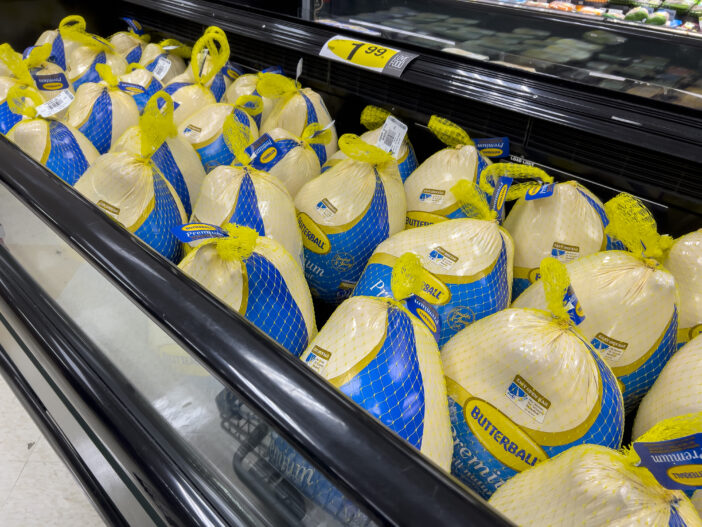 While we believe that Butterball is the best turkey brand, Jennie-O is still a worthy choice for many people.
After all, the flavor isn't the only thing to consider when shopping for turkeys. Farming practices, prices, nutritional value, and many other factors are worth noting, too.
Let's take a closer look at how these two brands match up.
Farming Practices
People who prioritize ethical farming practices will want to choose a Jennie-O turkey for their next holiday meal.
This brand has a unique "turkey tracker," which allows you to view the farm your turkey comes from.
Jennie-O also focuses on sustainable and environmentally-friendly farming options. Their turkeys consume a natural diet free of growth hormones and artificial ingredients.
Overall, it's the best option for people seeking an all-natural, ethical source of turkey.
Pricing
Butterball turkeys are the way to go if you're on a budget. Pricing for both brands will vary depending on the store, but in general, Butterball is the most budget-friendly option.
Butterball also offers smaller turkey options than Jennie-O, so you won't have to spend extra money on a larger option if you're serving a small crowd.
Preparation
Finding an easy-to-prepare turkey is the key to a smooth and successful holiday meal. Those seeking a turkey they can prepare without hassle will want to choose Butterball because the pre-brining makes Butterball a much easier turkey to cook than Jennie-O.
Nutritional Value
Overall, Jennie-O turkey is the healthier option of these two products. The brine in Butterball turkeys makes for a very high-sodium product, which can cause health issues like high blood pressure. On the other hand, Jennie-O turkeys are typically lower in fat and sodium and free of additives.
Sizes
The size of a turkey is an important factor to consider before making a purchase. It will affect the price and how long it takes to cook.
If you want more options for the size of your turkey, you should choose Butterball because they offer a wider selection than Jennie-O.
Butterball turkeys can range from 10 to 32 pounds. On the other hand, Jennie-O typically ranges from 10 to 25 pounds.
The Pros and Cons of Butterball vs. Jennie-O Turkeys
Just because we feel that Butterball is the best turkey doesn't necessarily mean it will be the best option for you. Both Butterball and Jennie-O turkeys have respective pros and cons.
So if you need a quick guide to determine which turkey to buy, we've summed up the key information you'll need to consider.
Butterball
Pros:
Their products are more affordable
All Butterball turkeys come with brine for maximum flavor
Their turkeys are easier to prepare than Jennie-O turkeys
They offer a wider range of turkey sizes
The turkeys come with giblets removed
Cons
Some find the flavor of Butterball products too salty
They don't have the same sustainable farming practices as Jennie-O
Jennie-O
Pros:
Jennie-O farming practices are ethical and sustainable
Their products are all-natural
The turkeys are slightly healthier than Butterball turkeys
The turkeys include a pop-up timer to ensure thorough cooking
You can choose between standard or pre-brined turkeys
Cons:
Jennie-O products are slightly more expensive than Butterball
They require slightly more work to prepare
Frequently Asked Questions
If you still need help deciding which turkey to buy, don't worry—we have the answers to your questions here.
Is Butterball or Jennie-O the better turkey?
In our opinion, Butterball is the superior turkey compared to Jennie-O. Its rich flavor, affordability, and ease of preparation make it worthy of our recommendation.
However, it is worth noting that Jennie-O excels in sustainable and ethical farming practices. So if that's what you prioritize in a product, then Jennie-O would be the best choice.
What brand of turkey is the best?
When it comes to taste, the best turkey brand overall is Butterball; it's one of the most popular turkey brands in America because of its delicious flavor and tender, juicy meat.
Are Butterball turkeys better than other brands?
Butterball turkeys are better than other brands in many areas. For instance, they have a savory and juicy flavor that stands out. They're also fairly affordable without sacrificing quality.
However, there are some areas where Butterball falls short. Some complain that the brine flavor makes these turkeys too salty for instance. And when it comes to farming practices, there are several other more sustainable options to choose from, such as Jennie-O.
What makes a Butterball turkey different?
What sets Butterball turkeys apart from the rest is its flavorful brine. This component gives the Butterball turkey its rich, savory flavor that other brands have yet to replicate.