Broil King vs Weber Grills: What's the Difference?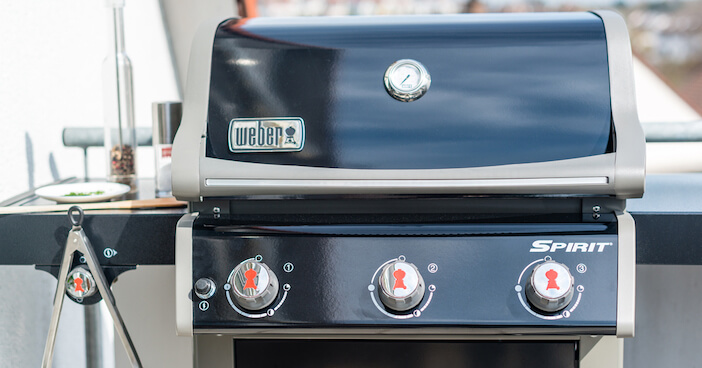 Weber has almost reached iconic status in summer backyards across the country, but the newcomer, Broil King, is quickly making up ground, and it's easy to see why. Broil King and Weber are established brands in the outdoor cooking world and offer a wide selection of products. While similar models of both brands will undoubtedly grill to perfection, let's explore the differences between the two.
A major difference between Weber and Broil King grills is where the grills are manufactured. Both brands offer solid warranties, but Weber is often more comprehensive. You can expect to pay more for most comparative models of Weber grills. This has made Broil King a popular alternative to Weber.
In addition to just being able to prepare perfectly cooked meals, you need your grill to look good and last as long as possible. While Weber is an established brand with a long track record, Broil King deserves a second look. Let's track the differences between the two brands so you know what to expect.
Broil King and Weber have unique features. It is impossible to select one brand over the other since they both offer an impressive range of high-quality grills, which include gas, charcoal, pellet, and electric models.
Quick Sidenote – check out our shop for a curated selection of the best meats, cuts, sausages, and more. Open our shop in a new tab and explore!
Disclosure: As an Amazon Associate, this site earns from qualifying purchases. Thank you!
Broil King Vs. Weber: Where Are They Made?
Weber is an established brand that has been around since 1893, but the famous kettle grill component of the company only began in 1951. Similarly, Broil King's founding company goes back more than a century, although the barbeque division was only founded about 40 years ago.
Broil King
One of the major selling points of Broil King over Weber is that it is 100% made in North America. Even the steel comes from North American mines, and no components of their grills are manufactured abroad.
Broil King has production plants in Indiana, Tennessee, and Ontario, Canada. If made in America is your deciding factor, then Broil King should be your go-to for peace of mind.
Weber
Weber is a brand that has been associated with American backyard barbeques for more than 70 years. The brand even boasts a limited-edition nostalgic kettle collection that celebrates its classic design with a retro look.
However, even though Weber is proudly American-founded and owned, several components on its grills are outsourced abroad. Weber has pointed out that this is to remain competitive in an ever-changing market.
Broil King Vs. Weber: Product Range
Choosing the best design can be intimidating for many first-time grill buyers. Both Broil King and Weber have various models ranging from entry-level to high-tech grilling appliances. Some high-end grills may seem more like computers than barbeque equipment!
For an outsider, the range names can sound like in-house jargon and be confusing. Both Broil King and Weber have a few flagship grill ranges. There are models within each range with different features, but here is a basic overview of words you can expect to see on their gas models:
| Grills | Broil King | Weber |
| --- | --- | --- |
| High-End Grills | Regal | Summit Series |
| Mid-level | Baron | Genesis II Series |
| Basic workhorse grills – for when you need to get the job done without a lot of extra added bells and whistles. | Signet | Spirit |
| Compact portable | Porta-Chef 320 | Q-Series |
Broil King
Broil King is making strides into Weber territory by consistently producing solidly built grills that offer excellent value for money. They do not have as many grills in their range as Weber, and they may be slightly behind in some of the mod-con features available on some of the latest high-tech Webers.
What makes Broil King attractive to many of their fans is that they have stuck to the basics and stand by their solidly-constructed products. Their range may be more limited than Weber, but they have something of everything in plenty of sizes.
Weber
A few years ago, features like Wi-Fi connectivity to your outdoor grill would have seemed impossible, but Weber continues to forge ahead in offering their customers cutting-edge grill technology. If you want the latest style grill packed with gadgets and special features and to be the envy of your neighborhood, a top-of-the-range Weber is the better choice.
Broil King Vs. Weber: Price
Both Broil King and Weber make quality products with excellent after-sales service and extended warranties. There is, however, no denying that you should be prepared to fork out more for a similar level Weber.
Broil King grills offer excellent value for money. They are an ideal alternative to a Weber if you know what features you want on your grill. You will almost definitely be able to find a comparable Broil King model that costs less than the Weber.
Always be sure that you are comparing similar-level units when making price comparisons because both brands have grills suited to various situations and budgets. For example, if you are thinking about buying a Weber Genesis II, also consider Broil King Baron.
Broil King Vs. Weber: Performance
Few things are as welcoming and homely as the smell of food being cooked on an outdoor grill. When choosing a grill and deciding on features, most outdoor cooks are most interested in how the final product will look and taste.
Well-prepared, delicious food isn't only about the grill's performance; the pitmaster also has a significant role in ensuring delicious results. While it is impossible to generalize across all the models of these two brands, the consensus seems that impatient chefs are less likely to end up with burnt food on a Weber than a Broil King.
This intense heat is because Broil King usually has more BTUs spread across the cooking space. BTU stands for British Thermal Units – it is a measure of how hot it can get. That means a Broil King can get super-hot, really fast, which can be a good or bad thing, depending on what you are cooking.
Broil King Vs. Weber: Appearance
Everyone wants a grill that looks impressive and fits their lifestyle. You may require a more portable style or large model that will stay in place on your deck for many years to come, but no matter the size, you need it to look good.
As one can expect, as one moves through the tiers from basic to high-end, both Broil King and Weber leave no stone unturned to deliver chic, functional designs. Both Summit and Regal grills feature stainless steel construction and solid-looking cabinets with plenty of storage space.
Broil King Vs. Weber: Warranty
As one would expect from two of the biggest names in the BBQ world, both Broil King and Weber stand firmly behind their products. At face value, the warranties may seem equal and are usually around ten years, but when purchasing, it is essential to read all the fine print.
Depending on the model from each brand, you may find that although there is a lifetime guarantee on the body or cook box, the grates may be excluded. To demonstrate this, let's compare the warranty on two popular high-end gas grills – one from each brand.
Note that warranties differ between products, so don't expect the same cover on more basic units from either brand.
Broil King Vs. Weber: Verdict
There are different grill types and brands for different grillers. Calling a clear winner between two great brands like Broil King and Weber is impossible. Both deliver solid equipment that you will love owning and using.
The most notable differences between the brands that we could find boil down to the following:
100% Made in America – Broil King
Overall better warranty on most products – Weber
High-tech with the most features and gadgets – Weber
Budget friendliest – Broil King
Frequently Asked Questions
What Is The Number 1 Rated Grill?
Weber ranks high on listings for the number 1 spot in the competitive world of grilling. Both the Genesis E-325 and the Weber Original Premium Kettle grill feature on a 2023 CNN review of the best grills for the coming year.
The best grill for your situation depends on how you like your food cooked and how much you are prepared to spend. There is no doubt that a timeless classic like a Big Green Egg offers enormous versatility, and you can also use it to grill, but it may not give the same summer backyard grill feeling you would like.
While Weber takes the number 1 spot with some grill reviewers, other honorable mentions for the top spot also include:
Who Is Broil King Made By?
Onward Manufacturing Company owns Broil King. It is a Canadian company with manufacturing plants in the United States. The company, founded in 1904, has undergone many changes in its history, and it only began manufacturing barbeque products in 1980.
One of the most appealing features of Broil King is that customers can rest assured that all components of their units are sourced in North America. Although it started as a Canadian business, Broil King has expanded into the United States and now has manufacturing plants providing hundreds of local jobs in Huntington, Indiana, and Dickson, Tennessee.
Is Weber Really The Best Grill?
Weber has an established track record of manufacturing quality grills with top-notch technology and loads of features. Their products also include solid warranties, so you know your grill will be sturdy enough to be used for a long time.
Whether Weber is overall the best grill depends on who you are talking to. While fans of Weber are loyal to the brand, newcomers like Broil King are gaining popularity and can offer similar products at more competitive prices. Some even have added features that can be useful for the same price that you can expect to pay for a Weber.
Compare the Weber Summit Kamado E6 Charcoal grill with a similar grill from Broil King. Not only is the Broil King considerably less expensive, but it can also be used with a trailer hitch – this makes it a lot more portable than other kamado-style grills.
Which Brand Of BBQ Grill Is The Best?
There is no denying that Weber features strongly in almost all polls across all three BBQ categories, gas, charcoal, and electric. They have been in the business for a long time, and the company continues to innovate and provide improved features on all their models.
Even though Weber has been manufacturing great grills for a long time, it is notable that they continue to face some strong competition. Brands like Traeger feature strongly at the top of the charcoal grill division, and Broiler King gas grills offer many of the same features as Weber but with a lower price tag.
What Is The Most Popular Type Of Grill?
Gas grills are the most popular grill in the United States. Data shows that 61% of households that use a grill own a gas type. 49% Of respondents indicated that they own charcoal grills, and only 10% had electric grills.
Final Thoughts
Broil King offers down-to-earth, homegrown value for money. The brand offers excellent value for money, and top-of-the-line ranges match up well with Weber's style and functionality. Although Broil King has a comprehensive range of grills, it is not as extensive as Weber.