30+ Perfect Gifts for Duck Hunters this Season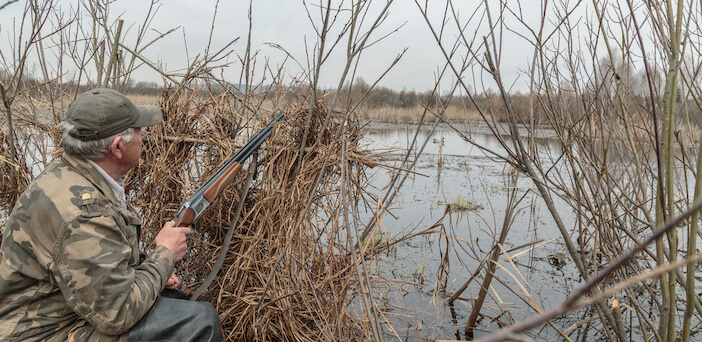 Duck hunting is not an easy sport, and it is arduous work. Still, many Americans enjoy the hunting season every year. You will find them out in the cold, sloshing through the muddy water on the scout for nearby waterfowl. And when the hunt is successful, they enjoy preparing their harvest for a feast of delicious duck meat. But what do you give a duck hunter? What are the perfect gifts for this season?
The perfect gifts for duck hunters are any items that can be taken on the hunt. Hunters must keep warm, so hats, gloves, socks, hand warmers, and a thermos flask for hot drinks are ideal. Earplugs to protect hearing, hunting waders to keep dry, and delicious snacks are perfect for the hunt.
Read on to discover what makes a perfect gift for a duck hunter. You will also find a list of this season's ideal gift ideas.
Disclosure: As an Amazon Associate, this site earns from qualifying purchases. Thank you!
Quick Sidenote – check out our shop for a curated selection of the best meats, cuts, sausages, and more. Open our shop in a new tab and explore!
Pair of Warm Gloves
Any duck hunter will appreciate a set of gloves to keep the hands warm and dry. You can choose between gloves made from cowhide or fleece-lined gloves. Both materials are excellent for protecting the hands during duck hunting season.
Padded Mud Seat
Mud seats are an ideal gift for the duck hunter, offering a comfortable seat that can be used even in open water.
Choose a seat with 3 steel lateral supports, a padded seat and that comes with a shoulder strap. Mud seats are lightweight and easy to carry around during the duck hunt.
Headlamp
Various types of headlamps are ideal for the duck hunter who gets to the blind in the early morning when it is still dark.
So, choose a headlamp that is robust and solid, has night vision, is waterproof, and has a brightness memory. A gift any duck hunter should always have on him.
Duck Calls
You can choose a single-reed or double-reed duck call. The single reeds will have more range and are more challenging to master.
The double reed duck call has less range, but the sound is very realistic to ducks. Duck calls are made from wood, polycarbonate, or acrylic. Whatever you choose, the duck hunter will greatly appreciate your gift.
Box Of Spicy Beef Jerky
Gifting a box of different flavors of beef, deer, or buffalo jerky is an excellent gift for a duck hunter. It will serve as a delicious snack packed with protein to keep the body fueled for warmth and strength for long periods during the hunt.
Canvas Gun Sleeve
A canvas gun sleeve is another ideal gift for the duck hunter. Choose a waxed canvas gun sleeve made of high-quality and durable material.
Look for one that closes easily with a Velcro strip and has a hand and shoulder strap. Opt for a gun sleeve with a lightly padded interior to prevent the gun from scratching.
Binoculars With Low Light Vision
Binoculars are an excellent choice to gift a duck hunter so they can view the ducks undetected. Choose binoculars that can be worn with sunglasses or prescription eyeglasses. Opt for a small size that can easily fit into a pocket and be held in one hand.
Duck Camo Hat
Duck camo patterns are best for duck hunting, and they feature reeds, tall grass, and cattails just like you would find near a swamp or marsh. However, there are many camo patterns, so if you know which camo pattern the hunter favors, your choice is easy.
Duck camo hats usually have a cotton or polyester front with a polyester mesh back. You can choose a hat with ear flaps for additional warmth for the ears.
Floating Duck Decoys
Floating duck decoys are ideal for the hunter to use on dams, ponds, rivers, or wherever waterfowl are found. Decoys come in two types, the weighted keel, and the water keel.
The weighted keel will be heavier, so opt for the water keel, which will be easier to carry. Decoys are made from plastic that is filled with foam or cork that is covered in burlap.
Duck Hunting Strap Carrier
This strap carrier is great to attach to the hunter's belt for carrying the birds while still on the hunt. It will keep the hands free and weight off the shoulders.
The straps can also clip onto a backpack. Choose a duck carrier made of genuine cowhide leather, which is robust and will last a long time. Most carriers can hold at least 12 birds.
Thermos Flask For Hot Drinks
If your duck hunter loves coffee or a hearty soup, a thermos flask will be ideal for the hunt. Choose a flask that will keep the heat in, is durable, and is easy to clean. You can opt for stainless steel, an excellent insulator, and hardy.
Choose a thermos flask with a screw-on lid that won't leak and a cup that fits over the top. Thermos flasks are also excellent for keeping drinks cold.
Pocket Knife For Cleaning The Duck
This is an ideal gift for the hunter, who will be clean and prepare the ducks after the hunt. A well-crafted knife will come in handy for this purpose.
You can choose a pocket folding knife with a stainless-steel blade that is sharp enough to cut through the duck meat and bones. A folding knife is also easy to slip into a pocket or backpack.
Duck Hunting Backpack
Choose a backpack made with waterproof and robust material that has a duck camo pattern. The bag should have many pockets and compartments for storing duck hunting gear.
Padded shoulder straps or chest straps are a must, as well as a padded waterproof bottom. Some backpacks come with a decoy bag and detachable carrier loops with metal hooks. This is a great gift to use on a duck hunt.
Pair Of Socks For Duck Hunting
Warm socks are essential to keep the feet warm and dry during a duck hunt. You can choose socks made with merino wool or a nylon-wool blend.
The wool adds warmth and, even when wet, will continue to provide insulation. The nylon adds durability to the socks. You can choose a mid-length that fits over the calve or socks that are calve length.
Duck Hunting Waders
Waders are essential to take on a duck hunting trip, as there is no joy in being wet and cold on a winter morning.
Choose sturdy and resilient waders made from material such as Cleated Neoprene, which will keep the hunter warm and dry when having to wade in marshy waters.
Collapsible Tripod For Camera
Most duck hunters like to capture photos on their duck hunt, and with the tripod to hold the camera, the hunter can also be in the picture. An ideal gift for the keen photographer.
Earmuffs And Earplugs For Hearing Protection
This is a practical gift to give the duck hunter, as it is essential to always wear hearing protection. The noise from the shotgun blasts can be blocked out when wearing earmuffs or earplugs.
Rubber or foam earplugs are very effective, or you can choose electronic or regular earmuffs, which are great for hunting.
Waterfowl Magazine Subscription
This is an excellent gift to give to read during the off-season, and you can purchase an annual subscription to a popular waterfowl magazine.
The hunter can pick up some good tips and ideas from other duck hunters. The magazine will also have articles and adverts for new equipment and clothing for the next hunting season.
Humorous Duck Hunting T-Shirt
A T-shirt with a humorous duck hunting saying always gets a laugh when given as a gift. There are many duck hunting sayings and different T-shirts to choose from. The hunter can wear the T-shirt under a hunting jacket when on the hunt or as a casual shirt when not out hunting.
Gift Card From A Hunting Store
If the duck hunter has been hunting for a long time and has it all, a gift card from a popular hunting store will be a good option. The hunter can purchase ammo or anything he needs and will thank you for allowing him to choose a gift.
Gift Basket Filled With Snacks For The Hunt
Fill a wicker basket with snacks that any hunter will enjoy on a duck hunt. Add chips, beef jerky, mixed nuts, dried fruit, candy bars, cheese, and crackers. You can add a few cans of energy drinks and an insulated tumbler for keeping drinks cold or hot. This will be a lovely gift to be enjoyed by any duck hunter.
Leather Wallet With Duck Emblem
A leather wallet is an ideal gift for keeping notes and bank cards safe and together when needed. Leather is strong and will wear beautifully over time. Having a duck emblem on the outside is perfect for someone who loves to go duck hunting.
Cooking Guide For Waterfowl
Find a cooking guide with wonderful recipes for waterfowl, which will be an ideal gift for the hunter. Select a book with many ideas on using different herbs and spices for duck meat. You can buy and add a sachet or two of these herbs or spices to the gift.
Duck Hunt Photo Frame
There will always be one photograph with a special memory for a duck hunter. Gifting a lovely photo frame with some mallard ducks printed on the border is a beautiful gift for that unique photograph. Or you could choose a frame that can hold more than one photograph to showcase these special memories.
Hip Flask With A Duck Hunting Design
Choose a small pocket-size hip flask with a hunting design as a gift. A stainless steel flask with a screw-on cap will fit neatly into a pocket. You can do a personalized engraving on the flask to make the gift more personal.
Engraved Leather Belt
A leather belt that can be worn during the hunt and on other occasions is an ideal gift. You can have the belt personalized with bird engravings or opt for a brass belt buckle with a bird emblem.
Knife Sharpening Stone
Hunters must keep their hunting knives sharp to clean and prepare the duck. Choose a double-sided sharpening surface with an angle guide for the best sharpening utensil. The sharpening stone is an ideal gift and will easily fit into a backpack for use during the hunt when necessary.
Box Of Disposable Hand Warmers
A box of disposable hand warmers seems such a simple gift, but it will be greatly welcomed by the duck hunter. These hand warmers can be slipped inside their gloves and provide heat for up to 10 hours, keeping the hands warm.
First Aid Kit For Duck Hunting
An essential item to take on a duck hunt is a first aid kit. You can choose a kit that comes in a zippered bag. The bag should contain different-sized band-aids, antibiotic salve, gauze patches, stretched tape, and super glue.
Packets of salt to mix with water to make a saline solution should also be included. This is an ideal gift for a hunter who can add more items to the kit.
Paracord Bracelet
These bracelets are adjustable to fit any size wrist and contain some equipment that might be useful on the hunt. They are equipped with a loud emergency whistle, a fire starter, a compass, and 12 feet of military-grade paracord. An ideal gift for any emergency.
Final Thoughts
Many items are required when going on a duck hunt that you can gift a duck hunter. Duck hunts usually occur during winter, so warm clothing such as socks, gloves, hand warmers, and a hat is ideal. Items to protect hearing are essential, so choose earplugs and earmuffs for a gift. The duck hunter will always appreciate some tasty snacks to take on the hunt.