20+ Steak Side Dishes That Will Leave You Craving for More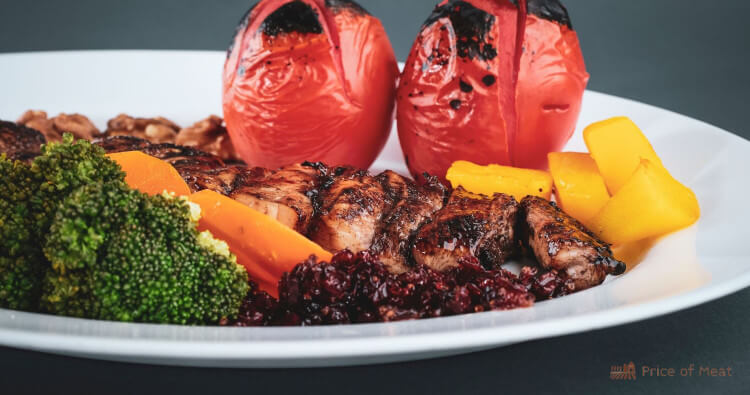 While steak is usually the star of the show, the side dishes aren't something that you should overlook.
You can't go wrong with traditional side dishes for steak, but if you want to take your favorite side dishes to the next level or try something new, like Wagyu sides or traditional like a ribeye meal, check out more than 20 delicious side dishes that pair perfectly with your grilled steak.
Disclosure: As an Amazon Associate, this site earns from qualifying purchases. Thank you!
1: Twice-Baked Potatoes
It's probably safe to say that potatoes and steak go hand in hand, specifically baked potatoes. The only thing better than a baked potato is a twice-baked potato.
Quick Sidenote – check out our shop for a curated selection of the best meats, cuts, sausages, and more. Open our shop in a new tab and explore!
You can make these more traditionally with butter, sour cream, and chives, or go all out and make loaded twice-baked potatoes (preferably Russet potatoes).
They're simple to make and utterly delicious. You'll bake your potatoes how you would normally. When they're finished, you'll slice the potatoes and take out the filling.
From there, you can mix the filling with butter, sour cream, cheese, whatever you want. Then you'll add the filling back to the potato skins and keep baking for 15 minutes.
2: Oven Roasted Carrots
Carrots aren't your typical veggie you see paired with steak, but you'll want to try this on your next steak night.
The best part about oven-roasted carrots is that you can make them whatever you want. You can add garlic powder, salt, pepper, extra virgin olive oil, any seasoning you wish. An excellent balsamic glaze is a way to take these veggies to new heights.
3: Parmesan Broccoli 
Broccoli is one of those vegetables that is almost always served with steak. If you want to switch up this simple side dish, sprinkling it with fresh parmesan is a great option.
You can roast, steam, or bake the broccoli but adding some fresh parmesan would give it a slightly different flavor that pairs well with your steak.
4: Mashed Sweet Potatoes
For a simple switch-up, trade your regular mashed potatoes for a sweet potato. Savory mashed sweet potatoes are a delicious and nutritious side for your steak (or tuna steak). Slather them with butter, salt, and pepper, and you've got a great side dish.
5: Arugula, Pear, and Blue Cheese Salad
This arugula, pear, and blue cheese salad is perfect for those looking for a lighter side dish. It's one of the easier dishes to assemble. All you'll need is some freshly washed arugula, pears, and blue cheese crumbles. The dressing is a nice vinaigrette of your choosing.
6: Mushroom Rice Pilaf
A unique steak side dish is a mushroom rice pilaf. The combination of grains, veggies, and delicious flavors is something different to try next time you're grilling steaks.
7: Cheese Biscuits
Bread isn't always the first side you think of for steak, but cheese biscuits may change your mind. Cheese biscuits are the ideal side to dip into the juices from your steak and soak up every last bit of flavor. 
8: Au Gratin Potatoes
Au gratin potatoes require a little bit more work but are well worth it. The best part of au gratin potatoes is that you can experiment with different cheeses to switch up the flavor until you find something you love.
9: Grilled Zucchini Salad
Grilled zucchini salad is tangy and savory all in one dish. The grilled zucchini acts as the base for your salad, and then it's dressed in lemon juice and herb vinaigrette. Top it with some freshly shaved romano or parmesan cheese, and you'll be set.
10: Dijon Roasted Potatoes
Roasted potatoes go well with steak, but you're missing out if you've never tried them with dijon mustard. All you have to do is roast your potatoes like you usually would with seasonings and then add dijon mustard to them as a sauce.
11: Grilled Asparagus
Grilled asparagus with a nice char on it is a perfect addition to your seared steak. When you grill the asparagus, you can season with whatever your heart desires. If you add a dash of lemon juice, you won't make it any other way.
12: Apple Bacon Slaw
A sweet and salty side for steak is apple bacon slaw. It's crunchy, savory, and sweet. What more could you want? It's your standard cabbage dressed with apple slices, crispy bacon, and you can add oil for more dressing if you wish.
13: Garlic Butter Rice
Buttery garlic rice is a great carb alternative to potatoes for your steak dinner. You'll make your rice as you usually would but add a generous amount of butter and garlic. It will complement the buttery baste of your steak very well.
14: Salt and Vinegar Crispy Potatoes
If you're looking for a way to make your favorite potato chip flavor a little bit fancier, salt and vinegar crispy potatoes may be the best side for you. You can use oven-roasted or air-fried potatoes and then toss them in a mixture of salt and vinegar.
15: Caesar Salad
You can't go wrong with the classic Cesar salad for a side to your steak. The tangy dressing combined with the fresh lettuce and parmesan is a fresh side for steak.
If you love extra protein in your meals, you can grill some chicken and add it to your side Cesar salad.
16: Garlic Parmesan Mushrooms 
Cheesy sauce and a vegetable? It's the best of both worlds. Creamy garlic and parmesan mushrooms is a different side dish to include in your next steak meal.
You'll want to choose smaller mushrooms and saute them in a pan with garlic and oil. The sauteed mushrooms are really versatile.
From there, you'll add heavy cream to create a cream sauce. Adding parmesan cheese will make the sauce cheesy.
17: Air Fryer Eggplant Fries
The best thing about an air fryer is that you can cook almost anything in it. That includes eggplant fries that go so well with steak.
French fries are an excellent side for steak, but if you're trying to reduce your carbs or are in the mood for fries that aren't french fries, eggplant fries are here to save the day.
You can batter the sliced eggplant how you like and then pop them into your air fryer for about ten minutes. From there, you can use whatever dipping sauce you like or eat them without.
You can go the simple route with ketchup for your eggplant fries or gear the sauce more towards the steak. A steak sauce will be delicious as well as a horseradish sauce.
18: Cheesy Baked Asparagus
Cheesy baked asparagus is another great side for steak. It satisfies a serving of vegetables but has all the melting cheese you want in a side dish.
The cheese adds a bit of richness to your vegetables. To create this cheesy masterpiece, all you have to do is season your asparagus as you please and then add your cheese or cheeses of choice.
Mozzarella and parmesan are fan favorites, but feel free to experiment with other cheeses like cheddar and pepper jack.
You'll add a generous amount of cheese to your asparagus and bake for about 25 minutes until the cheese is gooey and melted.
19:  Spinach Artichoke Baked Potato
Combining potatoes and one of the most popular appetizer dips is the best idea you'll have. You can swap your standard butter, cheese, and sour cream for spinach and artichoke dip for the baked potato you didn't know you needed to try.
You can make spinach and artichoke dip from scratch or buy some from your favorite grocery store.
You just have to bake your potatoes as you would, heat the dip on the stove or in the microwave, and then combine both in a bowl.
From there, you'll add the mixture back into the potato skins and plate it with your steak.
20: Loaded Cauliflower Bake
If you're looking for a low carb or Keto side dish for your steak, loaded cauliflower bake is the dish for you.
Before you can bake your cauliflower, you'll need to blanch it by boiling it for a few minutes. Once your cauliflower is blanched, you'll add it to a baking dish.
You'll want to add everything you'd normally add to a loaded baked potato. This includes butter, cheese, sour cream, and bacon.
You're welcome to choose the cheese that suits your palate but adding some cream cheese will help the consistency feel more like potatoes.
Garnish with green onion before serving, and you'll be eating this from now on and not loaded potatoes.
21: Balsamic Glazed Pearl Onions
Pearl onions are bite-size onions that are a unique option for a side dish. It may sound like a fancy side dish, but it's super easy to make. You'll need pearl onions, butter, white wine, salt and pepper, and balsamic vinegar.
You'll boil the onions with the liquids and seasoning for about 15 minutes before serving with your steak. This side dish can stand alone, or they pair perfectly with garlic rice or any potato dish (even potato salad).
22: Lemon Sesame Green Beans
Green beans are one of the easiest veggies to prepare, and these lemon sesame green beans are a great addition to any steak dish. You can use fresh, frozen, or canned green beans, but fresh is best.
You'll boil the green beans until they're cooked or heated, depending on which type you choose. For the sauce, you'll combine sesame oil, lemon juice, and, if you choose, sesame seeds.
Once the green beans are cooked, you'll pour the sauce over the veggies and get ready to eat. There's nothing quite like a solid green bean with the right seasoning.
23: Garlic Rosemary Mashed Cauliflower
Mashed cauliflower is all the rage right now, and if you can prepare it well, you may find yourself craving it more than mashed potatoes.
Once the cauliflower is cooked, mashing it down and using cream cheese will help give it the creaminess that most people crave from mashed potatoes.
Adding a significant amount of garlic and rosemary will give this mashed cauliflower the illusion of mashed potatoes with significantly fewer carbs.
24: Squash Gratin
Squash gratin is the next best thing for those who love potatoes au gratin but are staying low carb or looking to up their vegetable intake.
You can slice the yellow squash in the same circular slices as you would potatoes and place them in a baking dish the same way.
You can even combine yellow squash and zucchini if you're looking to switch things up or add a little bit more color to your side dish.
You'll simmer the veggies in cream, onion, and garlic before adding any cheese of your choice. Gouda is a popular choice and works well with the flavors of the vegetables.
25: Loaded Mashed Potatoes
Whether it's a loaded baked potato or loaded mashed potatoes, you can't go wrong with a traditional side for your steak. Loaded mashed potatoes are not only savory, but they act as comfort food that acts as the perfect partner for your steak.
Plus, they're very easy to prepare. Once you've boiled your potatoes, mashing them up is next. From there, you can add all the fixings.
From sour cream, cheese, butter, bacon, and green onion, your mouth will be watering as you're putting it together.
26: Wedge Salad with Blue Cheese 
If Caesar salad isn't your speed, a classic wedge salad recipe with blue cheese dressing is just as satisfying. You'll just need a head of lettuce, or more depending on how many you need to make.
Once you've sliced the wedges in half, you can add your favorite toppings. Typically, wedge salads have boiled egg, tomato or cherry tomatoes, bacon, onions, and a hefty dose of blue cheese dressing.
If you love blue cheese, you can add extra blue cheese crumbles to the top of the wedge. Of course, you can add or omit any toppings so you can customize it to your preference.
Final Thoughts
While there's nothing wrong with going the traditional route for steak sides, switching it to something more unique can make steak night that much more exciting.
Pairing a traditional side like mashed potatoes with a vegetable side dish for your steak can give you a perfectly balanced and tasty meal. 
Read more about about steak –