10+ No-Heat Lunches for Construction Workers On the Go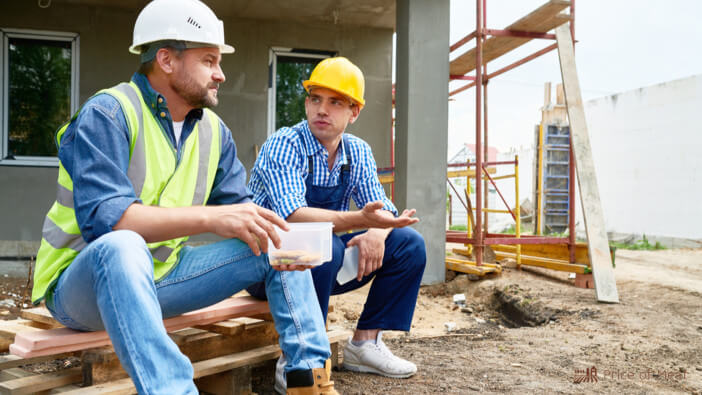 Construction workers need convenient, healthy, and no-heat lunches to stay energized on the job. Here are some easy, cold lunch ideas perfect for them.
No-heat lunches for construction workers should be convenient, easy to eat, and rich in healthy carbs and protein. The best options include club wraps, pasta or noodle salads, salmon bagels, sandwiches, tuna and white bean salad, quinoa bowls, pita, chicken breasts and brown rice, and Bento boxes.
Disclosure: As an Amazon Associate, this site earns from qualifying purchases. Thank you!
Club Wrap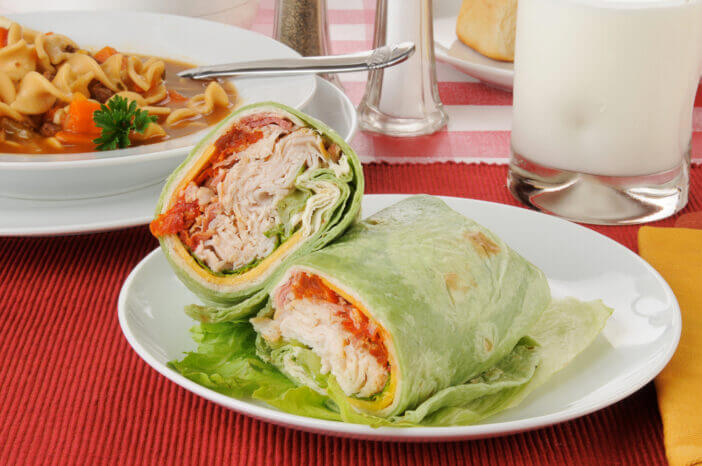 With a few simple ingredients, club wraps ensure a tasty, healthy lunch option that will leave you full and energized during a full day on-site. The best thing yet, they are ready in mere minutes.
Quick Sidenote – check out our shop for a curated selection of the best meats, cuts, sausages, and more. Open our shop in a new tab and explore!
You will need a wrap, leftover roast turkey (or chicken), bacon, cheese, lettuce, tomatoes, and a smear of your favorite sauce. These turkey club wraps are easily customizable to whatever's in your fridge.
Pop the ingredients onto your wrap, roll it up, and wrap it tightly in cling wrap to keep the tortilla fresh.
Grilled Chicken Pesto Pasta
Grilled chicken pesto pasta is a delicious meal served warm or cold. It offers a balanced meal of healthy fats, complex carbs, and lean protein – perfect for construction workers.
Cook the pasta until al dente. Then, mix together cooked pasta, grilled chicken pieces, tomatoes, mozzarella pearls, basil pesto, lemon juice, and seasoning in a large bowl. You can use plain cooked chicken, but making the dish with grilled chicken adds an extra layer of flavor.
Chill and dish into meal prep lunch boxes.
Salmon & Cream Cheese Bagel
A smoked salmon and cream cheese bagel is a superb source of protein, healthy fats, and omega-3s that boost your health.
Most grocery stores sell pre-sliced smoked salmon, making this recipe a snap to put together. Smear a generous helping of cream cheese on one half of the bagel (or both) and add thin salmon slices. You can garnish the bagel with red onion, capers, pepper, and lemon juice.
Tuna & White Bean Salad
Tuna and cannellini white bean salad is a classic and oh-so-easy combination made with pantry staples.
Combine the ingredients – tuna, cannellini (or garbanzo beans), shallots, chopped arugula, lemon juice, salt and pepper, and a splash of Tabasco sauce – into a bowl and mix.
Turkey Ciabatta Sandwich
The delectable turkey ciabatta sandwich is packed with dense layers upon layers of tasty, healthy fillings to make a cold lunch for workers on the go.
It starts with a crusty, delectable ciabatta loaf smeared with butter and spicy mayo. Then, it gets piles of turkey, salami, crunchy lettuce, mozzarella, and avocado – it's delightful! Feel free to substitute the turkey with a different protein source, like roast chicken, beef strips, and roasted lamb.
Moroccan Quinoa Bowl
Quinoa is a superfood packed with protein and fiber. Our secret weapon in this recipe – is chopped dates. They help stabilize your sugar levels, making them a fantastic addition to a long, draining day on site.
Use a combo of cooked quinoa and baby spinach for the base. Then, top it with chicken strips, paprika chickpeas, freshly sliced carrots, scallions, cilantro, finely chopped dates, and pistachios for a little crunch. Add a tahini dressing to finish.
Chicken Breasts & Brown Rice
Grilled chicken breasts and brown rice recipes are a healthy lunch packed with lean protein and complex carbs. It's one of the best meal combinations for muscle recovery, ideal for construction workers.
Top a bowl of brown rice with grilled and seasoned chicken breast cut into strips for easy eating. For a lighter touch, feel free to add a side of vegetables like peas, carrots, and broccoli.
Bento Box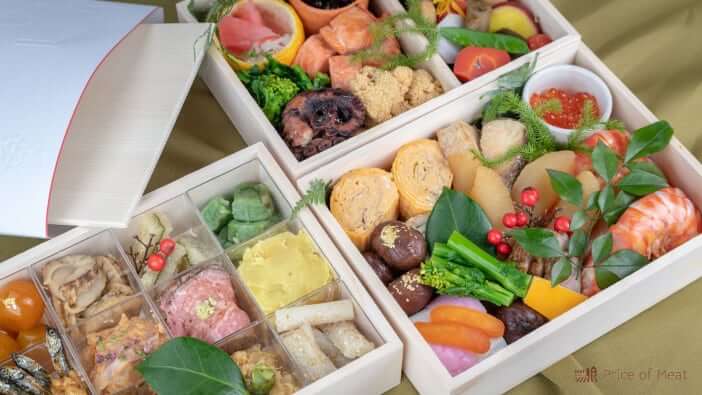 A Bento box is a unique, convenient, and filling way to make a fun lunch. They are single-serving, packed meals that almost always include a rice base, a protein, and a tasty side of vegetables or fruits.
Experiment with different ideas and recipes. Our favorite go-to includes rice balls wrapped with nori (dried seaweed), sweet and salty teriyaki chicken, soy sauce eggs, and potato croquettes.
Steak Pita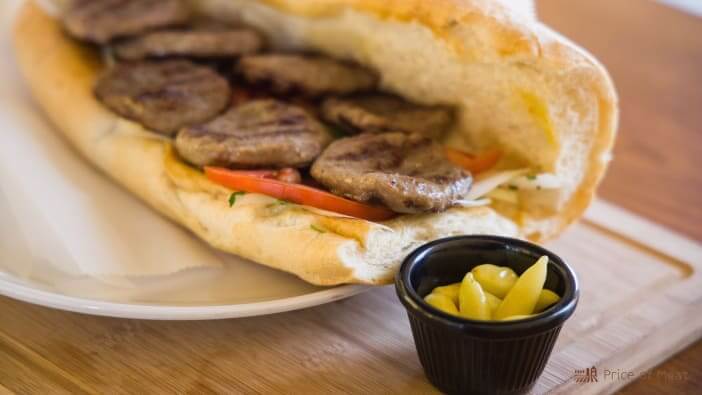 Apart from being downright delicious, steak is rich in essential proteins, fats, and other nutrients that help our muscles and brains to function.
Our pita is made with a juicy skirt steak and a Moroccan spice rub. After cooking the beef in a large skillet, sauté peppers and onions in the same pan. Fill the pita with the beef mixture and top it off with yogurt dressing and pickled jalapenos.
Cold Thai Noodle Salad
Our Thai noodle salad is a refreshing lunch for hot summer days. It is made with Thai-style rice noodles and buckets full of crunchy vegetables tossed in the yummiest peanut sauce.
Combine the cooked rice noodles with an array of shredded vegetables and herbs. We like to add a colorful spectrum of carrots, bell pepper, red cabbage, radish, cucumber, green onions, jicama, cilantro, basil, and jalapeño. However, you can use any ultra-crunchy veggie if you need a substitute.
Drizzle the peanut sauce over the Thai salad. You can also add a protein like crispy tofu or baked chicken.
What To Pack For Lunch When You Can't Heat It Up?
The best cold lunch ideas include wraps, whole-grain sandwiches, bagels, savory muffins, pasta salads, grain bowls, and hearty, protein-rich salads.
What Should A Construction Worker Pack For Lunch?
In most cases, construction workers are on the go and don'tdon't have the time or facilities to heat their lunch. They need to pack convenient, easy-to-eat lunches that provide healthy carbs, high energy, and protein to perform physical activities.
Construction workers should pack high protein sources like roasted chicken, salmon, roast beef, and soybeans. The protein should be combined with whole grains like brown rice, quinoa, or whole-grain bread and wraps for extra energy.
What Can I Have For Lunch That Doesn't Need Refrigeration?
You can pack a variety of lunch items that don't need immediate refrigeration. Some ideas include hard-boiled eggs, whole grain crackers, meatballs, pasta salad, bean salad, wraps, pitas, sandwiches, bagels, and fresh fruits and veggies.
What Can I Pack For Lunch Without Refrigeration Or A Microwave?
Lunch ideas that don't need refrigerating or reheating include hearty sandwiches, meat pastries, wraps, veggie bowls, and a range of salads – quinoa, bulghur, rice, pasta – with a side dressing.
Add an ice pack to your lunch box to keep the food at a temperature while you work.