8+ Tips for Caring for Your Butcher Block Countertops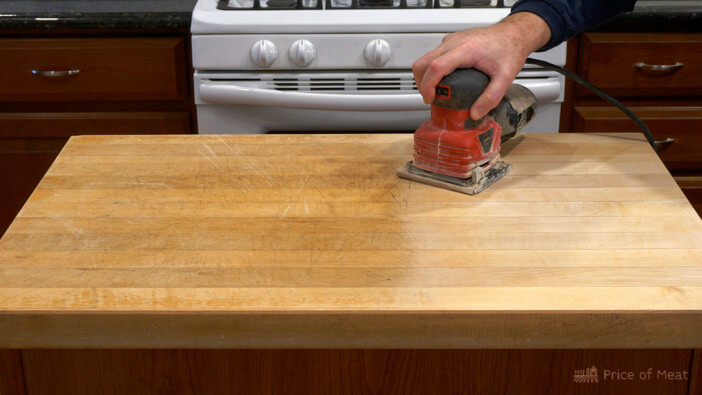 Butcher block countertops have become quite the fashion statement when it comes to kitchen design. And why not? They're warm and welcoming, giving that farmhouse feel to the kitchen.
You will need to give them some regular TLC to keep them looking spectacular. But if you use our tips for caring for your butcher block countertops, they will always be the best feature in your kitchen.
Caring for your butcher block countertops will ensure them of a long life, so it is essential to clean and sanitize the counters regularly and condition them with food-safe oil. Giving them a light sanding and repairing small cracks and nicks before treating them will bring back their natural sheen.
If it's worth having beautiful butcher block countertops in your home, it's worth the extra effort of maintaining them. Wood is warm and inviting. Except if it's stained, warped, dirty, and smelly. That doesn't bear thinking about, considering it's where all the food prep gets done.
Quick Sidenote – check out our shop for a curated selection of the best meats, cuts, sausages, and more. Open our shop in a new tab and explore!
So make yourself a cuppa, and brush up on some tips to keep your butcher block countertops looking glorious.
Disclosure: As an Amazon Associate, this site earns from qualifying purchases. Thank you!
Simple Tips For Caring For Your Butcher Block Countertops
Caring for your kitchen beauties is not very difficult, especially if you clean them daily, condition them regularly, and keep your hand on nicks, cracks, scratches, and stains.
How To Clean And Sanitize Butcher Block Countertops
It's essential to clean and sanitize your countertops on a daily basis for hygiene purposes and maintenance reasons alike. If you use your countertops as giant cutting boards, food residue may stick to them.
Scrape the surface with a spatula to remove any residue, then wipe it down with a clean damp cloth. Water and mild dish soap are best for this step.
Next, put equal parts of white vinegar and water into a spray bottle and spritz the counters with this solution, again wiping it down with another damp, clean cloth. This will sanitize them, and you're done for the day!
How To Condition Your Butcher Block Countertops
Even though you clean and sanitize your counters daily, they start showing wear and tear, so approximately once a month (or as often as it seems necessary), you should condition them. You can use food-safe mineral oil, board butter, or wax.
Sand the butcher block countertops lightly before conditioning them. This will rid them of stains and scratches and removes any food residue on the surfaces. Rub your hand over the counter to ensure it's free of grit, dirt, or dust.
Pour food-safe mineral oil liberally over the countertops and use a lint-free cloth to wipe it over the entire butcher block surface. Allow the wood to absorb the oil before wiping it again to remove any excess.
You can also purchase a butcher block oil/natural wax combination that works well to condition the tops. Warm the bottle under the hot water and squirt some wax over the countertops, using a paper towel to spread it. Leave it to soak into the wood.
5 Minute Fixes For Blemishes On Butcher Block Countertops
Many people use their butcher block countertops to chop fruit and vegetables. With daily use, your counters will pick up scratches and cuts, so even if it isn't time for the regular conditioning, you should give them some attention by sanding the blemished area, cleaning it, and applying some mineral oil.
How To Repair Cracks In Your Butcher Block Countertops
If you discover a large crack in your countertop, it's best to get a professional to repair it. But if it's a minor one, you can do it yourself. All that's necessary is to squeeze some food-safe glue onto the crack and allow it to dry. Sand the excess glue off and apply some oil to give it back its sheen.
How To Prevent Rot and Mold On Butcher Block Counters
Wood is a porous material, making butcher block countertops' biggest enemy water and other liquids. Wipe up spills as soon as possible, so liquids don't penetrate the wood and develop mold or rot. When the countertops get wet, they can also warp and crack, so keeping them clean and dry is imperative.
Learn A Magic Trick For Cleaning Butcher Block Countertops
If you have food stains on your countertops, you could try using a Magic Eraser. It won't help for dark water stains or marks that have been there for a long time, but you should succeed with everyday stains.
Try Giving Your Butcher Block Countertops A Salt Rub
After a while of chopping and cutting, your butcher block may show signs of wear and tear. To spruce it up, toss some dry salt onto the surface and leave it overnight. In the morning, scrape the salt away and wipe your countertops down. They should look almost new again.
Don't Cut Meat Products On Your Butcher Block Countertops
It's best to cut meat, fish, and chicken on a separate cutting board for hygiene reasons. These products can carry bacteria and grow in the wood, infecting other food.
The Pros And Cons Of Butcher Block Countertops
When you redesign your kitchen, it's a good idea to consider all the positive points and the downsides of the countertops on offer. Let's compare the pros and cons of butcher block countertops.
| | |
| --- | --- |
| Pros of Butcher Block Countertops | Cons of Butcher Block Countertops |
| Butcher block is more affordable than most types of countertops. | Butcher block is very sensitive to water and liquids and can swell and crack if it absorbs water. |
| Countertops are easily cleaned with common household ingredients. | Butcher blocks are easily damaged. |
| There is a huge variety of woods to choose from. | Wood expands and contracts with fluctuating temperatures. You must leave space along the perimeter for this. |
| Butcher block countertops can last for ages if you take proper care of them. | Regular maintenance is necessary. |
Frequently Asked Questions
Are Butcher Block Countertops High Maintenance?
Yes and no! If you compare the maintenance of conditioning the wood and giving it the odd light sanding, it may seem like a lot of extra work compared to wiping down your marble, quartz, or other countertops. However, keeping your hand on the conditioning will make quick work of the maintenance.
How Often Should You Treat Butcher Block Countertops?
When you first install them, treat them monthly to protect the butcher block countertops from dings, stains, and nicks. After that, you can do it every three months.
Conclusion
Butcher block countertops are fashionable, beautiful, warm, and inviting. They make the kitchen the place to be in the house – the heart of the home. Yes, they might need some maintenance to keep them looking grand, but it's so easy to keep them in top-notch condition by following our tips, and it's so worth it!