5+ Tasty Grass Fed Beef Jerky Brands You Need to Try
Beef jerky is one of America's most beloved snacks. The delicious dried meat product contains plenty of flavor and enough vitamins and minerals to make it a viable, nutritious option.
Grass-fed beef jerky is tastier and healthier than other brands. The grass-fed beef jerky brands on this list benefit from the clean, pure taste of grass-fed meat.
Check out these five tasty grass-fed beef jerky brands you need to try to round out your snacking game.
Disclosure: As an Amazon Associate, this site earns from qualifying purchases. Thank you!
Quick Sidenote – check out our shop for a curated selection of the best meats, cuts, sausages, and more. Open our shop in a new tab and explore!
Seven Sons Farms makes beef jerky so humane, and the cows almost thank you for eating them. The non-GMO, antibiotic-free, and 100 percent grass-fed cows live happy, stress-free lives before becoming delicious jerky.
The Hitzfield family started the Seven Sons brand in the 1990s. The titular seven sons strove to establish sustainable farming techniques.
Seven Sons provide its animals with full, happy, and natural lives. The cows feast on grass, giving the meat a clean and delicious flavor. Seven Sons Farms makes jerky in three flavors; barbecue beef jerky, original beef jerky, and sweet pepper beef jerky.
Think Jerky elevates a favorite road snack. Three award-winning celebrity chefs work together to craft the highest quality beef jerky. Matt Troost, Doug Sohn, and Gale Gand combine their knowledge into some of the best jerky on the market.
What can you expect from beef jerky made by Michelin Star and James Beard award winners? The self-magazine described Think Jerky as the healthiest jerky, while Men's Health called it "jerky for foodies."
Think Jerky contains no antibiotics or added hormones. The delicious meat treat comes in a variety of flavors, including:
Sweet Chipotle
Sesame Teriyaki
Sriracha Honey
Jalapeno Beef
Sisters are doing things for themselves, and "things" include "making delicious jerky". Two Chicks Beef Jerky is a female-owned business focusing on creating natural, grass-fed beef jerky.
Two Chicks Beef Jerky contains no additives or nitrates. The hand-crafted treat has earned numerous accolades from multiple sources.
Two Chicks Beef Jerky comes in two flavors: classic beef jerky and habanero beef jerky.
Epic Jerky lives up to the promise of such a lofty name. The brand focuses on providing a happy, pleasant life for its animals. Yes, the cows become jerky. Before that, however, the cattle enjoy a grass diet free of GMOs.
Epic Jerky makes a variety of snacks. The two most popular beef jerky flavors are traditional jerky and beef liver jerky.
Country Archer makes delicious, nutritious jerky. The brand uses grass-fed beef and organic ingredients to make high-protein snacks.
Country Archer eradicates the added sugars included in many popular beef jerky brands. The company makes a variety of flavors, including:
Fuego
Rosemary Turkey
Jalapeno Beef
Mustard Barbecue
Frequently Asked Questions
Now that we know the best grass-fed beef jerky brands, we can dive a little deeper and answer these frequently asked questions.
Is grass-fed beef jerky healthy?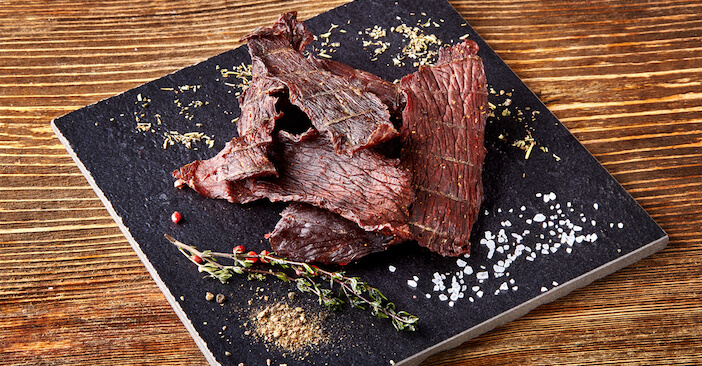 While grass-fed beef jerky may not be good for you, it's certainly better for you than traditional recipes. The treat contains less fat than non-grass-fed beef jerky brands. Additionally, grass-fed beef jerky contains more Omega-3 fatty acids than other brands.
What is the highest quality beef jerky?
While there are many great brands of high-quality, organic beef jerky, Country Archer makes the best version of the snack on the market.
Is beef jerky considered a healthy snack?
Enjoyed in moderation, yes, beef jerky is a healthy snack. The treat has a low-calorie count but plenty of protein, vitamins, and minerals.
Why is beef jerky so good for you?
Beef jerky contains many elements that contribute to a healthy and successful diet. The treat has plenty of protein, zinc, iron, phosphorous, folate, and vitamin B12.