Known for its pink color, health benefits, and versatility, salmon has been at the center of the seafood world for years. From commonly eaten species and salmon nutrition information to the farmed vs. wild debate, find everything you need to know about salmon here.
Salmon is primarily classified in one of two main categories: Pacific and Atlantic. The Atlantic salmon found in supermarkets and restaurants is farmed; its wild counterpart is protected under the Endangered Species Act, so commercial fishing of Atlantic salmon is prohibited in the United States.
Price of Meat does remind readers that purchasing & consuming meat in violation of the Lacey Act or Endangered Species Act is not only super-illegal, but also super-uncool. Please be cool and go above and beyond in support of conservation. Learn what you can do to support endangered sea life today.

Price of Meat Editorial Team
Meanwhile, species within the Pacific salmon category are by and large wild-caught from the west coast of the U.S., primarily from Alaska. Within the Pacific salmon category, the most commonly eaten species for salmon nutrition are Chinook, Pink, Chum, Coho, and Sockeye.
Species and Genus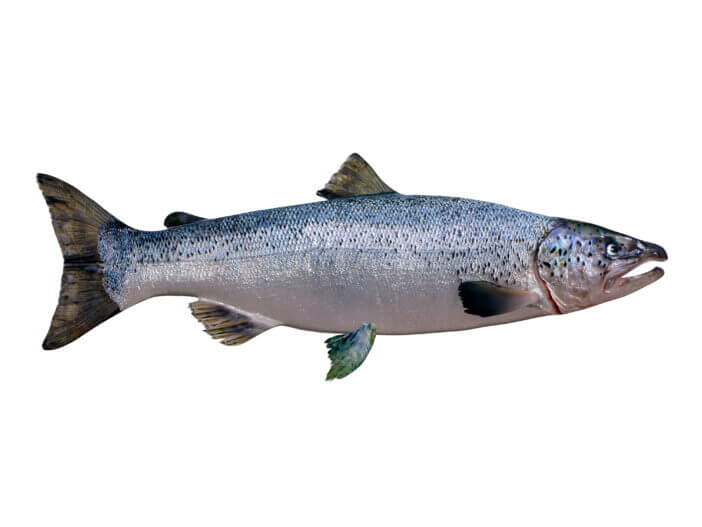 Atlantic salmon is farm-raised all over the world. Like wild-caught salmon, their flesh is reddish-orange or pink. Atlantic salmon have a high oil content and firm, fatty texture.
Historically, Atlantic salmon are spawned and raised in on-land hatcheries until they are large enough for transfer to net-pens in coastal waters. More recently, however, companies have developed land-based farming operations from spawning through harvest.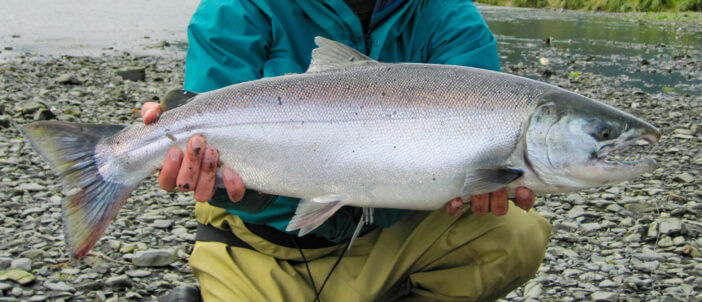 Alaskan salmon, also known as Pacific salmon, includes species such as Chinook, Pink, Chum, Coho, and Sockeye. These species are primarily wild-caught from the west coast of the U.S., mainly from Alaska. Each species of Alaskan salmon has its unique characteristics, flavors, and textures, making them highly sought after in the culinary world.
Appearance
Atlantic salmon have a reddish-orange or pink flesh, similar to their wild-caught counterparts. They are typically larger than Pacific salmon, with a more rounded body shape. The skin of Atlantic salmon is generally silver with dark spots scattered along their sides.
Alaskan salmon varies in appearance depending on the species. For example, Chinook salmon have a bold red color, while Pink salmon have a softer, pale pink hue. The skin of Alaskan salmon can range from silvery to dark blue or green, with spots and markings unique to each species.
Flavor
Atlantic salmon is known for its mild, delicate flavor, which is partly due to its high oil content. This results in a rich, buttery taste that pairs well with various seasonings and cooking methods. Farm-raised Atlantic salmon is often fattier than wild-caught salmon, contributing to its tender, succulent texture.
The flavor of Alaskan salmon varies depending on the species. Chinook salmon has a bold, rich taste with a high fat content, while Sockeye salmon is known for its deep, robust flavor. Pink salmon, on the other hand, has a milder, more delicate taste due to its lower oil content. Each species offers a unique culinary experience, making them popular choices for seafood enthusiasts.
Health Benefits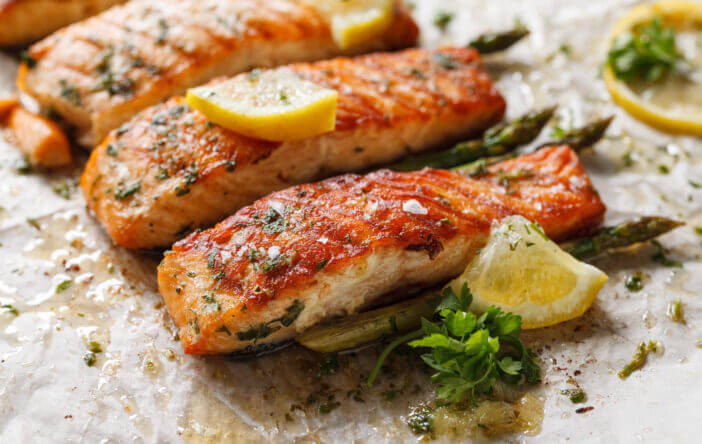 Atlantic salmon is an excellent source of omega-3 fatty acids, particularly alpha-linolenic acid, eicosapentaenoic acid, docosopentaenoic acid, and docosahexaenoic acid. These essential fats are known for their numerous health benefits, including supporting brain function, reducing inflammation, and promoting heart health. Additionally, Atlantic salmon is a great source of high-quality protein, vitamins, and minerals, making it a nutritious choice for any meal.
Like Atlantic salmon, Alaskan salmon is also a rich source of omega-3 fatty acids and provides essential nutrients such as protein, vitamins, and minerals. The nutritional content may vary slightly between species, but all types of Alaskan salmon are considered healthy options for those seeking the benefits of omega-3s and other vital nutrients.
Farming and Environmental Impact
Farming practices for Atlantic salmon primarily involve raising the fish in on-land hatcheries before transferring them to net-pens in coastal waters. However, some companies have started to develop land-based farming operations that span the entire lifecycle of the fish, from spawning through harvest. This shift may help reduce some environmental concerns associated with traditional aquaculture practices.
Alaskan salmon, being mostly wild-caught, do not undergo the same farming practices as Atlantic salmon. Instead, they are subject to strict fishing regulations and sustainable management practices aimed at preserving the health of the salmon population and their natural habitat.
Traditional aquaculture practices for Atlantic salmon have raised some environmental concerns, such as the potential for disease spread, escapees interbreeding with wild populations, and pollution from waste and chemicals used in farming. Land-based farming operations may help mitigate some of these issues, but further research is needed to fully understand their long-term impact on the environment.
Conversely, the wild-caught nature of Alaskan salmon means that their environmental impact is primarily tied to sustainable fishing practices and ecosystem preservation. By adhering to strict regulations and quotas, the Alaskan salmon industry aims to minimize its ecological footprint and protect the health and sustainability of the salmon population.
Interesting Facts
Migration of Atlantic and Alaskan Salmon
Both Atlantic and Alaskan salmon undertake incredible migratory journeys during their lifetimes. After hatching in freshwater rivers and streams, the young salmon make their way to the ocean, where they spend several years growing and maturing. Once they reach adulthood, the salmon return to their natal rivers to spawn and lay eggs, often traveling hundreds or even thousands of miles to reach their spawning grounds. This remarkable homing instinct ensures that the salmon population continues to thrive year after year.
Sense of Smell of Atlantic and Alaskan Salmon
Salmon have an extraordinary sense of smell, which plays a crucial role in their migration patterns. They use their olfactory abilities to recognize the unique chemical signature of their natal rivers, allowing them to navigate back to their spawning grounds with incredible accuracy. This keen sense of smell is a vital adaptation for the survival and reproduction of both Atlantic and Alaskan salmon species.
Color-Changing Abilities of Atlantic and Alaskan Salmon
During their migration from the ocean to their spawning grounds, many salmon species undergo dramatic color changes. Their typically silvery-blue or green skin turns vibrant shades of red, orange, or pink, while their spots and markings become more pronounced. These color changes are thought to serve various purposes, such as attracting mates and signaling their readiness to spawn. It's yet another fascinating aspect of the salmon life cycle that sets these remarkable fish apart.
Which is better Atlantic or Alaskan salmon?
Determining which is better between Atlantic and Alaskan salmon depends on personal preferences, as they have different taste profiles and environmental impacts. Alaskan salmon is typically wild-caught and more sustainable, while Atlantic salmon is predominantly farm-raised.
What's the difference between Alaskan salmon and Atlantic salmon?
The difference between Alaskan and Atlantic salmon lies in their origin, taste, and sustainability. Alaskan salmon is wild-caught from the Pacific Ocean, has a firmer texture and richer flavor, and is generally more sustainable. In contrast, Atlantic salmon is usually farm-raised, has a milder taste, and can be less environmentally friendly.
Why is Alaskan salmon better?
Alaskan salmon may be considered better due to its sustainability, as it is wild-caught and strictly regulated, ensuring a lower environmental impact compared to farmed Atlantic salmon. Additionally, Alaskan salmon often has a richer flavor and firmer texture that many people find appealing.
What is the best type of salmon to eat?
Identifying the best type of salmon to eat depends on individual taste preferences and priorities, such as sustainability, flavor, and nutritional content. Some popular choices include wild-caught Alaskan salmon, sockeye salmon, and king salmon, all known for their taste and health benefits.
Final Thoughts
Atlantic and Alaskan salmon species are not only delicious and nutritious but also possess unique characteristics and adaptations that make them truly fascinating creatures. From their distinct flavors and appearances to their impressive migratory journeys and color-changing abilities, there's no denying that salmon are a remarkable part of the seafood world. By understanding the differences between species and appreciating the importance of sustainable practices, we can continue to enjoy these incredible fish for generations to come.