4+ Reasons You Should Invest in a BBQ Smoker Trailer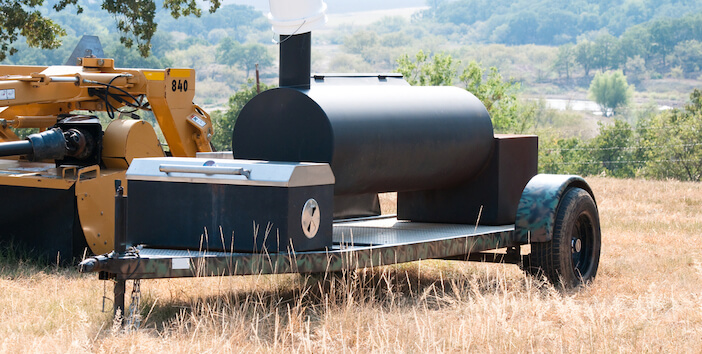 Using the BBQ takes quite some effort and time off your day, and you might not have the patience or time to smoke your meat. When it comes down to convenience, look no further than the trailer smoker.
You should invest in a BBQ smoker trailer to show off your BBQ meat smoker skills and quickly transport your BBQ smoker from one position to another. To be able to do a cookout for small or large groups of people and a high-quality BBQ Smoker is an excellent long-term investment.
Not everyone can manage a great BBQ, but with the best equipment, you have a head start to give you a professional edge. It will garner an excellent reputation when it's time to celebrate holidays or enjoy weekend cookouts.
Disclosure: As an Amazon Associate, this site earns from qualifying purchases. Thank you!
Quick Sidenote – check out our shop for a curated selection of the best meats, cuts, sausages, and more. Open our shop in a new tab and explore!
You Want To Show Off Your BBQ Smoker Skills
The primary thing to consider is which type of smoker you want since there are a few types of smokers: propane, electric, wood, charcoal, and pellet. The electric smoker is a bit more expensive but is easier and more effective. A propane smoker is less costly but is challenging to maintain.
You Can Easily Transport Your BBQ Smoker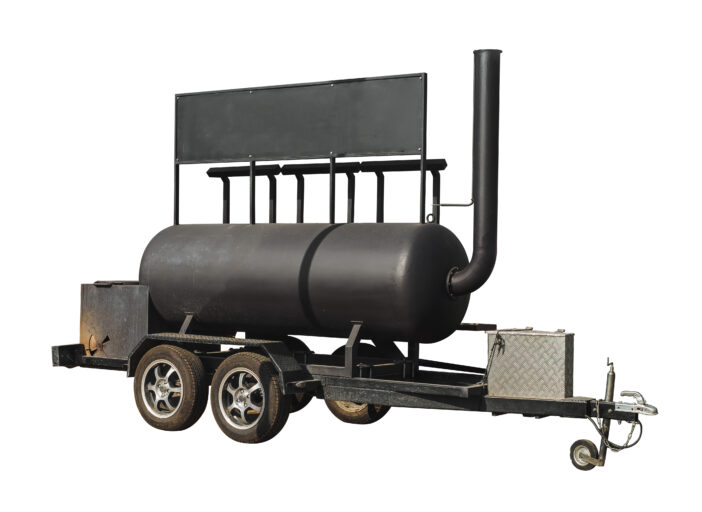 You'll also have to decide if you want a tandem or a single axle. When you decide what kind of smoker you want, you must decide on the size. BBQ trailer smokers come in a few sizes, from small to extra large. It's essential to choose one that will work best for you.
You Can Entertain Often With A BBQ Cookout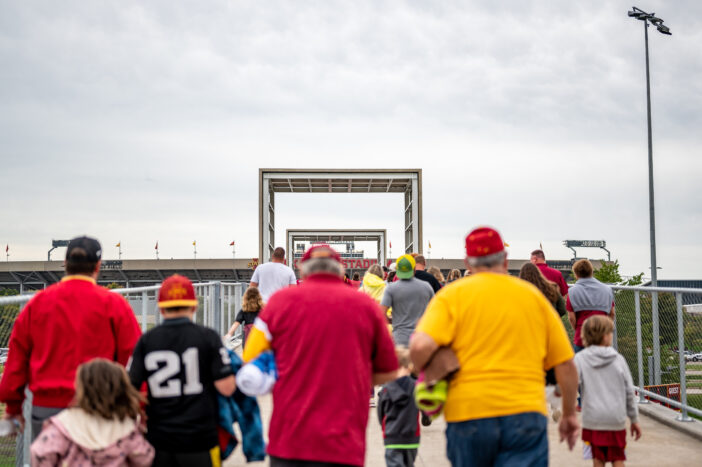 If you plan on smoking a large amount of meat, you'll need the extra large smoker. But if you want to put small amounts of meat on the smoker, a small one will be perfect. It is also important to remember your budget.
It's A Long Term Investment
BBQ trailer smokers can be anywhere between a few hundred dollars to a few thousand. But remember, the price does not determine the quality of the smoker. You can find great smokers that suit your budget.
Who Makes The Best Trailer Smokers?
If you are looking for the top recommended place to buy a smoker, Yoder Smokers takes the win. They ensure top-quality smokers and won't disappoint.
Yoder Smokers make the best pellet, charcoal, and wood smokers. If you love meat, then smoked meat is something you will enjoy.
What Smokers Do BBQ Pitmasters Use?
The BBQ Pitsmokers was an American reality TV show with BBQ cooks competing for prizes and money. The first time the series went live was in December 2009. There are seven seasons and fifty-four episodes in total.
All the cooks had different types of BBQ smokers depending on what they preferred, what meats they wanted to cook, and the smoker's quality. Here are the different BBQ smokers the cooks used:
Luke Darnell: Who is the winner of The World BBQ Champion at the World Food Championship, uses the Backwoods Smoker G2, Jambo, and Gateway Drum Smoker.
Ryan & Karen Murphy: 2018 1st Place perfect brisket at the American royal invitational. They used the Jambo smoker.
Johnny Trigg: He was the first person to win the Jack Daniels World Championship Invitational two times. He uses the Jambo J3.
Joe Pearce: Finishing 2nd Overall on the TV Show BBQ Pitmasters. He uses the Traditional Offset.
Brad Leighninger: 2018 king of the smoker grand champion. He uses the Gateway Drum Smokers.
Travis Clark: American Royal Champion 2017 and 2015 KCBS overall team of the year. And he uses the Jambo & Gateway Drum Smokers.
What Do I Need For A BBQ Smoker?
When owning a BBQ, having a few accessories for your BBQ is essential. Owning the right accessories improves the quality of your BBQ and makes your life a lot easier. Here are a few must-have accessories for your BBQ:
Heat-resistant BBQ gloves: A BBQ smoker can get hot and burn your hands. To prevent that, investing in heat-resistant gloves can defiantly prevent burns.
A wireless meat thermometer: This is the top accessory to get. Even if your smoker has a built-in thermometer, this is incredibly inaccurate. With this, you can measure the temperature of your cooker and meat.
Since it is wireless, you can keep an eye on the temperature from inside your house.
Good BBQ tongs: Owning a good pair of long tongs is handy if you don't have heat-resistant gloves. Consider owning two tongs, one for moving the charcoal around and another for the meat. Tongs are great for picking meat up and won't pierce the meat.
A sharp boning cleaning knife for trimming: If you don't like fat on your meat or like less fat, this knife is perfect for cleaning up any meat.
A slicing knife: A slicing knife is just as crucial as a boning knife to cut your meat in perfect slices after it's finished smoking. Slicing the meat right also improves its texture.
How Much Does A 500-Gallon Smoker Trailer Weigh?
A 500-gallon smoker is great for popups or catering. It has enough space for 60racks of ribs lying flat. It weighs around 1270kg (2800 lbs.). It provides much cooking space for almost anything you'd like to smoke. They are expensive and cost about $9500.
How Many Briskets Can You Put On A 250-Gallon Smoker?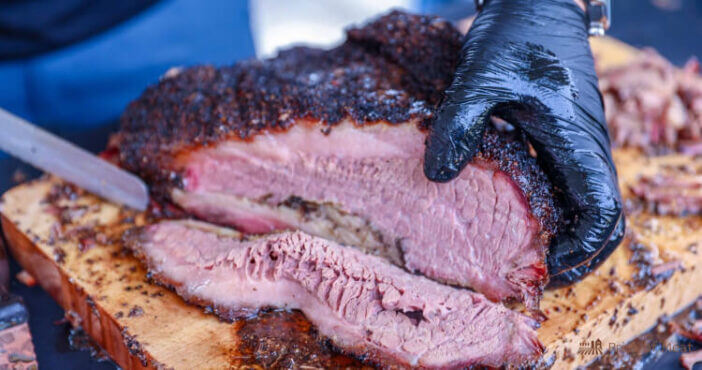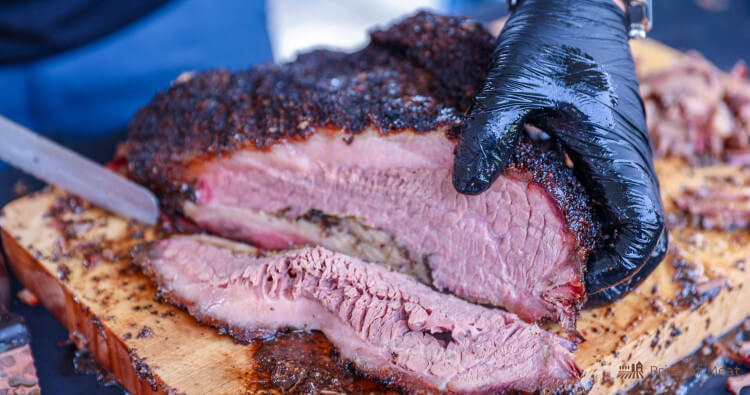 A perfect smoker for almost any backyard, the 250-gallon smoker can hold nine briskets on the bottom row. A 250-gallon smoker costs $5500, and you can upgrade it as you like. Here are a few upgrade options:
Second Rack
Golf Cart Wheels (Standard)
Golf Cart Wheels (Premium)
Folding Stack
Probe Port
Additional Storage
Single Axle Trailer
Double Axle Trailer
Heavy Duty Casters
10″ Deep Expanded Metal Shelf
Stainless Steel Shelf
What Are The Different Types Of BBQ Smokers?
When it comes to BBQ smokers, there are a few different types of them. If you are looking for one, it all depends on what you like, your space, and your budget. Here are a few different types of BBQ smokers that you may like:
Charcoal Smokers
Gas / Propane Smokers
Offset Smokers
Pellet Smokers
Kamado Grills
Electric Smokers
Kettle Grills
Final Thoughts
To know what type of BBQ smoker you need, you should get one based on your family s needs since they come in various sizes. You must also see if you want it to be portable or stationary.
Before buying a BBQ smoker, consider all the pros and cons and see which one will be best for you.