If love oysters but haven't tried Duxbury Bay oysters, I'm going to show you four reasons to try them during your next seafood feast. I'm a massive fan of seafood in general, but I have a soft spot for oysters. And I don't want you to miss this natural wonder. That's why I'm sharing this information.
The Duxbury oyster is one of the most prominent types. The Duxbury oyster, also known as the Island Creek oyster, is a type of oyster found in Duxbury Bay, just 40 miles outside of Boston, MA. They have an elongated black shell with a bright white interior where the body of the oyster sits.
These imperfectly perfect oysters may not look the most uniform, but one thing to know about them is that they are tasty. Duxbury oysters have a delicious flavor and are the perfect addition to your seafood feast.
I don't want you to miss this natural wonder. That's why I'm sharing this information. Keep reading, and I'm sure you'll be dying to try them afterward.
Top 4 Reasons Why Duxbury Oysters Make for a Perfect Seafood Feast
Duxbury oysters are the perfect addition to your seafood feast for many different reasons. But, the top 4 reasons why Duxbury oysters should be your choice of seafood at your next feast is because they pair well with a variety of seafood, they are one of the most sought-after types of oysters in the world, their palatable taste allows them to blend with many flavors, and they are large, so they have a lot of meat to them.
Duxbury Oysters Pair Well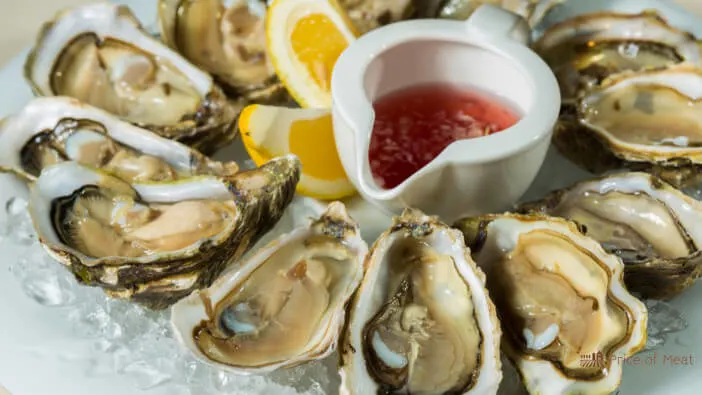 One reason to add Duxbury oysters to your next seafood feast is that they pair well with various seafood. At your seafood feast, you will want plenty of different types of fish, crab, lobster, etc., so having an oyster that accompanies many different flavors well is crucial.
The Duxbury oyster has a very briny taste with a salty, buttery finish, so combined with other light-tasting seafood like crab and shrimp, it's the perfect burst of flavor. They are also very chewy and robust so when paired with soft, flaky fish, they truly are a match made in heaven.
They Are Very Popular and Sought-After
The Duxbury oyster is a unique oyster, so it shouldn't come as a surprise to find that they are often very sought-after. People love to taste new things, and the Duxbury oyster carries a very popular name that draws seafood lovers from all over the globe.
Adding this fun and unique flavor to your next seafood feast will surely bring in a crowd and satisfy each and every one of your guests.
Their Palatable Taste
The Duxbury oyster has a robust, briny flavor with a salty and buttery finish. Its palatable flavor profile allows it to blend well with many other flavors, which is why they go well as an addition to a seafood feast.
They aren't too salty or meaty, but they have a perfect balance. They also have a rich, earthy undertone that tastes great alongside white fish like tilapia or cod and accompanies shrimp perfectly too. Some people like to squeeze a splash of lemon or lime on top too for added zest.
Since they boast a light buttery flavor profile, too, eat them with your crab legs and lobster for the perfect side dish to an already perfect seafood feast.
Duxbury Oysters are Large and Filling
One of the most common complaints about oysters on the menu is that they aren't very filling and usually have very little meat inside. Duxbury oysters are one of the larger varieties of oysters; therefore, they have a lot more meat inside to fill your guests' bellies.
Since other seafood favorites, like shrimp, crab, lobster, and mussels, all have a lot of shell with little actual meat, you want something a bit more filling to go with your seafood feast at times. The best oyster, in this case, would be one that is flavorful, easy to shuck, and has a lot of juicy meat inside; and Duxbury oysters fit that bill perfectly.
FAQ
For more information on Duxbury Bay oysters, check the Q&A below.
Where are Duxbury Oysters from?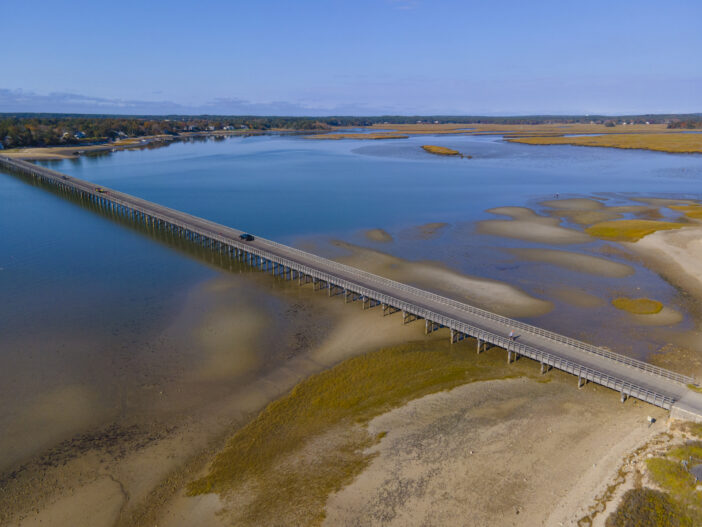 Duxbury oysters are from Duxbury, Massachusetts, as their name suggests. They are found in Duxbury Bay, situated between Island creek and Saquish Head. Duxbury bay is just 40 miles South of Boston. Another name used to describe Duxbury bay area is Island creek village.
Who Owns Duxbury Oysters?
The Duxbury Oyster Company owns much of the farm area in Duxbury bay, where the bulk of Duxbury oysters are caught and harvested. It was founded by father and son Patrick and John Mccluskey who grew up in the Duxbury bay area and dreamed of harvesting oysters as a career one day.
Where are Island Creek Oysters from?
Island Creek oysters are just another name for Duxbury oysters. They get this nickname due to the Island creek village being in the Duxbury bay area.
What do Island Creek Oysters Taste Like?
Island Creek oysters have a robust, salty, and briny taste to start, with a smooth buttery finish. They are also very meaty and chewy, making them perfect for a full seafood feast.