7+ Reasons Why a Burger Press Is the Secret Weapon of Home Cooks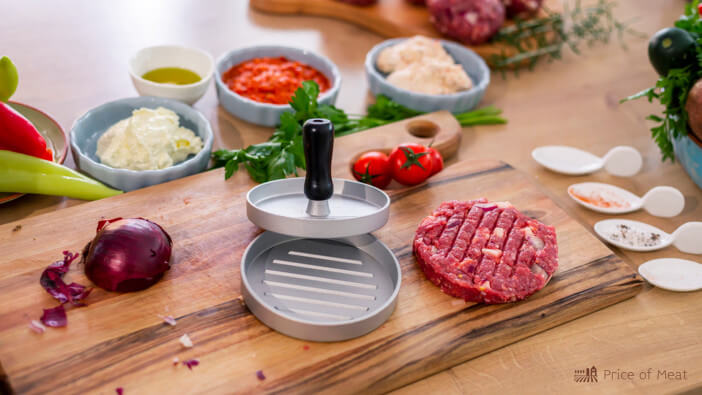 Would you love to make delicious, juicy burgers right in the comfort of your kitchen? If so, you should consider investing in a burger press. After a long day at work, you could surely use a tasty burger with a cold glass of beer.
With a burger press, you can make that juicy hamburger quickly in your own home. Are there other reasons why the burger press is the perfect tool for cooks? Below, we detail the top seven reasons why you should use a burger press in the kitchen.
We've done the research and used the equipment ourselves. We know the benefits of this particular tool. By reading the guide below, you will better understand the burger press's features and advantages. Ready to learn why this tool is so incredible? Then, read on!
Disclosure: As an Amazon Associate, this site earns from qualifying purchases. Thank you!
Quick Sidenote – check out our shop for a curated selection of the best meats, cuts, sausages, and more. Open our shop in a new tab and explore!
A Burger Press Keeps the Burger Patties Uniform in Size
The beauty of this tool is that it can keep your burger patties uniform and equal in size. That way, you can make a stack of burger patties to put on your buns. If you want your hamburgers to look perfect for your spouse or best friends, the burger press can help.
Every patty will have the same diameter and size. Restaurant kitchens benefit from a burger press the most. Yet, even the home cook will love these perfectly round and uniform burger patties.
It Limits the Need to Use Your Hands
When you use your warm hands to make the patties, the heat and handling will make the meat mushy. The heat will also melt the fat and even reduce the meat quality.
Instead, the best burgers come about when using cold equipment to form the round meat patties. That will ensure the meat doesn't come out too soft or mushy. A burger press will limit the need to use hands and provide the cold tool needed to make round patties.
The Tool Helps Keep the Raw Meat Cold
Most burger presses have a cold, metal component that helps make the patties and keep the raw meat cold before cooking. You should keep the meat refrigerated before cooking, and you can keep the cold, metal surface of the press refrigerated as well.
That way, you can produce the perfect, juicy hamburger without any soft parts.
Your Cooking Surface/Equipment Is Easy to Clean Up and Store
The burger press has a shiny surface that's easy to clean once you're done cooking and eating your tasty hamburger. Further, the press is small and doesn't take up much space. As such, it's easy to store the equipment in your kitchen drawers or cabinets.
You can also use Patty Paper to put underneath and on top of the patties. That way, you'll have barely any clean-up after cooking.
You Can Cook Burger Patties in Your Preferred Weight
Burger presses can help you cook meat patties at the weight you choose. Often, you'll have a choice of ¼, ⅓, or ½ pound patties. Generally, burger presses have measurements to pick on the handle.
If you want a burger slider as an appetizer before your main meal, you can choose the lowest weight and size when cooking the meat patties. If you're super hungry for hamburgers, pick the largest weight.
The Burger Patties Remain More Compact and Pure
With a burger press, you won't see the patties break down before putting them on buns. Since you won't handle them with your hands as much, the patties remain more compact and less mushy.
Further, the meat patties remain pure and fresh since you won't need to add extra ingredients. You don't need to add eggs or breadcrumbs to hold the patty together when using a burger press.
Your Burgers End Up Looking Great
At the end of your cooking adventure, you'll find that the hamburgers or cheeseburgers you put together look pretty. They'll look great when using meat patties in a uniform size, shape, and weight. The round patties look delicious with a tomato slice, pickle, lettuce, avocado, and other delicious toppings. You're sure to impress your family and friends!
Frequently Asked Questions (FAQs)
Below, you will learn the typical answers to several common questions about burger presses.
Are burger presses worth it?
A burger press is often worth it for people who regularly make hamburgers at home. The best part is that you can make even patties of the same size and weight while your clean-up is a fast and easy process. Your burger patties will also come out crispy on the outside and juicy on the inside. Are you looking to make a perfect burger at home? Then, consider buying a burger press.
What can I use instead of a burger press?
Instead of a burger press, you can use your hands and a scorching pan to cook your patties. However, they may come out softer, and your hands will likely degrade the protein.
Further, if you're looking to make smash burgers, you can use a spatula or meat mallet to press down the patties until you get the thin size you're looking for.
What size press should I use for smash burgers?
Generally, a 5.5-inch size press would work well when making smash burgers. You'll find that a grill press of that size is small enough to store easily in your kitchen while large enough to make tasty burgers or even a pressed steak.
You can also choose a slightly larger burger press of 6.75 inches. You should also pick a burger press between 1.5 and 2.5 pounds in weight to make better smash burgers.
Why should I use a cast iron burger press?
The benefits of using a cast iron burger press include removing extra grease from the meat patty, using it simply on the stove, and getting that perfect sear on your round burger patty. Your burgers will also have a great, crispy flavor when using a cast iron burger press.
Bestselling Burger Press Options
Bestseller No. 1
Cuisinart Smashed Burger Press, Cast Iron CISB-111
HEAVY WEIGHT: Heavy weight to help smash the patty down to a 6.5" flat patty shape.
DO IT LIKE THE PROS: Place a piece of parchment paper over the loosely packed ball of meat before smashing down. Provides an easy and clean transition between pressing each burger down.
CAST IRON PRESS: Heavy-duty, 6.5" cast iron burger press helps create perfect, flavorful patties every time.
CRISPY EDGES AND JUICY CENTER: Crispy, cracked edges and a juicy center is what you can expect when you make smashed burgers with this Cast Iron burger press.
Note: Colors and styles may vary due to product enhancement
Bestseller No. 2
Hamburger Press Patty Maker, Burger Press, 3 in 1 Non-Stick Meat Beef Veggie Hamburger Mold, Kitchen Gadgets to Make Patty for Stuffed Slider BBQ Barbecue Grilling
Ultimate Hamburger Tool: Our burger press will help you make different size and thickness of round formed hamburgers stuffed patty. Top small base is for mini burger patty and sliders, detachable indent press help you create a well for filling, and bottom large base is for big or stuffed hamburger patty.
Premium Nonstick Material: Made of heavy duty, durable, BPA free plastic. This non-stick burger press is designed with easy release removable bottom base, simply get perfectly formed patty without the mess.
Easy to Use and Clean: It' s as easy as 3 steps, first load meat and press, then stuff, final seal. A stuffed burger patty is finished. Easy to clean with dish soap and water, or dishwasher safe.
Great Gift Choice for Burger Lovers: This 3 in 1 burger press tool is the perfect ideal gift for any grilling, burger lovers and home kitchen master on any occasion.
Never Stick Again by Free Patty Papers: 100 free parchment papers included, which makes patties intact during removal and speed cleanup as well. Wash all parts by hand in warm, soapy water for years of use.
Bestseller No. 3
EWFEN Burger Press, 7" Round & 8.2"X4.3" Rectangle Heavy-Duty Cast Iron Smash Bacon Press Meat Steak with Wood Handle for Griddle, Sandwich, Nonstick Pan
【HEAVY-DUTY CAST IRON GRILL PRESS】 :Our barbeque grill press is made of heavy duty food grade cast iron. Use the grill weight to press out unwanted grease and fat, safe to use in the oven, on the stove, on the grill, griddle, or campfire. The press can also be seasoned like cast-iron skillets to create a non-stick surface.
【SAFE-TOUCH ,COMFORT-GRIP WOOD HANDLE】: Wooden handle, has ergonomic design to reduce hand fatigue while ensuring a secure and comfortable grip. Made of natural wood, the handle of meat press is smooth without any burrs, insulate heat transfer that's heat-proof and always remain cool to touch. Firmly attached to the cast iron smash burger press with two screws.
【LESS TIME COOKING, MORE TIME EATING】: Healthy cooking, burger smasher for griddle can transfers heat evenly to food when pressing it. At the time it prevents food like bacon from curling, it can also prevents some part will be over cooked, some are still raw. Press out unwanted excess fat and oils from meats for healthy grilling and shorten the cooking time.
【PROFESSIONAL TEXTURED DESIGN GROOVED BOTTOM】: Our kitchen grill press is designed to give your meats and sandwiches restaurant quality grill marks, keeps the press positioned, and prevents bacon from curling, ensuring it looks as good as it tastes!
【WIDE APPLICATIONS】: Bacon press for griddle is a professional indoor kitchen and outdoor BBQ, camping flat top grill tool. The smash burger press can be used on various surfaces, including grills, griddles, flat tops, teppanyaki, skillets pans, and induction stoves. Ideal for food like bacon, sandwich, burgers, chicken, steak, Paninis.