Want a fun and unique outdoor activity to try this summer? How about crabbing? Crabbing is a fantastic experience that people of all ages and skill levels can enjoy.
As someone who has spent many summers crabbing in South Carolina, I look forward to discussing why crabbing is such a great experience.
By the end of this article, you'll hopefully be inspired to grab some gear, register for a fishing license if you don't already have one, and try South Carolina crabbing!
1. You Can Enjoy the Beauty of South Carolina's Coastline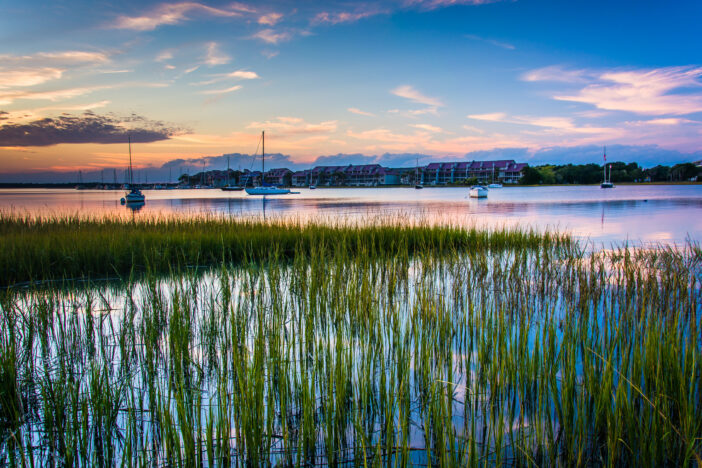 One of the primary reasons to go crabbing in South Carolina is to enjoy the beauty of this state's pristine coastline.
Beaches like Myrtle Beach, Hilton Head, or Folly Beach in Charleston are all great for both crabbing and partaking in several other beach activities like lounging, swimming, water sports, and more.
Additionally, the state is home to a wide variety of other wildlife, from dolphins to sea turtles to oysters. As you venture out on the water, keep your eyes open for these amazing creatures as they swim and crawl along the shoreline.
You may even be lucky enough to spot a bald eagle soaring overhead!
2. It's a Great Place for the Whole Family
Crabbing is a fun and easy activity to do with friends and family.
It provides a lovely way to bond with your loved ones as you search for crabs in the shallow waters. You can even make a game out of it and see who can catch the most!
3. It's a Highly Affordable Activity
Crabbing is also affordable because you only need a recreational fishing license and some basic tools – like a crab net and a trap – to get started.
The cost of these items can be quite minimal, making it easy to get started without breaking the bank. And you don't have to spend hundreds of dollars on jet skiing to have a good time!
4. There's No Need to Travel Far
One of the great things about crabbing in South Carolina is that you don't need to travel far if you're already from anywhere in the state (or even from North Carolina or Georgia)!
If you want to travel to South Carolina, you'll at least be happy to know that you don't have to travel far by boat when you get there.
You can find plenty of crabs off the coast, so all you have to do is walk out to the shore and start looking.
5. You'll Find a Variety of Species
South Carolina's waters are home to various species of crabs, such as blue crabs, stone crabs, and spider crabs.
If you find a rare species like horseshoe crabs, then lucky you!
6. It's Fun for All Skill Levels
If you're a novice angler, you don't have to worry because crabbing requires no complicated equipment, and it's super simple to learn.
Even if you've never gone crabbing before, it won't take long before you get the hang of it.
7. You Can Get in Touch With Nature
Crabbing is a fantastic way to get in touch with nature. As you search for crabs, you'll also have the opportunity to explore the coastal ecology and appreciate the coastline.
Remember that it's important to practice good conservation habits when going crabbing. Make sure to return any crabs that are too small or undersized back into the water. Also, be sure to use bait that is not harmful to the environment.
8. You Might Catch Dinner!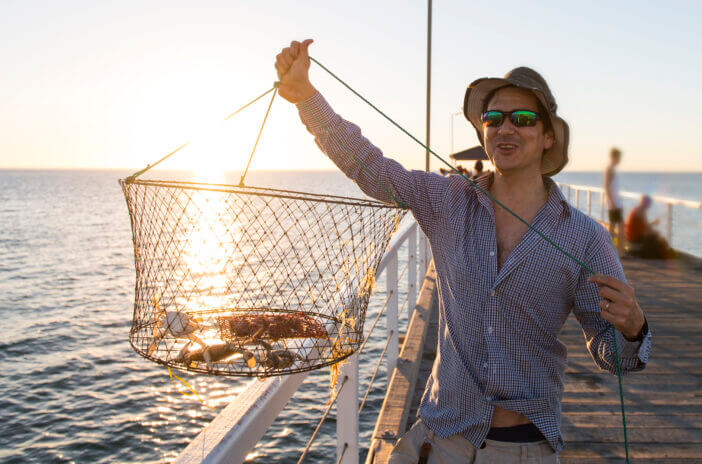 Of course, one of the best reasons to go crabbing in South Carolina for foodies is that you might catch dinner!
After a successful day by the water, you can enjoy a delicious meal of freshly caught crabs. What could be better than that?
9. It's Also Fun for Vegetarians or Non-Crab Eaters
Crabbing can simply be a fun, recreational activity – called catch and release – if you don't want to eat crabs due to your dietary preferences, environmental preference, or any other reason.
Instead of catching them to eat, you can simply catch them to gently observe them and then release them back into the ocean.
10. You Can Help Out the Environment
If you do decide to go crabbing, you can also help out the environment by contributing to wildlife conservation efforts.
By returning any undersized crabs to the ocean, you can help ensure their populations remain healthy and thriving for years to come.
Crabbing is also a relaxed sport, so you'll have downtime that you can use to pick up trash along the beach.
Frequently Asked Questions
South Carolina crabbing is relatively straightforward, but now that you might want to do it, you may have a few additional questions.
Here are our answers to some frequently asked questions about crabbing in South Carolina.
Can you go crabbing in South Carolina?
Yes, you can go crabbing in South Carolina. You'll need a recreational fishing license, some basic supplies, and maybe some snacks to make a day out of it!
Of course, you'll also need to practice good conservation habits and use bait that is not harmful to the environment.
Do you need a license to crab in South Carolina?
Yes, you need a recreational fishing license to crab in SC.
There are types of licenses depending on whether or not you're a South Carolina resident, what type of water you'll be fishing in, and if you want any additional tags or permits.
What month is it best to catch crabs in?
October to December is the best time to catch crabs in South Carolina. You'll find mature, heavy females by the ocean and mature males by the rivers and creeks.
You can still catch crabs at other times of the year. However, it might be more difficult, especially in the winter when the water gets colder (sub-50s) and the crabs become virtually inactive – although warming temperatures might eventually impact this.
Where can you find blue crabs in South Carolina?
Although North Carolina, Louisiana, and Chesapeake Bay (Maryland) have the biggest number of blue crabs in their fisheries, you can also find many blue crabs in South Carolina.
The S-22 Causeway Bridge that leads into the small beach town of Pawley Island is a quiet place lined with marshlands on either side. It's also, perhaps surprisingly, one of the best places in South Carolina to find blue crabs.