If you're looking for reasons to enjoy hibachi at home, you've come to the right place.
Since 1964, when the first hibachi restaurant, Benihana, appeared in America, hibachi has only gained recognition.
The hibachi grill, from which this type of food derives its name, is a traditional Japanese heating bowl that is either box-shaped or round that cooks food directly on the charcoal. They allegedly date bate to the Heian period between 794 and 1185 in Japan.
Although hibachi was once a delicacy, the advent of at-home hibachi grilling systems has made enjoying hibachi at home more accessible than ever. And because hibachi is healthy, delicious, and easy to make, it's a win-win.
1. Grilling at Home is Easy
As the market for grills continues to grow, hibachi at home is more popular than ever.
A growing number of companies offer easy, at-home solutions, including brands like Lodge Sportsman's Pro and Cuisinart.
Some brands offer tabletop models with portable folding legs, while others provide hardware to integrate well into your kitchen.
Some even allow you to make a two-level fire to set different temperatures on each side of the bowl.
Once you've purchased your grill, making hibachi is relatively easy. You can add anything to your hibachi, adjust the heat, and toss the whole thing together.
2. You Can Customize Your Meals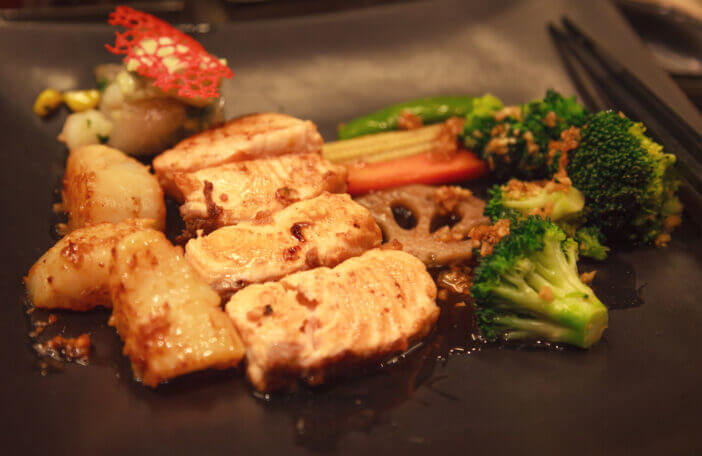 The beauty of hibachi is that you can add virtually anything to your creation.
Because you're at home, you'll have access to your favorite ingredients and seasonings. You can customize your dish any way since hibachis are incredibly versatile.
While you can make the traditional Japanese dish with rice and noodles, add meat, seafood, and other carbs to this multi-purpose grill.
3. Hibachi is Easy Meal Prep
Preparing meals for the week is often an uphill task—especially if you have many mouths to feed.
Having a hibachi grill at home would allow you to prep many meals at once without using too many dishes, and you can easily save your word in Tupperware containers since you are mere steps from your fridge!
Hibachi grills are often designed to hold a lot of food, so you can easily prepare a week's worth of work lunches with this handy tool.
4. It's More Affordable
Hibachi can be notoriously expensive—especially at a restaurant like Benihana. And although it feels like a luxury, the ingredients are often quite affordable.
With an at-home grilling system, you can enjoy hibachi without spending all that extra cash on a meal you could easily create yourself.
5. Hibachi is Healthy
Japenese food is generally relatively healthy—and hibachi is no different.
Hibachi meals are traditionally made with seafood, meat, vegetables, and noodles or rice, so they contain everything your body needs for a day's worth of nutrients.
Additionally, because the food is cooked over an open flame, it's healthier than traditional methods like frying.
6. Home is the Best Place to Enjoy Hibachi
There was a time when you had to head to a restaurant to enjoy hibachi—but not anymore.
At-home grills make it easier than ever to make this delicious meal without leaving your kitchen.
Home is the most comfortable place—and you can access all your ingredients. You can eat wherever—and however—you want, and make sure the kids eat too. Home is undoubtedly the best place to enjoy hibachi.
How Do You Do a Hibachi Night at Home?
To make hibachi at home, you'll simply heat your grill, add vegetable oil, and add the meat first. Then, you can add other ingredients if you so wish.
Remember to cook the ingredients separately for best results, then add them together at the end. A two-fire grill can allow you to do this.
Is a Hibachi Grill Worth It?
A hibachi grill is worth it. These at-home grills are affordable, relatively easy to use, and can save you a lot of money in the long run.
Best of all, they are versatile and adaptive to many uses—not just the traditional Japanese dish.
What Kinds of Grills do Hibachi Chefs use?
Most hibachi chefs use traditional hibachi grills for cooking, typically round or square-shaped with a protective coating. They sit atop charcoal to cook the food. Many brands offer hibachi grills used in restaurants.
What is the Difference Between a Griddle and a Hibachi Grill?
Hibachi grills typically use charcoal for cooking over an open fire, while griddles naturally fit over a stovetop.
Hibachi grills typically have more depth and width than skillets, and they are round or square-shaped as opposed to rectangular.