7+ Famous Turkey Brand Names You Should Know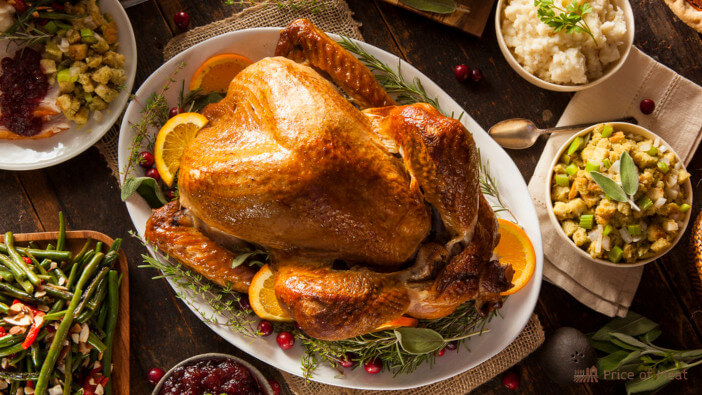 There's something about a delicious turkey sandwich, a Thanksgiving turkey, or just turkey legs for a great dinner one night. You can do so many things with this protein, and the possibilities are almost endless.
Whether you're a turkey lover or are just starting to incorporate this meat into your diet, here are seven famous turkey brand names you should know about.
Disclosure: As an Amazon Associate, this site earns from qualifying purchases. Thank you!
1. Butterball
Quick Sidenote – check out our shop for a curated selection of the best meats, cuts, sausages, and more. Open our shop in a new tab and explore!
One of the most famous turkey brands is Butterball. Since their start in the 1950s, they've risen to be one of the country's most popular and largest producers.
Like other famous turkey brands, you can shop for a wide range of delicious products. Their smoked turkey sausage is a very popular product, but they have ground turkey, a whole turkey, deli meats, and turkey bacon.
Introducing pre-stuffed turkeys to its product line made this company even more famous than it was. All products from Butterball are delicious, high-quality, and safe for consumption.
2. Diestel Turkey Ranch
Since opening in 1949, Diestel Turkey Ranch has been a family-owned and operated turkey processor in the United States. They're very famous on the west coast of the country since their home base is in California, but you can find their products across the country.
Diestel Turkey Ranch offers a bunch of turkey products. You'll find turkey deli meat, ground turkey, turkey sausages, whole turkeys, and more.
If you pride yourself on shopping brands that are humane and sustainable, then you'll love Diestel Turkey Ranch. This famous brand feeds its birds a vegetarian diet and refuses to use GMOs. Their commitment to sustainability and humane care has helped them become a famous brand.
3. Jennie-O
Jennie-O wasn't always the famous turkey brand it is today. Before it was famous, it was a small family farm back in 1940, but it is now one of the largest processors of turkey products in the United States.
When you shop through Jennie-O products, you'll find a large selection of turkey products to choose from. They're probably the most famous for their ground turkey products, but they also have turkey bacon, turkey sausage, and other turkey products.
Something that makes Jennie-O one of the most famous brands is its selection of lean turkey products. In the 1980s, they started their lean turkey product line, which made them a leader in the industry for slightly healthier turkey products.
4. Perdue
If you shop for meat products, then you've heard of Perdue. This famous turkey and meat brand has been around since the 1930s and is one of the most famous turkey brands available. Originally, Perdue started as a small family farm before seeing massive success.
Perdue started as a chicken-only farm, but they've expanded to include turkey and other poultry options. Something that makes Perdue one of the most famous turkey brands is their wide variety of available options.
You'll find whole turkeys, turkey breasts, deli meats, and ground turkey. While some turkey brands only have frozen or only refrigerated options, you'll find plenty of both with Perdue.
5. Boar's Head
While Boar's Head isn't solely a turkey brand, there's no denying they're a widely famous meat company. Boar's Head has all sorts of meats and cheeses, including a pretty large selection of turkey products.
They've been a prominent brand since opening in 1905 in New York City. Some of their best turkey products are their deli meats that come sliced, diced, or chopped. You can get oven-roasted turkey, smoked, black forest, honey, and cajun.
Besides their deli meat, they have deliciously seasoned turkey burgers like cajun, garlic and herb, and jalapeno and cheese. They have a certification from the American Humane Association, meaning all their animals are humanely raised.
6. Honeysuckle White
Honeysuckle White is one of the largest privately held companies in the country, so you probably have heard the name before. This popular turkey brand is famous for its high-quality turkey breast, ground turkey, a whole turkey, and other turkey products.
You can find pretty much anything you could want turkey-wise from Honeysuckle White. Something unique about this brand is that not only do they offer standard turkey products, but you can purchase products like spinach and kale turkey patties.
All the turkey products from Honeysuckle White are gluten-free and hormone-free. They also preach that their turkeys are fed a diet without any animal products.
7. Applegate Farms
Applegate Farms is a famous meat brand. They're known for having natural and organic meats, including all types of turkey. When you shop Applegate Farms' products, you can buy turkey sausage, turkey bacon, turkey breast, whole turkeys, and yummy deli meat for sandwiches.
What sets Applegate Farms apart from other famous turkey brands is its commitment to sustainable and humane farming. Sure, other farms partake in some humane or sustainable practices, but Applegate Farms is one of the best for this reason.
All the turkeys and other animals are fed a vegetarian diet with no GMOs. This famous brand is a great one to shop for when you want soy, gluten, and dairy-free turkey products.
FAQs
There are dozens of turkey brands out there. Sure, the seven above are some of the most famous, but if you still have questions, here's what others are wondering.
Which turkey brand is the best?
Which turkey brand is the best will come down to preference. Some people prefer Butterball, while others prefer Applegate Farms.
What company sells the most turkeys?
Butterball is one of the largest turkey producers in the United States. While they don't disclose the exact amount, which can vary yearly, they produce some of the most turkey products annually.
What is the best turkey breast to buy?
Much like which turkey brand is the best, the best turkey breast will be up to you. If you're looking for delicious turkey breast deli meat, many people prefer Boars Head.
Who is the largest turkey producer?
Some of the largest turkey producers in the United States are Butterball, Honeysuckle, and Jennie-O.