8+ Facts About Boar's Head & Preservatives You Need to Know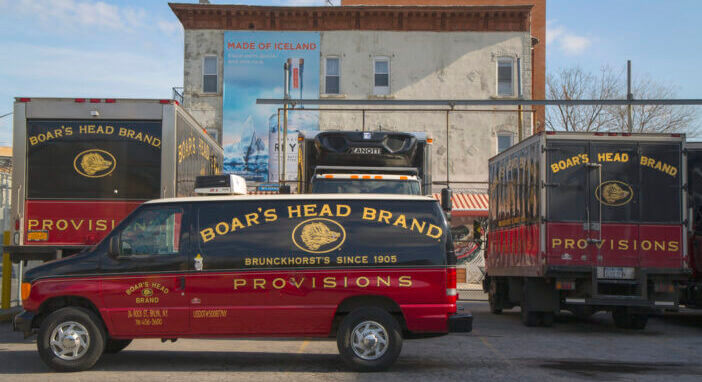 Boar's Head is a highly successful meat, cheese, hummus, and condiments supplier that may be your household name. But does Boar's Head have preservatives?
Preservatives can be a confusing topic, but knowing the facts about them is essential if you want to make informed food decisions.
In this article, I aim to provide readers with eight facts about Boar's Head and preservatives to understand the concern better.
As someone who has studied nutrition for years, knowledge is power when making healthy choices. By reading this article, you will gain insight into the worlds of Boar's Head products and preservatives to make healthy, conscious decisions in your own life.
Quick Sidenote – check out our shop for a curated selection of the best meats, cuts, sausages, and more. Open our shop in a new tab and explore!
Disclosure: As an Amazon Associate, this site earns from qualifying purchases. Thank you!
Boar's Head Never Uses Unnatural Preservatives in Their Products
First and foremost: Boar's Head does not use unnatural preservatives.
Boar's Head is committed to making all-natural, high-quality products without unnatural preservatives.
When I say unnatural preservatives, I'm distinguishing between natural ingredients like sea salt since that is technically a natural preservative.
The company's commitment to providing an excellent product extends past its meats – they ensure that all its products are free from preservatives, artificial colors, and flavors.
Boar's Head uses natural ingredients to preserve their products
Boar's Head understands that preservatives can harm your health, so they use natural ingredients such as sea salt, spices, and vinegar to preserve their products.
These ingredients are much better for your health than traditional preservatives, making Boar's Head a great option for making healthy choices.
Preservatives Help Prevent Food Spoilage
By fighting molds, fungus, bacteria, and yeast, preservatives can help food last longer and prevent spoilage.
While Boar's Head does not use preservatives in its products, they have alternatives to preventing quick spoilage.
As mentioned, the company uses a combination of vinegar, spices, and natural sea salts to help keep its products fresh for longer periods. However, they will typically last less time than other companies that use preservatives.
Preservatives Prevent Changes in Color, Texture, and Flavor
Not only do preservatives help prevent food spoilage, but they also prevent any changes in the food's color, flavor, and texture for longer than the food would normally sustain those factors without preservatives.
This is why many companies use preservatives in their food, as they want the food to look "appealing" for longer to their potential customers.
There Are Many Different Kinds of Preservatives
Your food labels won't simply say "preservatives" on them, so it can be tricky to determine if they're in your products.
Some of the names of preservatives you'll find on food, and other product labels include:
Citric acid;
Calcium propionate;
Ascorbic acid;
Calcium propionate;
BHA;
BHT;
EDTA;
Sodium nitrite;
Sodium benzoate;
Tocopherols (Vitamin E);
Sodium erythorbate;
Calcium sorbate;
Potassium sorbate.
Not All Preservatives Are Created Equal
Only some of the preservatives mentioned above have the same health impact as the others. For example, citrus acid is technically a preservative but isn't considered harmful.
On the other hand, certain preservatives (such as BHA and BHT) are believed to cause endocrine disruption in humans, meaning they can affect your hormones and possibly even increase your cancer risk.
Nitrates Used In Processed Meat Products Can Be Risky
When it comes to processed meats, nitrates are commonly used preservatives.
While these nitrates have some benefits, such as killing the bacteria that causes foodborne botulism, they're also linked to an increased risk of cancer and chronic obstructive pulmonary disease.
For this reason, it's best to stay away from processed meats that contain nitrates.
Boar's Head doesn't add nitrates to their products, so you can be sure that when you buy Boar's Head meats and condiments, they're free from these potentially dangerous preservatives.
Boar's Head Products Are a Healthy Choice
By choosing all-natural ingredients to preserve their products – and staying away from all unnatural, artificial additives and flavors – Boar's Head has made sure that their products are a healthy choice for you and your family.
In addition to being preservative-free, Boar's Head products are also free from artificial colors, flavors, and sweeteners.
So, if you're looking for a healthy option when it comes to processed meats and condiments, Boar's Head is an ideal choice.
Nonetheless, it's worth noting that while Boar's Head products are a healthier option than many other processed meats and condiments on the market, they should still be consumed in moderation as part of a balanced diet.
Frequently Asked Questions
Now you know much more about Boar's Head and preservatives, but you may still have a few more questions.
Here are answers to some other commonly asked questions on this subject.
Does Boar's Head lunch meat have additives?
No, Boar's Head lunch meat is free from additives.
They do not use any preservatives, artificial flavorings, artificial colors, MSG additives, filler, by-products, or trans-fat from partially hydrogenated oils in any of their meats, cheeses, hummus, or condiments.
Do Boar's Head products have nitrates?
No, Boar's Head products have no added nitrates or nitrites.
Any nitrates or nitrites in their products naturally occur in the celery powder or sea salt they use to preserve their products.
Are Boar's Head meats healthy?
Yes, Boar's Head meats are very healthy. They contain no preservatives, artificial ingredients, MSG additives, filler, by-products, or trans-fat from partially hydrogenated oils.
Their products are all made with high-quality, all-natural ingredients and are also free from added nitrates or nitrites, artificial colors, flavors, and sweeteners. Additionally, Boar's Head products are gluten-free and certified kosher.
Ultimately, you can feel good knowing you're making a healthy choice when choosing Boar's Head products.
Which deli meats are not processed?
Deli meat is an umbrella term for various types of meat that people use for deli sandwiches and other dishes.
Deli meats that are not processed include fresh turkey, chicken, pork, beef, or fish that have yet to be processed to preserve their flavor, texture, or longevity. However, it may be considered deli meat if the meat is freshly sliced to be used on a sandwich.
However, most deli meats are lunch or cold cuts, such as salami, pastrami, roast, beef, bologna, ham, etc. These are all processed meats.