6+ Easy Grill Substitutes for Delicious Summer Cooking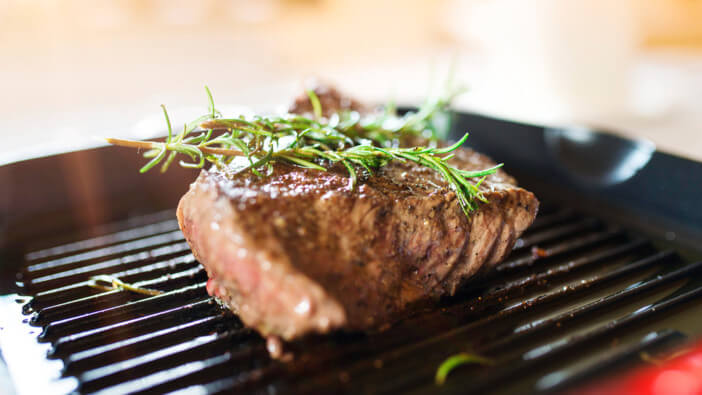 There is no need to panic when you'd like a nice juicy grilled steak or meat but don't have a grill. You can still get that great grilled flavor in your food by using a substitute for a grill you may already have in your home.
Six easy grill substitutes for summer cooking are a microwave grill setting, the oven broiler, a grill pan on the stovetop, an electric countertop grill, a crockpot, or a cast iron skillet. Any of these mediums will provide the grilled flavor to your meat and vegetables.
Recreating an authentic grilled food flavor is easy by using what you have and making a few adjustments with heat, spicing, and cooking time. Your family or guests won't be able to taste the difference, so here is what you can use as a substitute for a grill:
Disclosure: As an Amazon Associate, this site earns from qualifying purchases. Thank you!
Quick Sidenote – check out our shop for a curated selection of the best meats, cuts, sausages, and more. Open our shop in a new tab and explore!
What Can I Use If I Don't Have A Grill?
What can you use as a replacement for a grill? You have few choices if you don't have a grill or enough space for one.:
Microwave Grill Setting
Most newer microwaves should have a grill option, and a round rack for grilling that is microwave safe. You can use this setting to grill almost anything you make on a standard grill.
Read the manual if you need help working the grill settings. The grill setting will give a close result to a standard grill or broiler and will ensure your food is thoroughly cooked and leave it tender and juicy.
Oven Broiler
One of the easiest things to do is use an oven broiler when you can't use a standard grill. An oven gives the same juicy effect even if you don't have the broiler setting.
Turning your meat halfway through in the oven will char the meat just like the grill does. Since there is heat enclosed in the oven, it will cook the steak evenly.
Grill Pan
A grill pan is a fantastic option if you don't own a grill. It is excellent at making just about any grilled food your heart desires. Investing in a grill pan is highly worth it; it works just as well as a grill.
The grill pan is an excellent remedy for a grill because you can use it on your stovetop and control its temperature. The grill pan has ridges that make dark sear lines like a standard grill.
Grill pans are made of aluminum and help your food have a seared look.
Electric Countertop Grill
When you want to grill, but it's too much work, or you're just not in the mood to start a grill up for a steak, an electric countertop is perfect for this problem.
You can have a grilled steak, veggies, or anything you like grilled at any time you like without a grill. You can also control the temperature of your countertop grill to ensure you don't burn your food making it more convenient.
Not worrying about cleaning up charcoal or refilling the gas is every person's dream. The countertop grill has a lid to close and steam your food.
A Crockpot
You may think about soup when you hear crockpot but don't judge its ability to grill. A crockpot can cook your food until it's excellent and tender. You can add some bbq sauce to the pot for some extra flavors.
The best thing about a crockpot is adding in your food hours before it needs to be done, and you don't have to worry or stand near it since it will do all the work. If you need some help with recipes, there are many online that can help you.
Cast Iron Skillet
One of the best ways to make juicy steaks since it doesn't stick to the pan. They can cook many different foods, and it is easy to control their temperature while still getting a grilled effect.
Since food doesn't stick to the pan, it works exceptionally well for searing your food. Use temperature control to get a grilled effect without burning your food. Ensure to oil the skillet before well.
Frequently Asked Questions
Can You Use A Pan Instead Of A Grill?
There are a few pans you can use instead of a grill. They might even be better than a grill and more time. You may have to change up the recipe a bit. There are many recipes you can use if you'd like new ideas.
There are a few different types of pans you can use on the stove grill. Here are other pans you can use instead of a grill:
A Cast Iron Skillet: A cast iron is most commonly used by homeowners and has a flatter and rounder shape. Cast irons can be bought in iron (wrought or cast), steel, aluminum, and copper. Anything you sear on the pan will be amazingly cooked.
A Griddle Pan: Providing the same taste, heat, and texture, the griddle pan is a good remedy for a grill. It is perfect for an excellent breakfast and almost anything you can make on a grill. A griddle pan has elevated ridges and is slightly different from a regular pan.
You can grill meats such as beef, fish, and chicken. It will make your meat taste just like it's off the grill. There are two types of griddle pans cast iron and non-stick.
A Broiler: Instead of cooking your food above the heat, the heat is directly above the food. A broiler is one of the closest indoor things to an actual grill since the fire is above your food. You can find a few different recipes for a broiler that will taste similar to grilled foods.
Can You Bake Instead Of Grill?
When it comes to baking or grilling, there are a few differences. But the main difference would be that grilling is a quick method of cooking food over direct heat at high temperatures, and baking is a slower method for foods that need long and slow cooking.
Using a broiler is an excellent alternative to grill. You can still get great flavors using a broiler if you follow recipes made for a broiler. Ensure to flip your food halfway through cooking to ensure evenly cooked food. You can place a cast iron pan directly in the oven to grill chicken and steaks.
How Do You Mimic A Grill On The Stove?
If you want to grill but don't have the time to start it up, your stove is the next best thing you can use. You can use a skillet or long pan over a gas or electric stove.
You can place the food you would like to grill onto the pans, change the heat to the highest setting, and use spices such as BBQ and Texan. Using butter to baste the meat or vegetables will give it a rich grilled flavor.
Next Steps
When you need a fast grill replacement, it depends on what you have available in your house, what type of foods you're making, and what flavors you prefer.