Corvina is a unique and nice saltwater fish commonly found in warm, tropical waters and falls under the Sciaenidae family. The size of this fish species varies and can weigh up to 25 pounds or be small enough to prepare just a single meal.
This fish makes an excellent meal since it has low salt content and is rich in protein. It's also a great meal for individuals trying to lose weight and those that always watch their calories. When it comes to the taste, you can never go wrong with this seafood. Corvina has a mild, sweet taste. Its meat is flaky, and individuals often use it in ceviche.
If you are contemplating different delicious ways to enjoy the corvina taste, this post got you covered. There are different ways you can prepare corvina, as this fish is not limited to one specific cooking method. Keep scrolling and reading to find out more!
Pan Fried Corvina Fish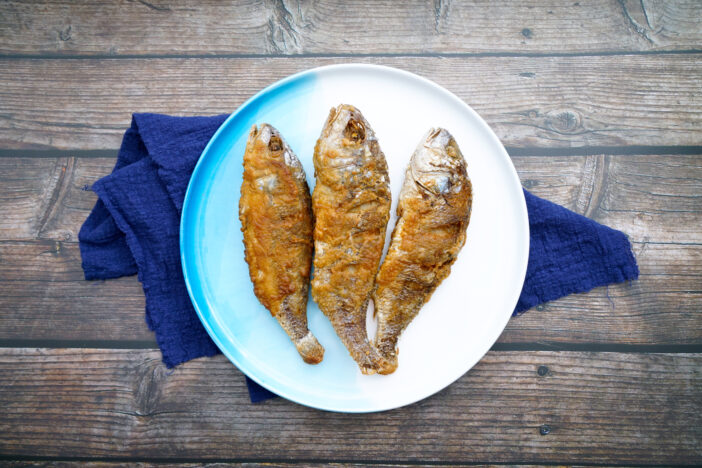 This simple recipe that's ideal for busy weeknights will only take 30 minutes of your time or less. The pan-fried corvina fish is juicy on the inside and crispy on the outside part. Use a hot skillet and bread crumbs to make this meal more interesting.
Cover the fillets with the bread crumbs and toss them in a heated pan. The fillet will develop a visually appealing golden brown crust as they continue cooking. When the meal is ready, garnish it with a squeeze of lemon juice to add to the flavors. That's how simple it is to prepare this meal type.
Corvina with Herbs and Butter
If you love preparing simple meals, this recipe is the type to run to. You only need herbs and butter to make this sumptuous meal.
The first step is to coat the corvina in parsley, garlic, and thyme. The next step is to add some pepper and salt. Finally, pan-fry the mixture on enough butter for approximately 10 minutes, and you'll be ready to enjoy the meal.
Corvina in Coconut Crust
This is a must-try out for those who are outgoing enough. The coconut crust here is crucial as it helps incorporate a tropical twist with an incredible crunchy feel to complement the flaky and succulent corvina.
The first step involves squeezing a generous amount of lemon on the fish. Then, you coat the corvina with sweet coconut flakes and bread crumbs. You can also incorporate some aromatics like oregano or thyme.
The next step involves tossing the fish on a buttered pan and letting it bake perfectly. You can enjoy this corvina taste with a seafood side dish when ready.
Baked Corvina with Lemon Pepper crust
Baked corvina is always an incredible dinner choice, despite the occasion. Adding the lemon pepper crust makes this meal super flavorful. This meal requires enough paprika, lemon pepper seasoning, and garlic powder.
The initial step involves coating the corvina with lemon juice to ensure the spices stick effectively. The next step involves baking the fish with butter until well cooked. You can choose a healthy side like a salad to enjoy the fish or make it extra interesting by preparing chunky steak fries.
Simple Grilled Corvina
You wouldn't have exhausted different corvina tastes if you didn't prepare grilled corvina. This meal is easy to prepare and is more interesting when you invite your friends over.
It's important to note that grilling this fish can be quite challenging since the flesh can easily stick to the grill. Therefore, use banana leaves to wrap the fillets to avoid such an incident. The leaves will ensure that the fish stays whole while it continues cooking.
Proceed to choose an accompaniment to enjoy the grilled fish when ready. Your friends will enjoy unfolding the banana leaves to check what's inside.
Is corvina similar to grouper?
Yes. Corvina is an interesting white fish that's similar to grouper or snapper. However, the difference comes in cost, as corvina is less costly than grouper.
Is corvina the same as sea bass?
Corvina is a type of sea bass (white) with a mild, sweet taste. This sea bass also incorporates a large and firm flaked flesh.
Is corvina the same as Chilean sea bass?
Chilean sea bass, or Patagonian toothfish, belongs to the cod family. This fish type is commonly exported to the US and not eaten in Chile. Corvina is the type of sea bass eaten in Chile.
Is corvina fish a bottom feeder?
Corvina fish are bottom feeders since you'll mostly locate them in small groups or schools next to sandy bottoms. This species fall under the saltwater fish category and are prominently located in the southeastern Pacific, where the waters range from tropical to temperate.