Italian cuisine is known for its bold flavors, delicious sauces, and ability to gather the entire family around the table to enjoy a satisfying meal.
If you enjoy salami on your sandwiches or pepperoni on your pizza, you might want to try other types of cured meats, such as Italian salt-cured beef. You can find tasty, salty meat from your local butcher or supermarket.
What are some delicious ways to enjoy tasty cured beef? The following list includes the five best recipes using Italian salt-cured beef. I've tried these recipes myself, serving them at my home or bringing the platters to get-togethers, and they did not disappoint!
Delicious Ways To Enjoy Italian Salt-Cured Beef
Read on for five delicious recommendations if you're ready to find your next favorite way to prepare Italian salt-cured beef.
1. Italian Salt Cured Beef and Cheese Platter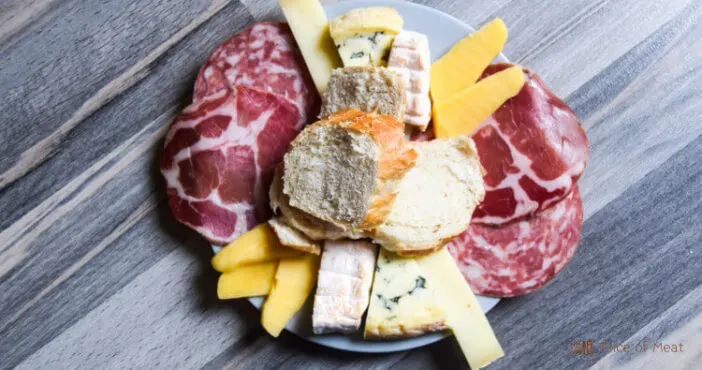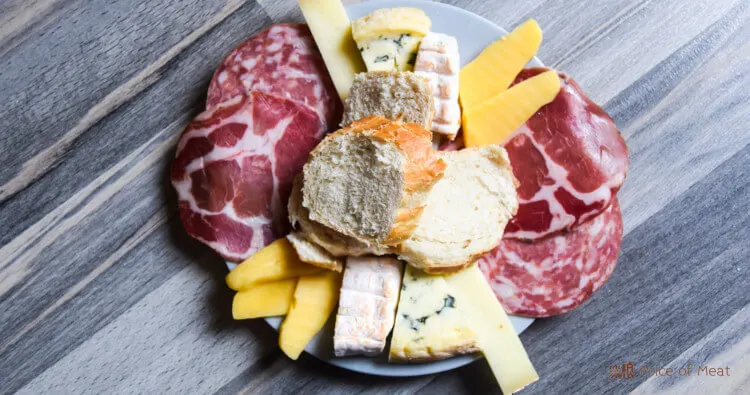 If you're serving up an Italian dinner, you'll need an antipasto dish to begin the party. The Italian salt-cured beef and cheese platter tastes flavorful and delicious. You can serve it with red wine and a slice of fresh bread.
You can pick out a few incredible ingredients from your local deli and butcher's shop. The cured beef and cheese platter needs ingredients like:
Bresaola slices
Arugula
Ten baby tomatoes sliced in half
Lemon
Orange
Salt and pepper
Hazelnuts
Grated Parmigiano cheese
The lean beef tastes exquisite with lemon juice, a drizzle of olive oil, a dash of salt, and arugula leaves for garnish.
2. Bresaola With Lemon and Oregano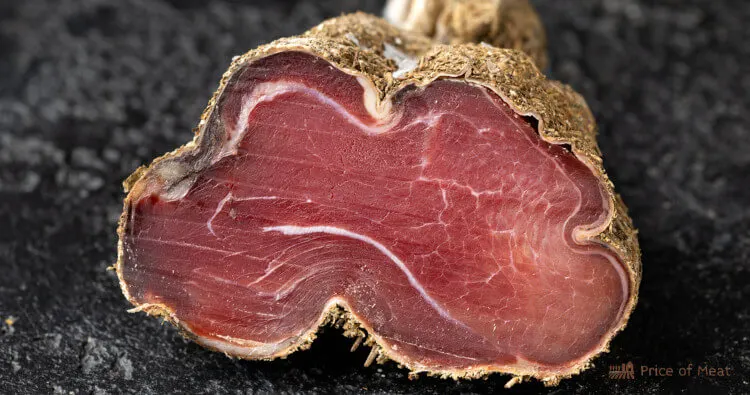 You can find Bresaola in the northern region of Italy. It is an air-dried and salt-cured beef. You should add a few drops of lemon juice, a bit of black pepper, and a drizzle of olive oil to make the meat flavors come out.
The Bresaola with lemon and oregano recipe is a simple one you can make in a few minutes. First, put down slices of meat on a plate, and then, you need to take a lemon wedge and squeeze lemon juice onto each piece. The next step is drizzling some olive oil all over the plate.
Now, add some dry oregano to the cured meat. Lastly, add salt and ground black pepper to the meat without going overboard. The result is a savory snack best served with a slice of bread.
3. Bresaola With Blackcurrants, Ricotta, and Rocket Leaves
Bresaola is a popular cured meat that originated in Lombardy, Italy. You can try curing your own beef to make Bresaola from scratch and use red wine to brine the beef.
For this recipe, the blackcurrant dressing gives the dish a fruity flavor. To make the dish, you will need to use a silverside steak and a brine made of:
Red wine
Salt
Sugar
One shallot
Garlic cloves
One carrot
A cinnamon stick
Thyme
An orange peel
The blackcurrant dressing combines honey, blackcurrant juice, and olive oil. Serve the tasty, savory cured meat with a baguette.
4. Italian Salt-Cured Beef and Pasta Salad
A pasta salad is a savory, delicious way to enjoy Italian salt-cured beef as a meal for lunch or dinner. When making a meal for your family, you might want to choose a pasta salad with Italian salt-cured beef. Once you've made the pasta salad, top it off with salt-cured beef.
You can use penne or another of your favorite type of pasta. Make sure to add garlic, oregano, basil, and green onions to ensure the dish has plenty of flavor and spices. Now, add slices of cured beef. You can garnish the pasta salad with parsley. Lastly, sprinkle some cider vinegar and olive oil on top.
Finally, this salad is best enjoyed when paired with a glass of red wine.
5. Grilled Salt Cured Beef Sandwich
A grilled sandwich is perfect for lunch or dinner, and you can enjoy an egg sandwich for breakfast. You can use an outdoor grill or a small one in your kitchen to cook the salt-cured beef sandwich.
The recipe is quick and easy. It won't take long to assemble the sandwich and grill it up quickly. You won't need too many ingredients either; this recipe requires a baguette, bell peppers, onions, provolone cheese, and slices of Italian bresaola.
The sandwich also tastes great with Italian dressing and some creamy olive oil.
Frequently Asked Questions (FAQs)
Check out the answers to a few common questions about Italian salt-cured beef below.
What is cured beef called?
Cured beef is often called Bresaola in Italian or at your local butcher's shop. The meat comes from a beef leg and is a lump of dried meat with various spices. Bresaola is a meat high in protein and low in fat. It's a great option for those looking to diet and eat more healthily.
Another term for cured meat is charcuterie, which you can frequently find served on a platter with cheese, crackers, and grapes.
What is Italian bresaola?
Italian bresaola is an air-dried, cured, and salted beef. The meat is usually beef, and the pick is a tender, lean cut.
Yet, sometimes, the meat comes from pork or venison. Often, the cured meat is cut into thin slices. Italians serve the cured beef at a slightly chilly temperature or room temperature. You can garnish the brined or cured meat with arugula, lemon juice, cheese, or olive oil. It tastes similar to lean prosciutto.
What is beef prosciutto called?
Beef prosciutto is a type of Italian bresaola. Essentially, it is also a cured beef air-dried in sea salt for a long period. It takes at least a few weeks to complete the curing process. Beef prosciutto has a firm texture and a savory taste.
You can enjoy beef prosciutto as part of a salad or a baguette sandwich with healthy vegetables. You can even add it to a shishkabob for dinner.
What is bresaola beef?
Bresaola beef is no different than the standard Italian salt-cured beef; it's another name for the cured meat in the Italian language.