When we think of cubed meat, our thoughts go to stew. But unfortunately, only some enjoy stew, which can become bland and dull after a while. Luckily, various cooking styles offer delicious ways to enjoy cubed meat.
Cubed meat can be enjoyed in a stew and various other recipes. As appetizers, cubed meat can be served as bite-sized snacks packed with different flavors. Mains can vary from curries and pies to delicate kebabs and even a quick cubed meat sandwich on the go.
Cubed meat can be a great add-on to your week's cooking and is easy to integrate without it getting a usual dull, repetitive meal.
Delectable Ways To Use Cubed Meat
It is time to open your eye to the world of cubed meat and what it can offer you. This bland overused type of meat in stew has much more to give and can even be a meal to look forward to. Cubed meat doesn't always have to be the tacky beef meat that needs to cook slowly. Here are a few delicious ways to enjoy cubed beef.
Cubed Meat And Curry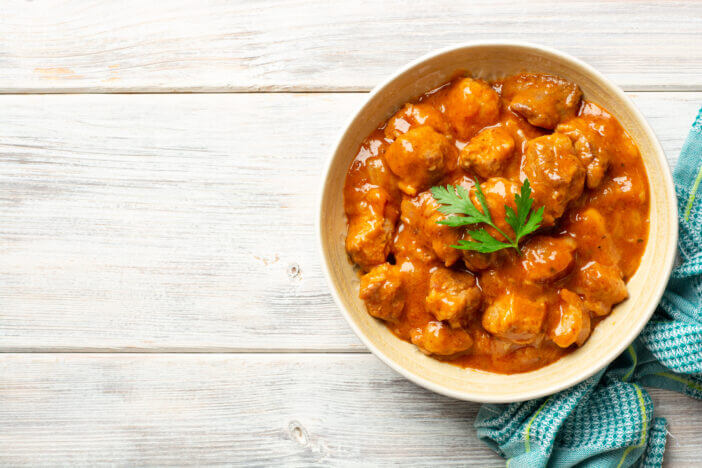 One of the best ways to enjoy cubed meat is to give it a curry sparkle. The spices from the curry can enhance the flavors of cubed beef, and you can even use cubed lamb meat with curry. This is a lovely meal in winter, and it has the warm and fuzzy feeling you get from a curry meal while it is cold outside.
The perfect side dish with a cubed meat curry is rice or noodles with a fresh salad plate. Usually, cubed meat curry needs to cook for about an hour or more to ensure you have tender beef. Here is a great Indian Beef Curry recipe you can check out.
Slow-Cooked Cubed Steak Pie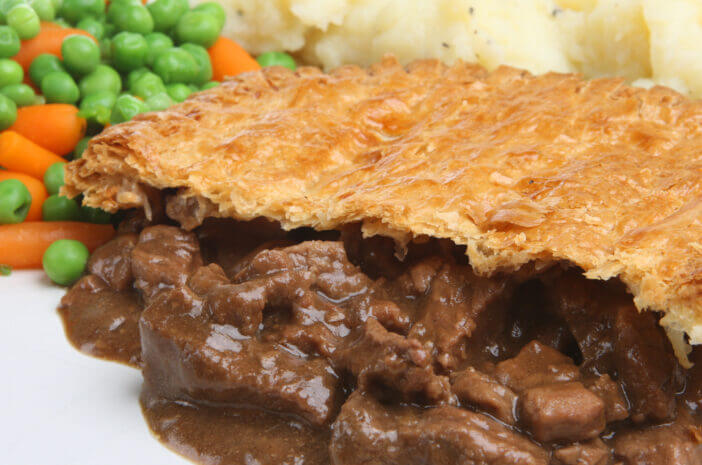 Another way to cook with cubed meat that is quite delicious is making a pie with it. Who doesn't like pie? Making a homemade cubed beef pie can feed many bellies, and you can add your own flavors every time to give it a twist.
Because this dish is quite filling, you don't have to serve it with a side, but if you must, a side of fresh veggies or salad will do. You can also make a sauce for the pie if your guests like something saucy.
What is fun about a cubed beef pie is that you can freeze it and, if you want, can make the pastry gluten-free. This way, you can have more pies which are healthier and stored away for a busy day. Here is a steak pie recipe you can try. The steak can also be substituted with cubed beef and cooked in the slow cooker for a tender result.
Cubed Meat Sandwiches
It happens too often that there are leftovers from the day before, especially if you made a big pot of stew. Without repeating the dish from the night before, why not use it to create a new meal, like cubed meat sandwiches?
Depending on your time, add the cubed beef to a buttered bun and be off or put in a little extra effort. First, caramelize some onions and make a tangy sauce. Then, add all the ingredients, with the cubed meat, hot or cold, to a hot dog bun. This could also be a perfect picnic snack packed with flavor and nutrients.
Cubed Meat Salad
These could be an excellent edition for the summer menu. Cubed beef can quickly be marinated and pan-fried for a more solid texture and flavor. The most popular beef recommended in a salad is a rump or sirloin steak cut in cubes. On the other hand, cubed beef is more challenging than steak, but with a marinade, you can make it work.
You can serve it as a warm salad with butternut cubes, peas, garlic, chili, and a fresh hint of mint. Or you can go the cold route with a crunchy green salad. Here is a fantastic warm salad recipe to try.
Cubed Beef Soup
You can never go wrong when using cubed beef in soup. It is the ultimate heart-warming meal and tastes better when feeling ill. Use colorful vegetables like corn, beans, and tomatoes to make a cube beef soup extra attractive. This recipe provides a fast, instant pot cooking method for the entire family.
You can also freeze and reheat it, making it convenient for a cold winter night when you are not in the mood to cook from scratch.
Cubed Meat In A Stew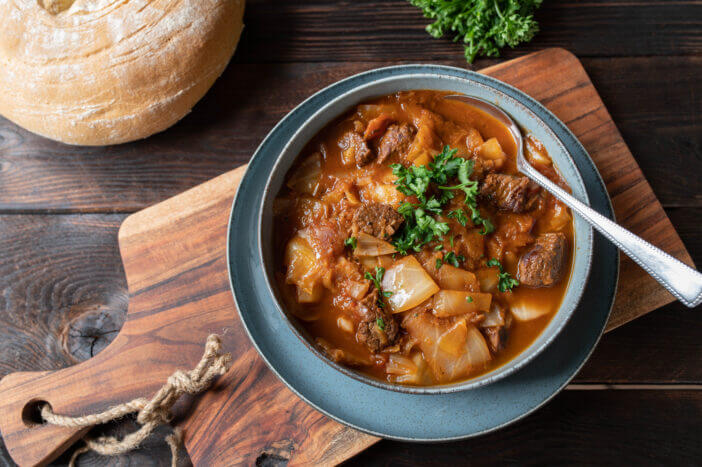 All-time favorite for cubed meat, and some would say this is what cubed beef is made for – the stew. However, some don't like it because it can quickly become a regular meal in a household without any difference in the recipe. It is easy to stick to a recipe you know and become stagnant in cooking a stew. However, you can approach stew in a few ways to keep it interesting.
Beef curry stew. The twist is coconut milk which gives it a creamy texture.
Beef pot goulash. Add a rainbow of vegetables and a thickening agent such as corn starch.
Peanut beef stew. The peanut butter twist in the recipe brings a different flavor to the stew.
Frequently Asked Questions
What Is Cubed Beef Called?
There are a few alternative names for cubed beef, such as tenderized steak, cubed steak, or swiss steak. The name comes from tenderizing tough meat around the cow's body. These connective tissues are then easier to cook in cubes. Cubed beef is tougher meat from all over the animal.
What Is Cube Steak Good For?
Cube steak is a tougher meat and is usually better prepared slower to ensure the beef cooks tenderly. That is why cubed steak gets used in stews, soups, goulashes, and pies.
How Do You Cube Meat At Home?
The easiest way to cube meat at home would be to use a meat tenderizing hammer. Additionally, you can use a knife. Coat your steak with a thin layer of flour, and add seasoning. Then, hammer into the meat with the cutting part of a knife to make about 1-inch indents in the meat. Turn on the other side and do the same. Cut into cubes or use as it is, depending on the recipe.
Is Cube Steak Just Ground Beef?
Cube steak is not ground beef. Some people use them interchangeably for the same purposes, giving you a different results. For example, a ground beef burger patty will eat better than a cube steak patty. Ground beef is meat that is grounded into fine pieces and then pressed together again, while cube steak is a piece of steak hammered to become thinner and less challenging.
Conclusion
Whether you are bored with your weekly stew routine or want fantastic options for your next cubed meat dish, any alternatives would be perfect to open the horizon and explore what you can do with cubed meat.