Are you a sushi fanatic who wants to experiment with new recipes? Maybe you're a seafood novice looking to dive into a new world of cuisine. Do you feel called into the wild blue yonder of new recipes? If any of these apply to you, one food should be on your radar: akami fish.
Akami is one of the best ingredients from the seven seas, and numerous options are at your disposal if you want to use it in your next dinner. In this article, we'll break down eight delicious options to cook this magnificent morsel.
What is akami fish?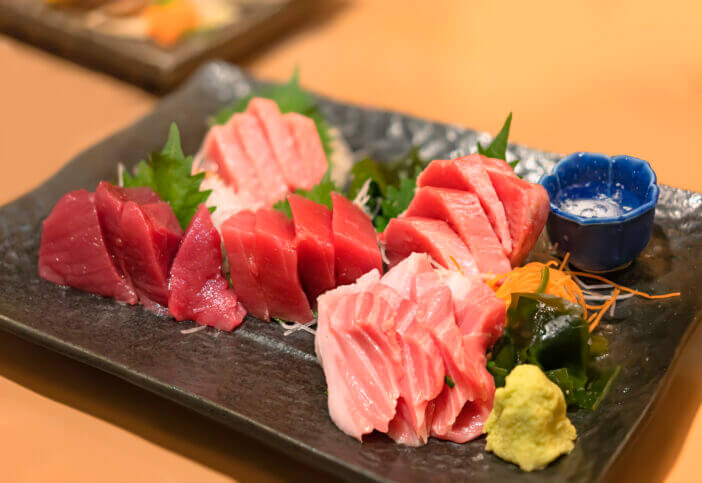 We should begin with a nota bene, which is that akami is not the name of a specific fish. Akami is a Japanese term for the cut of bluefin tuna from the center of the fish's body. It is cheap, not fatty, and quite delicious.
You most often find akami in sushi restaurants in sashimi or sushi rolls. Its counterparts are otoro, which is the fatty meat from the tuna's belly, and chutoro, which comes from the fish's back and stomach.
The Recipes
Now that you've gotten your Japanese cuisine education, we can dive into 8 excellent preparation methods for akami.
The first recipe on our list is a simple akami sushi roll, complete with all the classic fixings of the Japanese staple.
To make this recipe, cut your akami into cubes, then mix it with shallots, scallions, and spicy mayonnaise. Then, mix rice vinegar with sushi rice, spread the rice over a prepared sheet of nori (dried seaweed), and spread your tuna mix over the rice. Finally, roll the sheet up and slice it, then serve.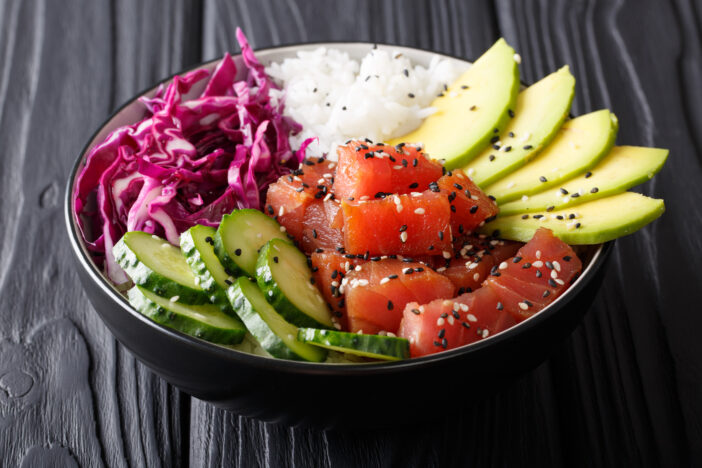 The next recipe on our list moves from the handheld world of sushi to the bowl-based world of poke!
Poke is a Hawaiian dish consisting of cubed raw fish, and it's commonly served in bowls with rice, vegetables, and sauce. This recipe gives you space to customize, listing sauce and topping options including green onion sauce, spicy mayo sauce, cucumber, avocado, radishes, pickled ginger, and more.
If you're interested in using akami fish as an appetizer, this seared tataki-style dish might just be what you need.
Tataki is a Japanese form of meat preparation in which cooks sear a morsel of meat and flame, marinate it in vinegar, and then slice the fish thin. After the fish is finished, top it with blanched edamame and marinated ponzu sauce.
Although this style of akami fish is somewhat lighter, you can level it up to a main by serving it with black rice and bok choy.
Sashimi is one of the simplest ways to eat raw fish. As opposed to sushi rolls, which are nestled inside rice and nori, sashimi is simply pieces of fish dipped in sauce and eaten raw.
This recipe provides an excellent primer for preparing akami sashimi, allowing you to serve akami as a crowd-pleasing appetizer.
Once you've finished your introductory course in sashimi, you can step up to this sashimi recipe, which pairs the cut akami with a sumptuous sauce made of onion, ginger, soy sauce, sushi vinegar, lemon, and sesame oil.
Once you've finished preparing the sauce, you can dip the akami in the sauce and then serve it with mizuna (Japanese mustard greens), arugula, and tomatoes.
Moving back into rice bowl territory, we come to the next recipe on our list, a zuke don Akami bowl ("zuke" means marinated, and "don" means rice bowl).
This akami bowl is a scrumptious medley of flavors. It all starts with the marinade, a mixture of soy sauce, mirin, dashi stock, wasabi, and sesame oil. After marinating the akami, you add gooey Japanese mountain yam, radish sprouts, scallion leaves, toasted nori, and sesame seeds.
Don't look now, but you've just finished a remarkably delicious bowl of rice.
Now that you've gotten to the seventh item on this list, you might be ready to level up to this restaurant-quality akami fish crudo.
Created by Dina Butterfield's Uchi Miami, this recipe takes the already delicious akami and accentuates it with aji amarillo sauce, pumpkin seed granola, cilantro oil, and other ingredients to accentuate the fish's complex flavors.
The recipe takes a bit more involvement than your basic akami dish. However, its explosive flavors make the work well worth it, and it is sure to be an impressive treat for a dinner party or romantic dinner.
The final akami dish on our list is this tekka don rice bowl, which is easy enough for a college student to make! To make it, combine the marinade ingredients, soak the tuna, and then serve it over rice with sliced cucumber.
The standout of this recipe is its simplicity. With just three ingredients–including delectable sake–in the marinade, it's a piece of cake to prepare and a treat to eat.