5+ Delicious Reasons to Try Alabama Conecuh Sausage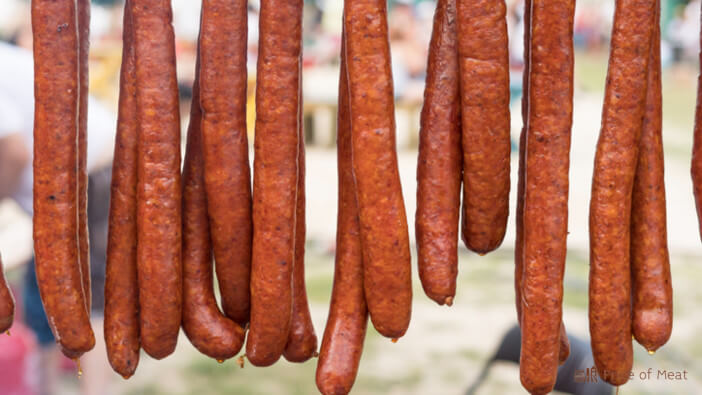 Conecuh Sausage Company has been roasting and selling its tasty sausage varieties for over 60 years. It all started in 1947 in Evergreen, Alabama, with the Sessions family, who began smoking their sausages over hickory wood to get a signature taste.
Since then, the company has created six unique varieties for people to enjoy with family and friends. The Alabama Conecuh Sausage Company has everything you want, whether you like sweet sausage or Cajun-spiced flavors. Their sausage varieties can instantly transform your meals into restaurant-quality food.
Let's examine why Alabama Conecuh sausage is worth incorporating into your homemade meals.
Disclosure: As an Amazon Associate, this site earns from qualifying purchases. Thank you!
Quick Sidenote – check out our shop for a curated selection of the best meats, cuts, sausages, and more. Open our shop in a new tab and explore!
A Few Reasons Why Conecuh Sausage Is Worth a Try
If you're sick of using the same old sausage in your recipes, kick the flavor up a notch and try replacing it with Alabama Conecuh sausage. Here are five delicious reasons to try Alabama Conecuh sausage.
It Goes Well With Barbecues
Sausage is a staple food when it comes to barbecues. The hickory wood used to cook Conecuh sausage brings a bacon-like flavor to the pork sausage, which goes well with other meats like ribs, chicken, and pork butt. It's especially delicious with sides, such as collard greens, as the slight sweetness helps cut the bitterness of the leafy greens.
Simply grilling and slicing the sausage makes a delicious side to your barbecue meal. You can also incorporate it into your typical barbecue sides, such as mac and cheese, baked beans, and cornbread. It brings in a tasty savory, meaty flavor.
It Can Be a Tasty Addition to Your Plain Breakfast
Sausage can generally make a great addition to your eggs and toast in the morning, as it brings in a savory, salty flavor. Breakfast sausage will be a thing of the past when you get a taste of Alabama Conecuh sausage. Skillet-cooked Conecuh sausage is one of the best omelet fillers, as it adds quite a bit of protein and brings a satisfying snap to your soft eggs.
The black pepper-flavored sausages tend to go best with breakfast, as they bring in an Earthy spice to your otherwise plain, sweet breakfast flavors.
It Goes Well In Bread and Biscuits
Bread, biscuits, and other savory bakery goods taste delicious on their own. However, if you want to bring in more flavor and protein, try adding some Conecuh sausage. The traditional sausage recipe brings in a smokiness that goes well with flavors such as cheddar cheese and green onion.
If you want more spice, try adding the spicy and hot variety for a little kick of heat.
Chopping the sausage into little pieces is the best way to use it with bread-based products, as you'll get a smokey pork flavor in every bite.
It Can Help Create a Mouth-Watering Gumbo
Gumbos typically use flavors from Creole cooking in Louisiana. It combines flavor roots from Europe, Africa, America, and India to create a spicy, hearty dish filled with multiple kinds of protein and vegetables. Gumbos usually use andouille, but replacing it with Conecuh sausage can bring in a whole new level of flavor.
Try using the Cajun variety of Alabama Conecuh sausage for hints of smokey pork, paprika, and various other flavorful spices. These flavors pair well with the tomato-based broth and fresh seafood, giving it an extra spicy kick.
It's a Delicious Hot Dog Replacement
Hot dogs are an American favorite, but they can be a little bland. Instead of throwing a plain boiled hot dog in a bun, replace it with Conecuh sausage. You'll get the same smokiness you're craving but with deeper flavor profiles due to the seasoned, hickory-smoked, lean pork.
Hot dogs can sometimes have a sickening processed taste to them, but this sausage will have your taste buds going wild.
What Is Conecuh Sausage Made Of?
Conecuh sausage uses one main ingredient, which is lean pork. This gets combined with a variety of spices, depending on the sausage variety you choose, into a thin casing to create some flavorful links.
What Makes Conecuh Sausage Different?
Conecuh Sausage Company uses a unique blend of spices, so it's hard to replicate the taste of their sausage. The company also smokes all of its sausages over an actual hickory wood-fueled fire rather than just throwing liquid smoke into their meat mixtures.
Frequently Asked Questions
Here are some frequently asked questions people tend to have about Alabama Conecuh sausage.
Why is there no Conecuh sausage anymore?
The pandemic negatively impacted many industries, including the pork industry. Due to this, there is a shortage of Conecuh sausage. The sausages are still getting made, but it might take some grocery store searching and digging to find them. The company has a list of places where you can find their sausages and other meats. You can also buy off Amazon.
What makes Conecuh Sausage special?
The Conecuh Sausage company uses a secret family recipe that has been around since the company began in the 1940s. They also steer clear of liquid smoke and opt for the real thing.
Who owns Conecuh Sausage Company?
John Crum Sessions currently owns the Conecuh Sausage Company. He is the son of the original owner and creator of the sausage company, Henry Sessions.
Can you only buy Conecuh sausage in Alabama?
While the Alabama Conecuh Sausage company resides in Evergreen, Alabama, you can buy their delicious sausages and other meats throughout the United States. You can most likely find a grocery store near your area that sells their products.
How is Conecuh sausage rated?
According to the many reviews on Google and Yelp, Conecuh sausages get a five-star rating. These reviews are likely due to the company's secret spice blends, use of lean pork meat, variety of flavors, and the cooking method of a literal hickory fire.
What forms of payment does Conecuh Sausage accept?
The Conecuh Sausage Company website accepts multiple cards as payment, including the following:
Visa
Mastercard
Discover
American Express
They do not accept Paypal or other money-transferring apps, so you will need an actual credit or debit card to place an order with them.