Iceland is known for many things, from gorgeous landscapes and Northern Lights sightings to relaxing lagoons and its rich Viking history, but did you know it's also known for its hot dog? Yes.
While many people think the hot dog is truly American, the Icelandic people have a leg up on the States with the dish. And, if you're wondering what makes this simple, cheap food item so appealing and delicious, keep reading.
The Famous Icelandic Hot Dog
Surprisingly, Iceland, a country renowned for its unique and diverse culinary offerings, has gained international recognition for its hot dog.
While the origins of the hot dog can be traced back to Germany, it has become a staple in Iceland, gaining immense popularity among locals and tourists alike. Despite its humble beginnings, the Icelandic hot dog has become famous, and no other variant is more recognizable.
Its unique blend of lamb, pork, beef, crunchy onions, ketchup, and a tangy remoulade sauce sets it apart from all other hot dogs worldwide. For a country with so many distinct foods, the Icelandic hot dog's global reputation is a testament to its undeniable flavor and appeal.
The Ingredients
What sets this hot dog apart from the rest and makes it one of the must-try food items in Iceland is its delicious composition. While traditional hot dogs you probably know consist of emulsified chicken, beef, and/or pork trimmings, Iceland makes their hot dogs with a combination of Icelandic lamb, beef, and/or pork.
Plus, the meat in Icelandic hot dogs primarily comes from hormone-free, grass-fed animals, making them taste even better than the manufactured hot dogs in the United States. The fluffy, warm bun the Icelandic people serve that hot dogs in is just icing on the cake.
A Bite with a Snap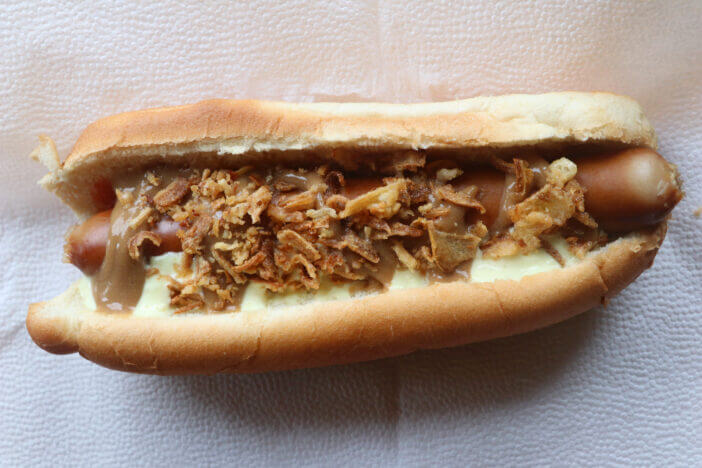 Besides its savory yet sweet flavor and heavenly bun, one of the most satisfying aspects of the Icelandic hot dog is that each bite comes with a satisfying snap.
While a snap might not seem like the most desirable experience when eating food, you'll like this one because it comes from the breaking of the hot dog's natural casing breaking open for an explosion of meaty flavor.
Get Your Dogs From Bæjarins Beztu Pylsur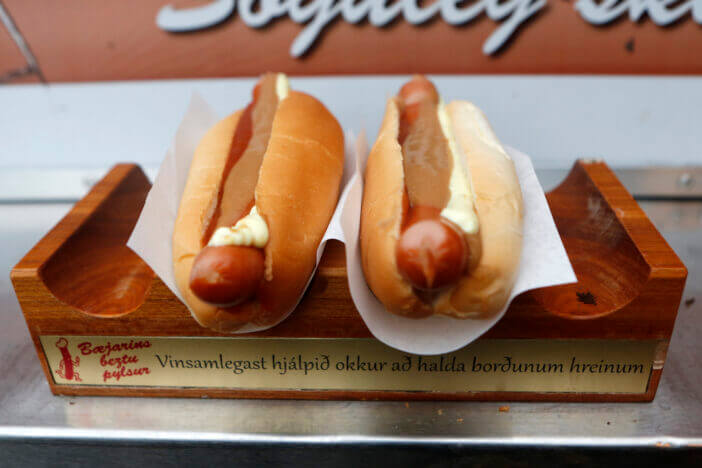 Bæjarins Beztu Pylsur means "Best Hot Dogs in Town," and this hot dog hot spot means it. This hot dog spot has been serving up hot dogs since the late 1930s and continues to do so to tourists and locals alike. Even celebrities are known to have stopped by this hot dog shop for a famous dog or two when they've passed through Iceland.
Get Your Dog with Everything
Ask any Icelandar and they'll tell you that the best way to experience the Icelandic hot dog, especially for beginners, is to order the dog with "everything."
In doing so, you let the hot dog vendor know you want all the delicious fixings the hot dog comes with, including raw onions, fried onions, sweet mustard, ketchup, mayonnaise, and a remoulade sauce.
All of the ingredients add a bit of texture and tang to each bite and complement the delicious meaty flavor perfectly.
Prepare With Care
Unlike a standard hot dog, you need to put more care into preparing an Icelandic hot dog. For example, you can't boil Icelandic hot dogs. Well, you can, but you won't want to after learning that boiling these dogs will cause them to lose their flavor. Instead, you can put them in hot water for a minute, but by no means keep them in the pot for longer periods.
Instead, you'll want to use caution when preparing an Icelandic hot dog. You can either grill your hot dogs or toss them into a skillet over medium-high heat and braise them with beer. Yes, beer. The beer brings out the Icelandic hot dog's distinct flavor, so it's an important step not to miss.
What gives Icelandic hot dogs their unique Flavour?
Unlike the salty links you'll find in the States, the Icelandic hot dog has a savory yet slightly sweet flavor that you can thank the ingredients for. The flavor comes from the unique combination of lamb, beef, and pork.
How do you boil Icelandic hot dogs?
While you can boil standard hot dogs without a problem, you don't want to boil Icelandic hot dogs. If you have no other option, you can bring a pot of water to a boil, remove it from the heat and plop your dogs in, but only for a minute before removing them. Boiling these hot dogs will cause them to lose their distinct flavor.