5+ Delicious Biltong Snacks to Satisfy Your Cravings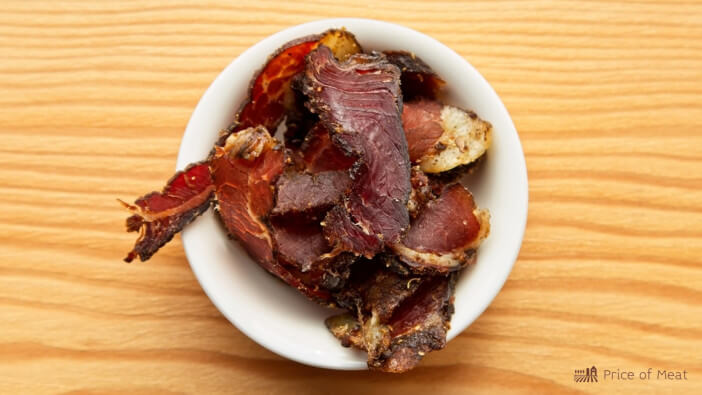 Everybody loves munching a good but nutritious snack. You might have tried vegetable chips, but nothing is tastier than biltong. It is similar to beef jerky, but it differs in taste, texture, and health benefits.
Craving biltong? Here are five of the best biltong snacks that you should try:
Disclosure: As an Amazon Associate, this site earns from qualifying purchases. Thank you!
Ember's Original Flavor Beef Biltong
Brothers Jack and Harry came from humble origins before they created Ember. They grew up in the greener pastures of Suffolk, where they helped on their family farm. Ember's processing of biltong snacks is all-natural, with no use of machines.
Quick Sidenote – check out our shop for a curated selection of the best meats, cuts, sausages, and more. Open our shop in a new tab and explore!
Aside from their mission of bringing tasty but healthy snacks, they stand strong in their belief that factory farming has detrimental effects on the environment and animals.
When it comes to trying biltong, the Original Recipe stands out. Ember's Original Recipe is made from lean meat. It is packed with nutrients and has no added sugar or preservatives.
Kalahari Snacks' Spicy Peri Peri
Kalahari Snacks was founded by best friends Fred Johnston and Tyler Noyes. Its creation is rooted in a Christopher Columbus-like discovery when they traveled to South Africa to join a series of marathons. Biltong was introduced to them by a teammate living in the region.
One of Kalahari Snacks' most famous products is their Spicy Peri Peri biltong. Made from the finest American beef, each strip is flavorful and marinated with salt, vinegar, and robust spices, including coriander and rosemary. Last but not least, it is sprinkled with peri peri chili.
Aside from Spicy Peri Peri, Kalahari Snacks has a lot of flavorful options that can suit anyone's preferences. You can check out flavors such as Garlic and Chili Lime. Or, if you want to have a taste of every biltong flavor in their selection, you can buy them in a bundle!
Brooklyn Biltong's Steakhouse Garlic
Brooklyn Biltong's founder Ben van den Heever has true South African roots where the snack originated. Growing up in Pretoria, he frequented the butchery owned by his grandfather. This upbringing inspired him to create one of the best biltong snacks that thousands of households enjoy today.
If you're looking for less spicy yet tangy meat strips, their Steakhouse Garlic biltong is perfect for you! Its mouthwatering flavor will make you savor every second. The dried meat is made from grass-fed beef marinated with:
Garlic
Black pepper
Vinegar
What's also special about Brooklyn Biltong's snacks is that even though the meat underwent the drying process, the texture is moist, allowing you to taste the flavorful marinade.
Stryve's Sliced Biltong Teriyaki
Stryve is known for having the best biltong because they use 100% premium grade beef, and their products are made in their cutting-edge facility in Madill, Oklahoma. They boast of their biltong products being all-natural, meaning they don't use any preservatives.
Among the selection in Stryve's biltong snacks, Sliced Biltong Teriyaki stands out for its added Asian twist. Bringing the best of both worlds, the tastiness of teriyaki and air-dried biltong comes into one.
This combination guarantees that every bite is deliciously tender. It's not just super delicious but also healthy since it's high in protein, has zero carbs, and has no artificial flavoring.
If you're craving all the flavors, you can purchase the Mega Pack bundle.
Righteous Felon Ancho Villa Beef Biltong
Among the brands mentioned on this list, Righteous Felon is a unique one, starting from their wrappers. Its design resembles a wanted sign in the wild wild west, and pictured on the cover is a cow in a mugshot. Each flavor is paired with characters with witty names. However, what's surprising about their wrappers is that they're made of eco-friendly materials.
Righteous Felon's Ancho Villa Beef Biltong has a sizzling flavor. The meat is thinly sliced and dry-aged for 21 days. Its top-quality taste comes from a marinade containing vinegar, red wine, and various peppers, including:
Habanero
Chipotle
Cayenne
Ancho
Frequently Asked Questions
Here are some frequently asked questions about this protein-packed snack.
Is biltong good for you?
Yes! Biltong is a healthy, high-protein snack.
Even though it comes in various flavors, it is a rich source of iron, protein, and other essential nutrients such as magnesium, potassium, and B vitamins.
Is biltong better than jerky?
Absolutely! Aside from its health benefits, biltong has the upper hand when it comes to quality. In terms of size and texture, biltong is flexible since it comes in different cuts, and though it is made of dried meat, it can be moist and fatty.
What is the South African snack biltong?
Biltong originated in South Africa. It came from a custom of African communities where they prepare slabs or thin slices of meat by drying and marinating them with spices.
What should I serve biltong with?
Biltong is best served alongside other snacks like chips, nuts, and dried fruits. You can also use it as a pizza or sandwich topping.