7+ Delicious Alternatives to Processed Meat for Your Next Meal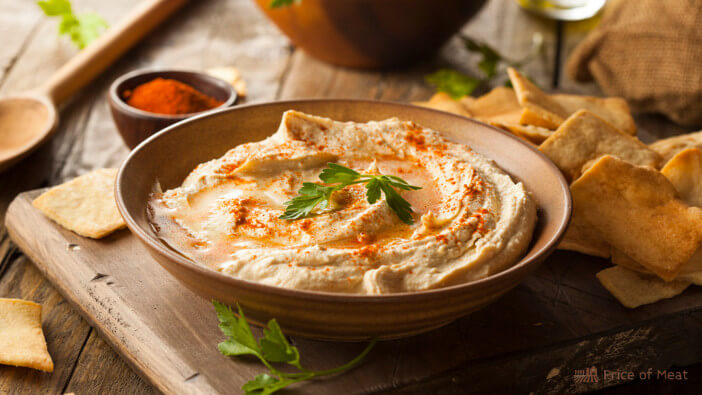 When days are busy and time is scarce, it is easy to rely on processed meat to create your meals. They last longer in the fridge and can be added to almost anything to make a tasty and filling meal. However, we all know that processed foods, including processed meat, are unhealthy. What are some delicious alternatives to processed meat?
There is a range of options that you can substitute processed meat with. Some delicious alternatives to processed meat include canned tuna, chicken breast, and home-cooked meat like slices of roast lamb. There are also vegetarian options like black beans, cheese, and hummus.
Cutting processed meat out of your diet does not have to be costly or inconvenient. There are so many alternatives to processed meat that are healthy and delicious.
Disclosure: As an Amazon Associate, this site earns from qualifying purchases. Thank you!
Quick Sidenote – check out our shop for a curated selection of the best meats, cuts, sausages, and more. Open our shop in a new tab and explore!
Delicious Alternatives To Processed Meat
Many studies have found that eating too much processed meat can lead to various health ailments, from cancer to heart disease. The most popular processed meats include hot dogs, sausages, pepperoni, deli meats like roast beef and salami, canned corn beef, ham, and bacon.
The good news is that there are plenty of delicious alternatives that you can replace processed meat with.
Canned Tuna
Although canned tuna has been processed, it is processed minimally and will not harm your health. Choose canned tuna that is low in sodium for a healthier option.
You should always have a can or two of Tuna in your pantry. Tuna is high in protein and is excellent to have on hand to make a quick meal that is tasty and nutritious.
Mix the tuna with a dollop of low-fat mayo or Greek yogurt, add a dash of mustard, and season with salt and pepper. Mix in some caramelized onions or sliced pickles to take it to the next level.
Scoop this tuna mixture onto a slice of bread, top with grated cheese, and then pop into the oven. It can also be added to a leafy salad or quinoa.
Chicken Fillet
Like canned tuna, chicken fillet is such a versatile meat.
Chicken fillet is a popular ingredient to use in meal planning. It can be marinaded in batches and then taken out and cooked as needed. You can also cook and then freeze.
Add to sandwiches, wraps, pasta, or salad instead of deli meats.
Eggs
With eggs, the possibilities are endless. Eat them for breakfast, lunch, or dinner. Poach them, fry them, scramble them. Add them to any meal for an added dose of protein and to extend the dish.
Fry an egg and add it to a sandwich instead of ham or deli meat. Make a hearty Shakshuka instead of pepperoni pasta.
Meaty Leftovers
When cooking roast dinners, make a bit extra and use it for fillings in sandwiches, wraps or add to salad and pasta.
Roasted meat freezes very well. Slice up any leftovers you have, place in an airtight container or Ziplock bag and freeze. When you need to use it, thaw it at room temperature before adding it to bread, salad or pasta.
Hummus
If you're looking for a vegetarian option, hummus is top of the list. It is easy to make, and there are many variations of hummus. Used as a dip or a filling, hummus is packed with protein; it is nutritious and full of flavor. Instead of a hotdog, try a hummus pita.
Falafel
Another vegetarian option is falafel. It is like a burger patty made with chickpeas and baked or fried. Ditch that ham sandwich and have a falafel sandwich with coriander and Greek yogurt instead.
Cheese
Who doesn't like cheese? Fill your fridge with various kinds of cheese and use them in snacks and meals instead of reaching for processed meat.
Instead of frying bacon to eat with your eggs, try halloumi. Ditch the deli meat in your sandwich and choose a filling of Cheddar and pesto instead. Swap your hotdog for a cream cheese bagel.
Frequently Asked Questions
What Is A Healthy Alternative To Processed Meat?
There are many healthy alternatives to processed meat. These include hard-boiled eggs, skinless chicken, tuna, beans, legumes, and tofu.
Is There Any Meat That Is Not Processed?
Any meat that has been cured, smoked, fermented, salted, or had any chemical preservatives added or been put through any other process to enhance its flavor or extend its shelf life is considered processed.
Any meats that have not been modified or changed from their most natural form are not processed. Fresh fish, pork, chicken, turkey, and beef are not processed. If these meats are frozen or marinated without being modified in any way, they are also considered to be unprocessed.
How Do You Avoid Processed Meat?
If you want to avoid eating processed meats, follow these guidelines –
Always read the label when doing grocery shopping. If you spot 'BHA,' 'BHP,' 'nitrate,' 'nitrite,' 'aspartame,' 'salted,' or 'cured' on the ingredients list, the product has been processed.
Choose healthier alternatives. Instead of grabbing a deli sandwich, choose a grilled chicken one. Instead of adding bacon to your eggs, opt for avocado, halloumi, or beans.
For many, processed meats are tastier than unprocessed varieties. To add flavor to unprocessed meats, experiment with spices and herbs.
What Deli Meat Is Not Processed?
You can make your own deli meat. All you have to do is thinly slice cooked ham, chicken, beef, or mutton.
You could also buy freshly cut slices of cooked ham, chicken, beef, or mutton from a Deli. If these slices have been precut and packaged, ask the delicatessen if the meat has been processed in any way. You could also check the list of ingredients.
Next Steps
Cutting processed meat from your diet is not as difficult as it may seem. There are many delicious alternatives to choose from; these include cooked meats and vegetarian options.
Taking the time to check the ingredients when shopping and cooking your own food ensures you avoid unhealthy, processed varieties. It is also essential to know what meats are unprocessed so that you make healthier choices.