Brisket cooking is an exhausting process that can take time, but the result is always worth it for that succulent, tender piece of meat. A slicing knife is a beneficial tool, especially for brisket; without one, you risk damaging the meat or making a mess with the burned ends.
A good slicing blade is worth the investment to ensure that the hard work you put into preparing the meat is not wasted. Many different types of slicing knives are available, each with a specific purpose.
What Type Of Knife Is the Best for Brisket?
Slicing a brisket is just as important as cooking it. A properly sliced brisket can improve its tenderness and taste. Brisket contains a lot of fat fibers, so chopping it against the grain helps cut through them. As a result, the fibers in the flesh break, making it simpler to chew.
Slicing brisket against the grain means those fibers aren't severed, leaving you with meat that requires more chewing.
Carving Knife vs. Slicing Knife
Carving knives have serrated edges, but slicing knives have smooth edges. A carving knife's serrated edge is ideal for cutting through tough and fibrous meats. However, it cannot create tiny slices. On the other hand, a slicing knife has long, smooth strokes, which is the best method to ensure that each piece is correct.
Manual Knife or Electric Knife?
Let's face it; humans want to have an easier job. Electric knives can cut more expertly than human hands and can cut meats of any size. However, electric knives have serrated blades and will leave a jagged mark on every slice of brisket.
Best Blades for Brisket
As mentioned above, your brisket's success or failure in slicing will depend on the blade you choose, and these are the best blades to cut your brisket.
Serrated Blade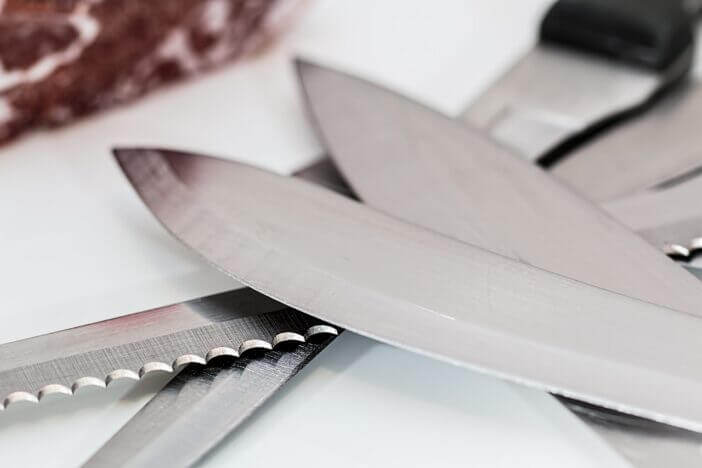 The serrated blade cuts cleanly and precisely on all types of meats without ripping through the protein. A serrated knife can also cut through connective tissue and tough muscle fibers.
Straight Blade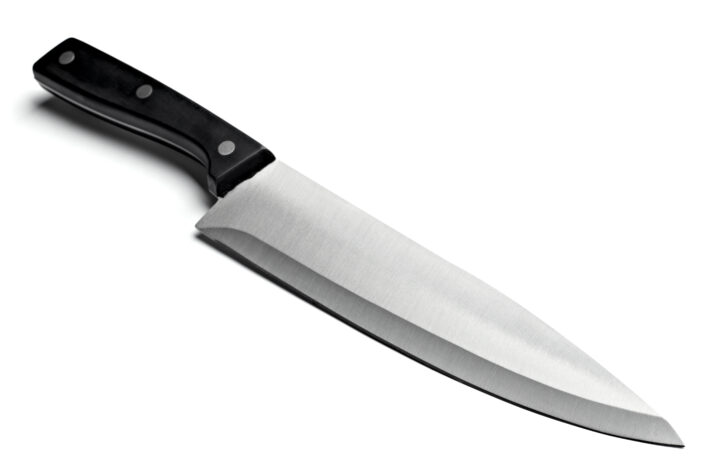 A knife with a straight edge can be less efficient than some slicing knives or a standalone carving knife, and the blade's razor-sharp edge is the key to efficiency. Keep your favorite knife sharpener handy when you need it.
Scalloped Blade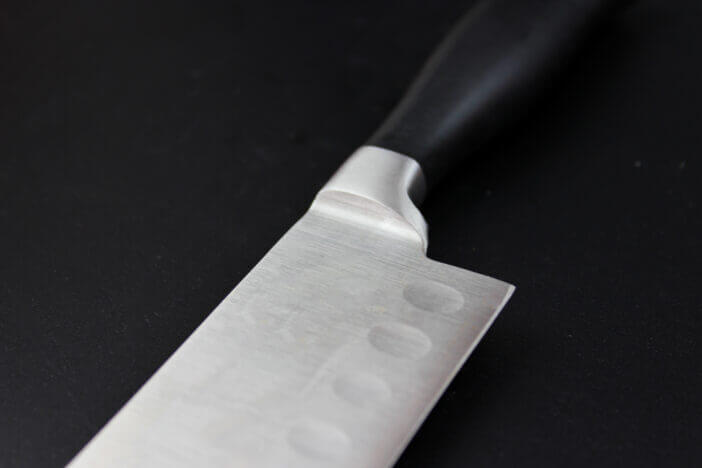 Your carving knife's blade should have scalloped divots. A knife with a scalloped edge is the best for slicing, and it has a serrated and straight blade.
A scalloped knife offers a lighter touch than a serrated one, and this is due to its nonstick properties and reduced friction.
3 Brisket Knives That Make Cutting a Breeze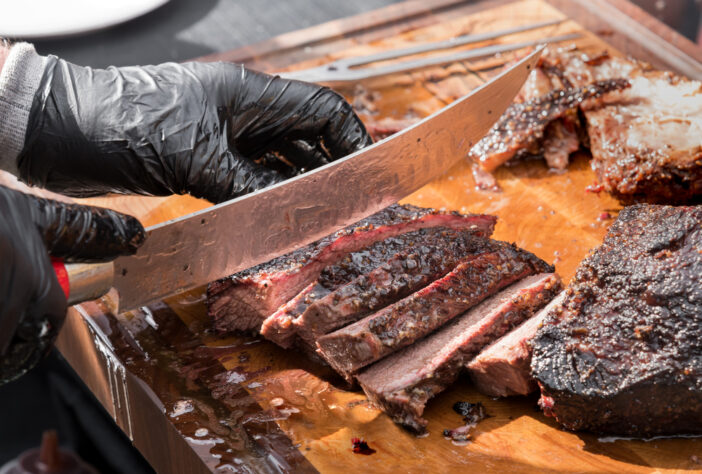 If you're looking for the best knives that make cutting a breeze, check out our list of brisket knives.
This 12" carving knife combines world-class design with top-notch materials to create a stainless steel, high-carbon blade with military-grade quality. You can achieve the perfect slice every time with layers of precision and quality craftsmanship designed for comfort.
Key Features
Lifetime warranty and money-back guarantee.
Ideal for slicing meat, BBQ, fruits, vegetables, and roasts.
Designed with Japanese steel for precision and easy-to-clean features.
This hand-forged, long-blade, 12" carbon steel premium carving knife slices brisket and large cuts of meat with effortless, smooth, gliding slices. The dimpled design promotes effortless cutting with finger holes for control and comfort during use.
Key Features
Long, 12" ultra-sharp kitchen slicer with fluted design to minimize friction for effortless cutting.
Ideal for brisket, large roasts, squash, ham, and even loaves of bread and cakes.
The stainless steel 11" blade's design delivers impeccable cutting quality with little effort. Great for meats, fruits, roasts, and vegetables, this budget-friendly carving knife is versatile and backed with a money-back guarantee.
Key Features
The long 11" blade evenly distributes weight and comfortably fits in your hand.
The stainless steel design makes it a quality product meant to last.
Good for slicing brisket and all cuts of meat and fruits and vegetables.
FAQs
Every person who loves cooking wants to know the ins and outs of perfecting the brisket. Let's look at some frequently asked questions about brisket knives.
Why are brisket knives rounded?
The rounded knife is designed to cut larger cuts of meat such as brisket, turkey, and ham, and allows you to cut beautiful slices with the brisket knife's long, narrow blade and hollow ground. The knife's rounded tip also makes it safer and more comfortable to use.
Should a brisket knife be serrated?
Large teeth make it easy to cut through meat with serrated blade knives. They are suitable for more difficult cuts but will tear apart tender brisket faster than they can cut it. So, avoid a serrated knife.
What knife does Aaron Franklin use to trim brisket?
Aaron Franklin uses a boning knife to trim raw meats; this knife is long and thin with flexible blades and sharp tips for easier and safer meat piercing. This blade can cut through connective tissue and ligaments to remove raw meat from bones, making it ideal for creating a brisket, but you'll need practice to perfect the usage of this knife.
What else can a brisket knife cut?
The brisket knife can be used to cut all types of smoked meats, such as sausages, salami, and more. It can be used to carve turkeys or hams during holidays. It can also be used to cut through slippery or watery foods. A brisket knife can cut tomatoes, peaches, fruits, vegetables, and cakes. This knife is also a good choice for cutting halloumi.
How can I sharpen a brisket knife at home?
Although you can do it, we recommend taking your knife to a professional sharpener. The blade of a brisket knife has a different texture than a regular chef's knife. This is a challenging job. You can also keep the blade sharpened by honing it before every use. This can be done with a standard kitchen knife sharpener or a honing iron.