10+ Best Ways to Eat Crab for a Memorable Meal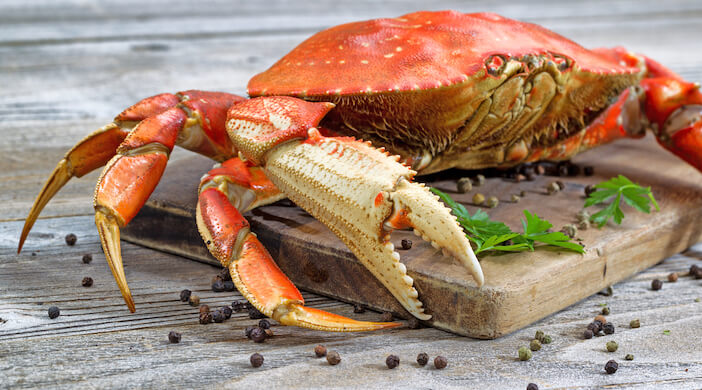 Crab is a delicious and versatile seafood option that can be enjoyed in countless ways. From classic crab cakes to creative salads and appetizers, the possibilities are endless when it comes to incorporating crab into your meals.
One of the reasons crab is so popular is because of its versatility. It can be prepared in numerous ways, including steaming, boiling, grilling, and baking, making it an excellent choice for a variety of dishes.
Additionally, crab pairs well with a wide range of flavors, from the richness of butter and cream to the tanginess of citrus and herbs. With so many options, there's no limit to the delicious and memorable meals you can create with crab.
Disclosure: As an Amazon Associate, this site earns from qualifying purchases. Thank you!
Quick Sidenote – check out our shop for a curated selection of the best meats, cuts, sausages, and more. Open our shop in a new tab and explore!
Best Ways to Enjoy Crab
Classic Dishes: Crab Cakes and Gumbo
Crab cakes are a timeless favorite and a perfect way to showcase the sweet, delicate flavor of crab meat. Made with breadcrumbs, seasonings, and sometimes other ingredients like corn or peppers, crab cakes can be pan-fried or baked for a delicious appetizer or main course. Pair them with one of the many side dishes mentioned earlier for a complete meal.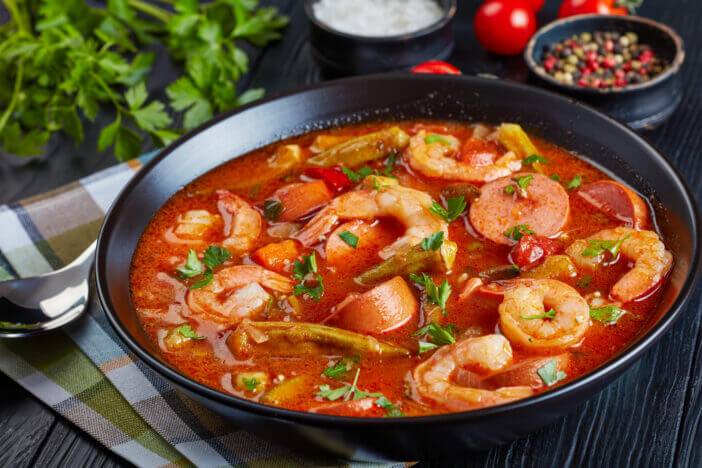 Gumbo is another classic dish that features crab, along with other seafood such as shrimp and sometimes sausage. This hearty stew is made with a roux, vegetables, and spices, creating a flavorful and comforting meal that's perfect for sharing with friends and family.
Salads & Creative Appetizers
Crab is a fantastic addition to salads, offering a burst of flavor and protein. Try a fresh corn salad with lump crab meat, cherry tomatoes, avocado, and a tangy lime dressing for a light and refreshing summer meal.
Or, opt for a Mad Hatter Salad, which combines crab with mixed greens, oranges, almonds, and a zesty citrus dressing.
For a unique and creative appetizer, consider serving crab-stuffed mushrooms, crab and avocado toast, or crab Rangoon – a popular Asian-inspired dish featuring crab and cream cheese wrapped in a wonton wrapper and fried until crispy.
Entrees, Pairings, and Flavorful Ingredients
Crab is a versatile ingredient that can be incorporated into various entrees, from pasta dishes to seafood boils. For a delicious and easy weeknight dinner, try a crab alfredo with fettuccine, creamy alfredo sauce, and tender lump crab meat.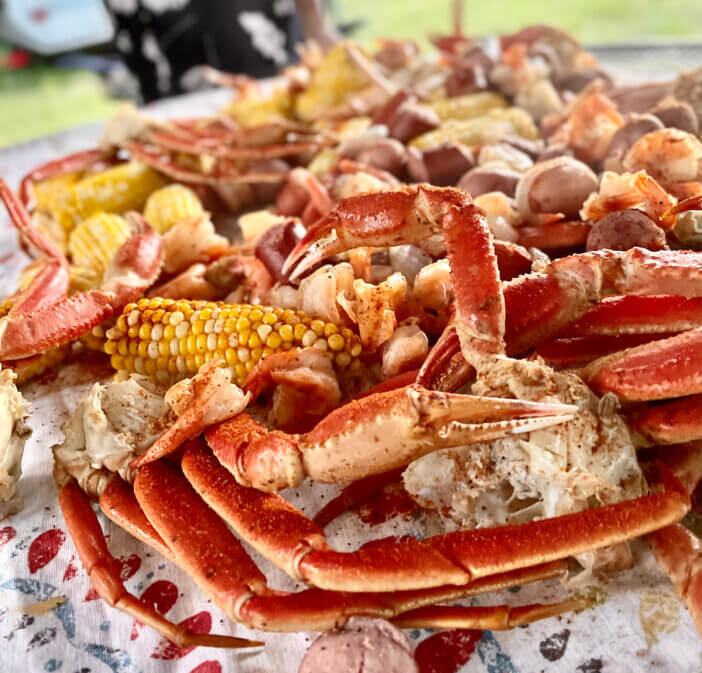 Or, go for a low country boil, which combines crab with shrimp, corn, potatoes, and sausage, all cooked together with flavorful spices.
When it comes to pairing crab with other ingredients, consider the flavors of citrus, garlic, and herbs.
Lemon or lime juice can help balance the richness of crab meat, while garlic and herbs like parsley, cilantro, or dill can add depth and complexity to your dishes.
Side Dishes, Leftovers, and Smoked Crab
As mentioned earlier, there are numerous side dishes that pair well with crab, such as grilled asparagus, eggplant mixed grill, air fryer roasted okra, and Chef John's white gazpacho. These sides can help create a well-rounded meal that complements the crab's delicate flavor.
If you have leftover crab meat, don't let it go to waste. Use it to make crab salad sandwiches, crab omelets, or even crab fried rice for a delicious twist on a classic dish. Smoked crab is another great option for enjoying this versatile seafood – try smoking crab legs with a simple seasoning blend for a unique and flavorful treat.
Pasta Dishes & Savory Dips & Spreads
Pasta and crab are a match made in heaven, with the tender crab meat adding a luxurious touch to your favorite pasta dishes. Try a crab linguine with white wine sauce, featuring garlic, shallots, red pepper flakes, and fresh basil for a sophisticated and delicious meal.
Or, create a comforting crab mac and cheese with a creamy cheese sauce and a crispy breadcrumb topping.
Crab also shines in savory dips and spreads, perfect for entertaining or simply enjoying a cozy night in. Whip up a creamy crab dip with cream cheese, sour cream, and your favorite seasonings, or opt for a warm crab and artichoke dip that's perfect for spreading on crusty bread or crackers.
Seafood Charcuterie Boards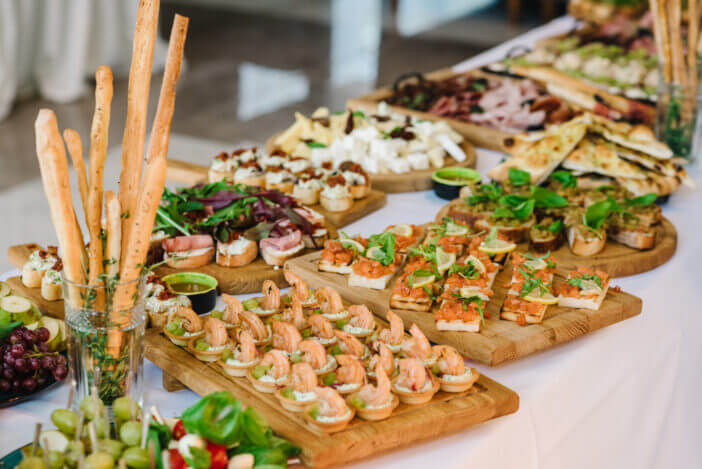 For a show-stopping appetizer or centerpiece at your next gathering, consider creating a seafood charcuterie board featuring crab alongside other seafood favorites like smoked salmon, shrimp cocktail, and oysters.
Include various dips, spreads, and accompaniments like lemon wedges, capers, and crackers, allowing guests to mix and match flavors and textures for a truly memorable experience.
Memorable Meals & Trying New Ways
One of the best things about crab is that there's always something new and delicious to try. Whether you're experimenting with different cooking methods, incorporating crab into your favorite recipes, or discovering new flavor combinations, the possibilities are endless.
Embrace the versatility of crab and create memorable meals that will delight your taste buds and satisfy your cravings.
What mixes well with crab?
Ingredients that mix well with crab include steamed artichokes with garlic and butter, cottage-cut French fries, roasted Brussels sprouts, lemon and garlic butter dipping sauce, brandy-infused mayonnaise dip, twice-baked garlic mashed potatoes, zucchini, onion and corn hash, and almond Caesar salad.
How do you make crab meat taste better?
To enhance the flavor of crab meat, add a tablespoon or two of chopped fresh herbs like thyme or parsley, some lemon zest, or minced onion or garlic.
What part of the crab is poisonous to eat?
The viscera, located under the crab's back, should be avoided as it can be toxic and should not be used in soups or other dishes.
How to prepare delicious crab?
The best way to prepare delicious crab is by boiling or steaming it with seasonings such as salt, pepper, lemon juice, and Old Bay seasoning, then serving it with complementary side dishes and sauces.