7+ Best Small Charcoal Grills for Delicious and Flavorful Grilling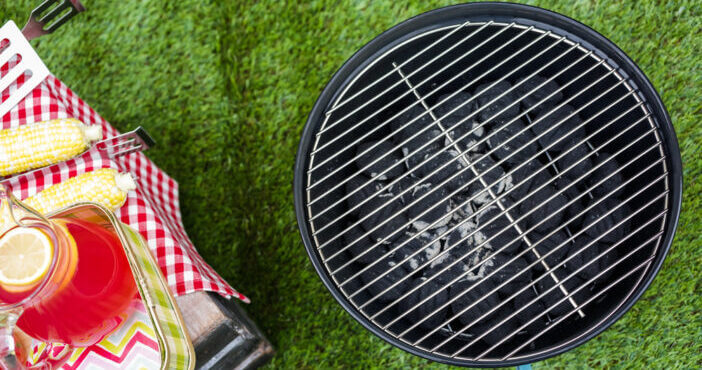 In Australia, it's called a barbie. In South Africa, it's a braai, but a barbecue is the same the world over – a great way to entertain, cook and enjoy a meal outdoors. If you're on your own, with a partner or a few friends, using a small charcoal grill is a simple and easy way to prepare a truly delicious steak, chicken, fish, or even a vegetarian dish. What are the best small charcoal grills to use?
The best small charcoal grills for delicious and flavorful grilling should have at most 300 square inches of cooking area, cater for at most four people, weigh less than forty pounds, have excellent temperature control, and be shaped to be easily portable.
There is an amazing assortment of small charcoal grills to choose from, proving just how popular they are. Whether found in the form of kettle grills, tailgate grills, or kamado grills, small charcoal grills have captured the attention of campers, cooks, and outdoorsy types who love their barbeques. We've been able to find the ……… best small charcoal grills, and here they are.
Disclosure: As an Amazon Associate, this site earns from qualifying purchases. Thank you!
Quick Sidenote – check out our shop for a curated selection of the best meats, cuts, sausages, and more. Open our shop in a new tab and explore!
The 7 Best Charcoal Grills For Tasty Grilling
Not surprisingly, Weber makes the most popular and probably the best small charcoal grill as part of their range, but there are several close contenders which you may even prefer.
Weber Jumbo Joe Small Charcoal Grill
The first Weber in our choice of charcoal grills, this 18" grill offers all the features of Weber's full-size kettle grills, but despite its name, it weighs only 22 lbs. There's also the 14" Smokey Joe option if you want something even smaller, but it's suitable only for two people.
Features:
Durable porcelain-enameled bowl and lid with non-rust aluminum vent.
A removable aluminum ash catcher makes clean-ups easier.
The shape of the Weber ensures uniform cooking temperatures, and they are retained well with the lid closed.
Easy to assemble and disassemble for hassle-free transporting.
The lockable lid with its stay-cool handle makes the Jumbo Joe easy to carry.
PKTX Folding Charcoal Grill
Although this grill is a shade over the 300 square inches maximum, it's highly portable because it's so lightweight and folds up to half its full size. At $400, it's also very expensive, but for a good reason – it will literally last a lifetime.
Features:
Exceptionally lightweight with the body uniquely made of aluminum.
Corrosion-free, maintenance-free, and so durable, there are 50-year-old PK originals still in use.
With four vents and heat retention four times that of steel grills, the PKTX is ideal for smoking as well as grilling.
Rubber wheels instead of plastic will last for the life of the grill without cracking or splintering.
Weber Go-Anywhere Charcoal Grill
Weighing only 13.45 lbs, with a lockable lid and fold-away legs, the Go-Anywhere is aptly named – it's totally portable. It's also made with Weber quality standards in mind and is many peoples' first choice of small charcoal grills.
Features:
Porcelain-coated cast iron for long-lasting, rust-resistant wear durability
160 sq. in of rectangular cooking space allows for meat for 4 adults.
Double vents provide excellent heat control.
Smoking of meat or fish is an option and very easy to do.
A comprehensive range of accessories provides various cooking options, including large roasts, pizzas, and even a rotisserie chicken.
Fire Sense Notebook Charcoal Grill
There's a good reason why this grill is called the Notebook – when folded, it's only 1 inch thick and must be the most compact of all charcoal grills. Not as sophisticated as the others on the list, but well worth looking at.
Features:
It has an impressive 228 square inches of cooking space.
Very easy to assemble – it just folds open, and all you need to do is place the charcoal grate and the cooking grate, and you're ready to start cooking.
Excellent value at under $30, with outstanding build quality.
Being an open grill with no lid, it's perfect for quick grilling, but it's not possible to use indirect heat, so slow cooking and smoking are not possible.
There is also no way to control the airflow or temperature, but being open prevents overheating and burning the meat.
Exceptionally portable at only 8lbs, and packs away to the size of a briefcase when not required.
Isumer Portable Folding Charcoal Grill With Lid
What gets the Isumer grill on the list of best small charcoal grills is its quality, durability, and surprisingly large cooking area of 180 square inches.
Features:
Made entirely from high-quality steel, so not subject to rust and is exceptionally durable.
Has a porcelain enameled lid and bowl to further enhance durability.
Two dampers in the lid provide accurate ad easy temperature control.
Very easy to clean.
Legs fold over the lid to lock it in place when carrying it.
Old Smokey No.18 Charcoal Grill
The popular Old Smokey grill comes in three sizes, and we have selected the middle one, No.18, which is perfect for 4 to 6 people and is the best seller in the range. An old-fashioned upright drum-shaped charcoal grill, made from aluminized steel.
Features:
Works as a grill but equally well as a smoker
The 18" diameter cooking grill provides a generous 254 sq. inches of cooking space.
Kamado Joe Jr
A kamado-style charcoal grill is an interesting alternative to the metal kettle-, drum- and capsule-style grills. The Kamado Joe Jr is way over our weight limit at 68 lbs, but we include it because it has so many of the features one looks for in a charcoal grill.
Features:
It's ceramic, so incredibly hardy and durable
The ceramic thick-walled shell is heat resistant, takes only 15 minutes to heat up, and retains the heat for much longer than a metal grill.
With a diameter of 13.5 inches, it's easy to handle but has a handy 146 square inches of cooking space.
Ideal for tailgating or tabletop cooking
Has an adjustable cast-iron air vent and a built-in temperature gauge for accurate heat control.
Sits securely in a cast iron stand with side handles, making it easily portable.
Highly rated for quality
Equally suited to grilling and smoking meat
Frequently Asked Questions
Do Small Charcoal Grills Work?
If you're not preparing meals for a large family or a group of friends but still enjoy the taste of a charcoal-grilled steak or burger, a small charcoal grill works as well, if not better than a full-sized one. It uses less fuel, is ready quicker, and does the job of grilling to perfection.
Cooking a whole chicken, turkey, or leg of lamb over indirect heat is a little more difficult on a small charcoal grill because:
The coals are much closer to the food, so avoiding direct heat burning the meat is harder.
You can fit less charcoal into the space provided, so it will need replenishment more often.
A drum-shaped small charcoal grill, where the charcoal is a fair distance from the cooking grate, is probably the best shape for cooking large joints, whereas a lidless charcoal grill like the Fire Sense Notebook is perfect for direct-heat grilling of smaller portions such as steaks, burgers, and sausages.
What Is The Best Quality Charcoal Grill?
From our list of best small charcoal grills, we would select the PKTX Folding Charcoal Grill if we were judging purely on quality. It's the only all-aluminum grill, making it the most durable of all. It has remained unchanged since its introduction in 1952, with the same shape, build quality and efficiency.
In fact, some of the early grills are still being used after decades, which says all that needs to be said about quality when the average life expectancy for a charcoal grill is five years!
Although only half the PKTX's cooking surface of 301 square inches can be used when used as a smoker, this grill, with its four adjustable air vents, does offer the option of smoking rather than straightforward grilling.
What Is The Best Compact BBQ?
It's almost inevitable that a Weber charcoal grill will win the title of best compact BBQ. If we were considering full-sized grills, the 22-inch Weber Kettle Charcoal Grill, and there's every reason for its smaller version, the 18-inch Jumbo Joe Charcoal Grill, to get our vote as "Best Compact BBQ."
While the smaller 14-inch Smokey Joe version is often mentioned as the winner in this class of griller, we felt it was just too small – perfect for 2 people, acceptable for 3, but once you have to prepare a meal for 4-6 hungry guests, the Jumbo Joe is the better option.
The Weber Jumbo Joe, with its porcelain enamel finish, is extremely durable, and its build quality is excellent. With a Weber accessory, it is possible to raise the available cooking height, cook rotisserie chickens, make pizzas, fry eggs and bacon – in fact, everything the full-size Weber can do.
At just under $90, the Jumbo Joe offers quality, versatility, durability, and great value.
Can You Smoke Meat On A Small Charcoal Grill?
Not every tiny charcoal grill is designed to be a smoker, but there are several that are, and they do the job very well.
Firstly, the grill needs to have a well-fitted lid that keeps the smoke from escaping before it has been absorbed by the meat. Secondly, there must be a flow of air from the wood chips or other sources of smoke across the cooking area where the meat is placed before it vents out of the grill.
The PKTX, with its four vents, as well as the cooking area divided into two, is the best smoker in our recommended list. Still, we also recommend Old Smokey, which, as its name suggests, is great for smoking meat with its barrel shape, a vent at the top, and the other at the bottom, ensuring that the meat is well-exposed to the smoke from the wood chips.
Both Webers, the Jumbo Joe, and the Go-Anywhere also fit the criteria for a good smoker and will give excellent results, as will the Kamado.
What's The Best Wood For Smoking Meat?
Using wood chips or wood chunks in your grill, spreading them lightly over the charcoal, or burning them in a separate basket will impart that irresistible smoky undertone to the taste of the meat. Some suggestions include the following:
Oak for that traditional smoky flavor on beef
Apple or cherry for that fruity, sweetish taste on pork ribs, chicken, and beef
Mulberry for a tart, berry flavor on chicken or beef
Hickory for beef and pork ribs
Successful smoking requires constant indirect heat and a long, slow cooking process. So, your charcoal can be placed in the side baskets or in a "snake" around the perimeter of the grill. Once the coals are ready, soak the wood chips and scatter them over the charcoal.
Remember that the meat will absorb the smoke and achieve the taste you're after best if it is cold, so get the smoke going just before you place the meat on the grill. You can replenish charcoal and wood chips as needed throughout the cooking process.
It's also essential to have a water pan filled with hot water placed under the meat, between the charcoal baskets in the center of the grill. It creates a moist environment, so essential for smoking, and helps to control the temperature.
What's The Best Charcoal For A Small Charcoal Grill?
Charcoal briquettes are the easiest to light and give a uniform heat for longer. Still, we far prefer using natural lump charcoal.
For one thing, it contains none of the chemicals you find in briquettes, so no residue or chemical taste will be left on your meat. Secondly, it burns hotter and more efficiently, leaving much less ash to be cleaned up.
When lighting your charcoal, avoid, if possible, using firelighters or lighter fuel – as with briquettes, the chemicals they contain will give your meat a slightly chemical taste. Instead, use a charcoal chimney starter or an electric starter, which are easy to use and don't require chemicals.
Conclusion
We have selected the seven best small charcoal grills that will result in delicious, flavorful meals to enjoy on your own or with a small group of 4 to 6 people. Larger groups will require larger charcoal grills, but there's no reason to wait for a big occasion when you can produce a small but beautifully grilled meal on any of these purpose-designed, high-quality grills.