7+ Best Pans for Perfectly Cooked Fish Every Time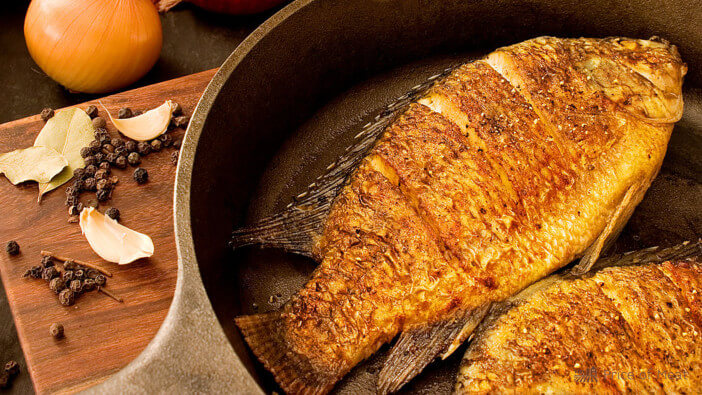 Making a perfectly cooked fish requires skill and the use of the right cooking pan. While you can learn how to make a fish, getting the best pan for fish can be overwhelming, given the numerous options available.
To help you make the best decision when looking for the best pan for perfectly cooked fish every time, I have compiled a comprehensive list of the best pans for fish to help you take your cooking to the next level.
My best overall pan is the Pre-Seasoned Cast Iron Skillet by Lodge. I chose it because it offers excellent heat distribution and retention for a perfectly cooked fish. In addition, the pan pairs well with various cooktops, including induction, campfire, and oven.
However, I understand that you might have different cooking preferences. That's why I have included an extensive list of the best fish pans below to give you options.
Quick Sidenote – check out our shop for a curated selection of the best meats, cuts, sausages, and more. Open our shop in a new tab and explore!
Below is a detailed description of each.
Disclosure: As an Amazon Associate, this site earns from qualifying purchases. Thank you!
The lodge Pre-Seasoned 12 Inch Cast Iron Skillet is your go-to option if you're looking for a brutally tough skillet to serve you for decades.
It comes pre-seasoned with 100% natural vegetable oil to make it non-stick and resistant to rust. Also, its pre-seasoned nature means you can use the skillet right from the box without seasoning it with oil first.
You can use the 12-inch skillet for baking, grilling, braising, sauteing, searing, or frying your fish.
The skillet is all cast iron, which spreads and retains heat uniformly for even cooking. It is safe for use over a campfire, in the oven, or on the stove/ grill. It also works great on top of induction cooktops.
It has a silicone handle holder to let you control the skillet and protect your hands from heat while cooking. Also, you can use the handle to hang the skillet when not in use.
This silicone handle is dishwasher safe, relieving you from the burden of removing the handle every time you clean the skillet.
Upon unboxing, you'll find the skillet, handle, and manufacturer manual in the box. Make sure you go through the manufacturer manual to learn the best use and maintenance practices to elongate the life of your cast iron skillet.
Pros
No oil seasoning is needed
Works excellently on multiple cooktops
Ideal for multiple applications, including searing, sauteing, and frying
Durable cookware
Cons
7.5 pounds can be weighty for some people
When looking for an excellent pan for braising your fish, do not go beyond this 3.5-qt braiser by Staub.
The Staub's stylish skillet features a broad base and shallow sides, making the perfect cookware for browning and braising.
It boasts a heavy-weight cast iron and quartz construction to ensure efficient heat distribution and retention.
Moreover, the pan has a textured black majolica enamel on the interior to give you exceptional browning without damaging your fish.
Its domed lid provides enough space for large fillets for efficient cooking.
The pot boasts vintage handles on the exterior to allow for efficient control. Wear oven mitts while handling the pot to avoid burning your hands.
The pot is oven-safe up to 500F. The unique design makes it easy to transition the pot from the oven to the table without altering the decor.
It delivers excellent results in different forms of cooking, including braising, frying, roasting, and sauteing.
Pros
Multiple cooking applications
Transitions easily from oven to table
No seasoning required
Cons
The handle can get extremely hot
The Caraway non-stick ceramic pan ticks all the boxes for frying, sauteing, or even braising fish.
As the name goes, it features a non-stick coating that is perfect for pan-frying fish, vegetables, eggs, pancakes, etc., with less oil. Also, the non-stick surface ensures minimal or no stuck-on, making cleaning it a breeze.
The Caraway ceramic pan is designed with your safety in mind. It is free from PFOA, PTFE, PFAs, and heavy metals and releases 60% less carbon dioxide during its production than most non-stick counterparts.
In addition, it features a non-toxic coating beneath the non-stick coating to prevent chemicals (if any) from leaching into your food as it cooks.
It is consciously crafted to work on any cooktop, including induction gas, campfire, and stovetops. It is also safe to use in an oven up to 550ºF.
The 10.5 inches pan is easy to use given its lightweight (4.69 pounds) and compact (20.5 x 12 x 3.75 inches) design.
Pros
Saves cooking oil
Free from harmful elements like lead, cadmium, PFAs, etc
Ideal for use on any cooktop
Affordable option
Easy to use and maintain
Cons
Its surface may scratch easily
The Demeyere's 9.4-inch stainless steel skillet is the perfect cookware for both professional and home cooks. This is because it works perfectly on any cooktop and maintains its silver shine for decades.
Thanks to the proprietary technology that ensures an even heat distribution and patented Silvinox surface treatment, stainless steel maintains its silvery matte finish even outdoors.
It boasts an impressive 7-layer construction to offer exceptional browning and frying while ensuring unparalleled heat distribution and retention.
The Demeyere pan has a perfect-fit lid that seals at the top for energy-efficient cooking.
The 9.4-inch steel skillet is designed with your safety in mind. It features welded stay-cool handles that secure your hands from burns. In addition, the handles are rivet free, hence hygienic.
It features rolled rims to allow for dripless pouring. You can use the pan for multiple applications in the kitchen, including frying, braising, browning, frying, etc.
Pros
Durable 7-ply construction
Maintains its elegance for a long time
Safe to use, given the strong welded handles and rolled rims
Works perfectly on multiple cooktops
Cons
The Lodge is an American-based company that produces rugged kitchenware for the modern kitchen. The manufacturer has been in the market for almost a decade and the 12 inch carbon steel skillet is one of the latest innovations in its product line.
The 12 inch carbon steel skillet features a 14-gauge carbon steel construction to allow for efficient heat distribution, retention, and even cooking.
In addition, its surface is seasoned with natural soy oil to give you an easy-release finish that improves with continued use.
With a carbon steel construction, the lodge's 12-carbon steel skillet is lighter than most cast iron counterparts, hence easier to use. It has a long comfortable handle attached, allowing effortless maneuverability on and off the stove to the dining table.
It works on multiple cooktops, including induction stove tops, electric tops, gas, outdoor grills, and open fires. On the same note, you can use it for various applications, including searing, browning, or frying your fish.
Pros
Lighter than cast iron skillets
Durable construction
Ready for use from the box (no seasoning is required)
Safe for use given its lightweight nature, long and comfortable to use handle
Cons
Rivets connecting the handle to the frying bowl may accumulate oil and other dirt
The hexagon-designed stainless steel griddle is a perfect addition to any kitchen, regardless of what you intend to cook.
The pan is made to last a lifetime using the patented laser-etched design and tri-ply construction.
More specifically, the manufacturer uses three layers; magnetic stainless steel at the bottom, a layer of aluminum at the middle, and another layer of non-stick steel at the top.
The magnetic stainless steel layer allows for compatibility across multiple cooktops, while the aluminum layer acts as a heating element, spreading heat evenly across the pan.
On the other hand, the top layer provides a non-stick surface for the lifetime searing, browning, braising, or sizzling of fish.
The non-stick surface also works great with little or no oil, adding to your good health and cost saving.
If you don't love cleaning manually, the 12-inch hybrid stainless steel griddle by Hexclad is dishwasher-safe to relieve you from the task.
It features stay-cool handles to give you an unparalleled cooking experience. You can use the pan on multiple cooktops, including gas, stove, induction, and in the oven up to 500 degrees Fahrenheit.
Pros
Rugged construction
Dishwasher safe
Offers a lifetime warranty
Compatible with multiple cooktops
Includes a lifetime warranty
Cons
More expensive compared to cast iron pans
The 10.5-inch cast iron grill pan by Cuisinel is the ultimate option if you want a high-quality pan for frying, browning, or making palatable sear lines on fish.
It boasts a cast iron construction to give you a lifetime of quality fish cooking. In addition, the pan features a soft, smooth finish that facilitates efficient heat distribution while providing an easy-release surface for dishes and other delicate foods.
The pan is compatible with multiple cooktops, including grills and induction cooktops. Its package includes a silicone handle to give you a better grip and control over the pan and a ribbed pan scraper for cleaning the pan.
Pros
Durable construction
Affordable
Ideal for both indoor and outdoor application
Cons
Buying Guide: Considerations To Make When Buying a Pan For a Perfectly Cooked Fish
Getting a pan for a perfectly cooked fish goes deeper than what you can see at a glance. Below are the most critical aspects to consider to get the perfect pan for your culinary needs.
Non-Stick Surface
With a non-stick surface, you'll have to worry less about your fillet or fish getting stuck on the pan. To achieve this, ensure your pan is pre-seasoned with vegetable oil or coated with a non-stick surface. You can also season the pan with oil whenever you want to cook fish.
Size
When buying, you want to ensure that your pan is large enough to accommodate two or more fillets and leave enough space for flipping. I'm fond of 10 to 12 inches pans because they get the job done well with at least two fillets.
Nature of the Cooking Surface (Grilled or Flat)
Your pans and cooking surface will determine your cooking results. You should go for a pan with a grilled surface if you want to sear your fish in sections for extra flavor and taste. On the other hand, you should pick pans with flat surfaces if you want to crisp your fish evenly for a crunchy feel and increased taste.
Material
Most pans for fish are made from stainless steel, cast iron, and carbon steel materials. Very few are made from ceramic. Stainless steel is more durable and resistant to rust than cast iron.
On the other hand, the cast supersedes the stainless steel material regarding heat retention, which is good for searing.
Finally, ceramic material is the most stick-resistant material. But has the lowest heat retention than stainless steel and cast iron. It's upon you to choose the one that works best for you.
Frequently Asked Questions About Pans for Fish
Below are the answers to various questions that people ask about fish pans.
What kind of pan do you use to fry fish?
Use a pre-seasoned heavy-duty fish pan like stainless steel skillet, carbon steel skillet, or a non-stick skillet like the caraway non-stick ceramic pan above.
Is it better to fry fish in a cast iron skillet?
Yes. Cast iron is one of the best materials for preparing a crispy fish. For best results, make sure you pre-heat the skillet before adding the oil to ensure that the pan is evenly heated. Then add the oil and heat it to shimmer before adding your filets.
Can you fry fish in a nonstick pan?
Yes. Non-stick pans are perfect for frying fish, including messy scallops and salmon. Be sure to preheat the pan to distribute the heat evenly before adding the oil. Also, make sure you pat the fish dry since any traces of moisture would risk the fish sticking.
What kind of pan is best to cook fish in the oven?
To cook fish in an oven, you can use pans made from stainless steel, cast iron, carbon steel materials, or any other pan with an even heat distribution.