7+ Best Infrared Gas Grills to Get You Grilling Like a Pro!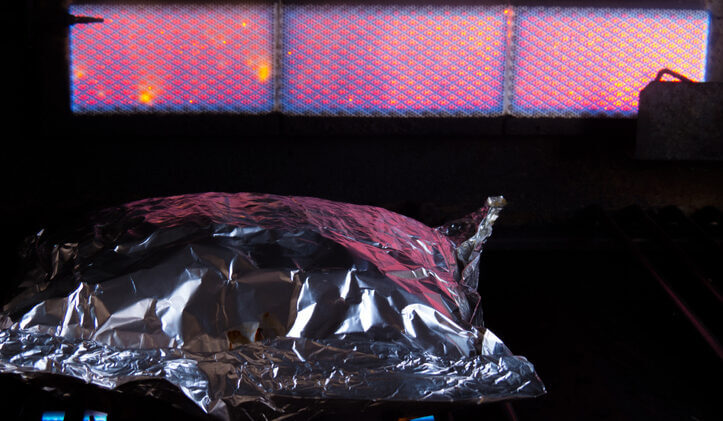 The first infrared burner was patented in 1960, but it was only in 2000 that the first gas-powered infrared grills appeared on the market. Since then, they've gained in popularity and become more affordable and more sophisticated. There's a wide range to choose from, so we'll share with you those that we believe are the seven best infrared gas grillers that will get you grilling like a pro!
The Charbroil brand is regarded as having the best infrared gas grillers, particularly the Charbroil Tru infrared 450 gas grill. Weber is another famous brand that has now entered the infrared grill market, and with Saber and several others allow backyard chefs to grill like a pro.
Charcoal or gas grills use convection by heating the air that circulates around the food to cook it. Infrared grills use gas to heat a solid surface which then radiates infrared waves directly into the food.
The technology around infrared grills is not new, but it's taken time for the concept to win acceptance. Today, however, there are some outstanding products on the market, and we've picked the best to talk about in more detail.
Quick Sidenote – check out our shop for a curated selection of the best meats, cuts, sausages, and more. Open our shop in a new tab and explore!
Disclosure: As an Amazon Associate, this site earns from qualifying purchases. Thank you!
Charbroil 463370719 Performance TRU-Infrared 3-Burner Grill
A favorite for many years, the Charbroil 450 has been replaced by this updated but very similar grill. At around $420, this model is less expensive than some of its rivals but offers a variety of excellent features and is the best bang for the buck:
Generous 450 square inches of cooking space can easily handle 20 hamburger patties at a time. There's an additional 150-square-inch swing-away rack for warming.
The TRU-infrared system ensures that heat is evenly distributed over the whole cooking space, so food is cooked evenly.
The system allows for the electronic ignition of all three burners at the touch of a button and has a wide temperature range. The grill reaches the required temperature within minutes and remains constant throughout the cooking process.
With no direct flame, flare-ups are significantly reduced.
There is the option of an open-cart style stand or a two-door cabinet with 4 castors for portability.
Finished in rust-resistant stainless steel, with porcelain-coated grates that are durable and also rust-resistant. In fact, durability is one of the biggest plus factors with this brand, with reports of Charbroil grills lasting twelve years and more.
Saber 3-Burner Select Freestanding Infrared Grill 32″ R42SC0321
This model in the Saber range is one of the most basic but is still considered a premium product at twice the price of the Charbroil 3- burner.
Quality constructed from 304 stainless steel; it is exceptionally durable.
The cooking space is 500 square inches, which is complemented by a 175 square-inch warming rack.
The Saber cooking system uses up to 30% less gas than other grills, reaches maximum temperature in twelve minutes, and also has a very effective temperature regulator.
A built-in cleaning system, stainless steel grates, and food drippings designed to vaporize make the cleaning process quick and easy.
Built-in LED lighting makes night-time cooking much more straightforward.
Solaire SOL-EV17A Everywhere Portable Infrared Propane Gas Grill
This American-made infrared grill is probably the most portable one you'll find. Only 15 lbs. in weight, with a carry handle, this suitcase-sized grill looks like a bulky suitcase but provides a respectable 140 square inches of cooking space.
The reason we've included the Everywhere in our list is its ability to reach an impressive 14,000 BTU heat level pretty quickly. Like all infrared grills, it provides even heat over the whole cooking area.
There's not much ability to control the heat, so slow cooking of chicken or ribs is not really practical, but it's perfect for cooking a well-seared steak or hamburger.
The Solaire Everywhere doesn't have the features of the larger infrared grills. Still, it's really well-made, constructed from 304 stainless steel, and very durable. It backs up this quality with a lifetime guarantee. For those who love beach barbeques or camping, this infrared grill is the perfect choice.
Charbroil Grill2Go X200 Portable Infrared Gas Grill
We're listing this second portable as a direct comparison to the Solaire Everywhere because it is in a different price category and may appeal to a different market. At $200, it's $130 cheaper than the Solaire Everywhere and considerably larger, with 187 square inches of cooking area. It weighs 22 lbs., which is 50% more than the Solaire.
A plus factor of the Grill2Go is that you can store three 1lb gas canisters in the lid while transporting it – a benefit that its rivals don't offer. But portability is hampered a little by the fact that the legs on the grill don't fold away.
While not quite as efficient as the Charbroil Solaire Everywhere, the Grill2Go offers excellent value. It's pretty robust and easy to use, so is well worth its place in our Top Seven.
Magma Catalina II Infrared Gourmet Gas Grill
The Gourmet range from Magma is designed to be used by the boating fraternity, and the various models have proved themselves ideal for on-deck grilling. Features include:
Made from f 18-8 mirror-polished stainless steel to withstand the corrosive effect of sea air.
A redesigned combustion system allows the grill to withstand even high winds and maintain temperature in all conditions at sea.
The lid has a built-in glass viewing window so that progress can be checked without lifting the lid.
Anti-Flare technology ensures evenly distributed heat, prevents flare-ups, and emulsifies drippings, giving the meat a lovely smoky flavor.
Fold-away legs and different mounting options allow for customized positioning on your boat deck.
GASPRO Multitasking Infrared Outdoor Cooking Master
The Gaspro is a quality product with some unique features and is ideal for camping, RV adventures, or cooking outdoors at home.
Its oven-like design allows for 6 different rack positions, and with the variable temperature regulator, it's possible to slow-cook as well as handle delicate fish dishes and vegetables. When needed, the infrared system can achieve a temperature of up to 1500 degrees Fahrenheit, getting to maximum heat in a matter of minutes and achieving perfect steaks in under two minutes.
The "multitasking" label is justified as the Gaspro comes with a cast iron skillet, so you can cook breakfast eggs and bacon on top of the oven.
Sturdy, constructed from 304 stainless steel, and with a 117-inch cooking space, the compact Gaspro is ideal for the smaller family but only for a group of up to three people.
Charbroil TRU-Infrared Patio Bistro Gas Grill
Using a kettle-grill design, this super-compact infrared grill is perfect for small spaces, such as an apartment balcony or patio.
Despite its compact dimensions, the Bistro still provides 320 square inches of cooking space, including a warming grate in the lid. It's perfectly sized to cook for up to four people.
The propane gas bottle fits underneath, giving additional stability.
Full height with a trolley base makes it highly portable and comfortable.
Charbroil's Tru-Infrared technology requires up to 30% less fuel.
Constructed from powder-coated steel, the Bistro is a little flimsier than its stainless-steel rivals, so it will need to be carefully handled, but nevertheless is a real winner for those who want to enjoy an outdoor grill but don't have much space.
Frequently Asked Questions
Who Makes The Best Infrared Gas Grill?
This isn't easy to answer because there are so many criteria that are more important to some people than others. Quality is always a critical issue, as are durability and functionality, but the price is not always a deciding factor.
All in all, we would rate Saber as the best infrared grill manufacturer and Charbroil as providing the best value for money with its range of infrared grills.
It may surprise you that we haven't included any Weber grills in our list, but that is because while they have an infrared rotisserie as a feature in some of their Summit range, it is combined with standard gas burners in the main cooking area.
Is Infrared Better In A Gas Grill?
There are several very good reasons why infrared is better than standard heat in a gas grill. Firstly it's more efficient – it reaches optimal heat in as little as four minutes while a conventional gas grill can take up to twenty minutes, so there's a considerable fuel saving with infrared.
It also provides a more even heat over the whole cooking area, simplifying the grilling process. There's no need to shift things around to get them all cooked equally.
Secondly, infrared grills get a lot hotter. That might take some getting used to, so your first attempts to sear your steak might result in seriously overdone meat. While the better infrared grills have a heat regulator which allows the temperature to range between 200 degrees and as much as 1500 degrees, the smaller, cheaper versions give you only one choice – on or off.
Once you've mastered your infrared grill, you can produce a perfect steak in two minutes per side – that's not only a saving of time but a further saving of fuel.
Another reason why infrared is better is one we've mentioned in the introduction. The fact that the heat is radiated rather than circulated by convection means the meat retains its juices and doesn't get dried out.
Are Infrared Grills Any Good?
Absolutely. In terms of quality and durability, you get what you pay for. The best infrared grills are made from quality materials and are made to last. Infrared grills are also, as we've mentioned, much more efficient, allowing you to produce a meal in a far shorter time than one cooked on a charcoal or standard gas grill.
Infrared grills are really good at producing restaurant-quality steaks. With their high operating temperatures, they give a beautiful sear to even a rare or medium-rare steak, while retaining its tender, juicy quality.
However, there's a "but." If you enjoy the social aspect of lighting a fire outdoors and chatting to friends over a beer or a glass of wine while the food cooks slowly on the fire, then the efficiency of an infrared grill is unimportant. In fact, it limits your enjoyment of the event. In that case, an infrared grill is not for you, and you should stick with your conventional means of cooking outdoors.
What Are The Disadvantages Of An Infrared Grill?
Price: While you can get an infrared grill for under $500, as our list shows, they are generally more expensive than traditional charcoal and equivalent gas grills.
Temperature regulation: The more expensive infrared grills incorporate a temperature control device, but many of the cheaper ones do not. Even with a control, infrared grills won't operate much below 250 degrees Fahrenheit, so slow cooking is not really an option.
Versatility is limited, because of the high temperatures. So, while the more elaborate and expensive infrared grills are able to handle delicate foods, including fish and vegetables, the strength of many of them is in their ability to sear steaks and other meat items.
One of the joys of cooking with wood or charcoal is the flavor it imparts to the food. While some of that smoky taste may come from vaporized drippings in an infrared grill, it's simply not the same.
Infrared grills are heavier because of their technology – they require a solid metal, ceramic, or glass plate to absorb the heat from the burners, and even a compact model like the Charbroil Bistro weighs fifty pounds.
Final Thoughts
There's no question that infrared grills have won the hearts of many backyard chefs, and those who enjoy the outdoor life, whether on land or sea. There is a wide choice of designs, sizes, and features that make selection difficult. We hope that by highlighting the seven best infrared grills and what they're best at, we've assisted in getting you to grill like a pro wherever you light that burner!