9+ Best Combo Grills and Smokers for the Ultimate BBQ Experience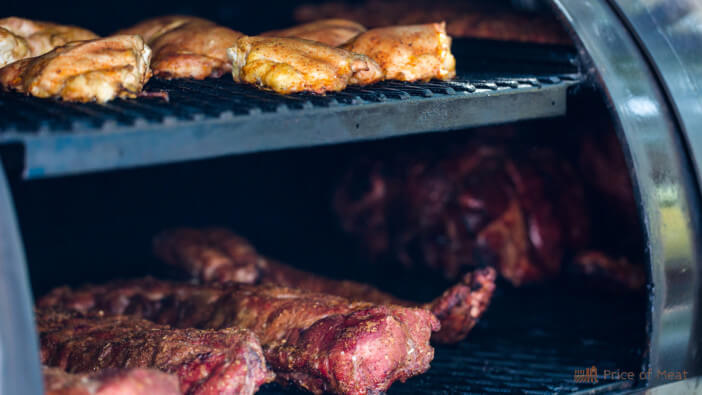 Beginners, grill masters, and pitmasters ready to up their grilling skills need the best combo grill and smoker to experience the best BBQ experience—hassle-free tender meat, smokey flavor, and crispy bark. Although not all combo grills and smokers are the same in the same way that no griller is, you all want the same thing: delicious BBQ.
That's why we've built a list of the best combo grill and smoker that fits your style. Whether it be propane, gas, or pellet-powered grill, paired with your favorite protein cuts like pork butt, beef brisket, cheeks, ribs, and vegetables. Look no further; we've got your back.
Disclosure: As an Amazon Associate, this site earns from qualifying purchases. Thank you!
Quick Sidenote – check out our shop for a curated selection of the best meats, cuts, sausages, and more. Open our shop in a new tab and explore!
When most of us think about the Kamado grills, grilling, smoking meats, and baking outside bring memories of aromatic wafts of the outdoors with a beer in our hand. But when you think of the Kamado Joe Grill Series, you think of luxury-grade cult-quality grilling right in your backyard.
However, as a cult favorite, you cannot mention the Kamado Joe without mentioning its Big Green Egg doppelganger. They are both casts with high-quality ceramic into that signature egg-shaped body. But, underneath their similarities, there are a few differences that should be the end-all decision-maker when investing in your skills as a grill master.
Notably, the Kamado Joe features include:
Two half-moon ceramic heat deflectors between the coal and cooking grate turn the grill into a smoker.
The Divide & Conquer Flexible Cooking System's multi-level cooking grate allows you to experiment with different cooking temperatures.
And an ash tool for easy clean-up.
Nonetheless, the Kamado Joe Grill Series 2 carries impressive features with a heavy-duty top-heavy construction that will help elevate your favorite grilled recipes, making it the best combo grill smoker for the ultimate BBQ experience.
Grilling and smoking the Traeger way is all about low and slow crisp, smoky BBQ flavors. And when the BBQ masters are gabbing between which is better—charcoal or gas, you can deflect from the conversation and basque in the earthy flavors that the Treger Pro 575 pellet grill has to offer.
But that rich smoky flavor you're searching for isn't founded on wood pellets alone. You get good smoke from the right type of grill. When you want convenience at your fingertips, the Treger lets you preheat the grill, put your favorite meat or poultry on; insert your thermometer, set the internal temperature in the Treger app; and return at the sound of the buzzer.
What fans love most about the Traeger's best combo grill smoker:
Wifi controls let you monitor the grill and grilling temperatures and shut down the grill without being nearby.
Drip trap that catches and releases fats and oils into a grease bucket.
Smoking range—dense or thin pellet flavors can be as sweet as mesquite and as mild as cherry.
Two racks of 572 square feet of grilling space for cooking party-size portions of proteins and vegetables.
Although The Traeger Pro 575 doesn't have a smoke setting, like other Treger models, the grill pellet feature produces smoke during burning. As a result, you can achieve the perfect smoke with the right smoking temperature between 160 and 200 degrees. And when the buzzer sounds, you're done smoking. And for a nice sear, increase the temperature you'll get gorgeous caramelized brown crusted sear marks.
If you love saving money and cast iron grills, the Char-Griller Akorn is for you. The Akorn features durable cast iron grill grates that are easy to clean and load with hardwood or charcoal. And even easier to dump a pan full of ash straight into your old paint can.
However, the Akorn does not include the luxury accessories you expect from other Kamado products. Instead, you get the basics: a simple stainless steel cooking attachment and a tool to help you easily remove the grill grate.
Other features that backyard beginners and seasoned grillmasters appreciate about this grill-smoker combo are:
It's durable, considering the construction is lightweight. The Akorn is easy to move.
The warming attachment—keeps protein nice and toasty while you keep grilling.
They forgive beginners' trials and errors. The grill teaches you how to slow smoke and sear at the right temperature without the pressure of wear and tear.
Overall, the Akorn has the best price option for the quality and simple design. In addition, this grill can offer you many years with proper cleaning and maintenance.
The Ninja Woodfire Outdoor Grill belongs to the long lineage of unique Ninja products. It is the best combo grill smoker for apartments, tiny homes, and van lifers. It is small enough to blend in with your everyday kitchen appliances and simultaneously packs a ton of functions. The Ninja Woodfire can function as a pellet smoker and grill.
However, when you live in a tiny space, you may be looking for even more function. That's why this combo grill smoker has an air crisp, dehydrate, and bake function that is easy to use. Instead of assembling the Woodfire like most grills, this one comes straight out of the box—no handy hands required.
Other features that make this Woodfire so alluring are:
Signature Ninja cooking settings: grill, smoke, air crisp, bake, roast, broil, and dehydrate.
The All-Purpose wood pellet blend of cherry, maple, and oak hardwoods or the Robust blend that includes hickory hardwood.
Its compatible accessories like the veggie tray, roasting lifter, built-in thermometers, and grill cover.
The Ninja Woodfire combines quality, function, and design into the best compact electric grill nomads have ever seen. The Ninja Woodfire is a combo grill smoker you always want to have nearby.
Are you still trying to figure out which is best, an electric or wood-fired combo grill smoker? The renowned Weber Genesis 2 E-310 is the best combo grill smoker powered by gas propane, and it's worth every penny.
The grill features all your favorites: cast iron grates, three burners, and stainless steel flavorizer bars—an important feature that catches and protects your burner from excess grease. But it doesn't stop there; these features add more flavor to your food. And you can ride these Flavorizer bars to wheels fall out through corrosion and rust.
Other features that help the E-10 stand out are:
The iGrill 3 innovative Smart Technology lets you monitor your grill from your phone inside your home, which may seem like a luxury if you live someplace in cold weather.
Ability to maintain high temperatures and spread smoke evenly.
Its built-in fuel gauge lets you know when you're running low on propane.
Even though the E-10 appears as a grill, its smoking capability is everything you want in a smoker. All you need is the coffee tin method, which requires some wood chunks, a six-hole-punch coffee tin can, and a steel chimney to get you started. Or invest in an economical pellet smoker tube that's easy to load with pellets.
So, if you're a fan of gas grills but want to try smoking, the Weber Genesis 2 E-310 is hands down the best option.
When you love the beloved Weber but hate gas, the Weber SmokeFire Gen 2 EPX 6 Stealth is the best combo grill smoker built in the USA with globally sourced parts. This grill is sleek and spacious so that you can smoke a generous amount of food at once (up to 30 burgers at one time); basic grill grates for that perfect sear, and a 2nd tier rack for ample space.
Aside from the size, this grill smoker is generous with the ability to continuously provide light, even smoke, that can elevate any protein and vegetable without being an expert.
However, the EPX6 Stealth's best features include the following:
Internal lighting helps you keep an eye on overnight grilling.
A luxury-grade pellet hopper slide for high-quality pellet delivery from the sensor to the finger guard.
WIFI and Bluetooth capability through the Weber Connect app, so you can set your temperature probes and an alarm worry-free when you're smoking overnight.
But underneath all of its best smoking features, grilling is relatively easy, offering BBQ masters superior temperature control throughout the grill without dramatic temperature swings despite its one pellet heat source. And in the end, maintenance is straightforward, with a metal scraper and brush to rid the grill of dust and debris.
If you've never heard of the Weber Original Kettle Charcoal Grill, you've seen one in almost every American Dream backyard. It's the best combo grill smoker for any home and a classic. However, as the classic ages, Weber shows us time and time again why their grills are truly premium without luxury costs.
This kettle grill is long-lasting with steel grates, superior insulation, and an easy-to-clean one-touch ash catcher. Other signature features that maintain its respected cult status are:
It's size. It's not too heavy (Under 40lbs) and can easily roll around.
The seamless design flow: the hook on the lid, hinged cooking grates, and tool hook make beginners feel like pros and pros have control.
Rust-resistant aluminum kettle top and durable wheels.
However the grill appears to be tiny, but the cooking space is much larger than it cooks. With the Weber Original Kettle Premium, you get 363 square inches of high-quality cooking space. And you get all the benefits of a charcoal smoker: rich smokey taste, wiggle room to cook at high or low temperatures, and effortless clean up.
The Camp Chef Woodwind WIFI 24 creates velvety, smoky flavors with the capacity to hold 20 pounds of wood pellets. And if you need to add more for overnight cooking, The Woodwind 24 makes it easy to clean, empty, add pellets and monitor with the Camp Chef Connect app from your home Wifi or Bluetooth.
With the grill's Smart Technology, you can quickly change the temperature, observe the meat's internal temperature with four meat probes, adjust the smoke level, and turn the grill off right from iPhone or Android.
The best part about the Woodwind 24 is its:
One-of-a-kind Ash Cleanout system lets you collect grease and ash without removing a drip pan or tray.
Ability to quickly transform your pellet smoker into a functioning grill with a lever.
Compatible add-ons include a sidekick grill powered by propane, a sear box, or a direct flame slider rod.
Despite the grill's lack of storage space, the Woodwind WI-FI 24 retaliated with versatility and elevated grilling and smoking BBQ experience that other outdoor grills cannot match.
They don't mean to brag, but Country Smokers Portable Wood Pellet Grill and Smoker know a thing or two about packing in the 8-in-1 cooking system into a sleek and durable portable grill smoker. The grill is compact enough to stow away in an RV and functional enough to complement any van lifestyle.
The Country Smokers best features include:
Multifunction grilling: grill, chargrill, smoke, braise, sear, and bake
A signature porcelain-coated elevated cast iron cooking grate.
Easy to use Push Start with a built-in ignitor that lights the wood pellets alone.
However, don't let its compact size fool you. With this grill, you will have access to 256 square inches of grilling and a sturdy hopper with a capacity of 3.5 pounds of hardwood pellets. That means you can smoke two racks of ribs, 4-5 pound Boston butts, or salmon and steak, without worry that you don't have enough room.
But if you're not much of a country smoker looking to smoke your protein for hours, the Country Smokers Portable Wood Pellet Grill and Smokers sit pretty on any tailgate. All you need is 300 watts of electricity to power her up, and you've got the perfect grill with your favorite wood-fired flavors.
FAQ
Do you picture yourself grilling outside and having the itch to upgrade your grill into a combo grill smoker but still need to decide whether to make a purchase? Check out these frequently asked questions to help you start your new ventures on the right grill.
Is there a grill that smokes and grills?
Yes, all of the products in this article can grill and smoke!
Are grill and smoker combos worth it?
If you smoke food a lot, then absolutely. However, if you grill a lot but only smoke food occasionally, it might be better to buy a high-quality grill and a more economical smoker separately.
What is the best grill smoker to buy?
Country Smokers makes the best smoker for the money. The Country Smokers Portable Wood Pellet Grill and Smoker is compact, portable, and electric. But, despite its electric function, the grill has a smoke box and smoke setting that allows you to burn wood pellets that give you that earthy-smoky flavor that you typically find with gas and charcoal grills.
What is the best combination grill to buy?
When you're looking for layers of flavor, the Traeger Pro 575 is the best. The Pro 575 lets you add flavored layers of smoking, roasting, and searing on a grill. Even though the grill does not have a smoke setting, the pellet grill feature creates a high-quality flavor and aroma on meat, poultry, seafood, and vegetables.