Long-Lasting Butcher Blocks: Our 5 Best Recommendations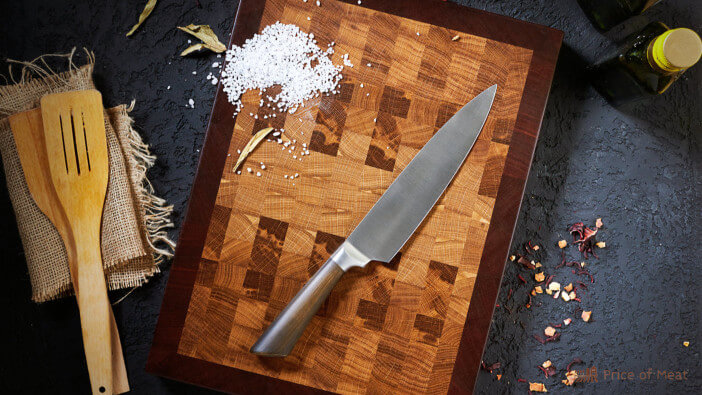 Butcher blocks are one of the most frequently used kitchen tools. Whether preparing vegetables, meat, or fruits, you need a butcher block to make slicing and chopping easy and convenient.
Butcher blocks can also serve various purposes and have taken the spotlight during the holiday season as a charcuterie board, cheese board, and trivet. However, most of them come with a hefty price tag.
The following best butcher blocks were chosen for their durability, performance standards, ratings, features, and affordability. If you're looking to purchase a butcher block for yourself or as a gift, read on to find the best that will last a lifetime.
Disclosure: As an Amazon Associate, this site earns from qualifying purchases. Thank you!
Quick Sidenote – check out our shop for a curated selection of the best meats, cuts, sausages, and more. Open our shop in a new tab and explore!
The Best Butcher Blocks
Size, material, features, and additional details are a few important parameters to watch out for when buying the best butcher blocks in the market. Our guide will help you determine the best butcher blocks and help you identify what made them stand out among others.
The Home Hero Reversible Wood Cutting Board is on top of our list of the best butcher blocks. This 1.5-inch thick butcher block provides stability when cutting even the toughest meats, and its thickness also contributes to its durability, allowing it to withstand blunt force from chopping and slicing.
This board's design includes indented handles for a more secure grip when carrying or serving. It also has deep grooves that line around its edges and serves as a catch basin for meat, fruit, and vegetable juices for a mess-free preparation.
This multi-purpose butcher block works in multiple ways, including as a
cheese board
chopping board
butcher block
Unlike other multi-functional butcher boards, this one is reversible; one side is a butcher board, while the other serves as a cheese/charcuterie board. This design prevents cross-contamination.
The cheese/charcuterie board side also has an intricately carved divot perfect as a cracker or chopped fruit holder.
The package also includes a cheese knife, a 2-piece stage knife sharpener, and a cleaning brush. So you are all set to use and serve as soon as you receive your butcher block. It's perfect as a personal investment, especially for people who love cooking and hosting parties.
This butcher block is also a perfect giftable item for all seasons, such as birthdays, weddings, Christmas, housewarmings, or just a simple token of gratitude or appreciation.
Pros
1.5 inches thick for optimum stability while chopping
Reversible; one side is butcher board, and the other side is a cheese/charcuterie board
Indented handles for secure grip while serving or carrying
Deep grooves lining prevents meat juice spills
Intricately carved divot serves as cracker holder
Cons
The drip groove lining is small and fills up fast
Not dishwasher safe
If you're looking for a massive butcher block with multiple functions, the Greener Chef is a good choice. This wooden beauty has a dimension of 30 inches long, 20 inches wide, and 0.75 inches thick, yet it remains lightweight at only 11 pounds.
This Greener Chef board is multi-purpose; you can transform this butcher board into a
charcuterie board
cutting board
noodle board
bread bench
The design of this bamboo cutting board delivers mess-free portability and easy storage with its easy-to-grip handle grooves, making it suitable for hanging or carrying around. It also features a deep 4 oz. corner spout to deliver an easy and mess-free disposal of meat and fruit juices. Also, its meticulously carved drip groove surrounding the board prevents messy spills.
The Greener Chef cutting board underwent a stringent inspection by a third party. It surpassed the vigorous USA standards for butcher blocks thanks to its all-organic, nonporous, and all-natural bamboo properties.
Best of all, this board is conveniently easy to clean with dishwashing soap and warm water; then wipe it with a clean, dry towel.
Buying Greener Chef butcher boards supports an environmentally-friendly, sustainable, long-lasting product. Moso Bamboo promotes nice surface tension that prevents the dulling of knives as compared to other hardwood, plastic, and glass.
Pros
Easy to clean
Nonporous perfect for restaurant and residential use
Durable, sustainable, and long-lasting
Knife-friendly surface tension reduces impact and dulling
The drip groove and 4 oz. corner spout prevent messy spills
Cons
Massive size not suitable for the minimalist
Not dishwasher safe
Manufactured by experts on cutting boards, the Allsum Bamboo Wood butcher block delivers impressive quality in its durability and smart design, crafted from premium organic bamboo material, which supports sustainability for a guiltless kitchen experience.
This butcher block is 1 inch thick, making it sturdy enough to take a daily beating from chopping, slicing, and natural wear and tear. It serves multiple purposes, such as a cheese board, charcuterie board, and cutting board.
Flaunting a smart design, this board features hidden side handles for an easy and secure grip and has deep juice grooves for catching all fruit, meat, and vegetable juices to prevent messy drips and spills.
This cutting board promotes low maintenance, easy cleaning, and storage. Simply hand wash it with soap and running water. Let it air dry, or tap it dry using a towel. Store it in a cool, dry place.
Pros
Requires simple maintenance, cleaning, and storage
Designed with deep juice grooves around the board for spill-proof food preparation
Comes with hidden side handles for a secure hold
Multi-purpose
1 inch thick for superior durability and wear and tear resistance
Cons
May need sanding
Susceptible to slice marks
In butcher boards, size is an important detail for stability and durability, and that's one of the exemplary detail for the Soulfino organic bamboo chopping board. With product dimensions of 17″ x 13″ x 1.5″ and net weight of 7 pounds, this block provides excellent strength, performance, and cutting support, making iit a perfect butcher board for meats, vegetables, cheese, and a serving tray.
Crafted from organic bamboo material, Soulfino butcher boards are dense enough to withstand the constant beating from chopping huge blocks of meat but soft enough not to damage your knives. Bamboo offers beautiful surface tension that prevents the dulling of knives. Plus, it's lightweight but delivers optimum quality as with other hardwood materials.
Supporting bamboo products like the Soulfino butcher board promotes sustainability and renewable resources. Unlike other hardwoods, bamboo, a grass family member, regenerates every 3-5 years. And compared to plastics and synthetic materials, bamboo is organic, all-natural, highly durable, and safe.
Design-wise, the Soulfino organic bamboo butcher block has easy-to-grip side handles that work perfectly for carrying and serving. It's also reversible; one side contains 4 oz. juice grooves lining its edges, while you can use the other side as a trivet.
It's also easy to clean and is pre-treated with mineral oil for enhanced durability and aesthetics. Aside from washing it with soap and water, you may apply mineral oil once a month to maintain its strength and beauty.
Pros
Does not stain easily
Low maintenance
Versatile and reversible; can be used as trivet and cutting board
Does not warp and crack easily
Comes with knife-friendly surface tension that prevents dulling
Juice grooves promote spill-proof food preparation
Cons
It's not dishwasher safe
May warp when stored without drying it off completely
Last on our list is the Ziruma End Grain Teakwood Butcher Block. This 2-inch thick professional-grade butcher block features solid South American teakwood, known as the most precious hardwood due to its natural protective oil content. These protective oils prevent moisture and bacteria build-up and prevent warping and splitting.
Its thickness contributes to its stability when cutting, dicing, mincing, and cutting large chunks of meat. Teakwood is also naturally hard and has a high Janka hardness scale which is responsible for its excellent resistance against cuts and dents.
Ziruma cutting board is reversible. On the other side, it flaunts a deep drip groove that catches all meat juices to prevent spills for a clean and tidy countertop. Turn it up to transform it into a beautiful serving tray. Despite its massive size, you get to save space because you got a butcher board and a serving tray in one.
Since it's made from all-natural ingredients, you're sure it's free from plastics, BPA, phthalates, and formaldehyde. The board is pre-conditioned with petroleum-based mineral oil, and this block will keep your knives sharp and protect your cutleries from damage.
Pros
Teakwood is rich in protective oils that prevent moisture and bacteria build-up
All natural and free from BPA and plastic
Its 2-inch thickness promotes stability and prevents warping and deterioration
Pre-conditioned with beeswax, linseed, and lemon oil
Reversible; one side is a butcher board, and the other side is a serving tray
Cons
Doesn't stay flat on countertops
Not dishwasher safe
FAQs
Still have questions about the best butcher blocks to last a lifetime? Let's look at some frequently asked questions.
Which butcher block is best?
The Home Hero Reversible Wood Cutting Board ranks highest on our list for its durability and ability to withstand chopping and cutting, multi-use functionality as a cutting board and cheese board and reversible design that prevents cross contamination.
What cutting board does Gordon Ramsay use?
Gordon Ramsay uses the Boos Block Cutting Board in his kitchen and recommends boards larger than 24" x 18" in size.
Is a butcher block worth it?
While a butcher block comes with a heftier price tag, it is a worthwhile investment in terms of durability and longevity because with regular cleaning and maintenance, butcher blocks can last for 20 years or more.
What kind of cutting board is best for meat?
A research study shows that wooden butcher blocks are safer than plastics because some wood varieties have naturally antibacterial properties. These dents and cuts are a perfect breeding ground for bacteria and fungi in which no cleaning can penetrate deep-cut surfaces.