3+ Benefits of Buying Bulk Meat Online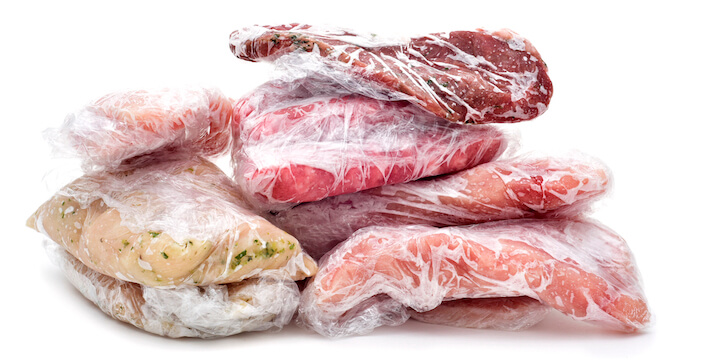 In today's fast-paced world, finding convenient and cost-effective ways to shop for groceries has become essential. One of the smartest choices you can make is purchasing bulk meat online, as it offers numerous benefits beyond just saving money.
Buying bulk meat online can save you money by taking advantage of wholesale prices and exclusive discounts online retailers offer. Also, reputable online meat suppliers offer higher quality meats with impeccable packaging and storage practices, resulting in exceptional taste and tenderness in your dishes, so you not only save a trip to the grocery store, but you receive quality meats straight from the supplier.
Let's explore these three advantages of buying bulk meat online and discover how this modern solution can enhance your meal planning experience while positively impacting your wallet and health.
Disclosure: As an Amazon Associate, this site earns from qualifying purchases. Thank you!
Quick Sidenote – check out our shop for a curated selection of the best meats, cuts, sausages, and more. Open our shop in a new tab and explore!
Three Benefits of Buying Bulk Meat Online
Buying bulk meat online offers three significant benefits: lower cost, higher quality, and time-saving convenience.
Lower Cost
One of the most significant benefits of purchasing bulk meat online is the lower cost of buying in large quantities. Bulk purchasing allows you to save money by taking advantage of wholesale prices, which are typically cheaper than those at traditional grocery stores.
The savings from buying bulk meat online can be put towards other aspects of your household budget or even invested back into higher quality cuts and varieties, making it an economical option for families looking to get more value out of their food choices.
Additionally, many online retailers offer discounts and promotions exclusive to their website users, meaning that savvy shoppers can often find outstanding deals on bulk purchases that would be tough to match elsewhere.
Higher Quality
One of the primary benefits of buying bulk meat online is the higher quality offered by reputable online meat suppliers. With online platforms, you can take advantage of a wider range of options for sourcing your meat products from well-known butchers and producers nationwide.
Moreover, these e-commerce businesses focus on impeccable packaging and storage practices to guarantee freshness during transit. This attention to detail allows customers to experience exceptional taste and tenderness in their dishes.
Time-Saving Convenience
One of the most significant benefits of buying bulk meat online is its time-saving convenience. Gone are the days when you had to spend hours driving to different grocery stores or butchers, searching for deals, navigating crowded aisles, and searching through the meat department to find the cut you need.
Not only does this convenience save you time in shopping and transportation, but it also simplifies meal planning since you'll have a steady supply of protein options in your freezer.
Many online meat suppliers offer pre-portioned cuts and packages tailored for specific recipes or dietary preferences. For example, if you're following a Keto diet or trying out new barbecue techniques over the weekend, all it takes is selecting the right option from an online meat marketplace.
Additionally, some meat delivery services even offer subscription plans where they automatically deliver fresh supplies periodically so that you don't have to worry about running out or placing repeat orders.
How To Order Bulk Meat Online
Ordering bulk meat online can seem daunting, but it's quite simple. First, find a reputable online meat supplier with positive consumer recommendations and quality meat.
Take advantage of the search function to find specific cuts or types of meat you're looking for.
Next, consider storage and delivery options for your order. Read the website's policies regarding frozen food delivery and refrigeration before purchasing.
Finally, use meal planning resources on the supplier's website or online. Many websites offer recipes perfect for bulk purchases of meats like chicken breasts or pork chops.
Overall, ordering bulk meat online is a straightforward process that can save time and money while providing high-quality protein options for home cooking purposes.
Where To Buy Meat Online
Here's the best places to buy meat online based on selection, price, and quality.
Crowd Cow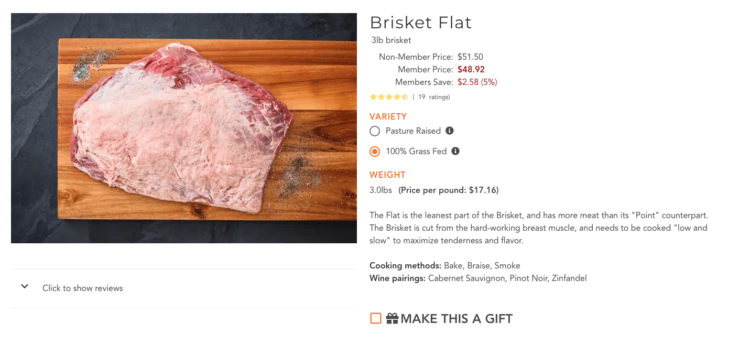 Crowd Cow is a website that specializes in selling all types of meats. The benefits of buying from this business are that the quality of the meat is guaranteed and bulk purchases may save you money.
The disadvantage is that you must place your order online, and shipping the beef to your location may be costly. They have options for grass fed beef and pasture finished beef. Order as much as possible with a full box to receive the best price.
If you freeze it, make sure you defrost the brisket well to maintain flavor.
FarmFoods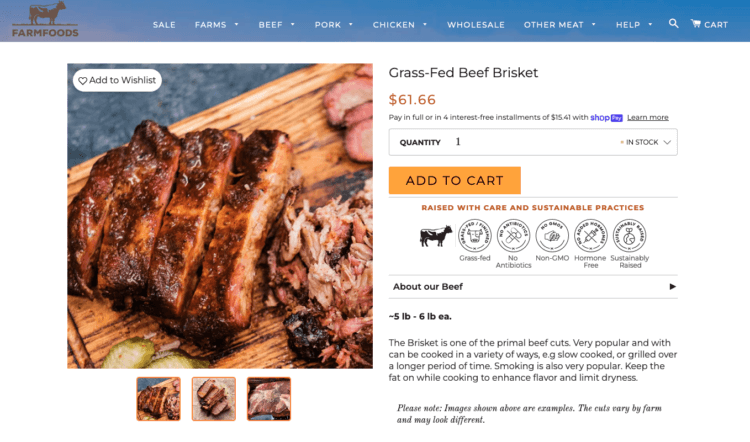 FarmFoods is an online store that specializes in meat from sustainable farms. They have a comprehensive selection of beef and brisket, including flat and point, as well as other meat products (like bison!).
The benefits of buying from FarmFoods are that they provide a wide range of goods, they maintain high standards of quality control, and free delivery is available on purchases of $99 or more.
Snake River Farms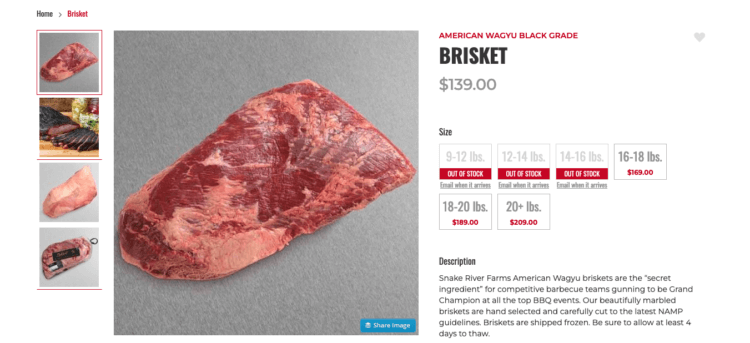 Snake River Farms is the best place to get beef in addition to other meats. They're a top provider of American-raised beef and pork..
The benefits of purchasing from Snake River Farms include their strict quality standards, the range of cuts they provide, and the fact that they source all of their meat domestically.
Agridime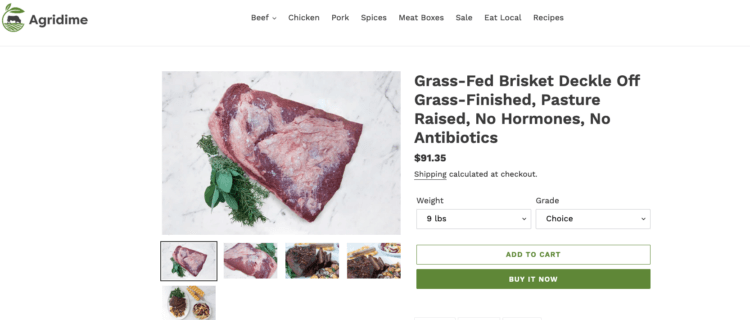 Agridime is a store that specializes in selling high-quality meats at wholesale prices. They have a wide selection of different beef cuts and sizes to choose from, and their prices are very competitive.
Porter Road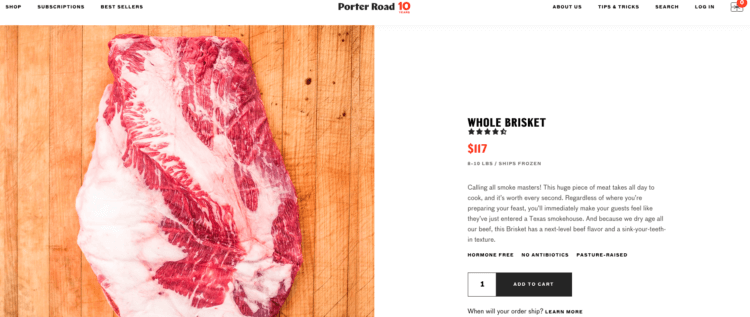 Porter Road is an on-line butcher that sells high-quality meat products. The firm has a dedication to sustainable farming and only purchases meat from animals that were not given antibiotics or hormones. Brisket is available in a variety of sizes, with free delivery on purchases of over $100.
Omaha Steaks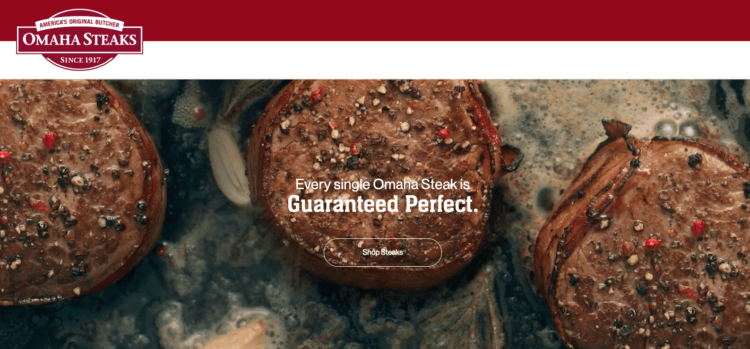 Omaha Steaks is a store that specializes in selling, well, steaks. The store has a large selection of beef brisket, and the prices are very reasonable.
The quality of the meat is also very good, making Omaha Steaks a great place to buy beef. One downside, however, is that the store does not have a physical location; all orders must be placed online.
This can be a bit of a hassle, but it's worth it for the great deals and high-quality meat.
Amazon Fresh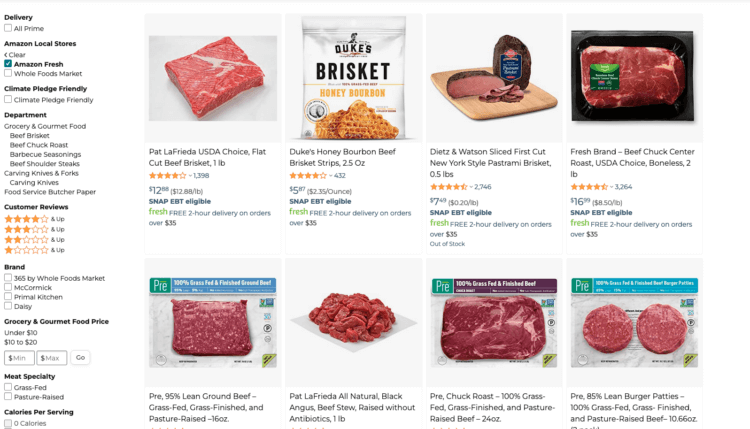 If you're looking for a convenient place to buy meat online, Amazon Fresh is a great option. They have a wide selection of meat, and their prices are usually very competitive. Plus, they offer free delivery on orders over $50.
However, there are a few things to keep in mind when shopping at Amazon Fresh. First, their inventory can vary from week to week, so it's important to check their website before placing an order.
Second, their prices can be higher than those at other grocery stores. But, if you're looking for convenience and quality, Amazon Fresh is a great option.
Is it cheaper to buy meat in bulk?
Yes, buying meat in bulk online is typically cheaper than purchasing smaller quantities. When you purchase a larger quantity of meat from a supplier, the cost per pound decreases significantly.
Additionally, many online meat suppliers offer deals and discounts when you order in bulk. For example, some offer free shipping if your order exceeds a certain dollar amount. You'll also save time and gas by having the meat delivered straight to your door.
How can I get a lot of meat for cheap?
Buying meat in bulk is one of the most cost-effective ways to get a large amount of meat for less strain on your wallet. When purchasing online, look out for deals on wholesale meat buying or discount meat purchases.
You can also save money by opting for frozen instead of fresh meats, as they tend to be less expensive and have a longer shelf life with proper refrigeration. Additionally, watch for promotions during holidays such as Christmas shopping, where many online butcheries offer great deals.
Is it cheaper to buy meat online?
Yes, buying meat online can be cheaper than purchasing it from your local grocery store or butcher. Online suppliers often offer bulk discounts and special deals that can save you money.
Plus, you can compare prices across multiple websites to ensure you get the best deal possible.
Remember that some online retailers may also charge for shipping, so factor this into your overall cost analysis.
What is the best online meat delivery?
When it comes to choosing the best online meat delivery service, there are several factors to consider. Some of the top options include ButcherBox, Crowd Cow, and Omaha Steaks.
ButcherBox is known for its high-quality grass-fed beef and offers flexible subscription options. Crowd Cow allows you to choose your own cuts from small farms nationwide. Omaha Steaks is a classic choice, with a wide range of meats and meal packages available for delivery.