5+ American Made Butcher Knives to Consider for Your Kitchen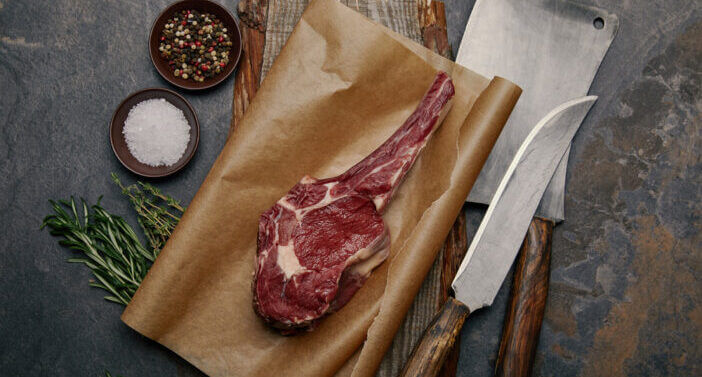 If you cook as much as I do, you know that not all knives are created equal.
With years of culinary experience, I believe that American-made butcher knives are top-of-the-line regarding sharpness, ease of use, and quality construction.
So if you're looking for an American-made butcher knife to upgrade your kitchen tool collection or slice and dice raw meat like a pro, you've come to the right place!
I can help guide you through selecting a reliable and well-crafted butcher knife. We'll explore some of the top American-made butcher knives on the market today and discuss how they can help make your kitchen tasks easier while providing superior performance.
Quick Sidenote – check out our shop for a curated selection of the best meats, cuts, sausages, and more. Open our shop in a new tab and explore!
Here are the five best American-made butcher knives for your needs.
Disclosure: As an Amazon Associate, this site earns from qualifying purchases. Thank you!
1. Mercer Culinary BPX® Granton Edge Butcher Knife
Location: Ronkonkoma, New York
Material: High Carbon German Steel
Blade Length: 10″ (25.4 CM)
Butchering is a craft that takes patience and skill, and even the most experienced chefs need a top-tier knife to help get the job done safely.
With Mercer Culinary's BPX® Granton Edge Butcher Knife, precision cuts are a breeze, and the mirror-finished blade is smooth to the touch.
Its ergonomic steel-iced handle makes handling it a pleasure, while its curved tip enables easy skinning of meats.
It's also perfect for cooks who hate sharpening knives, as it has a taper-ground edge that ensures long-lasting sharpness and will save you plenty of time in the long run.
2. Cutco Butcher Knife
Location: Olean, New York
Material: 440A High-Carbon, Stainless steel
Blade Length: 8 and 1/8″
The Cutco Butcher Knife is an optimal choice for all butchers.
Cutco is a popular brand for various kitchen appliances. Founded in 1949, they consider themselves the largest manufacturer of kitchen cutlery in North America, and they undoubtedly make a durable, reliable butcher knife.
Plus, their products typically come with a forever guarantee, which means that if the knife does break, they'll replace it free of charge.
This butcher knife has a wide belly, which allows more accuracy when cutting and trimming large cuts of wild game. Plus, the clip point also ensures ultimate control when you want to complete more intricate cuts.
3. Benchmade 15500-3 Meatcrafter
Location: Oregon City, Oregon
Material: CPM-S45VN (60-62 HRC) Steel
Blade Length: 6″
The Benchmade brand is best known for its rugged pocket knives that people appreciate during camping trips, but they make great steak and butcher knives for the kitchen as well, like the Benchmade 15500-3 Meatcrafter.
As with many of their knives and knife sets, this butcher knife is pricier, perhaps due to the company's outstanding branding and reputation, but I can attest to its high quality as well.
They also have a Benchmark Lifesharp Service, meaning that anytime you need your knives re-sharpened, cleaned, oiled, or fixed, you can simply send them back and let them do the work.
In terms of the knife, it's perfect for cooks who don't want any limits placed on what they can do – it's a stubby butcher knife that you can use indoors or outdoors to debone, trim, slice, section, and whatever you need to do with the meat of any size.
4. Rada Stubby Butcher
Location: Waverly, Iowa
Material: T420 High-Carbon Stainless Steel
Size: 5 and 3/8″
Rada makes another fantastic stubby butcher similar to Benchmark's but at a remarkably lower price point. Butchers would like this versatile knife, but so would professional chefs, hunters, and regular folks who simply want to slice and dice easily in the kitchen.
This Rada butcher knife is also great for meat lovers looking for a knife they can commit to, as the surgical grade T420 high-carbon stainless steel ensures long-lasting durability.
It's also incredibly sharp and offers superior performance to your typical kitchen knives, making them perfect for precision cutting and butchering.
While this might sound intimidating to a beginner to have an incredibly sharp knife, it's important to know that sharper knives are safer than dull knives.
This is because you'll be able to cut foods more smoothly and quickly, thus preventing struggle and potential slippage.
5. Warther Cutlery
Location: Dover, Ohio
Material: CPM® S45VN High-Carbon Stainless Steel
Blade Length: 7″
The Warther Cutlery 7″ Butcher Knife is a jack of all trades, given its mid-length blade length that's not too long and not too short.
It might be a bit difficult to finely trim small chunks of meat or make any intricate cuts, but the thick, sturdy blade is meant for those who want to do a lot of the prep work for butchery and larger pieces of meat.
This knife is also excellent for tougher cuts because it's made from CPM® S45VN high-carbon stainless steel.
This metal is known for its excellent edge retention and durability, meaning that it won't dull over time like many other knives.
This Warther knife might be a good option for chefs who want to make sure their knives last long and also want a butcher knife that works well with cutting vegetables too.
Frequently Asked Questions
Are you interested in knowing more about American-made butcher knives? Read on for our answers to a few commonly asked questions below.
Who makes the best kitchen knives in the USA?
It's tough to say who makes the best kitchen knives in the USA, as there is some tough competition. Here are the top-selling brands that tend to make the cut year after year:
Cutco
Rada
Benchmade
Warther Cutlery
Mercer Culinary
New West KnifeWorks
Dexter Russell Cutlery
Carter Cutlery
Chelsea Miller Knives
Murphy Knives
Is Chicago cutlery made in America?
No. Despite the deceiving name, Chicago Cutlery is not made in America. They are produced overseas in China and then imported into the US.
This is important to know if you're looking for purely American-made butcher knives or any other type of kitchen cutlery.
Where is Wusthof gourmet made?
Wusthof gourmet is made in Solingen, Germany.
This company is one of the leading producers of high-quality knives that professional chefs and home cooks seek out, but they are not made in the United States.
Is Cutco made in the USA?
Yes. Cutco is one of the few companies still manufacturing their knives in America. They are located in Olean, New York, and have been in the knife-making business for over 70 years – impressive, right?
Additionally, their products are made from high-carbon, rust-resistant stainless steel and come with a lifetime guarantee.