9+ Best Indoor Grills for Korean BBQ at Home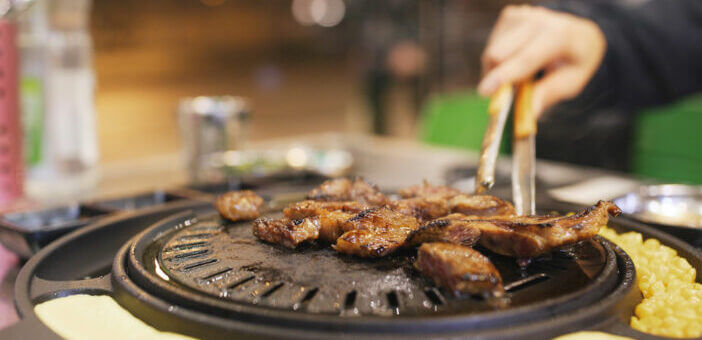 You've experienced a Korean BBQ at a restaurant and loved cooking your food right at the table and eating it hot off the grill. Now you want more. If you don't want to run to a restaurant every time you crave Korean BBQ, you can recreate the experience at home with fantastic indoor grills.
Some of the best indoor Korean BBQ grills are the IWATANI Smokeless Korean BBQ Grill, Zojirushi EB_CC15 Indoor Electric Grill, TeChef Stovetop Grill Pan with Portable Burner, CookKing Master Korean Grill Pan, Cusimax Raclette Electric Indoor Grill, and Techwood Electric Korean BBQ Grill.
A Korean BBQ is unique, with restaurants having grills built into the tables. The concept is trending through social media and the love of the ever-expanding popular Korean culture and cuisine. Recreating a Korean BBQ at home is now possible with indoor grills.
Disclosure: As an Amazon Associate, this site earns from qualifying purchases. Thank you!
Quick Sidenote – check out our shop for a curated selection of the best meats, cuts, sausages, and more. Open our shop in a new tab and explore!
9 Best Indoor Grills For An At-Home Korean BBQ
The market has unlimited options for indoor Korean BBQ grills like electric, gas, large, small, stovetop pans, and raclette types. Figuring out which kind to purchase can be overwhelming. But we have you covered.
Here are 10 of the best indoor grills for Korean BBQ on the market:
IWATANI Smokeless Korean BBQ Grill
The IWATANI grill is one of the best and most in-demand Korean BBQ appliances on the market. It is smokeless but gives a little smoke, giving you that authentic grilling feeling and flavor.
Being smokeless is ideal for indoor grilling at home and for backyard feasts. The best feature of this grill is the grooves on the grill pan that allows grease to fall into the drip pan below. The instructions request that you put water in the drip pan, which prevents smoke and burning.
The grill is sleek and made of alloy steel or aluminum. It is compact and great for 3-4 people. The size is small, but it works well for a few people and provides even heating. A butane bottle is required to power it, and the grill surface takes only around 3 minutes to heat.
Zojirushi EB_CC15 Indoor Electric Grill
This is a highly sought-after electric grill for Korean BBQ. It is compact yet perfectly sized for 4-6 people to enjoy. It has a large non-stick surface a cool touch handles for easy handling. There are grooves for grease and drippings to run into the drip pan, making cleaning easy.
Removal of the drip pan is simple. The grill surface is aluminum and takes around 6 minutes to heat, with even heating up to 410 degrees Fahrenheit. The foundation is plastic, making the appliance lightweight and easy to move around.
The drip tray is dishwasher safe, while the frill surface is not – due to its non-stick component. The 12 appliance does not heat unless it is installed correctly, providing safety. Unlike some other KBBQ appliances, Zojirushi has an English instruction manual.
TeChef Stovetop Grill Pan With Portable Burner
The TeChef Stovetop Grill Pan comes with and without a burner. We recommend you get the portable burner, allowing you to use it anywhere. You can then use the surface pan with other burners, on the stove, and even in the oven.
It is perfectly designed with a tiny hole on one side to allow excess oil to drain out (a little bowl or tray can be placed under it to collect the drippings). It is small and serves a handful of people, but it is perfect for an at-home Korean BBQ.
Your meats will continue sizzling even as the grease drips out, giving the food a delicious sear and flavor. Due to the simplicity of the product, cleanup is quick and easy. The grill pan is aluminum and of excellent quality.
CookKing Master Korean Grill Pan
The CookKing Master pan lives up to its name – King Master. For its low cost, relatively large surface area for a pan, and easy usage, it makes many people happy and delivers delicious Korean BBQ every time.
The pan works over gas stoves, preferably with a portable butane burner. There is a little hole on the side to catch grease drippings, allowing you to eat healthier and get crispy, seared meats. The pan also has partitions for your sides, like eggs, veggies, cheese, etc., with your Korean BBQ.
The hole for draining drippings allows easier cleanup than other Korean BBQ appliances with a drip pan under, which requires water. This one allows you to discard the grease or keep it aside for other cooking.
Cusimax Raclette Electric Indoor Grill
The Cusimax Raclette Electric Grill is in high demand for good reason. It is exceptionally convenient and super versatile. It has a double-sided and large grill surface area for different BBQ experiences. Aside from Korean BBQ meats and its sides, you can cook several foods on it.
It has multiple uses, from eggs, pancakes, crepes, veggies, and burgers to toasted sandwiches, sausages, grilled potatoes, and fish. The raclette pans allow you to cook eggs, cheese, and other saucy items simultaneously.
The best part is that it connects to your nearest power outlet and is portable near an electric source. The grill surface and raclettes are removable, making them easy to clean. It can also feed more than eight people.
Techwood Electric Korean BBQ Grill
Techwood allows you to enjoy that authentic Korean BBQ experience any day or time of the year. With six heat settings, the electric grill lets you enjoy precise cooking at your preferred pace and temperature.
The appliance has a reversible grill and griddle to cook various foods, from meat to veggies and even delicate items like eggs, fish, and pancakes. The grill surface is non-stick and allows for effortless cooking and cleaning.
The most desirable aspect of this grill is the generous size of the grill surface. It is perfect for hosting BBQ parties and cooking multiple items at once.
LIVEN Electric Indoor Korean BBQ Electric Grill
If you want a typical Asian experience, the LIVEN electric grill with a hot pot is the best choice. Not only do you get to grill your delicious meat and other foods, but you can also cook up a seafood boil, soup, noodles, etc., simultaneously.
The grill has a heating section and a warmer section. So, as you continue to cook and eat, you can keep your food hot. The grill has a non-stick coating, making for effortless cooking and cleaning.
The pot bottom is triple-insulated, ensuring safety and heat retention. This grill and hot pot combo are perfect for a household meal or when you want to have guests over.
SEAAN Electric Hot Pot Indoor Grill
This grill is the master of all Korean BBQ grills. With its additional hot pot section and generous grill surface area, you get everything you want in one. At a slightly higher price than many grills, it offers you an all-in-one experience.
You can cook food simultaneously in the hot pot and BBQ grill. There are separate temperature controls for the grill and hot pot, allowing you to manage your cooking better at the correct pace and heat.
The grill is made of thick aluminum alloy and is super durable. It is also lightweight making it easily portable. The hot pot has tempered glass and a visual lid to cook without splashes.
Artesia Electric Raclette Indoor Smokeless Korean BBQ Grill
This Artesia Raclette Grill is the perfect solution if you love having guests over and letting them cook themselves with minimum effort and less cleanup. It has a large surface with multiple additions to make cooking personalized.
Several heating settings control the temperature you want to cook at. The ten raclette pans allow you to create a feast with more than ten people. Each raclette has a corresponding spatula. It even has a granite grill stone to offer various grilling experiences.
The grill plate is reversible with a flat and groove side for various cooking options. The grill stone and plate can be easily cleaned by soaking them in soapy water and handwashing. The raclettes and spatulas are dishwasher-safe, doing the entire cleaning and maintaining a breeze.
How To Choose A Korean BBQ Indoor Grill?
Having a list of great options might still appear confusing if you are not sure what to look out for in the first place. Before you decide what type of grill will work best for you, considering a few aspects are essential.
Here are some things you can think about:
Fuel Source
The fuel source or heating source of the grill is essential to consider. An electric grill is best if you want something plugged into a socket. A gas-powered grill may be the solution if you prefer gas-fueled heat to save energy or get a more authentic smokey flavor.
Alternatively, if you would like to stick to your stovetop and avoid additional appliances in your home, a stovetop Korean BBQ pan will work best for your needs.
Size And Shape Of The Grill
The whole grill and grill surface size are significant aspects to consider. If you have a large family or plan to use the grill with a guest, you want a larger grill surface so everyone can place their food comfortably.
Another size factor to consider is whether you want a sleek grill that doesn't take up much real estate space in your home. And the shape you choose will depend on your storage space, counter space, and the size and shape of your serving table.
Ease Of Cleaning
Cleaning BBQ grills can be daunting, especially when grooves and different parts are included. Grease can be frustrating to clean off grills, too, so you may want to check if the grill allows grease draining, if you can wash it easily, and if there are any inaccessible sections.
Portability
Getting a Korean BBQ grill indoors means you will likely use it only in one or two spots around your home or garden. Choosing electric or gas will be entirely your preference.
But a gas-powered grill will be better if you take it on a camping trip or to your next picnic. That way, you can fuel it at your convenience if you carry gas, and the lack of electricity won't be an issue.
Frequently Asked Questions
Can I Use An Electric Grill For Korean BBQ?
Electric grills for Korean BBQ are a convenient option for indoor grilling. All it requires is plugging it into an electric socket. The results of the flavor won't be the same as an authentic charcoal or gas grill, but it serves its purpose of providing you with delicious Korean-style BBQ in the comfort of your home.
Can You Use A Smokeless Grill For Korean BBQ?
A smokeless grill is a good option if you want a more authentic charcoal-type Korean BBQ as they offer at restaurants. You can use these indoors without setting off the fire sensor. Any indoor electric grill will also be smokeless. Restaurants that use charcoal grills have an overhead fan/vent.
What Kind Of Grill Do You Use For Korean BBQ?
A gas or charcoal grill built into the table is typically used at authentic Korean restaurants. An overhead vent will absorb the smoke, or a smokeless grill will be available. Gas-fueled grills are more popular because they heat quickly and cook food faster.
What Is The Top-Rated Indoor Smokeless Grill?
The top-rated indoor smokeless grill is the IWATANI Smokeless Korean BBQ Grill. Depending on your requirements, the Zojirushi EB_CC15 Electric Grill and the TeChef Stovetop Teppanyaki Grill Pan with Portable Burner are the best options.
What Makes A Korean BBQ Unique?
A Korean BBQ is unique because it comes together around the table to cook and eat while interacting. The raw meat is prepared, sometimes marinated, and cooked over a gas or charcoal grill. The flavor of the food is delicious and served with various sides. It is also a healthier option.
Final Thoughts
No need to look for Korean restaurants to get your Korean BBQ fix. Determine your budget, energy, size, and other requirements for a grill, and choose one option that suits you. Get an electric grill for convenience or a smokeless one for that authentic flavor and experience.