If you enjoy spending time in the great outdoors, whether hunting or fishing, you know how important it is to have the right tools for the job. One tool every outdoorsman should have in their kit is a small skinning knife.
I will give you five reasons why you need a small skinning knife; by the end of it, you'll see why this little tool can make a big difference in your outdoor adventures. From compact size to precision cutting ability, a small skinning knife is a must-have for any outdoor enthusiast.
So, let's dive in and explore the many benefits of owning one.
Versatility
Unlike larger knives that may be too bulky or specialized for specific tasks, a small skinning knife offers a wide range of uses. It's not just limited to skinning game, although it excels at that particular task.
With its compact size and maneuverability, a small skinning knife can be used for various outdoor tasks such as field dressing, caping, boning, and even preparing meals at the campsite. Whether removing the hide from a freshly hunted animal or simply slicing through vegetables for a delicious outdoor meal, a small skinning knife is invaluable.
Moreover, its versatility extends beyond hunting and fishing scenarios. You'll find it handy for everyday tasks, such as opening packages, cutting ropes, or crafting small objects. Its size and sharpness make it a go-to tool for tackling a wide range of tasks efficiently and effectively.
Precision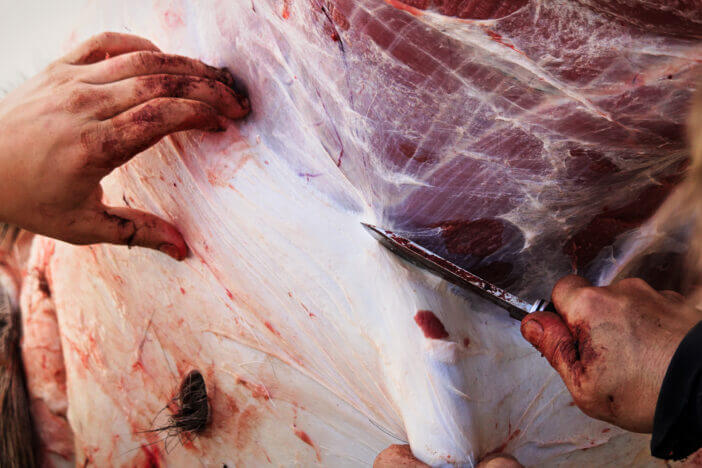 When it comes to skinning game or performing delicate tasks, precision is of utmost importance. This is where a small skinning knife truly shines. Its compact size and specialized design allow for exceptional cut control and accuracy.
When performing skinning or delicate tasks, you must minimize the chances of accidentally piercing organs or damaging the underlying meat. A small skinning knife is specifically designed to mitigate these risks.
The ergonomic shape and textured surface ensure a secure hold, even in wet or slippery conditions. Whether you're field dressing game or preparing food at the campsite, a good grip on your knife allows for better control.
This precision enables you to work close to the skin's surface, minimizing the likelihood of puncturing vital tissues. You can confidently navigate around sensitive areas, such as the stomach or intestines while maintaining a safe distance to protect the quality of the meat.
Furthermore, the blade of a small skinning knife is typically thin and curved, specifically crafted to glide effortlessly along the contours of an animal's body. Its gentle curve helps guide the blade along the skin, reducing the chances of unintended deep punctures.
This design feature is advantageous when skinning animals with thinner or more delicate hides.
Portability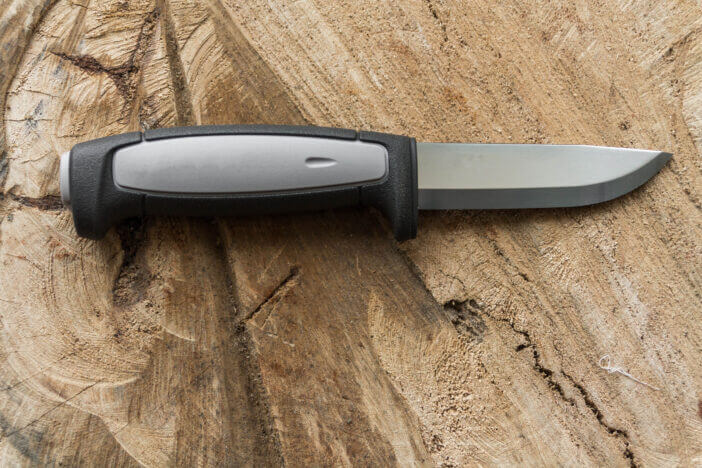 Every ounce of weight and inch of space in your gear matters when you're out in the wilderness. That's where a small skinning knife truly shines. It's lightweight and compact, making it easy to carry and store.
Unlike larger knives that can be cumbersome and inconvenient to transport, a small skinning knife can fit snugly into your pocket, backpack, or even on your belt without weighing you down. Its compact size allows for effortless mobility, ensuring you always have it within reach when needed.
Ease of Use and Safety
Whether you're a seasoned outdoorsman or a beginner, this type of knife is designed to be user-friendly and intuitive. A small skinning knife's compact size and lightweight nature make it effortless to handle and maneuver.
Small skinning knives often feature a straightforward design. There are no complex mechanisms or features to navigate, which means you can quickly familiarize yourself with the knife and start using it effectively in no time. This simplicity makes it an excellent option for those who prefer a straightforward, hassle-free tool.
Additionally, the compact size of a small skinning knife promotes safer handling. With a shorter blade length than larger knives, there is less chance of accidental injuries or cuts. It's easier to maintain control and keep the knife within your field of vision, minimizing the risk of it slipping or causing unintended harm.
Durability
When investing in outdoor tools, durability is always a crucial consideration. You want a knife that can withstand the rugged and demanding conditions of outdoor activities. A small skinning knife is no exception, and fortunately, it offers several features that promote durability.
Small skinning knives are typically made from high-quality materials such as stainless steel or high-carbon steel. These materials offer excellent strength, corrosion resistance, and edge retention, ensuring that your knife remains sharp and functional even after extended periods of use.
Moreover, many small skinning knives feature a full-tang construction. This means the blade extends through the handle, providing additional support and strength. Full-tang knives are less likely to break or snap, even during heavy use.
Some small skinning knives also come with a protective sheath or holster. This sheath shields the blade from damage during transportation or storage, ensuring your knife stays in top condition.
Bestseller No. 1
Bestseller No. 2
Maxam Fixed Blade Hunting Knife Set – Full Tang - 6 Inch Skinning Knife & 7 Inch Caping Knife -Includes Sheath - 2-Pieces
The Ultimate Hunting Knives Set - Get double the razor sharpness for your multipurpose arsenal. This fixed-blade knife set includes a razor sharp 6.5 Inch skinning knife and a 7 Inch caping knife.
Made For Heavy Duty Use - Both knives in this set have black coated stainless steel blades that are thin, sharp, and durable. They won't easily rust or corrode even when exposed to moisture.
Easy On The Hands - Classic wooden handles fill out the palm to ensure a firm, easy grip. The nylon sheath for skinning knife and caping knife allow for storage and quick deployment when needed.
Powerful Performance - These knives are designed to produce long and efficient strokes on a variety of game with minimum damage. The skinning knife also has an integrated gut hook.
Optimized For Versatility - Portable and lightweight, this is the field knife set to have around in any situation. Wear them on your belt loop or stash them in your PFD and they're ready for any hunt or rescue.
Sale
Bestseller No. 3
Mossberg Fixed Blade Knife, All in One Skinning Knife with Gut-Hook, for Hunters and Outdoors Enthusiasts
HUNTERS LOVE THIS KNIFE: The reviews are in and hunters agree this knife is an excellent choice when it comes to skinning game, especially deer.
DURABLE AND LIGHTWEIGHT: This knife is lighter and shorter than many other hunting knives making it easier to handle. The included black Mossberg knife sheath is built to handle the demands of serious hunters.
STAINLESS STEEL BLADE: The 3-1/2-inch blade is made from stainless steel, which is designed to be used several times without having to sharpen it after every use, and features an excellent gut hook. The blade also features an anti-glare finish.
SIZED TO GET THE JOB DONE: The overall length of the Mossberg Fixed Blade Knife is 6-3/4-inches with the blade measuring 3-1/2-inches. The unique shape of this knife makes the skinning of deer easier than many other larger knives.
MAKES A GREAT GIFT: When it comes to buying a gift for a hunter or outdoorsman you just can't go wrong with a good knife. Perfect for birthdays or holidays.
Sale
Bestseller No. 4
OUTDOOR EDGE WildLite 6-Piece Hunting Knife Set. Includes Skinning Knife, Boning & Caping Knives, & Sharpener all in a Compact Hard Side Case. Perfect Field Dressing Kit for Deer, Elk, Poultry & More
COMPLETE 6-PIECE HUNTING KNIFE SET – This field processing set includes the six essential tools that help process wild game with expertise. It includes a gutting and skinning knife, caping knife, boning knife, game cleaning gloves, and a two-stage carbide/ceramic sharpener, which keeps the edge razor-sharp. The entire set comes in a lightweight and compact hard-side field carry case. It is perfect for processing deer, elk, caribou, poultry, and much more.
RAZOR SHARP KNIVES – This game processing kit for deer and elk boasts razor-sharp knives that are perfectly balanced. The full-tang 420J2 stainless steel blades undergo precise heat treatment, taper grounding, and hand finishing to achieve a shaving sharp edge, resulting in superior edge retention and performance.
RUBBERIZED NONSLIP TPR HANDLES – This field processing knife set features ergonomically designed TPR handles that are rubberized and nonslip. These handles are blaze-orange in color, making them highly visible. They reduce hand fatigue after prolonged usage and provide a comfortable and secure grip, even in the slickest of conditions.
LIGHTWEIGHT COMPACT HARD-SIDE FIELD CARRY CASE – This hunting knife set comes with a convenient, compact, and lightweight hard-side field carry case. All the tools fit snugly in their designated slots, ensuring that they remain clean, dry, and well-organized, making them easy to access during your hunting trip. Its portability makes it the perfect addition to your backpack.
SERVICE FOR LIFE – At Outdoor Edge, we take pride in crafting durable and reliable tools that stand the test of time. If you encounter any issues with your Outdoor Edge knife, please don't hesitate to reach out to us. Our team is dedicated to addressing all replacement and service requests promptly and efficiently.