Is a steak cutting machine the best investment for your home, kitchen, or business? Well, think again! A steak cutting machine is a helpful tool that can help with anyone's efficiency and safety while cooking.
What Is A Steak Cutting Machine?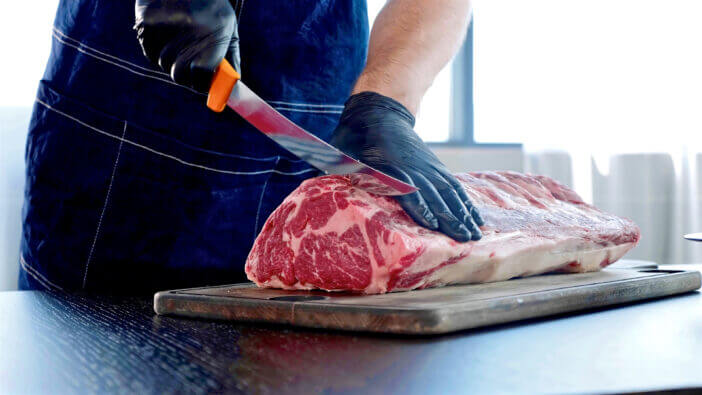 A steak cutting machine, also known as a meat cutter or meat slicer, is a helpful tool used to evenly cut meats, cheeses, deli products, and sausages easily. Instead of doing this by hand, which can lead to uneven strips, a machine will ensure the same consistency.
Plus, using a steak cutting machine increases the likelihood of keeping the pristine texture of the meat after cutting. Lastly, using this type of technology requires less effort than doing every slice by hand.
In general, most steak cutting machines and meat slicers work by allowing the user to adjust the thickness level of the meat. The butcher or home chef will change the thickness and then begin to use the slicing machine run by an electric motor.
Different Types Of Meat Cutting Machines
There are different kinds of meat cutting machines and steak slicers that you can use based on your size needs, preferences, budget, and volume:
Meat dicing machine: Works well for frozen, fresh, and cooked meat for dicing or cubing; adjusted thickness between 4 and 30 mm.
Frozen meat slicer: This frozen meat slicer cuts frozen meat directly with a bowl cutter for use in industrial settings, delis, and grocery shops.
Automatic cooked meat slicing machine: Multi-functional tool that can be used for various types of meats and vegetables.
Fresh meat portioning machine: Functions by cutting, stacking, and portioning meat into cuts with the same volume and weight.
Automatic fresh meat dicing machine: Functions by dancing and stripping meat, such as beef, pork, or steak, into customized cube sizes.
Meat shredding machine: Uses two sets of blades to cut or slice meat into different shapes directly.
Electric cooked meat slicer: Cuts cooked meat into the exact sizes by adjusting the thickness between 1 and 14 mm.
Cooked meat shredder machine: Cuts chicken and beef into shredded meat, increasing labor efficiency and reducing costs.
Industrial frozen meat slicing machine: Slices frozen meat without waiting to thaw, which increases efficiency and reduces downtime.
Frozen meat cube cutting machine: Cuts frozen meat from -24 to -18 degrees Celsius.
Frozen meat roll cutting machine: Cuts frozen meat into rolls or straight pieces.
Bowl cutter: A bowl cutter provides a better appearance during meat cutting.
Benefits Of A Steak Cutting Machine
So, why should you purchase one of these steak cutting machines in your home or business? There are a few benefits to choosing a meat slicer that can help you with efficiency and time.
Accurate — Meat slicers are accurate when determining a cut of meat's weight, volume, and thickness. A steak cutting machine is accurate and efficient, ensuring that every slice is uniform in its dimensions.
Easy to use — If you are a beginner, trying to hand-cut every piece of meat on your own might be time-consuming. A steak cutting machine is easy to operate and efficient in reducing labor time and costs.
Adjustable — The steak cutting machine is adjustable to fit the user's preferences on width and volume.
Prevents sticking — The unloading design on most steak cutting machines prevents the meat from sticking to the cutter and the material, increasing the machine's efficiency and functionality.
More sales — If you can cut meat quicker, you can sell more in your store. Using a steak cutting machine reduces customer wait time and increases profit.
Reduced risk of injury — Using a safe device can minimize worker injury or accidents with damaged equipment or sharp knives. Meat-slicing machines with safety features reduce the liability risk for businesses and employers.
Is there a machine that cuts meat into cubes?
A frozen meat cutting machine can cut meat into cubes, slices, or strips. This cutting machine can be used for different types of meat, such as pork, veal, or beef.
Can you cut steaks with a meat slicer?
You can use a meat slicer to slice raw meat, such as steak. Ensure your steak is not frozen before cutting it with a meat slicer.
What is the name of a meat cutting machine?
A meat cutting machine is a slicing machine, meat slicer, slicer, or deli slicer. Businesses or individuals may use different types of meat cutting machines based on their needs and preferences.
Is a meat slicer worth it?
Yes, a meat slicer is worth it to help with efficiency, reduce the risk of injury, increase profit, and maintain high levels of quality and consistency.