Eating fish has endless benefits, from human health to environmental sustainability. But if you are a complete novice to seafood, it can be challenging to know where to start, especially as you venture into fish like halibut.
But fear not, dear reader. We have researched and taste-tested a diverse array of halibut recipes and emerged with seven of the best. If you're ready to tackle those halibut fish filets you have been eyeing at the grocery store, read on to learn how!
Crispy oven-baked halibut
It is a truth universally acknowledged that everybody loves fried fish–nothing compares to a crispy battered fish on a toasted bun with tartar sauce and pickles. But if you are not an at-home deep fry cook, it might feel like you can only get this treat on special occasions.
Enter: oven-fried halibut! This recipe is a snap to make. First, pat your halibut fish dry, dredge in flour, dip it in beaten eggs, and roll it into crispy panko. Then bake it at 425 for about 15 minutes! When the fish emerges, it will be baked to crispy perfection, ready to be plated or slid in between some buns.
Besides tasting downright delicious, baking halibut avoids all the excess mess, not to mention the health dangers of deep-frying.
Halibut en papillote
Don't let the French terms trouble you. Halibut en papillote is a disarmingly easy and decadently delicious recipe.
"En papillote" simply translates to "in paper," and it refers to cooking fish in a sealed packet made of parchment paper. If you have heard of cooking fish in foil packs, the process is identical: you fill a parchment paper pouch with a fish filet, aromatics, and vegetables, then bake them.
The appeal of cooking halibut en papillote is twofold. First, the cleanup is very low-maintenance, only requiring you to remove the fish from the packets and toss them.
On the culinary side, though, this method makes for mighty marvelous fish. The paper packets seal in all the moisture from the cooking fish, which makes the meat incredibly tender and rich in the flavors of everything inside.
Poached halibut in spiced coconut broth
If you are interested in halibut recipes besides French or Anglo-American fare, this recipe is for you. While halibut is native to the North Atlantic, its similarity to other fish makes it a great candidate for dishes like this coconut-curry broth recipe.
This recipe approaches the halibut differently than the previous dishes on this list. Rather than frying the filet, you poach the halibut in a delightful coconut milk broth, which gently cooks the fish while infusing it with sweet and spicy flavors.
There is a lot to love here. For one, it is a low-cost, low-maintenance meal that comes together in less than 30 minutes. But even more, this recipe draws on the delicious flavors of South Asian cuisine, including lime and curry, to bring fresh life to the lovable halibut.
Broiled halibut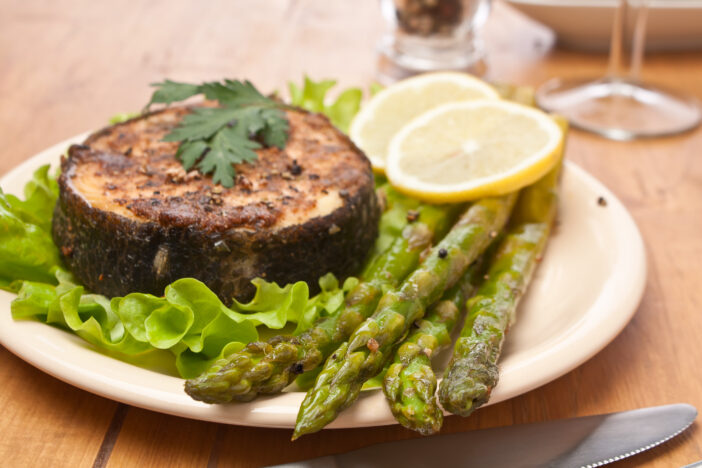 Need to cook dinner at light speed? Need to multitask while you do? Sounds like a job for broiled halibut, one of the easiest and fastest ways to cook the fish.
Broiling might seem akin to baking fish in the oven, though there is one key exception. Whereas baking fish surrounds the dish with hot air, broiling uses the intensity of the oven's heating element to cook the fish's surface. Doing so renders crispy skin and simple flavors, much as you get when you grill fish.
When you broil halibut, the first step is to season your filets with salt, pepper, and other spices. Then, top the fish with sauce–in the case of the recipe above, a tangy lemon-caper sauce–then broil on high for a mere 8 minutes. The result is tangy, delectable, saucy fish.
Gravlax halibut
Our next recipe is a tad more adventurous, but it is well worth the experimentation. Gravlax is a Scandinavian method of curing fish, rather than cooking it.
It is quite similar to lox, the more popular Jewish rendition of cured fish that is most commonly used to prepare salmon. However, whereas lox consists of cured and smoked salmon, gravlax goes entirely uncooked.
If you're concerned about food safety, don't worry! Curing fish is just like curing meat to make ham or deli meat. Essentially, when you add salt or brine to a food, the brine water out of the food until it is no longer hospitable for bacteria. No bacteria means no spoilage and no foodborne illnesses.
In this recipe, you mix olive oil, dill, salt, and pepper to make a brine, then allow the fish to cure for days. After that, you can eat it with a delicious mustard sauce, ideal for Passover!
Halibut puttanesca
Want your halibut to take on that lovely combination of flavors unique to Italian cooking? Try this recipe for halibut puttanesca.
Puttanesca sauce is an essential dish in classic Italian cooking. It consists of the classic tomatoes, garlic, and olive oil, but also the briny-salty-spicy flavor combination of olives, anchovies, capers, and red pepper flakes. The result is a tangy sauce that brings out the sharper side of Italian cooking.
While puttanesca sauce is usually served with pasta alone, this version adds baked halibut to the mix. The fish, which benefits tremendously from the briny flavor of the sauce, gives extra weight to the otherwise-light dish, making for a perfectly healthy dinner.
Frequently Asked Questions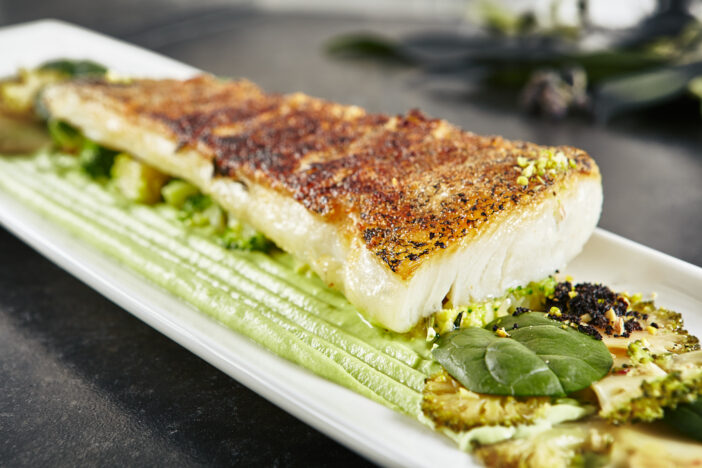 What does the fish halibut taste like?
Halibut has a mild, slightly sweet flavor and a firm texture. Its firm texture means that it is especially good at absorbing different flavors.
Is halibut an expensive fish?
While halibut is a delicious dinner option, it is worth mentioning that the fish typically runs between $20 and $30, which is on the more expensive side for fresh fish. This cost is due to a variety of factors, some of which relate to the fish's popularity and others that relate to supply chain issues amidst the pandemic.
Is halibut a good fish to eat?
As the recipes on this list demonstrate, halibut is one of the most scrumptious fish on the market. It is an especially good choice for those who normally don't enjoy seafood.
Why is halibut so popular?
Halibut is popular for the same reason it is a good fish to eat. It is delicious, nutritious, and can take on a variety of flavors. On top of that, it lacks the briny fish associated with some fish.