American breakfasts have a long and diverse history, with each region offering its own unique dishes and flavors. Despite this variety, there are certain classic dishes that stand out as quintessential American favorites.
Classic American Breakfast Dishes
Cereal
Cereal has been a staple of American breakfasts since the late 19th century when John Harvey Kellogg introduced corn flakes as a health food. Today, there are countless varieties of cereal available, from sugary childhood favorites to healthier whole grain options. Cereal is a quick and easy breakfast option that can be enjoyed with milk, yogurt, or even as a dry snack.
Eggs (Scrambled, Poached, Fried)
Eggs are a versatile and protein-rich breakfast choice that can be prepared in numerous ways. Scrambled, poached, and fried eggs are all popular options, often served alongside bacon or sausage for a satisfying and filling meal. Eggs are also an important ingredient in many other breakfast dishes, such as omelets and frittatas.
Omelets & Frittatas
Omelets and frittatas are egg-based dishes that can be customized with a variety of fillings, such as cheese, vegetables, and meats. Omelets are typically cooked on the stovetop and folded over to encase their fillings, while frittatas are started on the stove and finished in the oven. Both options are a delicious and hearty way to enjoy eggs for breakfast.
Sandwiches (Bacon & Sausage)
Breakfast sandwiches are a popular on-the-go option that can be found at many cafes and fast food establishments. Classic American breakfast sandwiches typically include bacon or sausage, eggs, and cheese served on a toasted English muffin, bagel, or biscuit. These delicious and portable meals are perfect for busy mornings when you need something quick and satisfying.
Pancakes & Waffles (Buttermilk, Maple Syrup, Blueberry, Belgian, Whipped Cream)
Pancakes and waffles are beloved American breakfast classics that can be enjoyed in various forms. Buttermilk pancakes are a traditional favorite, often topped with maple syrup and butter. Other popular variations include blueberry pancakes and Belgian waffles, which are thicker and often served with whipped cream and fruit. Both pancakes and waffles are delicious options for a sweet and indulgent breakfast.
Fruit
Fruit is a healthy and refreshing addition to any breakfast, providing essential vitamins and fiber. Fresh fruit can be enjoyed on its own, added to yogurt or cereal, or used as a topping for pancakes and waffles. Popular breakfast fruits include berries, bananas, and melons.
Full American Breakfast (Potatoes, Hash Browns, Toast, Coffee)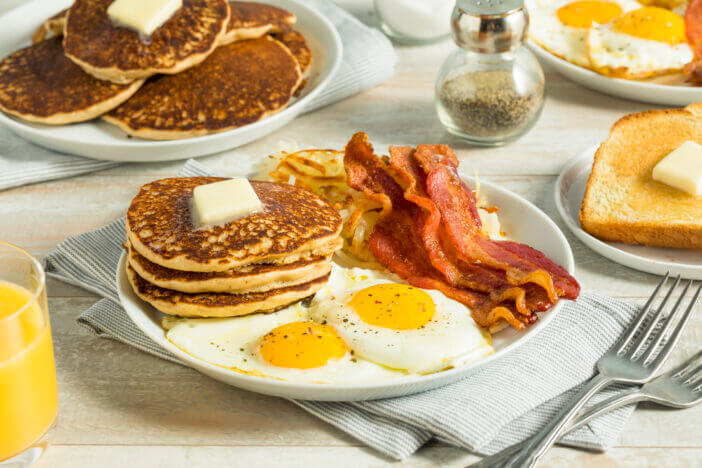 A full American breakfast is a hearty and satisfying meal that typically includes eggs, bacon or sausage, potatoes or hash browns, toast, and coffee. This classic breakfast spread offers a balanced combination of protein, carbohydrates, and fat to keep you energized throughout the day. A full American breakfast is a great option for those who enjoy a savory and filling morning meal.
Continental Breakfast (Bagels, Cream Cheese, English Muffins, Fruit)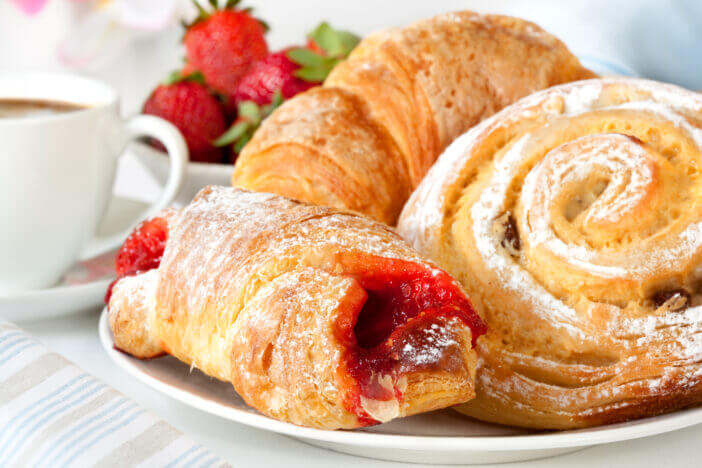 A continental breakfast is a lighter option that often includes an assortment of breads, such as bagels and English muffins, served with cream cheese, butter, or jam. Fresh fruit, yogurt, and cereal may also be offered as part of a continental breakfast spread. This type of breakfast is commonly found at hotels and is perfect for those who prefer a lighter start to their day.
Regional Favorites
Biscuits & Gravy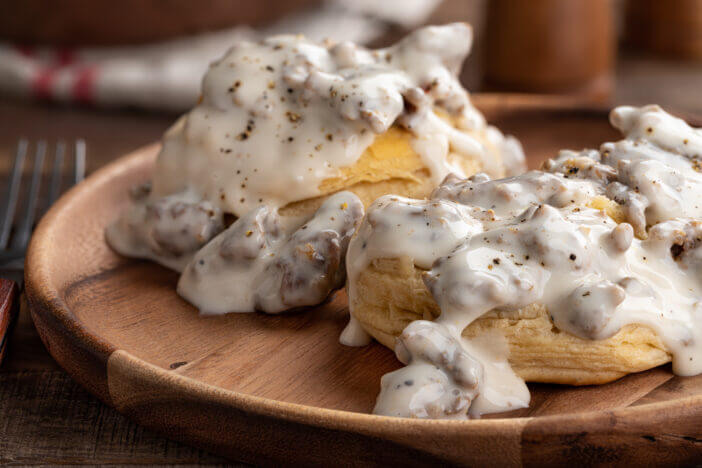 Biscuits and gravy is a Southern favorite that consists of soft, flaky biscuits smothered in a rich and flavorful sausage gravy. This hearty dish is a beloved comfort food in the South and can be enjoyed for breakfast, lunch, or dinner.
Huevos Rancheros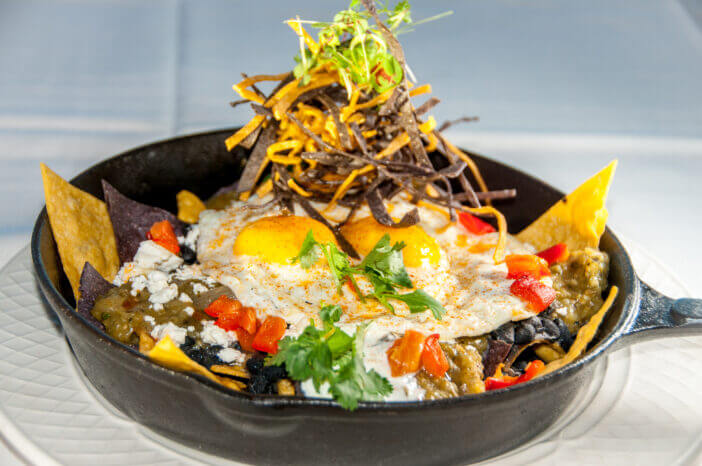 Huevos rancheros is a Mexican-inspired dish popular in the Southwest that features fried eggs served on corn tortillas with salsa, beans, and cheese. This flavorful and filling breakfast option offers a delicious change of pace from traditional American dishes.
New York-Style Bagels & Lox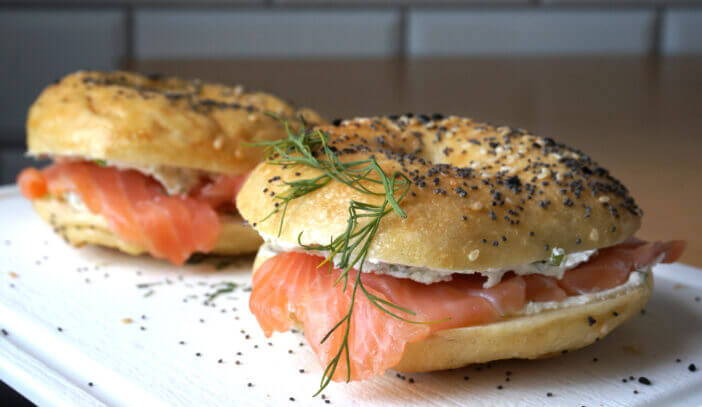 New York-style bagels are famous for their chewy texture and unique flavor, often enjoyed with cream cheese and lox (smoked salmon). This classic combination is a popular breakfast choice in New York City and beyond, offering a delicious blend of salty, smoky, and creamy flavors.
Sweet Treats
Cinnamon Rolls
Cinnamon rolls are a sweet and indulgent breakfast treat that features soft, doughy spirals filled with cinnamon and sugar, topped with a rich and gooey glaze. These delicious pastries can be found at bakeries and cafes across the country and are sure to satisfy any sweet tooth.
Blueberry Muffins
Blueberry muffins are another popular sweet breakfast option, featuring tender, cake-like muffins studded with juicy blueberries. These portable treats can be enjoyed on their own or paired with a cup of coffee for a quick and tasty breakfast.
Fruit Smoothies
Fruit smoothies are a refreshing and nutritious breakfast choice that can be easily customized to suit your taste. Made with fresh fruit, yogurt, and ice, these delicious drinks offer a natural source of vitamins and minerals to help you start your day off right.
What is a typical American breakfast?
A typical American breakfast often consists of cereal or egg-based dishes, with pancakes, waffles, toast, and variants of the full breakfast and continental breakfast also being prevalent.
What is in a full American breakfast?
In a full American breakfast, you can expect large portions of eggs, breakfast meats like bacon or sausage, potatoes or hash browns, pancakes or waffles, toast, and coffee.
What are the 3 types of breakfast?
The three types of breakfast commonly served in hotels are Continental breakfast, American breakfast, and English breakfast.